CFB Coaches Whose QB Choices Could Make or Break Their Job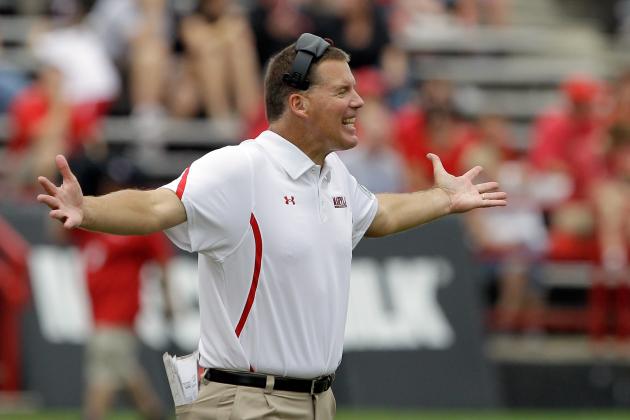 Rob Carr/Getty Images

A college football head coach has to make many decisions, none of which has quite the lasting effect on a team's fortunes than choosing a quarterback does.
The appropriate guy under center means an offense that hums along merrily, scoring more often than not and helping the team win games.
The wrong quarterback leading a team can be disastrous.
The head coaches listed here must make major decisions regarding their starting quarterbacks in 2013, decisions that will impact not just the team's immediate future, but also the future of each coach's career.
The wrong choice will leave these coaches struggling to be successful during the 2013 season, and possibly beyond.
Begin Slideshow

»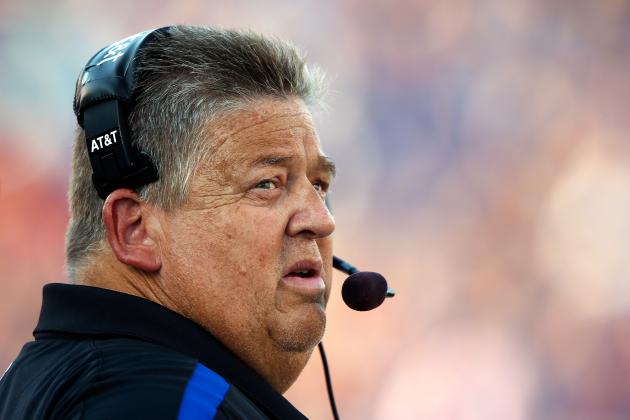 Jamie Squire/Getty Images

Michael Cummings threw three touchdowns and four interceptions during his limited time on the field last season for the Kansas Jayhawks.
Cummings played when Dayne Crist was not available to make himself look bad. It appears, however, as if he has lost the opportunity to start for the Jayhawks in 2013.
BYU transfer Jake Heaps is now on campus, and he proved himself as the best quarterback for Kansas during spring practice.
If Charlie Weis is going to see any sort of extended success this season, he must go with the quarterback that will bring Kansas the most success. Thus far during the offseason, that appears to be Heaps.
Predicted 2013 Record: 5-7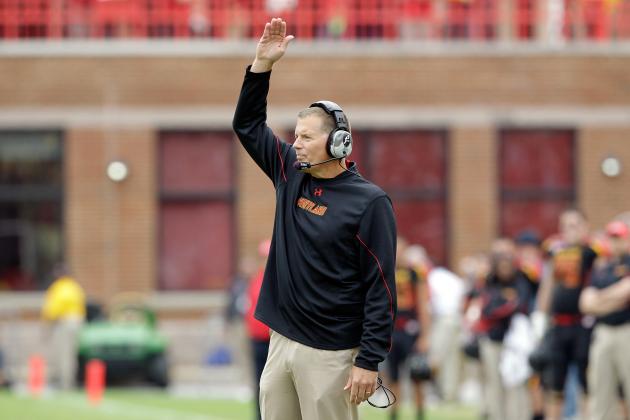 Rob Carr/Getty Images

There are several issues that Randy Edsall must deal with at Maryland if he hopes to remain as the head coach of the program.
First, Maryland is transitioning to the Big Ten. This provides the perfect opportunity for the Maryland administration to get a fresh start in 2014, and hire a new coach if Edsall continues to struggle.
Second, the man has struggled mightily since coming over from UConn. Under his leadership, the Terps are 6-18, with a 3-13 record in ACC play.
Third, and of more immediate concern, is his quarterback issue. Edsall drove away Danny O'Brien before last season, who could have been the starter and provided some continuity for Maryland.
Instead, Edsall must deal with a four-way quarterback battle in which 75 percent of the contestants are recovering from injury. Caleb Rowe, Perry Hills and C. J. Brown are all recovering from serious injury, which leaves Ricardo Young.
Young started his career at Virginia Tech, transferred to New Mexico and then landed at Maryland.
He started the spring as the starting quarterback, virtually by default, but whether he can hang onto the spot remains to be seen.
Regardless of who eventually wins out, Edsall is going to have a tough time winning games, which leaves him on the outside looking in sooner rather than later.
Predicted 2013 Record: 6-6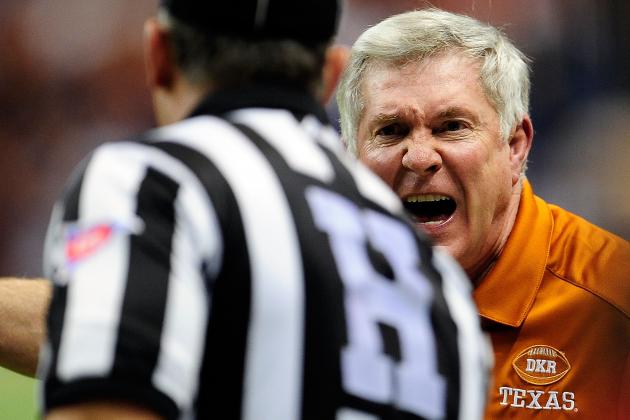 Stacy Revere/Getty Images

Mack Brown may or may not be on the hot seat, depending on who you ask.
After a brutal 5-7 year in 2010, Brown seems to have turned things around, leading the Longhorns to eight and nine wins in consecutive seasons.
But this is Texas, one of the elite programs in college football.
A nine-win season, while a step in the right direction, is not going to keep Brown's job secure for long.
He needs the team to make a jump to double-digit wins, a conference title and a BCS game.
In order for that to happen, Brown needs production out of his quarterback, David Ash. How Brown is able to utilize Ash and his talent to produce wins will be key to the Longhorns' season.
Should Ash fail to produce, and Texas suffer through another miserable season, Brown is going to be in trouble.
His decision to start Ash is a step in the right direction. Now, he must decide how to help Ash lead the offense.
Predicted 2013 Record: 10-2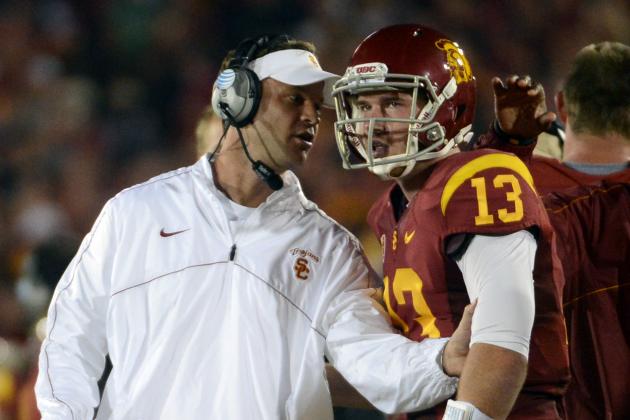 Harry How/Getty Images

Lane Kiffin is not a very likeable guy, particularly if you happen to dislike USC.
If he continues to struggle to lead one of the premier programs in college football, he won't be around much longer to act like an immature crybaby.
After an incredibly disappointing 2012, which saw the Trojans begin the season atop the polls and finish unranked, Kiffin has to decide which quarterback he needs to use in tandem with receiver Marqise Lee to help make the Trojans competitors in the Pac-12 again.
Max Wittek was nothing special when covering for Matt Barkley in 2012, posting 293 yards, two touchdowns and five interceptions during two games against Notre Dame and Georgia Tech.
Max Browne, while talented, is young and didn't appear ready to lead the offense during spring practice.
Cody Kessler had the best spring and appears to be in the driver's seat heading into fall practice, in spite of Kiffin's reluctance to name a starter.
Should Kiffin's choice struggle this season, he's going to have a hard time holding on to this job.
Predicted 2013 Record: 8-5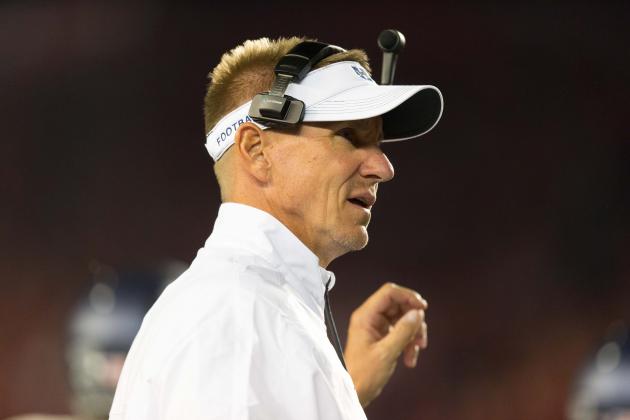 Jeff Hanisch-USA TODAY Sports

Wisconsin made a great hire when they tabbed Gary Andersen as their new head coach following Bret Bielema's departure.
Andersen was a part of Urban Meyer's winning culture at Utah before taking off for the head coaching position at Utah State, where he turned the program around.
Andersen has quite the problem on his hands heading into 2013.
Returning quarterbacks Curt Phillips and Joel Stave are currently locked into a battle for the starting position in Andersen's new system.
Stave took over for the struggling Danny O'Brien early last season and had decent numbers in brief playing time before an injury. He posted six touchdowns and three interceptions while completing nearly 59 percent of his passes.
Phillips took over after Stave's injury, and while lacking the arm that Stave possesses, the man had similar numbers in limited time, posting five touchdowns and two interceptions to go with a 56 percent completion rate.
Stave has the most potential, as he is younger and has the bigger arm. But Coach Andersen has a history of utilizing mobile quarterbacks, and the Badgers have junior college transfer Tanner McEvoy ready to hit the field when practice begins.
Andersen has to decide whom to start. A two-quarterback system is almost never a good thing, so Andersen has a tough choice to make.
Should he choose correctly, the Badgers have the potential to make a run to the Rose Bowl for a fourth consecutive season. If not, things could get ugly, fast.
Predicted 2013 Record: 10-2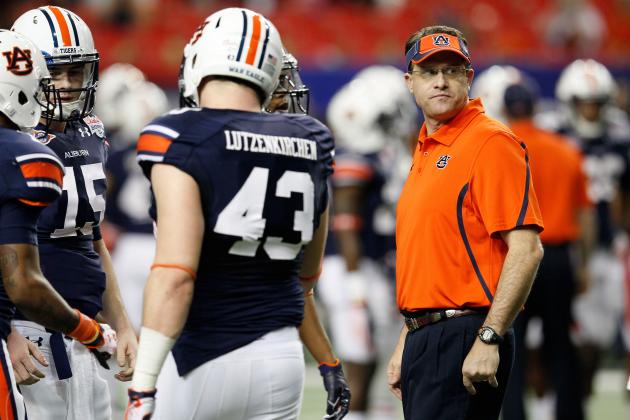 Kevin C. Cox/Getty Images

It is my firm belief that Gus Malzahn will have Auburn back near the top of the SEC within three seasons as head coach.
He is a great recruiter, is an incredible offensive mind and has the talent at Auburn to have an impact in the SEC.
This season, he is not in danger of losing his job for having one tough year. That said, the right choice at quarterback could give the Tigers a head start on the next few seasons, while picking the wrong guy could set the team's rebuilding project back in a major way.
The right choice at quarterback is incredibly hard to identify at this point.
Kiehl Frazier and Jonathan Wallace both started for part of the season in 2012, but neither one has been able to nail down the QB1 spot on the depth chart.
This leaves a cracked door open for incoming freshman Jeremy Johnson and JUCO transfer Nick Marshall.
Marshall played at Garden City Community College in Kansas last season, where he produced 3,142 passing yards, 18 touchdowns, 1,095 rushing yards and 19 touchdowns. But he also threw 20 interceptions.
Frazier and Wallace provide the best opportunity to win the most games in 2013. However, if Johnson or Marshall can manage to learn the offense quickly, the opportunity to have experience in 2013 might prove invaluable next year.
Predicted 2013 Record: 6-6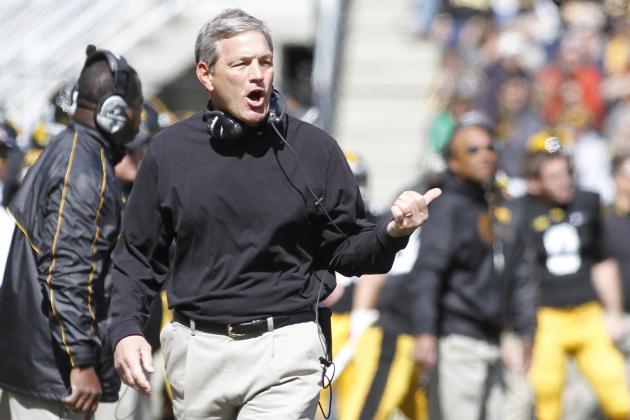 Matthew Holst/Getty Images

Jake Rudock, C.J. Beathard and Cody Sokol are the options at quarterback for Iowa head coach Kirk Ferentz.
It's not exactly a list that is made to inspire confidence.
Nor is Ferentz's record as a head coach during his time at Iowa. He's 100-74 with the Hawkeyes, but only 59-52 in conference play.
His struggles are compounded by the fact that he is ridiculously overpaid.
Nick Saban, Mack Brown, Bob Stoops, Urban Meyer and Les Miles are the only coaches who make more than Ferentz. All of them have at least one national title to their name.
Ferentz, on the other hand, hasn't won a conference title since 2004.
If he wants to keep his position, he will have to make an informed choice at quarterback.
Predicted 2013 Record: 7-5