Dana White Denies Weidman vs. Silva 2 Is Booked, Lists Possible Rematch Sites
Use your ← → (arrow) keys to browse more stories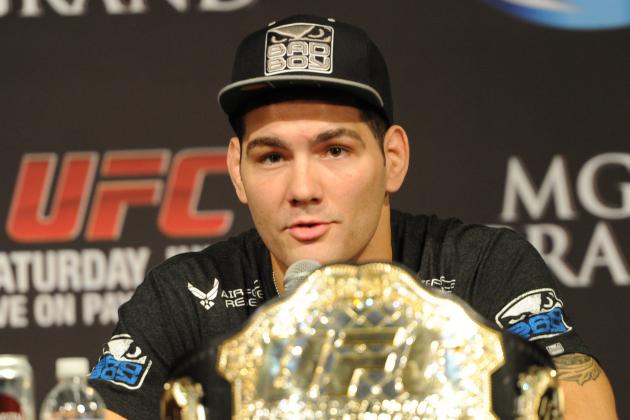 Jayne Kamin-Oncea-USA TODAY Spor

First he didn't, then he did, now we're just going to have to sit and wait to see what he decides and where it will take place. I am, of course, talking about Anderson Silva and a potential rematch with new UFC middleweight champion Chris Weidman.
After losing his title to Weidman on July 6 in the main event of UFC 162, Silva stood in the center of the Octagon and told Joe Rogan, "No, Chris is the champion. All the people need to respect Chris. Chris is the best. That's it. I finished my work. I don't want to fight for the belt anymore. I changed my life, now. I worked hard for a long time. I had the belt for a long time, I'm tired. I relax now."
Hours after making those statements, Ariel Halwani of MMAFighting.com reported that sources close to Silva had let them know that the former champion had changed his tune. According to those sources, Silva was interested in once again fighting for the title he successfully defended a UFC record ten consecutive times.
One person that is also very interested in the rematch is UFC president Dana White. White, according to Kevin lole of Yahoo! Sports, is currently in Los Angeles trying to make the rematch happen.
If White and Silva can come to an agreement, Weidman seemed more than willing to take the rematch. Weidman told Rogan in his post-fight interview, "All respect to Anderson Silva. I would love to do a rematch if that's what he would want to do. He's an idol of mine. I looked up to that guy for a long time."
If the fight does take place, Dave Meltzer of MMAFighting.com is reporting that the UFC is considering four locations for what could be one of the biggest fights in the history of the promotion. The four locations that UFC president Dana White listed were Las Vegas, New Jersey, Cowboys Stadium in Dallas and Brazil. White did not mention any potential dates.
The aforementioned Yahoo! Sports article also reported that statements coming from GQ Brazil that said the fight was booked for December 28 were untrue.