WWE Money in the Bank Preview: Bryan & Ambrose as Winners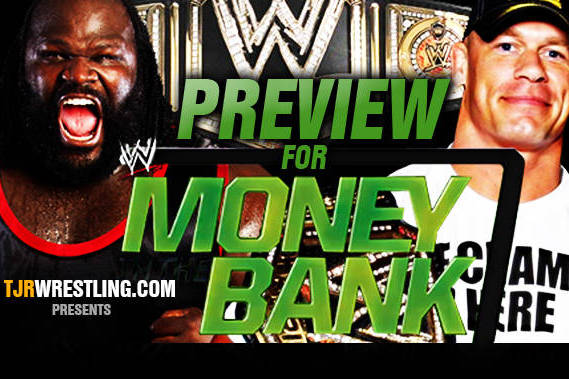 John Canton/Steve Melo/TJRWrestling.com
This Sunday night is WWE Money in the Bank. It's one of my favorite WWE pay-per-views of the year. Instead of going into a long-winded intro about the matches (I will get to them, I promise) I figure I should talk about the "win on TV, lose on pay-per-view" theory I always mention when I write previews.
I think every WWE fan knows what I'm talking about. A lot of the time when somebody gets the advantage on Raw or SmackDown they end up losing their subsequent pay-per-view match. That advantage can either be winning a match (Jericho over Axel on Raw) or getting the upper hand (Henry leaving Cena lying on Raw).
The question is what happens if somebody loses the battle on Raw, but gains it back on SmackDown? I don't know, but I would think Raw takes precedence. That's why it's a theory more than a rule.
The other thing is that WWE apparently changes their mind on a lot of things from Monday until the booking of the show.
When I write these previews it's not necessarily about getting a prediction right. What I care more about is that the story makes sense and hopefully what I write makes sense to you. I throw out our ideas. You have yours. Then we see what WWE decides to do on Sunday night.
As previously mentioned Money in the Bank is one of my favorite WWE shows of the year, and I think the fact that it's in Philadelphia will make it that much more special. Let's get to the preview.
Begin Slideshow

»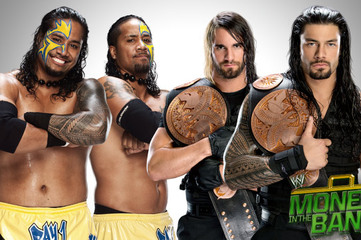 WWE
I wish this was the first match on the actual pay-per-view instead of the dreaded Kickoff Match because frankly, sometimes I miss that match. Why? Because watching three hours is long enough knowing I have to watch three hours the next night, too. It can be too much.
I know WWE is all about being up in our faces with every single thing that they do and being accessible, but I have a hard time getting into the Kickoff Match. Every outcome is predictable. This one is no different.
I like The Usos as a babyface team because the fans like them. Why are they likable? They are energetic, athletic and have that cool chant during their intro. It's simple. It works.
My issue is that WWE doesn't have enough good babyface tag teams (sorry Tons of Funk). The Shield has the potential to be an outstanding team, but if they lack opponents to go up against them, how great can they be?
As for this match, I'd expect them to get about eight minutes and for The Shield to win likely with a Reigns spear.
Winners: The Shield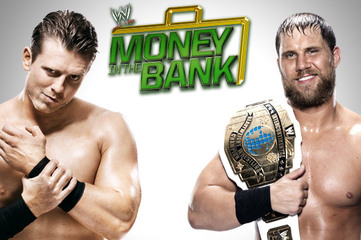 This is arguably the most predictable match on the card. The Miz has been either holding the IC Title or in matches contending for it for over four months now. Isn't it time for him to move on to something else?
Axel just won the title last month and it would be stupid to take it off of him when they're trying to build him up.
The only question is will he be booked to win clean or will some kind of shady activity occur to get him the victory?
They'll get about eight minutes, Heyman will distract the ref and Axel will capitalize with a Perfectplex to retain the IC Title.
By the way, I like seeing Axel use the Perfectplex. He's the only one that should be using it.
Winner: Curtis Axel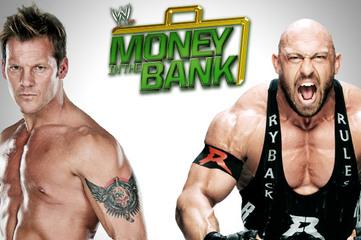 In many ways, Ryback has to be considered one of the most poorly-booked characters in WWE this year. He got a main event push and some fans were foolish to think he had a chance at beating Cena for the WWE Title (not me), but look at him now. He's lost in the midcard.
They set this feud up randomly in a backstage segment because neither guy had anything else to do at Money in the Bank. As soon as the match was booked, most fans figured that Jericho would lose. Why? Because that's what he does (sorry Mark Henry).
Jericho's said in many interviews that wins and losses don't really matter. He's right. What he's also said is that he wants to put on entertaining matches while having interesting feuds.
A feud where the only thing they do to get heat is call Ryback "Cryback" really isn't that entertaining to me. Whatever writer came up with that needs to be punched in the head. Maybe twice.
What could be interesting in this match is Vickie Guerrero possibly ending up as the manager of Ryback. It would be a way to give him some momentum going forward.
With his new manager at his side, he could rack up some wins and perhaps move up the ladder again. I'd be very surprised if Ryback didn't win this one.
Winner: Ryback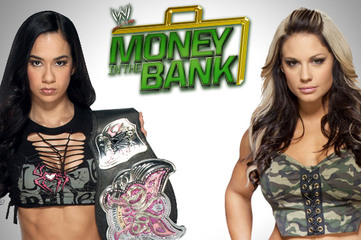 The story has been about AJ dominating Kaitlyn by outsmarting her, while Kaitlyn has tried to come back from the mind games by imposing her physical will on AJ.
When Kaitlyn isn't booked to cry, she comes off like a strong woman that fans can get behind. The problem with her is they don't let her personality shine through.
We know so much about AJ as a character, but not as much about Kaitlyn. That's why the crowds die sometimes during her matches.
Don't be surprised if Kaitlyn's "friend" Layla accidentally costs Kaitlyn the match at one point, leading to a Layla heel turn in the near future.
Hopefully the next Divas Title challenger is Natalya. Nobody deserves it more than her. It's also a smart move considering she's one of the stars in that Total Divas show that is debuting on E! Network in a few weeks.
Winner: AJ Lee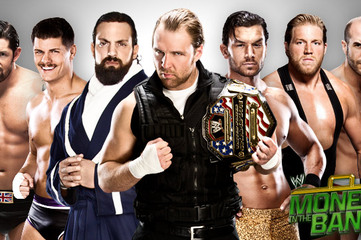 WWE
This is a tough one to predict because none of these guys have been booked that strongly in recent months. I'll try to break down my thinking in picking a winner.
Wade Barrett—I've always liked the guy. I'm pretty sure I picked him to win this match in 2011 (Daniel Bryan won) and I figured he would be a World champion by now considering his strong push in 2010. Obviously, it hasn't happened. A win here would help, but is management really behind him? He lost so many non-title matches as IC Champion and after he lost the title he's barely been on television.
Cody Rhodes & Damien Sandow—I'm pairing them together because I think this match will lead to the breakup of Team Rhodes Scholars with Rhodes going babyface. There are already signs of it happening with Sandow talking over Rhodes in promos and looking frustrated with his best friend a week ago on SmackDown.
I can see a scenario where Sandow's close to winning, but Rhodes is the one to pull him down. That could lead to the breakup on television in the weeks to follow. I'd rather see Rhodes stay in the heel role, but I feel like the turn is coming.
Fandango—He's a wild card because last month at Payback he was likely going to be the Intercontinental Champion if not for the concussion that he suffered. If WWE management was behind him enough to put the IC Title on him, does that mean they are willing to put the blue briefcase on him? I'm not sure. I'm thinking no, but don't be surprised if he comes out the winner.
Jack Swagger & Antonio Cesaro—Again I'm pairing two people up because I think their focus will be as a tag team. It's far too early to split them up and we're unlikely to see one of them get a big push while the other is just standing there watching it all go down. Cesaro's my favorite guy in this match.
In a perfect world, he's the one that would win and have an awesome feud with Ziggler for the World title. They would put on a WRESTLING (capitalized for effect) clinic. However, it's not a perfect world. That doesn't mean I have a problem with others in the match. I just like Cesaro the most.
Dean Ambrose—He's my pick. Ambrose is the US Title holder who doesn't defend his title very often because WWE does a poor job of booking secondary titles for the most part. I'm sure some people think he doesn't "need" a MITB briefcase, but I say why not him?
He's still in his first year on the main roster, the crowd still reacts big to everything The Shield does (even though they have lost some momentum) and it would make every Shield attack mean that much more considering Ambrose is holding the briefcase.
Could you imagine: The Shield's music starts up, the crowd buzzes because they know an attack could happen and then we are tuned in to see if the World champion can escape with his title? It sounds good to me.
I can truly say I like all seven of these guys. All of them have bright futures. The big question is how will the crowd react? I have a feeling that Ambrose, Cesaro and Sandow will get the biggest ovations from the potentially smart crowd.
It will be very interesting to see how this one plays out. I'm going Ambrose for the win.
Winner: Dean Ambrose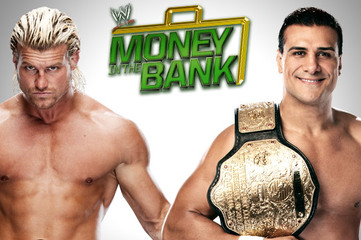 WWE
This feud could be a lot better than it is, but for whatever reason, they haven't clicked that well. I think Ziggler needs to embrace the babyface role more than he has.
I didn't mind when he crashed the Del Rio fiesta on SmackDown a few weeks back, but that felt like a midcard comedy segment instead of something that should be used to promote a main event-level match.
The booking of this one is tough to predict. On the one hand, I think the title has been used as part of the story and that the right thing to do is give Ziggler the big win to get back his World title. He deserves a decent run as the World champion.
The problem is that it's obvious Big E Langston and AJ Lee are going to turn on Ziggler, so do they do it here or do they do it after Ziggler wins the title? If they do it after Ziggler wins the title, then he could do the feud with Langston, although Langston isn't seen as a guy at the World title level. That's why I have concerns picking Ziggler even though that's what I'm going to go with.
I think the All-Stars Ladder Match will be the best match of the night, but this one could be excellent if they get 12-15 minutes and Ziggler is booked like the sympathetic babyface who keeps fighting back.
I think with Del Rio's realistic offense plus Ziggler's extraordinary ability to sell moves they can have great matches together. Hopefully they are given the opportunity to have a special match.
Winner: Dolph Ziggler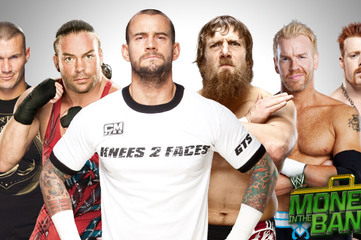 WWE
I wrote a lot about this match in a column at LayfieldReport.com, so rather than regurgitate everything I said there, I'd like to simply state that I haven't anticipated any Money in the Bank match more than this one. I think the atmosphere for it will be very special.
While I'm not a huge fan of Rob Van Dam, I do like him. I think he has a lot of name value and his appearance is going to lead to some huge reactions from the fans in Philly. He's an ECW guy in the city that ECW called home. It's the perfect setting to bring him back to WWE. Will he win the match? Doubt it. Will he have a couple of memorable spots in the match? Very likely.
The Kane story is interesting because they had the Wyatt Family take him out of the match. In a WWE.com article, they discuss possible replacements (even listing Great Khali?) and also mention that the replacement could be no one at all.
Bray Wyatt's name has been thrown out there, but I don't see why you would do that unless you book him to win. I think that would be too much for him. It would also hurt the others.
They could still do the match with six people. I hope that's what happens. They don't need seven people. Six is the perfect number.
I think a guy like Sheamus is there to add star power, but it's unlikely that he will win. His power offense will allow him to stand out, although I don't expect the biggest spot of the match to involve him.
Christian is the ladder match veteran who will likely play a major role in putting the match together before they head out to the ring. He's the most experienced ladder match wrestler in the company. Hopefully, there are a few instances where it looks like he may win, but ultimately I expect him to come up short.
As far as CM Punk goes, the main event of SummerSlam is likely going to be him against Brock Lesnar. Does Lesnar show up here? He might. I think it would be a smart way to have Punk lose if he gets close to the briefcase only for Lesnar's music to hit. That slight delay could lead to Punk being knocked to the mat. A brutal Lesnar attack at ringside would set up SummerSlam perfectly.
That leaves us with two names: Daniel Bryan and Randy Orton. I'm picking Daniel Bryan. I feel it's going to be one of them.
If Orton wins they could still have Bryan get a WWE Title shot (and possibly win it) in the near future while Orton could steal the spotlight from him by cashing in the briefcase to get the WWE Title for himself.
Orton's heel turn looks like it's finally happening after being rumored for most of the last year. It would make sense for him to turn during the match or soon after it. I think the best story to tell is Bryan outsmarting Orton to grab the briefcase and then on Raw, instead of an Orton handshake, Bryan would receive a vicious assault. Does any of this make a lot of sense to you? It does to me.
If it was up to me, this would be the last match on the show especially if Daniel Bryan is booked to win. Any match that follows will have a tough time because this has match of the year potential. However, I think the "Cena Rules" are in effect, so don't be surprised if Cena's match goes on last.
Winner: Daniel Bryan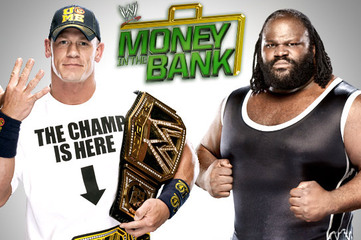 WWE
This reminds me of the Cena/Ryback feud in that I don't think the challenger has much of a chance to win.
While I think Henry's a more credible challenger than Ryback (Henry's been World champion before), I don't think Cena is going to drop the WWE Championship to a guy who is very close to retiring.
I think that Henry speech on Raw a few weeks back was brilliant. I also think there was some truth to what Henry said and that he's near the end of his career.
I think the majority of the crowd will be behind Henry because the Philly crowd is generally pretty smart, which also means they're anti-Cena a lot of the time.
Henry won over a lot of people with his fake retirement, so I expect a hot crowd especially as Henry hits some of his signature spots. Don't be surprised to see Cena kick out of the World's Strongest Slam only for the crowd to boo him.
In terms of quality, I don't expect a great match although it will be passable. I think they should add a stipulation to it (No Holds Barred is fine) where they can brawl around the ring because if they are in the ring the whole match it could get pretty boring.
Henry's offense is slow and methodical. If he can brawl around the ring, they can involve some weapons rather than simply chin locks or vice grips to slow the action down. If they don't get a stipulation and it goes over 15 minutes, I wish them luck because it might be too boring for the crowd. That's why I'd put this match before the WWE Title Money in the Bank match. You don't want to lose the crowd.
John Cena will win with the Attitude Adjustment and it will be the most impressive thing in the history of wrestling...according to the announcers. How did he do it? Because he's Super Cena, of course.
Winner: John Cena
Do I expect a cash-in during Money in the Bank? No. I think Cena walks into SummersSlam as the WWE Champion. Give us Cena vs. Bryan in a face vs. face match. Give Bryan the win. That's what I want. That's what the people want. Make it happen.
I'm looking forward to the show. I thought Payback was WWE's best PPV this year. I think Money in the Bank will top it. WWE deserves a lot of credit for putting on entertaining PPVs this year.
John Canton is a Featured Columnist at Bleacher Report. You can read more of his work at his website TJRWrestling.com. He also writes for LayfieldReport.com. You can follow John on Twitter @johnreport.