NFL Players Most Negatively Affected by the Talent Around Them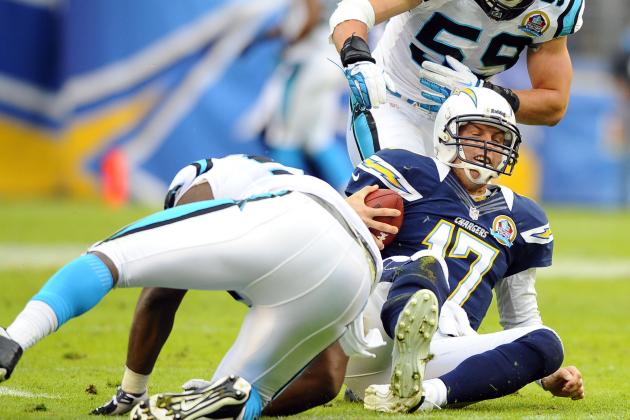 Christopher Hanewinckel-USA TODA
It has been a rough couple of seasons for San Diego Chargers quarterback Philip Rivers.
Football is the ultimate team game: eleven players on the field at one time all hopefully in sync with one another.
Idealistically, all 11 players are of somewhat equal talent level. But that is indeed being idealistic. Like any other occupation, there are those better at their craft than others.
So here are five players whose performance has been most affected, in a not-so-good way, by their supporting cast. And while these individuals have played more than respectable football, things could be much better with stronger surrounding talent.
Let's not get the wrong idea. There are no perfect players, and the following individuals bear the burden of some responsibility for the team's lack of success in this area as well. And the positive thing is that all of these teams are working hard to remedy a certain situation. Ultimately, it's the club that is really affected, as opposed to the player.
A thank you to Pro Football Focus (subscription required) for their outstanding statistical breakdowns and analysis.
Begin Slideshow

»
In two seasons with quarterback Cam Newton at the helm, we have seen the Carolina Panthers get off to miserable starts.
The good news is that the team has managed to pull out of that tailspin down the stretch. The bad news is that despite those late surges, the clubs has posted records of 6-10 and 7-9, respectively.
The worst news is that the Panthers have opened these last two seasons at 2-8. And a year ago, Newton seemed to struggle with the criticism, compared to his very positive attitude as a rookie.
But all is well that ends well. In his final six games in 2012, the Panthers' quarterback threw 10 touchdown passes and only two interceptions, ran for 347 yards and four scores and led his team to a 5-1 record.
Of course, that also means Newton threw only nine touchdown passes and was picked off 10 times in the season's first 10 games. But there's another overwhelming number that raises cause for concern.
Newton led the Panthers with 741 yards rushing in 2012, the only quarterback in the league to manage that feat for his team. The total was four yards better than running back DeAngelo Williams, who finished with 737 yards on the ground last season. But it's also worth noting that Williams got exactly 200 of those yards in the season finale vs. the New Orleans Saints.
Newton certainly has some work to do, but his supporting cast needs to be much more of a factor in 2013.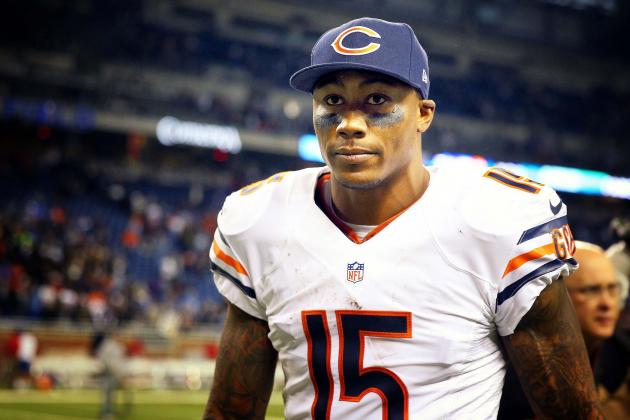 Mike Carter-USA TODAY Sports

There are one-dimensional offenses in football. And apparently, there are also one-dimensional passing games.
Take the Chicago Bears. Before last season, the organization went about reuniting quarterback Jay Cutler and wide receiver Brandon Marshall, who were once teammates with the Denver Broncos.
The well-traveled Marshall put up sensational numbers in his first season in the Windy City, totaling 118 receptions for 1,508 yards and 11 touchdowns.
As for the rest of the team, a total of 14 players totaled 169 catches for 1,788 yards and 10 scores.
According to Pro Football Focus, Marshall was targeted 181 times last season, the second-highest total in the league next to Detroit Lions wide receiver Calvin Johnson. And while that resulted in the aforementioned 118 receptions, there were also seven interceptions thrown by Bears quarterbacks when looking Marshall's way.
How does this affect Marshall? We saw it several times throughout the 2012 season. Take the big-play wide receiver out of the game, and the Chicago offense grinds to a halt. It was most evident in both losses to the Green Bay Packers as well as to the San Francisco 49ers.
How does this affect the Bears? Hopefully we won't have to find out in 2013 as new head coach Marc Trestman looks to put his spin on the team's attack.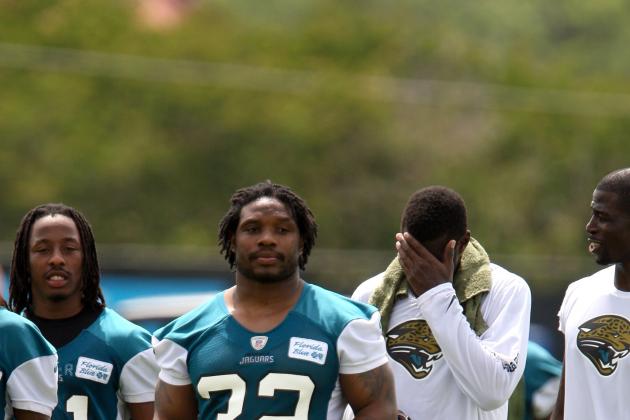 Rob Foldy-USA TODAY Sports

There's nowhere to go but up for the Jacksonville Jaguars in 2013.
The team has taken the field for 18 seasons and comes off a franchise-worst 2-14 showing last season. The team finished in the bottom five of the league in both points scored and most points allowed.
Despite missing the final 10 games of 2012, former Pro Bowl running back Maurice Jones-Drew still managed to lead the team with 414 rushing yards. Perhaps even more astounding was the fact that he also totaled 86 carries last season, second on the team behind Rashad Jennings.
Flash back to the previous season: The Jaguars offensive unit scored only 21 touchdowns. And Jones-Drew had more than half (11) of that total.
With uncertainty at quarterback and a passing game that will be affected by the early four-game suspension of wide receiver Justin Blackmon, even a healthy Jones-Drew could struggle to put up his usual big numbers.
And that is certainly not a formula for success, especially for a Jacksonville club that has missed the playoffs five straight years.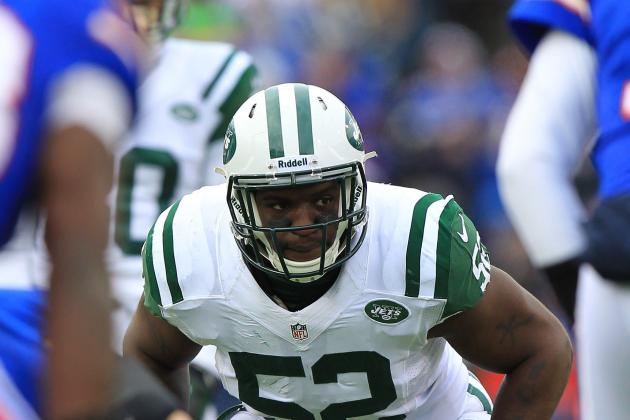 USA TODAY Sports

Talk about bad math. For the 2012 New York Jets, it was a combination of 37 turnovers and season-ending injuries to arguably your best offensive (wide receiver Santonio Holmes) and defensive player (cornerback Darrelle Revis).
It would add up to a 6-10 finish for the Green and White, who appeared a little black and blue after a long and disappointing year.
But there was a bright spot. Once again, inside linebacker David Harris led the team with 123 stops, the fourth time in six seasons he emerged as the team's leading tackler.
Still, the Jets finished 26th in the NFL in rushing yards allowed last season, the team's worst ranking in this category since 2007, when the club was 29th.
It's somewhat perplexing considering the team has added a lot of help on the defensive side of the ball (cornerback Kyle Wilson and defensive ends Muhammad Wilkerson and Quinton Coples) in the first round of the draft in recent years. In 2013, cornerback Dee Milliner and defensive tackle Sheldon Richardson were Day 1 selections.
Harris will hopefully continue to rack up the tackles. But he could certainly use a little help from the rest of the front seven this upcoming season.
It's been a rough stretch for the San Diego Chargers.
After winning four straight AFC West titles from 2006-09, the Bolts have been on the outside looking in come playoff time three straight years.
And quarterback Philip Rivers continues to put up big numbers…one way or another. Over the last three seasons, the former Pro Bowl signal-caller has completed 64.3 percent of his throws, good for 83 touchdowns.
However, over that same span, Rivers has committed 64 of the team's 83 turnovers, including 48 interceptions.
Still, the former Pro Bowl quarterback continues to throw more touchdown passes than interceptions, but those 16 lost fumbles are obviously a cause for major concern.
Over the last 48 games, Rivers has also been sacked a combined 117 times, 49 of those coming in 2012. Since 2010, only Green Bay Packers quarterback Aaron Rodgers (118 times) has been sacked more often.
And as the Chargers offensive talent base continues to deteriorate (free-agent departures such as wide receiver Vincent Jackson and running back Darren Sproles come to mind), new head coach Mike McCoy has his work cut out for him in 2013.