NFL Players Facing the Most Pressure in Training Camps
Denny Medley-USA TODAY Sports
Alex Smith has much to prove with the Kansas City Chiefs.
Billy Joel sang it best, and since there's no room for karaoke in this piece, I'll stick to writing.
While everyone is under the spotlight, some more than others, in the National Football League, that spotlight can turn into a heat lamp.
We're talking about pressure. And that pressure comes in a variety of forms. Is it self-induced based on a player's high expectations of himself? Does it come from a big-ticket contract, meaning the player is the man on the spot? Perhaps it just comes with the job.
Pressure can also come with being anointed the team's "savior." It can also come from making an adjustment to a new position, knowing your performance is crucial to the team while you're learning on the job.
So here are some thoughts on 10 players that will be facing some real pressure this summer at training camp. All should be up to the task at hand, but that's why they play the games.
And practice for those games as well.
Begin Slideshow

»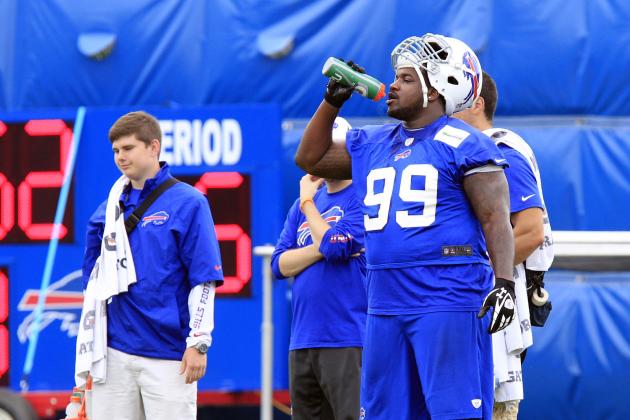 Kevin Hoffman-USA TODAY Sports

Forget circling the wagons when it comes to the Buffalo Bills.
The team has simply been run over.
The Buffalo defense has been ranked 30th, 32nd, 28th and 31st, respectively, in rushing defense each of the last four seasons. In fact, the Bills have been in the bottom five of the NFL against the run six times in eight seasons dating back to 2005.
Can the switch to the 3-4 defense put an end to this problem? New head coach Doug Marrone is hoping new defensive coordinator Mike Pettine has the solution.
And it starts up front with Marcell Dareus. The third overall pick in the 2011 NFL draft has made 31 starts in two seasons and totaled 11.0 sacks. But in his new role, he'll be just as responsible for tying up blockers so the Buffalo linebackers, as well as defensive ends Mario Williams and Kyle Williams, can get to the quarterback.
Can he be the team's full-time starter in the middle? Time will tell.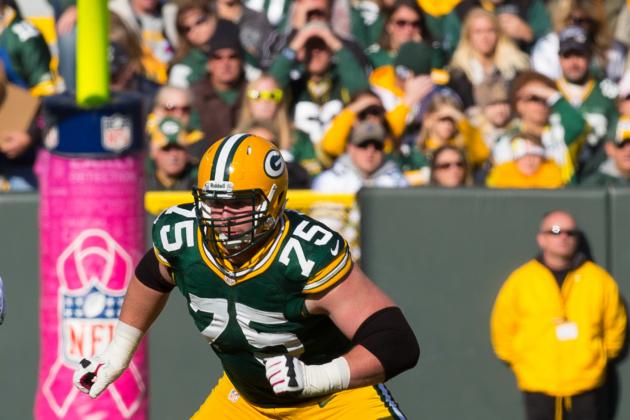 Jeff Hanisch-USA TODAY Sports

No player in the league was sacked more times than Green Bay Packers quarterback Aaron Rodgers in 2012.
And the team is looking to make sure that is not the case this upcoming season.
A year ago, Rodgers was sacked 51 times. It's astounding to consider that the Pro Bowl signal-caller threw 39 touchdown passes and just eight interceptions with that kind of continuous pressure.
Green Bay's current plan is to have its 2012 starting guards and tackles switch sides. Right tackle Bryan Bulaga moves to the left side and Marshall Newhouse takes over on the right side. The same has been done with guards Josh Sitton and T.J. Lang.
So why is Bulaga under more pressure than the rest of his offensive linemates? Simply put, the former first-round draft choice is now responsible for Rodgers' blind side.
If Bulaga can make the successful switch (he did play left tackle at the University of Iowa), the next question to be answered is whether he can stay healthy. The three-year pro has missed 11 games the last two seasons.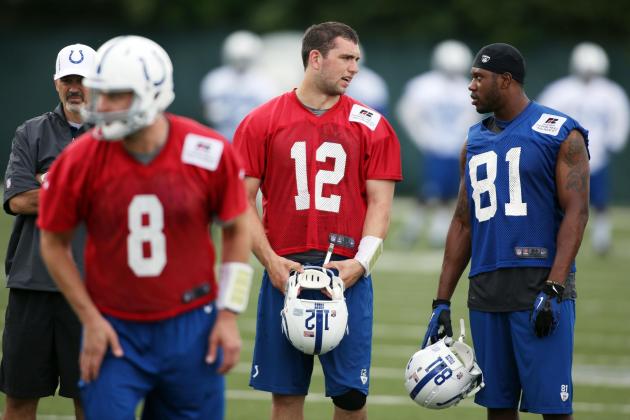 Brian Spurlock-USA TODAY Sports

This offseason, the Oakland Raiders did a little housecleaning when it came to some of their top-10 selections in recent NFL drafts.
In seemingly a matter of moments, the franchise parted ways with safety Michael Huff, wide receiver Darrius Heyward-Bey and linebacker Rolando McClain. Huff and Heyward-Bey were seventh overall picks in 2006 and 2009, respectively, while McClain was the eighth selection in 2010.
While Huff and McClain would sign with the Baltimore Ravens (McClain would retire soon afterward), Heyward-Bey latched on with the Indianapolis Colts.
Now let us see if the former University of Maryland speedster can revive his career, which had its peaks and valleys in Oakland.
After totaling a combined 35 catches in his first two seasons in the league, including a mere nine receptions in 11 starts as a rookie, Heyward-Bey totaled 64 catches, averaging 15.2 yards per grab and scored four touchdowns in 2011.
But last season the numbers slipped as the Raiders suffered through another disappointing year. Heyward-Bey totaled 41 catches for 606 yards and a career-high five touchdowns in 15 games. He was also on the receiving end of one of the biggest hits of the 2012 NFL season.
Now he hopes to be on the receiving end of a lot of throws from Indianapolis Colts quarterback Andrew Luck. Is he capable of a huge year? And what can he learn from veteran wideout Reggie Wayne? His NFL future certainly depends on both.
Last season, the Kansas City Chiefs tied for the worst record in the National Football League (2-14).
The team was also tied with the Philadelphia Eagles and New York Jets for the most turnovers in the league. The club coughed up the ball 37 times, 27 of those by quarterbacks Matt Cassel and Brady Quinn.
So what did the team do to solve that issue? Here comes former San Francisco 49ers quarterback Alex Smith to the rescue…hopefully.
The first overall pick in the 2005 draft, Smith rejuvenated his shaky career with the arrival of head coach Jim Harbaugh in 2011. The team posted its first winning season since 2002, won the NFC West with a 13-3 record and reached the conference championship game.
San Francisco was off to another good start last season when Smith suffered a concussion in the team's ninth game of the season. Enter Colin Kaepernick, and the rest is history.
Now, it's time for a fresh start in Kansas City as the Chiefs traded for Smith in March. New head coach Andy Reid is hoping the quarterback can alleviate the team's turnover issues.
However, one of the issues for Smith in San Francisco was the constant changing of offensive coordinators. Now he comes to a new team with a new system. Then again, Reid has certainly done an excellent job with quarterbacks.
The real pressure on Smith lies with expectations. He is automatically expected to solve the team's ball-control problems because of the way he efficiently performed the last two seasons. In 26 regular-season games since 2011, Smith has thrown 30 touchdown passes and given up the ball just 13 times.
Still, be wary of expectations.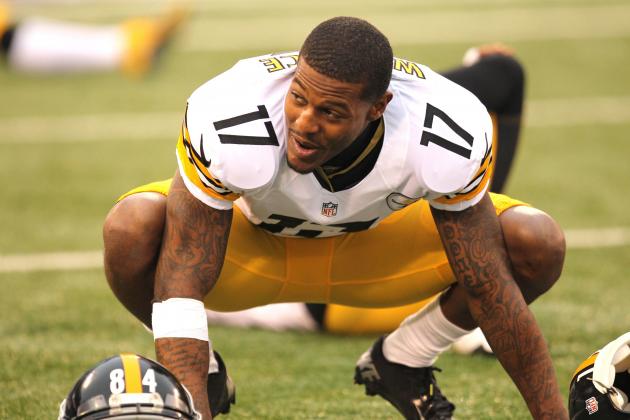 Mitch Stringer-USA TODAY Sports

Wide receiver Mike Wallace was one of the big prizes in the 2013 free-agent market.
In four seasons with the Pittsburgh Steelers, he established himself as one of the league's top deep threats.
Now, he may be expected to help carry the Miami Dolphins down the stretch.
Four months ago, Wallace left the Steel City for South Beach, inking a lucrative contract with the Dolphins. He's expected to be the star attraction in Miami's new-look offense.
In four seasons with the Steelers, Wallace totaled 235 receptions, 32 receiving touchdowns and averaged an impressive 17.2 yards per catch. But after averaging 16.6 yards per reception in 2011, that number dipped to just 13.1 yards per catch last season.
Is Wallace ready to be second-year quarterback Ryan Tannehill's go-to, big-play guy? There will be a lot expected from him in 2013. And that goes as well for the Dolphins, who were one of the league's more aggressive teams this offseason.
This Wilson thing with Oakland Raiders quarterback Matt Flynn is getting a little silly.
All kidding aside (for now), the last time we saw the former Green Bay Packers signal-caller start a game was Week 17 of 2011. The video in the piece contains highlights of his performance against the Detroit Lions that afternoon when he threw six touchdown passes in a 45-41 win.
Two career starts would land him a three-year free-agent contract with the Seattle Seahawks in 2012.
Now, here is where the fun begins.
Last summer, Flynn was beaten out for the Seahawks job by rookie Russell Wilson, who would start all 16 games as well as the playoffs.
This offseason, Raiders general manager Reggie McKenzie traded for Flynn, the pair familiar with each other during their days in Green Bay. Of course, McKenzie also drafted quarterback Tyler Wilson in the fourth round in April.
But Flynn is the team's quarterback. Any doubts? Check out this piece from late May from CBSSports.com's Ryan Wilson.
Given recent expectations, there's plenty on the shoulders of Flynn, who must prove he can be a starting quarterback for more than two games.
That means plenty of reps in training camp. But even throwing an NFL football will remind Flynn that a Wilson is lurking in the background.
It wasn't long ago that defensive end Dwight Freeney was considered the National Football League's premier pass-rusher.
In his first nine seasons in the league (2002-10), the former Syracuse star produced 94.0 sacks, tops in the NFL over that span.
Of course, it also wasn't long ago that Freeney was a defensive end. Last season, he lined up at outside linebacker in the Indianapolis Colts' 3-4 defense. The result was a dozen tackles and just 5.0 sacks in 14 games.
Freeney wasn't offered a contract by the Colts this offseason. And after the 11-year veteran made the rounds around the league, he wound up signing with the San Diego Chargers.
Hence, Freeney goes from the Colts to the Bolts. The Chargers wound up looking for some help at the outside linebacker spot when second-year pro Melvin Ingram went down in May with a knee injury.
Will the experience of playing outside linebacker for a season pay off for Freeney? Or is he simply still better suited to play defensive end? Who knows exactly where and how much of the former Pro Bowler we will see in 2013. In any case, the pressure is on him to perform.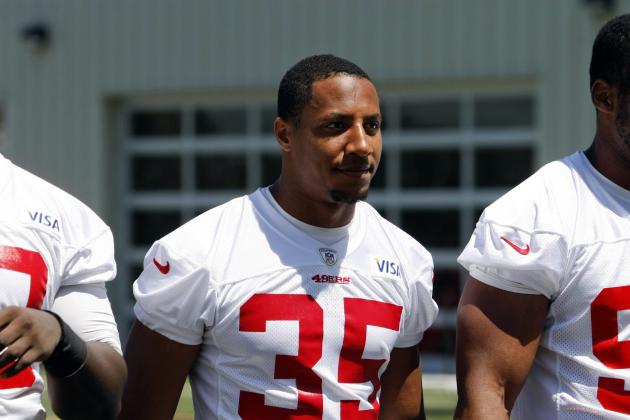 Kelley L Cox-USA TODAY Sports

Is it fair or unfair?
Perhaps that is what some will say when they see San Francisco 49ers rookie safety Eric Reid on this list.
Hear me out.
The Niners are coming off their first Super Bowl appearance in nearly two decades, a 34-31 loss to the Baltimore Ravens. And with success comes spoils as two-time Pro Bowl free safety Dashon Goldson opted to leave San Francisco and sign a big contract with the Tampa Bay Buccaneers.
Despite the offseason free-agent signing of Craig Dahl (St. Louis Rams), Reid was drafted in the first round in April and figures to be somewhere in the starting lineup this season. In June, the former LSU star was seeing action at both strong and free safety.
The 49ers defense is one of the best in the league and is still loaded with Pro Bowl performers in defensive tackle Justin Smith, linebackers Patrick Willis, NaVorro Bowman and Aldon Smith and strong safety Donte Whitner. It's a very cohesive unit that hasn't had a lot of changes in recent years.
The loss of Goldson will certainly hurt on some levels one way or another. And it will be up to Reid to make sure that pain does not linger.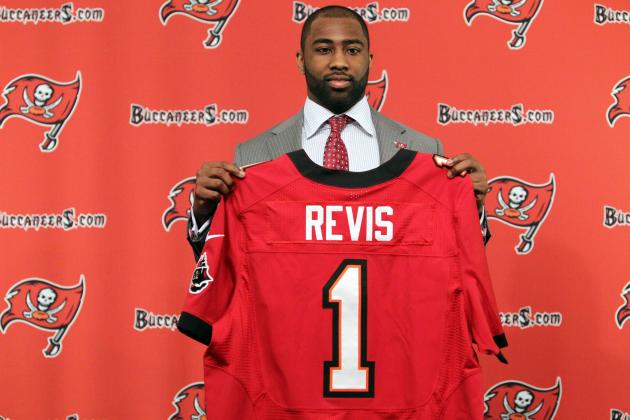 Kim Klement-USA TODAY Sports

On the surface, the issue for the Tampa Bay Buccaneers defense is so simple, it's…simple.
Now fixing those problems may not be so simple for head coach Greg Schiano. But he and the organization are willing to try.
That meant giving up a first-round pick, as well as a conditional draft choice in 2014, to the New York Jets for former All-Pro cornerback Darrelle Revis. In the conversation when it comes to the league's top shutdown defenders, Revis is coming off a season that ended with a knee injury in Week 3 vs. the Miami Dolphins.
We will hopefully find out in training camp if Revis is on the verge of regaining his Pro Bowl form.
But ponder this. He and former San Francisco 49ers free safety Dashon Goldson are being counted on very heavily to improve the NFL's worst pass defense in terms of yards allowed in 2012. And if the Buccaneers pass rush isn't any better than it has been in recent seasons, even Revis will have his issues sticking like glue to receivers.
Since 2008, Tampa Bay defenders have totaled 133 sacks while allowing 134 touchdown passes. That's why Revis is now with the Bucs.
Soon we will see if the buck stops with him.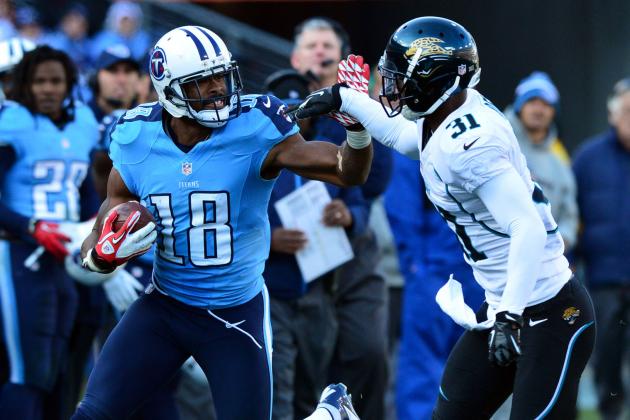 Don McPeak-USA TODAY Sports

The time has come for Tennessee Titans wide receiver Kenny Britt to prove why he was the team's first-round pick in 2009.
It's not that the former Rutgers University standout hasn't had his moments. But he has also not lived up to expectations due to injuries and off-the-field issues.
The Titans have been putting themselves in position to move on without Britt, if you go by their recent drafts. In 2012, the team added wide receiver Kendall Wright in the first round. The former Baylor Bears standout led Tennessee with 64 receptions last season.
In April, the Titans selected wideout Justin Hunter in the second round.
Britt, who enters the final season of a five-year contract, has totaled just 146 catches in four seasons. To put that in some kind of perspective, former Indianapolis Colts wide receiver Marvin Harrison caught an NFL-record 143 passes in one season.
Once again, injuries have certainly been a factor. But that means there is a lot of pressure on Britt to stay on the field in 2013.
And that starts with a productive training camp.