5 Biggest Takeaways from the Orlando Summer League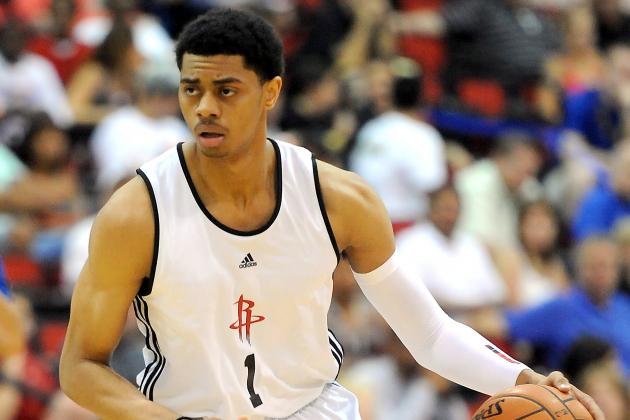 Jayne Kamin-Oncea-USA TODAY Sports
Jeremy Lamb, shown here in last year's summer league action, was one of the stars of the 2013 Orlando summer league.
Some of what happens in NBA Summer League can prove significant.
Last year, in the Orlando Pro Summer League, there were signs of Lance Stephenson's growth when the Indiana Pacers guard scored 28 in a game and averaged 19.8.
There was some indication that Garrett Temple could stick on a roster when he had six steals for the San Antonio Spurs; ultimately, the Washington Wizards would give him full-time employment.
There was some proof that Jrue Holiday no longer belonged at this level when he kept sticking open three-pointers.
Still, it can be dangerous to take any of what you see too seriously.
Consider that two of the top four scorers in the 2010 Orlando league were Damion James and Joe Crawford—and no, not the official.
Or consider what happened to the Miami Heat this week.
Miami doesn't need much, not with nearly its entire roster returning to try to become back-to-back-to-back champions. Still, it took a liking to Belmont guard Ian Clark, specifically his ability to shoot behind the arc and move his feet as a defender.
"He had a very good week for us," Heat president Pat Riley said.
But Clark had committed to join the Golden State Warriors in the Las Vegas Summer League, and he chose to honor that commitment.
"As much as we tried to dissuade him," Riley acknowledged.
Clark may play in the NBA next season. It just might not be for the franchise he represented in Orlando.
What were some of the takeaways before the teams took leave of Orlando?
All quotes for this piece were collected through the course of the author's coverage of the Miami Heat and the NBA for The Palm Beach Post.
Begin Slideshow

»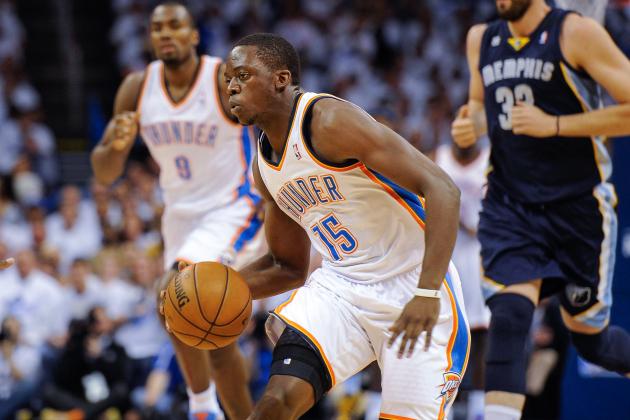 USA TODAY Sports
The playoffs were a learning experience for Reggie Jackson, and they will help him now.
Last summer, it looked like the Oklahoma City Thunder, coming off an NBA Finals loss to the Miami Heat, had everything they needed to again compete for an NBA championship.
Then, just prior to the season, and after failing to reach a long-term agreement, they traded James Harden.
After still managing to secure the No. 1 seed, they lost Russell Westbrook to a knee injury and couldn't overcome the Memphis Grizzlies in the second round of the playoffs.
In light of that, an Orlando Summer League championship won't suffice, but it does show that they may have some staying power among the West's contenders.
Forget the 5-0 record.
Focus on two players who turned in encouraging performances.
Reggie Jackson, whose role increased throughout the season, and especially after Westbrook's injury, played in just two games—but in one of those, he exploded for 35 points. He could fill a sixth-man role, including pairing with Westbrook for one of the league's quickest backcourts.
Jeremy Lamb, the most attractive acquisition in the James Harden trade with the Houston Rockets, averaged 18.8 points, even sinking a game-winner. He's still too skinny but is so fluid and skilled that he should get consistent playing time.
Oklahoma City had other contributors, including center Daniel Orton, forward Grant Jerrett and forward Andre Roberson, the latter a late first-rounder who could stick as a defensive specialist.
Still, they won't be part of the rotation come fall.
Jackson and Lamb look like they are ready for that—and more.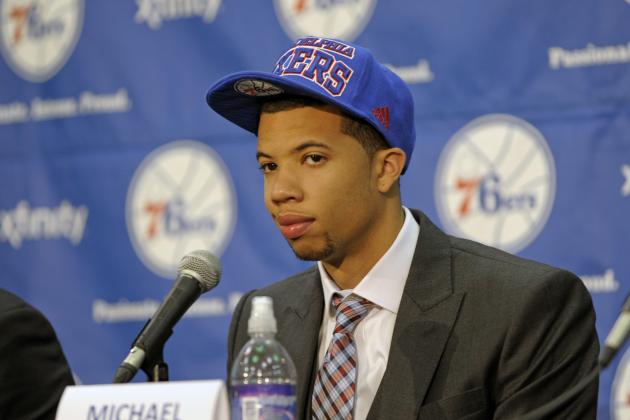 Eric Hartline-USA TODAY Sports
Michael Carter-Williams looks young, but his game needs to grow even more.
The Philadelphia 76ers have a thing for baby-faced point guards.
For four seasons, they had Jrue Holiday.
Now, after trading Holiday, they've turned over the offense to Syracuse University product Michael Carter-Williams.
That could turn out to be a wise decision, but it was clear this week that Carter-Williams has a long way to go. He put up some nice numbers (13.6 points, 4.2 rebounds, 6.8 assists), and he showed a knack for slithering to the basket. But he struggled with his shot (27.1 percent) and with turnovers (4.8 per game). Quick guards, like Patrick Beverley of the Houston Rockets, gave him trouble.
Carter-Williams, however, was better than the player picked two spots earlier, Trey Burke of the Utah Jazz.
Burke, the National Player of the Year for the University of Michigan, appeared to be one of the draft's more polished players. He looked overmatched in Orlando. In four games, he missed 41 of 54 shots, including 18 of 19 from the deeper three-point line.
On the rare occasions that he got in the lane, he couldn't always get a good shot off when faced with a taller defender.
He was in such a funk that he even sat and watched one game, and the Jazz's second-round choice—a Brazilian named Raul Neto—did everything that Burke could not.
Burke and Carter-Williams both will play for rebuilding teams this season, so they will get plenty of chances to work through their mistakes.
Still, their fans should expect plenty of those too.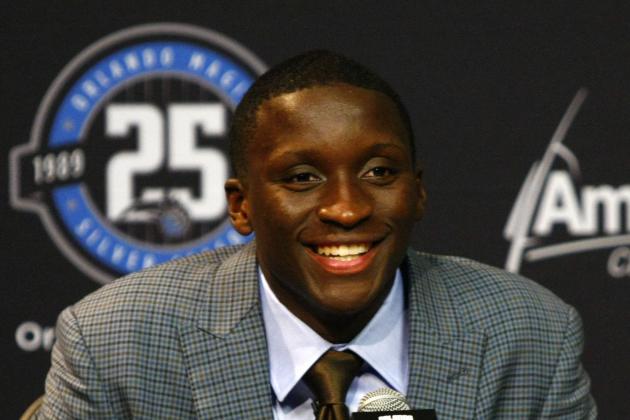 Douglas Jones-USA TODAY Sports
The Orlando Magic have made Victor Oladipo the face of their future.
When Victor Oladipo was leading Indiana University late last season, few were paying closer attention than Dwyane Wade of the Miami Heat.
Oladipo, like Wade back at Marquette University, plays for coach Tom Crean.
Oladipo, like Wade, was a late bloomer.
Oladipo, like Wade, has an impressive combination of athleticism and maturity.
And when Oladipo made a three-pointer in the NCAA tournament, Wade could be heard from the training room:
"Make that money!"
Oladipo now has, as the second overall pick in the draft.
And now, the Orlando Magic are asking him to make a transition similar to the one Wade made as a Heat rookie back in 2003.
At summer league, the Magic had Oladipo working at point guard, a position he did not play at Indiana or in high school. The Magic had him doing so even as Oladipo faced more natural playmakers, from Philadelphia 76ers first-round pick Michael Carter-Williams to Boston Celtics prospect Phil Pressey to Oklahoma City rotation player Reggie Jackson.
As Oladipo said:
I'm a point guard, and I've got to play like one. I've got to lead my team. I've got to make sure we get the right possession, the right play, get to the right spots. It's my responsibility to do that.
While he didn't always display the ideal point guard instincts, he didn't appear entirely out of sorts either. He made up for any deficiencies with his other strengths: a smooth jumper, crafty moves to the rim, quick hands in the passing lanes and a flair at game's end.
He probably won't play point guard regularly this season, with Jameer Nelson still around, but it helps to have some of that skill set. And he will be good, wherever he plays.
As good as Wade someday? Still to be seen.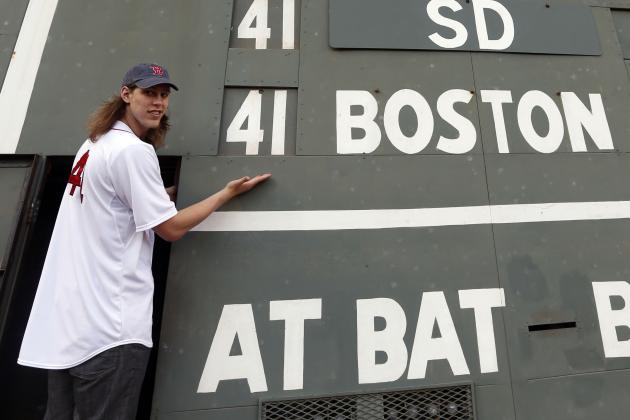 Greg M. Cooper-USA TODAY Sports
They love Kelly Olynyk already in Beantown.
After Kelly Olynyk went coast to coast, so did the hype.
Damian Lillard, coming off a Rookie of the Year campaign for the Portland Trail Blazers, tweeted this after watching the Boston Celtics center star at the summer league in Orlando:
"Kelly Olynyk nice tho."
It was hard to argue with the assessment.
Olynyk took the summer league by storm, averaging 18 points and 7.8 rebounds in five games, while shooting 57.8 percent from the field.
It was the way the No. 13 overall pick did it, though, that grabbed the most attention.
Miami Heat coach Erik Spoelstra saw some Luis Scola in Olynyk, and that was one of the more muted comparisons. Olynyk showed, dare we say, Dirk Nowitzki-like range on his jump shot and flashes of his former point guard self when he took the ball off the defensive rim and darted 94 feet for a layup.
"Just those ball skills, and sometimes, if an opportunity presents itself, you've got to seize it," Olynyk said.
He has an opportunity to seize the spotlight in Boston, with Kevin Garnett, Paul Pierce and Doc Rivers all gone.
Through it all, the Gonzaga University product tried to stay humble.
"The next level is an even bigger jump than this," he said.
Still, so far, so good.
"Coming in, I really didn't know how it translated, how they wanted me to play," Olynyk said. "Now I can kind of see myself in a system and stuff. And it's really helping. I still have a lot of stuff to work on, obviously. But it at least gives me some direction."
His NBA arrow is already pointed up.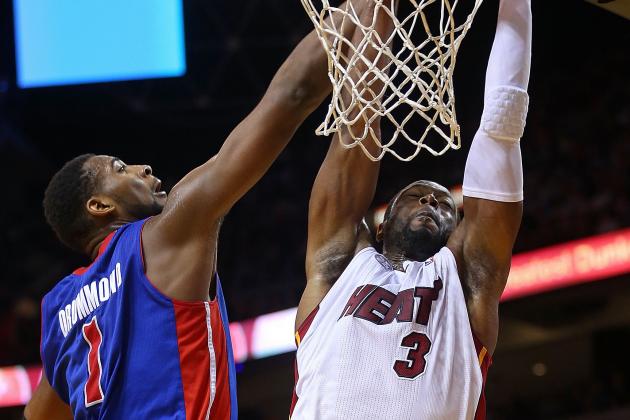 Mike Ehrmann/Getty Images
Andre Drummond appears ready to take on the game's best.
The Detroit Pistons have been short on elite talent in recent years.
So when they got their hands on Andre Drummond out of the University of Connecticut, it must not have been especially easy to show restraint.
Drummond averaged just 20.7 minutes per game as a rookie, posting 7.9 points, 7.6 rebounds and 1.6 blocks.
It's clear that he has graduated from that limited role now.
In fact, he probably should have already graduated from summer league, even if he was still the youngest player on the floor in Orlando.
Simply, he's too gifted.
Drummond dominated the competition in his four games, averaging 15.5 points, 14.8 rebounds and 2.0 blocks in under 30 minutes per outing.
He could have done more, if he'd played more.
"I've got young legs, man," he said. "I can run around all day."
He has bigger problems when he's standing still, and he followed his dreadful work at the line as a rookie (37.1 percent) by making only six of 18 foul shots in summer league.
He's such a target that Jason Kidd, new to the coaching game, had his players intentionally foul Drummond down the stretch of one of the games.
Drummond shrugged it off.
"Look at their coach, Lawrence Frank," he said with a smile, referring to Kidd's lead assistant, who happened to be the Pistons' coach last season. "So he knows."
The free-throw follies aside, the league now knows a little more about how good Drummond can be.