UFC on Fox 8 Preview: Ranking Rory MacDonald's UFC Fights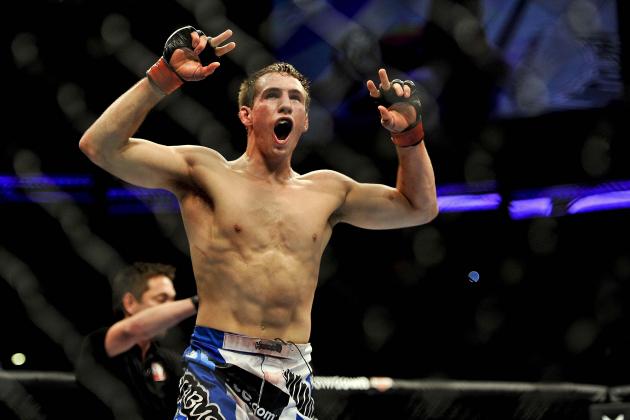 Paul Abell-USA TODAY Sports

UFC on Fox 8 has been plagued by injuries over the last few days. One fight has been completely removed from the July 27 fight card and three others have received injury replacement opponents. One fight that has not changed and remains set is the co-main event between Rory MacDonald and Jake Ellenberger.
This is a very important bout in the UFC's welterweight division. The 14-1 MacDonald is the third-ranked fighter in the division, while Ellenberger (29-6) is ranked fourth. The winner of this fight, could very well be considered for next shot at the division's title.
MacDonald joined the UFC in 2010. Since that time injuries have limited him to six fights in the Octagon, what follows are the ranking of those six fights with the promotion.
Begin Slideshow

»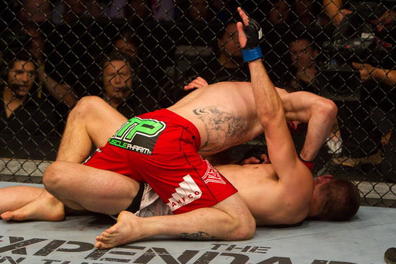 Josh Hedges/Zuffa LLC via Getty Images
After defeating Mike Guymon in his UFC debut, the promotion wasted no time in giving Rory MacDonald some much stiffer competition. The UFC bumped MacDonald up to main card status for his second fight, a matchup against former WEC champion Carlos Condit at UFC 115. Condit was 9-1 in his 10 fights leading up to the bout, his only loss being a split-decision defeat to Martin Kampmann in his UFC debut.
Over the course of the first two rounds, MacDonald was the aggressor, getting the best of Condit and looking like he was going to earn a decision victory.
With two minutes left in the final round, the tables were turned, and Condit clearly took advantage, looking to finish the fight with ground strikes. With seven seconds left in the bout, he did just that, earning the TKO win, and handing MacDonald his first defeat.
MacDonald, speaking to Fuel TV after he defeated BJ Penn at UFC on Fox 5 had this to say about the loss, "I was humiliated and embarrassed after that fight. I think about that fight all the time. It haunts me."
The fight was not a bad performance from MacDonald, but it is the only blemish on his record, and he was in control of the bout until the final round.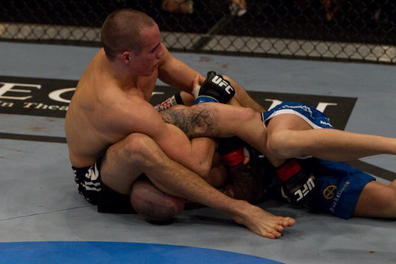 Josh Hedges/Zuffa LLC via Getty Images
Rory MacDonald made his UFC debut in January 2010. At the time he was a fresh faced 20-year-old kid with a professional record of 9-0. All nine of those victories had come via stoppage for MacDonald (five submissions, four knockouts), with only one fight making it into the third round.
For his UFC debut the promotion matched him up against the veteran Mike Guymon, who was also making his UFC debut, on the preliminary card of UFC Fight Night 20.
MacDonald was impressive in his debut, showing no Octagon jitters. He also overcame some adversity after being driven to a knee from a strong right hand from Guymon.
The end came when MacDonald caught a Guymon kick and took the fight to the ground. Once in Guymon's guard, MacDonald transitioned to side control and softened Guymon up with short strikes. When an opening presented itself, MacDonald went for the armbar, forcing the tap from Guymon at the 4:27 mark of Round 1.
Following the fight, UFC commentator Mike Goldberg commented, "Perhaps we're seeing the future."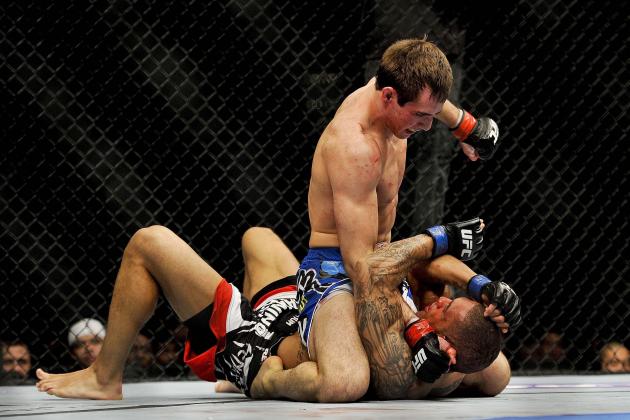 Paul Abell-USA TODAY Sports

After defeating Mike Pyle at UFC 133, Rory MacDonald found himself elevated to co-main event status at UFC 145, facing Che Mills.
Despite UFC commentator Joe Rogan's claims that Mills was "a killer," and "a stud," he was more or less thrown into this fight to make MacDonald look good. Mission accomplished.
Mills landed a few strikes to start the fight, but after that he was pretty much a punching bag for MacDonald. Mills did nothing on the ground but bleed and get punched in the face.
The fight mercifully ended in the second round via TKO.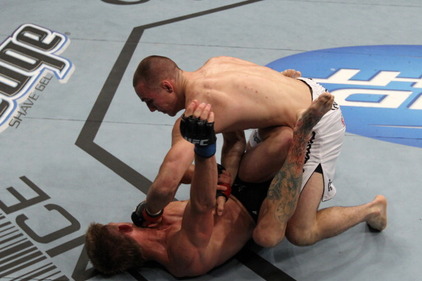 Al Bello/Zuffa LLC/Zuffa LLC via Getty Images
After defeating Nate Diaz at UFC 129, the UFC moved Rory MacDonald back to the main card for his next outing, an August, 2011 matchup with Mike Pyle.
MacDonald showed that he had the ability to finish a fight with his hands. As the first round progressed, MacDonald worked from within Pyle's guard. MacDonald hurt Pyle with a left hook and then assaulted Pyle with ground strikes, bring the referee in for the stoppage.
After the finish, UFC commentator Joe Rogan said, "I've heard him described as the next Georges St-Pierre, but I have to be honest, with all due respect, he may have more potential than that."
I'll chalk that up to Rogan being caught up in the moment. MacDonald did show progression in this fight, but to compare him to a pound-for-pound great was premature in 2011, and remains premature now.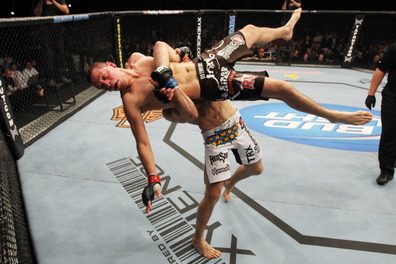 Al Bello/Zuffa LLC/Zuffa LLC via Getty Images
After losing to Carlos Condit, Rory MacDonald found himself back on the preliminary card for his next bout, a UFC 129 scrap against Nate Diaz.
The fight, MacDonald's first UFC win with Tristar's Firas Zahabi in his corner, could not have gone better for MacDonald. MacDonald's aggressive and varied attack prevented Diaz from finding any rhythm throughout the three-round scrap.
The most impressive moments of the fight came during the third round when MacDonald, showing off his well-rounded style, landed three suplexes. The throws left UFC commentator Mike Goldberg to exclaim, "He's throwing Diaz all over the Octagon."
MacDonald bounced back from the Condit loss in impressive fashion and also answered any question about if he could go three full rounds.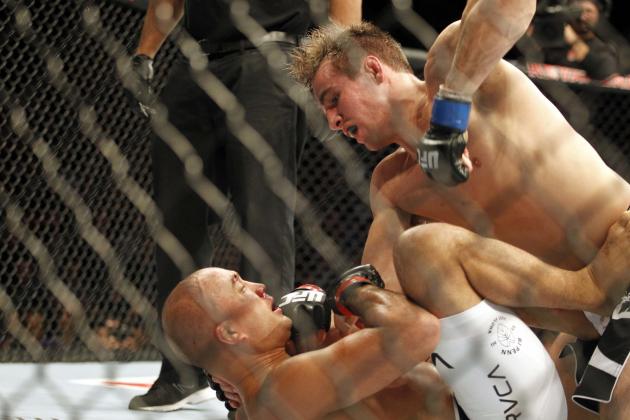 Joe Nicholson-USA TODAY Sports

Rory MacDonald and BJ Penn had been scheduled to meet at UFC 152, but a training camp cut forced MacDonald from the fight. For some reason, Penn used MacDonald's injury to accuse him of avoiding the fight. Speaking to Sherdog.com, Penn said, "I know the reason Rory pulled out on September 22. The cut is a detail. I know the reason he pulled out was because he knew he wasn't going to win."
To start the fight, UFC commentator Mike Goldberg said, "Rory MacDonald has reignited the fire in BJ Penn, and he wants to scrap." That fire was quickly extinguished by MacDonald.
Penn started the fight looking for a takedown, it would be the only real offense that Penn would establish throughout the 15-minute bout.
MacDonald's strikes were crisp and on point, marking up the face of Penn as soon as they began to land. Penn had no answer for the onslaught that he faced in Seattle on December 8, 2012.
MacDonald was so dominant that it seemed like he was just toying with Penn, perhaps with Penn's earlier words echoing through his head. MacDonald denied those accusations in his post-fight interview on Fuel TV.
In all, MacDonald landed 116 significant strikes during the fight. Penn landed just 24.
Penn has not fought since the loss to MacDonald.