The Best Boxing Matchups That Never Happened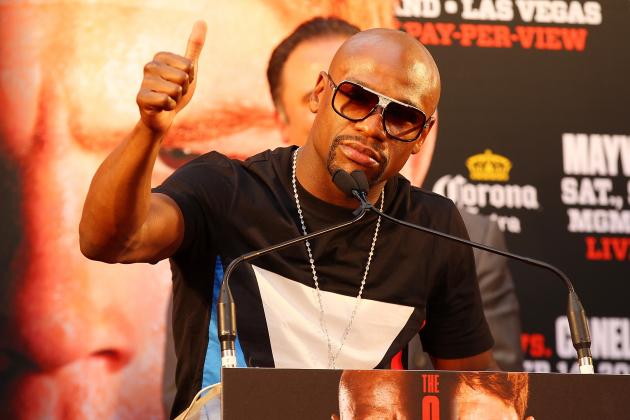 Mike Stobe/Getty Images

Fight fans love to talk about fights. They love to talk about the fights that happened in the past and the fights that are coming up. They love to talk about the fights that might be.
And they even love to talk about the fights that never were. "What would have happened..." is a favorite game among boxing fans.
Most of the time, conversations about what would have happened focus on fights that would have been historically impossible. Everybody loves to weigh in on hypothetical battles between legends from different eras.
But there are many intriguing hypothetical fights which most certainly could have happened. Indeed, in many cases, these are fights that should have happened.
These are fights that seem so likely, it's almost possible to imagine alternate realities where they occurred. It's like parallel universes, where only boxing history is radically different than the world we otherwise recognize as our own.
Begin Slideshow

»
Jack Dempsey is one of boxing's most iconic heavyweight champions. His brutal takedown of 6'6" Jess Willard ranks along with Mike Tyson's blitz of Michael Spinks and George Foreman's pulverization of Joe Frazier, as one of the most dominant heavyweight title-fight performances in history.
During the golden age of sports in the 1920s, Dempsey stood alongside Babe Ruth, as the biggest star of the day. Even the fact that he was cleanly out-boxed twice by Gene Tunney at the end of his career has done little to diminish Dempsey's standing in boxing lore.
But there is a strong chance the Manassa Mauler would never have made it to Tunney, if he had been forced to face the Black Panther, Harry Wills. Wills was the obvious top contender for Dempsey's crown, for nearly the entire length of his reign.
But due to the racism of the era, Wills was never given his opportunity to fight for the belt.
To be fair to Dempsey, he stated a willingness to take the fight on many occasions, and at one point, signed a contract for it.
I would rank Wills as among the very best heavyweights to never hold the crown and ahead of many men who did hold it. Still, it's not a sure thing he would have beaten Dempsey. Wills would have been the larger, stronger fighter, but without Dempsey's speed.
But it's not hard at all to imagine a boxing world where Harry Wills does what Gene Tunney ended up doing, only several years earlier. In that world, Wills ranks near the top of legendary heavyweights, and not just among the historians, as is the case now.
It's hard to see how this fight never ended up happening. Jake LaMotta and Rocky Graziano were two of the top middleweights, both briefly world champions, during the division's true golden age.
The two Italian-Americans shared similar backgrounds, having grown up in the New York City ghettos. LaMotta was a native of the Bronx, and Graziano represented Manhattan's Lower East Side. One story I've often read or heard repeated among boxing fans was that the two never fought, due to their friendship.
That strikes me as unlikely. I don't doubt they were pals, but both gave every appearance of being the type of guy who is perfectly willing to throw down with a chum.
A lot of shady stuff went on behind the scenes in boxing in the 1940s and '50s, so there's no way to know for sure why such an obvious fight didn't get made.
But it's also possible a date that made sense for both guys never lined up. Like I've already pointed out, this was an era of terrific middleweights, and both men stayed busy.
Graziano traded the world title with fellow Hall of Famer Tony Zale. From everything I've read about it and the little bit of film I've been able to see, they conducted the post-World War II version of Hagler-Hearns, but in three installments.
LaMotta had his legendary six-fight rivalry with pound-for-pound king Sugar Ray Robinson. LaMotta won the title off from Marcel Cerdan, the greatest French boxer who ever lived.
Graziano and LaMotta were larger-than-life ring warriors, from an era when boxing was a major sport. Both these guys had critically acclaimed biopics done about them, starring Oscar-winning actors.
It's hard not to think wistfully about how epic it would have been, had they ever fought.
From an historical perspective, LaMotta would seem the much better technical boxer. "The Bronx Bull" is the only man to ever beat Sugar Ray Robinson in his prime, and he gave Robinson a lot of trouble in most of the five other fights, which Robinson won.
LaMotta also had the better chin—or at least the better defense to protect his chin. Graziano would have attacked with abandon, but I find it very unlikely he would have been able to knock LaMotta out.
At the same time, LaMotta was much more of a grinder than a power puncher. I don't think he would have stopped Graziano either.
I think LaMotta would have won a unanimous decision. But it might have ranked among the greatest fights of all time.
Rocky Marciano is one of boxing's enduring icons, the only heavyweight champion to retire with a perfect record. But among boxing historians, the quality of his opposition receives legitimate criticism.
His three biggest wins came against Ezzard Charles, Joe Walcott and Archie Moore. These are three all-time greats, but they were all on the backside of their primes when they faced Marciano. Walcott and Moore were both ancient, by prizefighting standards.
If Marciano had not chosen to retire and vacate the title in April 1956, Floyd Patterson was the obvious No. 1 contender for his belt. Instead, Patterson became the youngest heavyweight champion in history, when he captured the vacated belt by decisioning Archie Moore the following November.
I'll never fault a boxer for retiring from this brutal sport at whatever point he feels he should retire. It's a shame more champs don't walk away on top, like Marciano.
Just the same, Patterson vs. Marciano has to be viewed as one of boxing's great "what-ifs?" Patterson was knocked out by Ingemar Johansson, so clearly Marciano would have had a good chance of blasting him.
At the same time, Patterson was a very quick, intelligent fighter, and Cus D'Amato would have trained him specifically with an eye toward preparing him for Marciano. I personally think Patterson would have won this one.
Boxing history would have been radically different if he had.
George Foreman's first retirement meant that a few potential big-time heavyweight fights never happened. For starters, there was never a rematch with Muhammad Ali.
When I first thought about the fights I would include on this list, I considered Foreman and Larry Holmes, circa about 1980. That fight would have been another classic, extending the golden era of the heavyweights.
But in terms of pure excitement for the fans, I think George Foreman vs. Earnie Shavers might have been the true missed opportunity.
In January 1976, Foreman knocked out Ron Lyle in five rounds, after being knocked down and nearly stopped himself, on multiple occasions. Some fans and historians consider it the most entertaining heavyweight fight of all time.
Lyle engaged Big George in a slugfest and nearly got away with it.
Foreman vs. Shavers would have been a similar fight. Both Lyle and Ali ranked Shavers as the hardest puncher they ever faced—above Foreman. And Shavers would have been tossing bombs at Foreman from the opening bell.
Shavers had issues with defense, stamina and his chin. Lyle stopped Shavers in six, four months before his own battle with Foreman.
More than likely, Foreman would have stopped Shavers inside of six or seven rounds. But it would probably have been a thriller for as long as it lasted.
Aaron Pryor emerged in the early 1980s as one of the most exciting fighters in the sport. "The Hawk" was like a reincarnation of "Hurricane Hank" Armstrong, a relentless force of nature who cut down just about everybody who dared to cross his path.
Pryor reigned as junior welterweight champion in the early 1980s, at the same time as Sugar Ray Leonard ruled at 147. Leonard had established himself as a legend by winning his rematch with Roberto Duran in 1980 and then coming back when he trailed on all three cards, to TKO Thomas Hearns in 14 in 1981.
A fight with Pryor had seemed inevitable at this point, but somehow, it never materialized. Between beating Hearns in 1981 and coming out of retirement to beat Marvin Hagler in 1987, Leonard fought just twice, beating Bruce Finch by Round 3 TKO in 1982 and Kevin Howard by Round 9 TKO in 1984.
A showdown with Pryor would have been a far bigger fight than either of these two outings.
I strongly believe that Leonard would have beaten Pryor decisively, if they had ever fought. I think he was too skilled and had too much power in both hands. Leonard would have enjoyed a considerable advantage in length and had the perfect style to exploit it.
At the same time, Leonard would not have been able to take off a single second of a single round. Considering the eye problems that plagued Leonard at this point in his career, it is, perhaps, understandable that this one never took place.
In the mid-1980s, Mike McCallum was the undefeated, WBA junior middleweight champion. The beginning of his reign coincided with Thomas Hearns' own term as the WBC champion at 154.
Of all the fights I've listed here, this one might have had the greatest potential for achieving legendary status. Hearns was possibly at his very best fighting at 154, but he never faced anybody there who was as potentially dangerous to him as McCallum was.
I am reasonably sure Hearns would have won his fight, but I can imagine him getting reckless early, trying to catch McCallum quickly with his monster right hand. The result of that might have been McCallum scoring some brutal combinations to Hearns' ribs. McCallum was nicknamed "The Body Snatcher" for a reason.
I think Hearns would have gutted out some tough early rounds before taking control and stopping McCallum late.
My biggest consolation for the fact that this fight never happened is that it might have interfered with Hearns' step up to middleweight to challenge Marvin Hagler. The result of that fight was the most ferocious ring war of the past 30 years.
No list like this could be complete without mentioning a potential Salvador Sanchez fight. When he died in a car accident at 23, Sanchez was the WBC featherweight champion, and by most estimations, well on his way to securing status as one of the sports all-time greats.
If he had lived, a showdown with Julio Cesar Chavez would have been inevitable. Chavez captured his first world title, the WBC super featherweight belt, in 1984.
This would have been during the same time period that Sanchez would likely have moved up to 130.
This is another fight that might potentially have altered boxing history in a serious way. Chavez went on to become the greatest Mexican boxing star ever, and one of the top pound-for-pound stars of the 1980 and '90s. His ever-building, undefeated streak added tremendously to his aura.
If Sanchez had not died, there's a good chance Chavez's undefeated streak would not have survived to see 1985. And Chavez would have had to fight Sanchez or else spend his entire career under Sanchez's shadow.
Overall, the 1990s was a great era for the heavyweight division. Still, when I consider the long and tragic decline of boxing's glamour weight class, I see December 14, 1992, as the date at the start of the time line. That's the day Riddick Bowe chose to throw the WBC version of the belt into a trashcan, rather than defend it against Lennox Lewis.
The IBF, WBC and WBA belts had been unified by Mike Tyson in 1987, then lost to Buster Douglas in Tokyo in 1990. Douglas had immediately dropped all three belts to Evander Holyfield, who had kept them together until losing them to Bowe, in November 1992.
Ahead of Holyfield's defense against Bowe, the WBC had announced that the winner of Lennox Lewis and Donovan Ruddock would be the mandatory No. 1 contender for the winner of Holyfield and Bowe.
When Lewis crushed Ruddock by Round 2 TKO on Halloween 1992, it was assumed by everyone that he was set to face whoever emerged with the belts in November. As the video above demonstrates, Lewis was on hand at the fight, and Bowe took time out to exchange trash-talk after his big win.
Boxing fans were pumped. The fight would be a rematch of their meeting in the 1988 Olympics, when Lewis had knocked Bowe out.
Alas, it was never to be. This contemporary article from The New York Times gave Bowe, and his manager, Rock Newman, sufficient space to state their justification for breaking up the heavyweight crown in order to avoid what seemed like the only relevant fight on the table.
But it's hard not to feel that Bowe simply wanted no part of Lewis, especially looking back now, over 20 years later.
Like Foreman vs. Shavers, I've included this choice more for its potential action and excitement than for it's likely relevancy to the history of the heavyweight title. Plainly put, Mike Tyson vs. David Tua seems like it would have been a nonstop thrill ride.
I want to point out that I'm not talking about Tyson, at his very best, fighting Tua, at his very best. Mike Tyson—circa 1988—would have been too defensively clever for Tua to hang with him.
But Mike Tyson vs. David Tua, if it would have happened, would have happened in about 1996 or 97. Tyson from that era would likely have opted to go toe-to-toe, matching explosive power against explosive power.
That kind of fight would have been a tough battle for Tyson to win. Even at his heaviest, he was smaller than Tua and didn't seem to have the same chin.
So more than likely, Tyson would have had to make some adjustments in order to win after surviving some exciting early rounds. This is a fight that might have given Tyson a rare opportunity to shine late in his career.
Or, it could have been a fight that severely hastened his decline.
Floyd Mayweather vs. Manny Pacquiao might seem like the more obvious choice here. There is something fundamentally annoying about the fact that the fight most fans wanted to see somehow couldn't get made, year after year.
But in my mind, the real hole in Floyd Mayweather's resume isn't Pacquiao, a fight I ultimately believe he would have won with relative ease.
The name that's missing from Mayweather's dance card is Paul Williams—circa about 2008 or 2009.
After Mayweather knocked out Ricky Hatton, Williams should have been next. Instead, Mayweather retired temporarily and had a "make-pretend" fight in the WWE.
I think Mayweather would have beaten Williams. But with a five-inch advantage in height and an awkward, busy, southpaw style, there's no denying that Williams would have been a handful for Mayweather.
If Mayweather had fought Williams, we'd be hearing some different conversations than the ones we currently hear.
Fighting Williams would have forced Mayweather to turn in one of the most brilliant performances of his career. His legions of haters would have no real leg to stand on now when criticizing him.
And, of course, if he had lost, boxing's recent history and current scene would look radically different.