The Biggest Storylines Heading into New York Jets Training Camp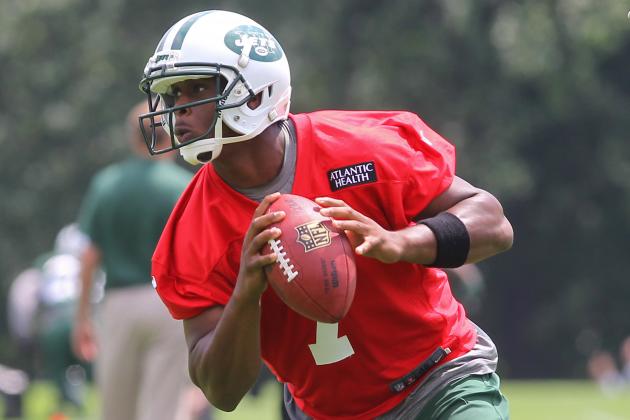 Ed Mulholland-USA TODAY Sports

New York Jets training camp will commence on July 26 in Cortland, NY, when players will practice as a unit for the first time since minicamp.
The 2013 season will start just six weeks thereafter.
The Jets have a lot to accomplish in a small amount if time if they expect to compete for a playoff berth after seemingly becoming the laughing stock of the NFL last season.
The biggest storyline heading into training camp for the Jets is the team's potential franchise-altering quarterback competition between veteran, second-rate QB Mark Sanchez and rookie Geno Smith.
There's more to talk about than that, though. The Jets feature a new-look offense that includes a revamped ground attack and depth-chart mania at wide receiver. Rex Ryan's defense is also newly focused on sustaining a forceful pass rush—a staple in the teams that reached consecutive conference championship games.
The age of complacent negligence has vacated Jets headquarters. It's time for competition to take place.
The following slideshow examines five of the Jets' biggest storylines heading into training camp.
Begin Slideshow

»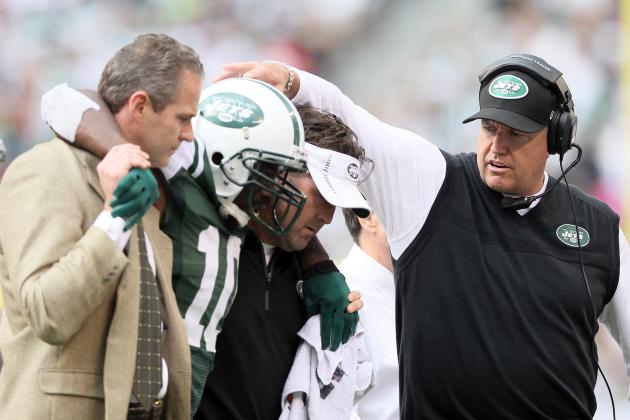 Elsa/Getty Images

The Jets' viability at wide receiver is going to be determined by how durable Santonio Holmes can be when he returns from a severe Lisfranc fracture, which ultimately ended his 2012 season in Week 4 against the 49ers.
Holmes is still just 29 years old but is arguably no longer a No. 1 receiver. He almost certainly will not participate in team activities during training camp and might not be ready for the start of the season.
The Jets receiving corps are meager at best. Second-year player and dropped-pass sensation Stephen Hill would suit up as the team's "best" wideout in Week 1 if Holmes is unable to play. It's an alarming possibility for a team that probably has the thinnest talent pool at wide receiver in the NFL.
The Grade 4 injury that Holmes suffered included a muscle tear and joint separation in his foot. It didn't look serious in real time, but the injury has deflated Holmes' outstanding career to this point.
It's unknown how effective the veteran receiver will be when he's finally able to play again—especially considering the amount of duress he's likely going to endure, considering the lack of reliable downfield targets on the team's depth chart.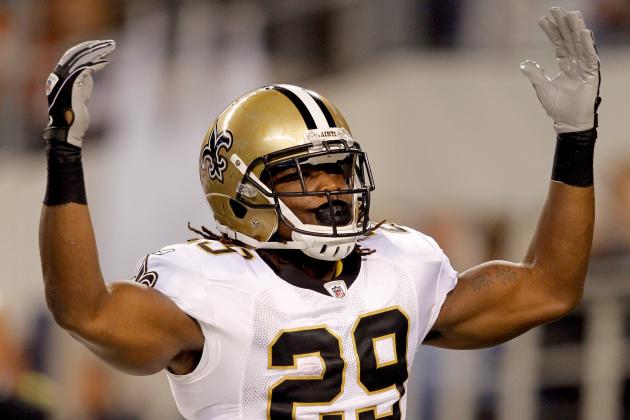 Matthew Stockman/Getty Images

New feature back Chris Ivory could be the Jets' best weapon on offense. The coaching brass is expecting big things from the team's newly acquired running back.
Ivory will see an extreme increase in playing time this season.
It'll be his first full season as a starting back and first chance to showcase potential top-tier abilities to the football world.
He's played in just 24 games throughout three seasons as a pro. He averaged 5.1 yards per carry on 256 career attempts. It's likely that Ivory will see upward of 300 carries for the Green and White this season, a work load that he's never experienced in his life.
Ivory has the body frame necessary to develop into a durable feature back who can handle 20-plus carries per game. He's listed at 6'0'' and 222 pounds, according to Pro Football Reference.
The Jets are hoping Ivory can transform himself into a formidable rusher capable of aiding a stagnant offense that faces huge question marks at quarterback and wide receiver. The Jets stand a good chance of at least sustaining some sense of relevancy in the AFC East this season if Ivory can prove himself worthy of elite status.
He's destined to receive a bulk of the work load on offense, representing a significant opportunity for a breakout season.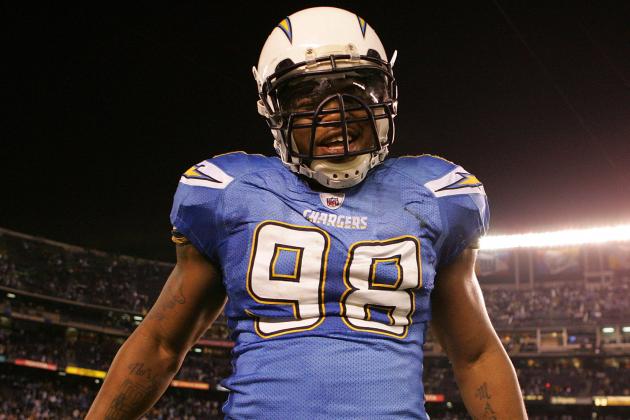 Jake Roth-USA TODAY Sports

Head coach Rex Ryan has vowed that the Jets will rekindle their formerly dominant, blitz-happy pass rush that enabled consecutive AFC title game appearances.
The Jets featured an aging defense that devolved itself into complacent negligence over the past two seasons.
The lack of a forceful pass rush devastated the Jets, allowing for opposing quarterbacks to get comfortable in the pocket.
Still, the Jets surrendered just 180.7 passing yards per game last season; however, that number was largely influenced by the team's defensive front being torn apart on the ground. The Jets completely relinquished their superiority in the trenches in 2012, giving up 133.6 rushing yards per game.
That should change in the 2013. The Jets have the personnel in place on defense, specifically on the D-line and in the linebacking core, to reassert themselves as a formidable unit.
Training camp will be a solid indicator of how brutal the defense can be in the face of the opposition.
Antwan Barnes, who recorded 32 tackles, 11 sacks and two forced fumbles in 2011, is attempting to revitalize his career after performing below average last season.
Rookie defensive tackle Sheldon Richardson has the tenacity and prowess necessary to develop into a beast at the pro level. He recorded 112 tackles, including 18.5 for loss, and six sacks in two seasons at Missouri. He's slotted opposite Muhammad Wilkerson, who is steadily developing into a premier pass-rusher.
Ryan's innovative blitz scheme is going to create havoc for the opposition in 2013.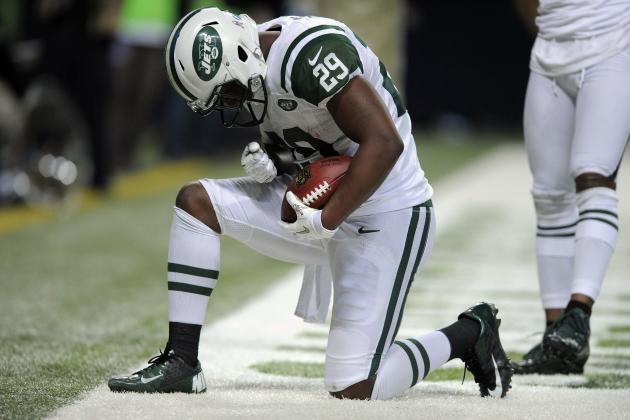 Jeff Curry-USA TODAY Sports

New general manager John Idzik preaches competition—a mantra that should benefit the Jets. The team's depth chart is wide open at multiple positions, like tight end and safety, although some players sustain a lesser chance of making the 53-man roster than others.
Backup running back Bilal Powell was thought to be in consideration for a starting role when the offseason began. Now, it's possible that Powell could be out of a job after training camp.
Powell averaged 4.0 yards per carry on 110 attempts in 2012, refueling a dormant run game that suffered from a lack of speed. Powell represents value from a receiving standpoint. He pulled down 17 receptions for 140 yards last season, averaging 8.2 yards per reception.
New offensive coordinator Marty Mornhinweg's offense is going to be consumed by the short passing scheme, which means running backs are going to see a significant amount of targets. If Ivory displays an inability to showcase above-average receiving ability in training camp, Powell could find his niche.
The Jets also feature open competition at tight end, where former backup Jeff Cumberland is currently slotted atop the depth chart. The acquisition of Kellen Winslow could prompt the exit of Konrad Reuland, who has scarce experience in two seasons at the pro level.
Reuland started three games for the Jets last season. He caught 11 passes for 83 yards and was mostly used in two-tight end sets. He doesn't possess a ton of value, which could lead to his demise if Winslow proves he's healthy enough to contribute in camp.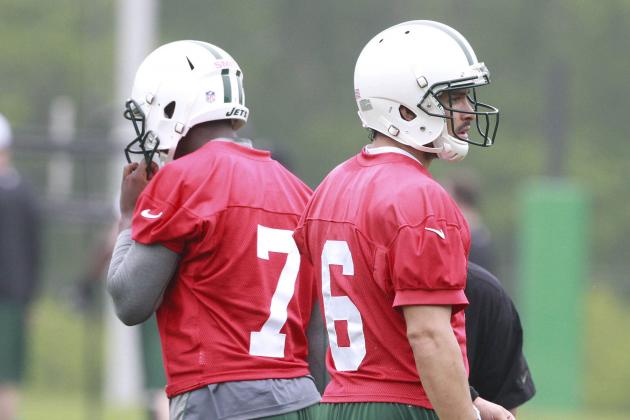 The Star-Ledger-USA TODAY Sports

The Jets' quarterback competition is bound to be the most talked-about aspect of Jets training camp this summer. The notorious battle between Sanchez, who continues to talk a big game despite failing to actually showcase sufficient ability, and Smith will take center stage in Cortland, N.Y.
Sanchez is thought to be the odds-on favorite because he outplayed his counterpart in OTAs and minicamp while demonstrating sleek ability to effectively run some aspects of Mornhinweg's West Coast offense.
The "Sanchize" could be a dead era at the conclusion of the preseason, regardless.
Sanchez recorded a 71.7 quarterback rating in 2012—the worst among active starting quarterbacks in the NFL. In addition, he's also surrendered 26 turnovers in consecutive seasons, promptly leading to ugly defeats.
He's a prototypical leader for an ineffective offense that struggles to gain first downs when he's at the helm. He lacks athletic ability and seldom escapes the pass rush in pocket-collapsing situations.
Sanchez has a knack for throwing behind open receivers downfield and frequently turns the ball over in the red zone.
The Jets' coaching brass claims there isn't a front-runner in this competition. How could there be? Sanchez is wildly ineffective and Smith is vastly unproven.
The player who makes fewer mistakes throughout camp and the preseason will earn the team's role of main signal-caller.
Sanchez has a proven track record of making mistakes, potentially giving a seeming edge to a rookie quarterback who could symbolize the start of a new era for the Jets.