The UEFA Women's Euro 2013 final round continued Friday with two critical matches as Group C opponents battled for positioning in search of a Euro championship.
As many expected, France turned the screws on Russia in the opening contest with a 3-1 victory, aided by two scoring strikes from 25-year-old forward Marie-Laure Delie and another tremendous defensive effort from one of the best group of defenders in the world.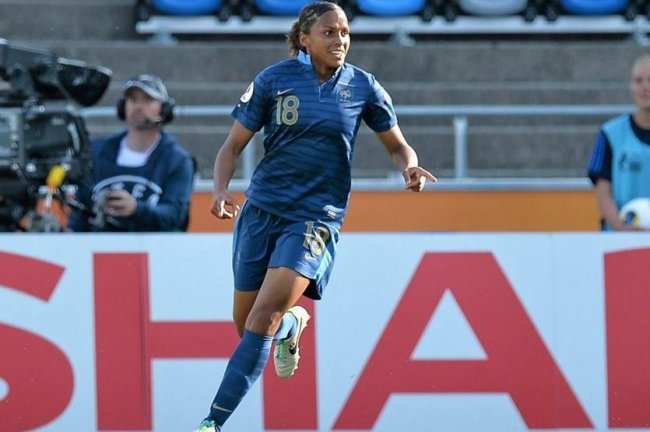 In the qualifying round, France surrendered just two goals, and given Russia's propensity for relying on its midfielders to shoulder the offensive load, it comes as no surprise France was able to stymie the Group C challenger.
As noted by Chris Burke of UEFA.com, it wasn't just France's defenders who made life difficult for Russia:
#FRA looking increasingly dangerous, with #LeSommer enjoying space on the right, but #Morozova a threat for #RUS on the break. #Euro2013

— Chris Burke (@UEFAcomChrisB) July 12, 2013
Eugenie Le Sommer was absolutely phenomenal in the qualifying phase with seven goals in eight contests, and she continued that impressive play Friday. While she didn't find the net early in the match against Russia, she did give opposing defenders plenty to worry about, opening things up for fellow forward Delie.
Delie saw her share of scoring in the last stage with five goals in eight matches, and she found a new gear Friday, as noted by Burke:
A well-deserved 2-0 lead for #FRA and we look set for the first win at #Euro2013 on day 3. #Delie and #LeSommer have made #RUS suffer badly.

— Chris Burke (@UEFAcomChrisB) July 12, 2013
Delie hit paydirt twice in the contest, once in the 21st minute with a powerful right foot to the left side of the net and again in the 32nd minute following a sublime pass from Le Sommer, the second of which Women's Soccer United detailed with this tweet:
32' GOAL! France 2-0 Russia (Delie scores her second of the match!) #Euro2013

— Womens Soccer United (@WomensSoccerUtd) July 12, 2013
Spacing was key for France as Delie and Le Sommer outflanked Russia's defenders time and again. As expected, the French side was dominant for much of the contest.
Russia did have some opportunities to stem the tide in the second half, though. France seemed to back off its aggression with a comfortable 2-0 lead, and Russia responded with more pressure than it applied in the first frame.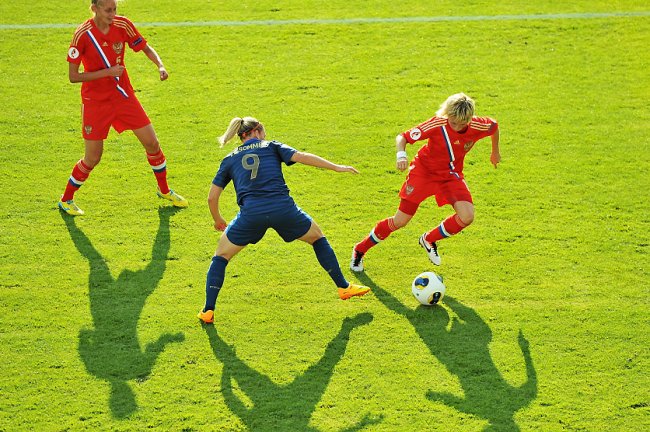 With Delie exiting in favor of substitute Elodie Thomis, Russia was able to turn its attention on counterattacking and building momentum in the final third.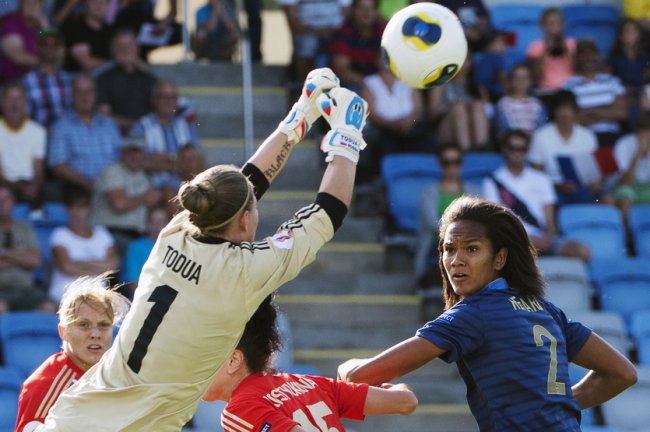 Still, Russia was unable to make any discernible progress on the attack, being outshot 11-0 by the 66th minute. With more than half of the second period gone, Russia had managed just two attempts, neither of which was on target.
But any momentum Russia had obtained would quickly diminish in the 67th minute, courtesy of a Le Sommer strike to increase France's lead to 3-0, via French Football Weekly:
Thomis wrigggles into the box, puts it in, Le Sommer barrels in to finish. France 3 - 0 Russia.

— FFW (@FrenchFtWeekly) July 12, 2013
Again, it was France's forwards who would turn the screws on the opposition as Thomis—needing no time to find her rhythm—hopped right into the action. Delie was terrific Friday, but France's entire group of forwards deserves credit for the win.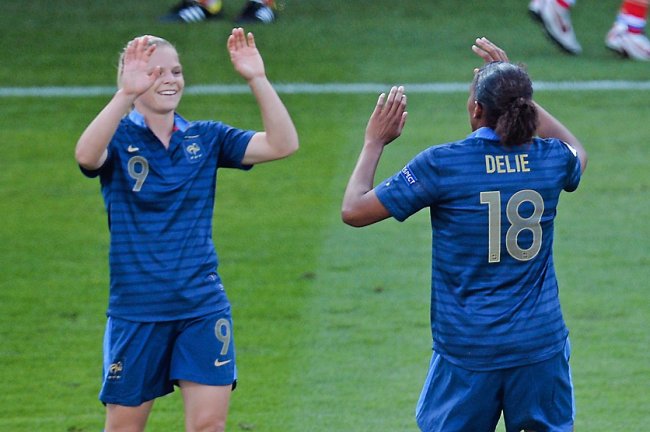 Russia wouldn't exit the match without a fight, though. In the 84th minute, it got one back on an Elena Morozova strike.
French defender Wendie Renard let a long pass get behind her, and Morozova was there to capitalize. She slid the ball past Sarah Bouhaddi for the team's first goal, but it was too little too late.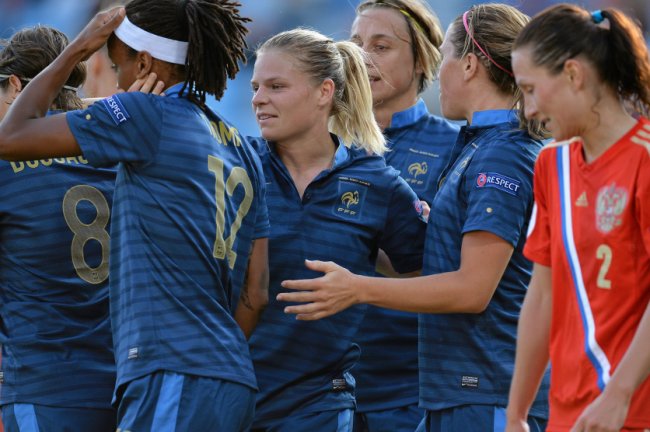 The final minutes ticked off without another opportunity, and France left the pitch with a terrific 3-1 victory in the opening of the final group stage.
With the win, France earns three well-deserved points to take the lead in the Group C tables. Russia falls to the bottom of the table, tied with England.
England 2, Spain 3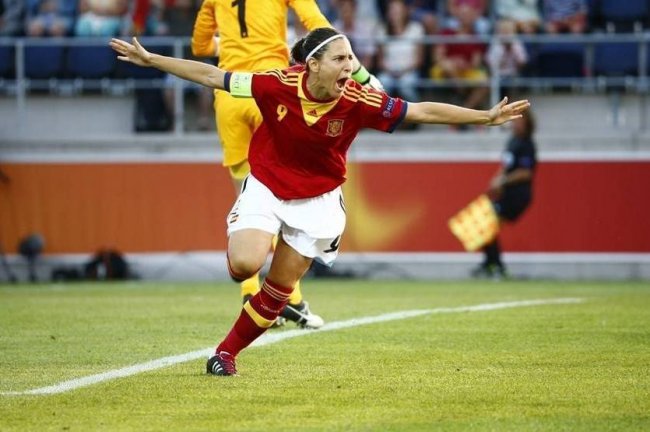 Day 3 of the Women's Euro 2013 championship held plenty of action, but most of it was provided by Spain and England.
With both teams looking to secure three points and pull even with France, Spain ultimately poked home a last-minute goal to go ahead 3-2 and send England to the bottom of the Group C tables.
Spain got off to a hot start in the second contest of Day 3 with a fourth-minute goal, but England answered back just four-minutes later with a tremendous display of one-touch passing to level the score at 1-1.
It was Veronica Bouqete who set the tone for Spain's offense with the early goal, splitting the defense and sliding a terrific low ball past English keeper Karen Bardsley. Paul Saffer of UEFA.com detailed the scoring strike with this tweet:
GOAL SPAIN @VeroBoquete on 4 minutes England 0-1 Spain #euro2013, beat the offside trap from Sonia's pass @UEFAcom

— Paul Saffer (@UEFAcomPaulS) July 12, 2013
Eniola Aluko wouldn't be upstaged, however, tacking on England's equalizer on an exceptional pass from Jill Scott, as noted by Saffer:
GOAL ENGLAND - Great ball from Jill Scott finished by Eniola Aluko. England 1-1 Spain after 8 minutes #whatastart #euro2013 @UEFAcom

— Paul Saffer (@UEFAcomPaulS) July 12, 2013
Great expression from @EniAlu after her equaliser for England #euro2013 #ENGvESP @UEFAcom pic.twitter.com/pbEI0izaNO

— Paul Saffer (@UEFAcomPaulS) July 12, 2013
But the early scoring in the match didn't exactly mirror what would follow. Both teams struggled to set up quality scoring chances in the remainder of the second half, each unable to maintain possession or find creases in the defense.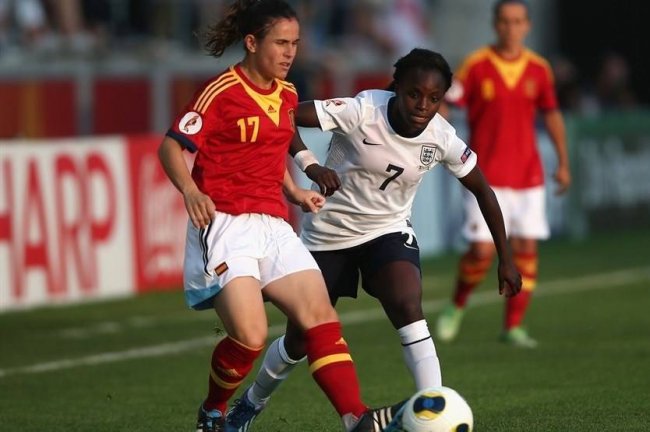 With the first 45 in the books, Spain and England combined for just seven shots, only four of which were on target.
As Saffer noted, Spain looked like the more controlled team, but England displayed enough attacking prowess to make a splash in the second half:
HT England 1-1 Spain, Spain dominating possession #asper England the more dangerous, settled down a bit after breathless opening #euro2013

— Paul Saffer (@UEFAcomPaulS) July 12, 2013
Unfortunately, the second half got off to a similarly slow start, picking up where the first 45 ended. A bevy of penalties and offside calls highlighted the first 16 minutes of play, and neither side seemed to have much momentum at midfield or in the attacking third.
Still, both teams were playing with energy and tempo, as noted by BBC's Paul Garrity, each playing with enough aggressiveness to keep the match deadlocked at 1-1.
Good high tempo to the second half. I expect the improved fitness levels of the #fawsl players to come through #England 1-1 #Spain #Euro2013

— Paul Garrity (@paul_garrity) July 12, 2013
Despite several chances, Spain was unable to capitalize on its late-match opportunities. The Spanish side attempted 10 shots through 76 minutes, only three of which were on target. Meanwhile, England failed to record a single shot in the second half to that point.
England's stalled attack was enough to give Spain the boost it needed.
In the 85th minute, Jennifer Hermoso stung a crossed ball past four defenders and away from Bardsley for the go-ahead goal and potential game-winner, as noted on Twitter by The Equalizer:
Spain scores in the 85th minute! Jennifer Hermoso with the finish and it's Spain 2-1 England. #euro2013

— The Equalizer (@EqualizerSoccer) July 12, 2013
It looked as if Spain would have the match locked up with little more than four minutes to play in regular time. As poorly as England's attack was finishing throughout the second half, there was nothing to suggest it would have time to net an equalizer and force a draw.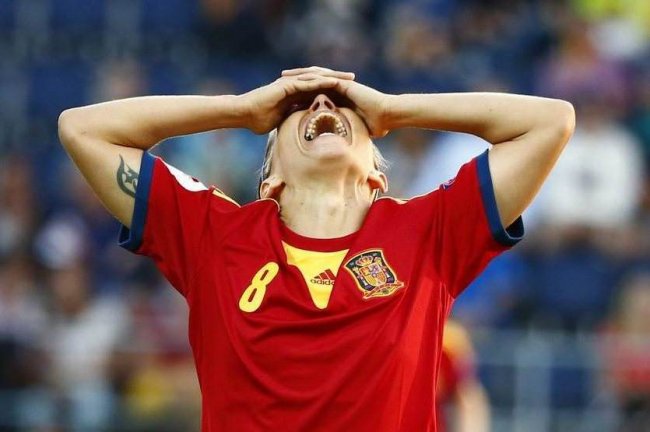 Laura Bassett had other ideas.
With just a minute remaining in regular time, the defender took a batted-down cross and poked it past Spanish keeper Ainhoa Tirapu to bring the match to 2-2.
But just as quickly as things got exciting, the match got entirely out of hand.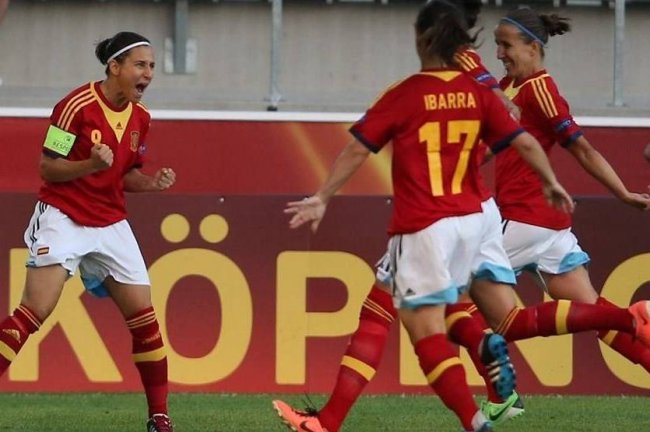 Officials added four minutes of stoppage time to the end of the contest, and it was just enough time for Spain to add a final dagger to England. As well as the English side played in the final 15 minutes, it was Alexis Putellas who would punctuate a thrilling Spanish victory, as detailed by The Equalizer:
Spain finds the winner in the 94th minute! Alexia Putellas causes havoc and it's a Bardsley own goal. Spain 3-2 England. #euro2013

— The Equalizer (@EqualizerSoccer) July 12, 2013
Both teams played well in the second half, but Spain took advantage of impeccable timing and a few quality chances to come away with the victory—though if the final 20 minutes were indication, Group C should watch out for both teams in ensuing matches.