Athletes Celebrating with Their Kids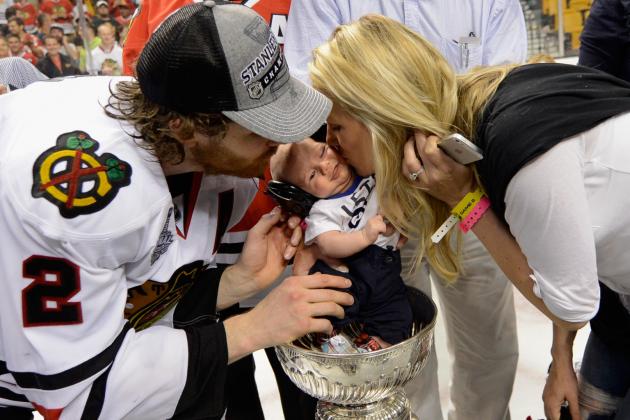 Like any normal human being, athletes want to be able to share their greatest triumphs with someone they care about. Success is a lifeless thing when it's just you and it. In this case, three is anything but a crowd.
Often, athletes spend the first moments after their victory basking in its glow with the men or women who helped make it possible—teammates, coaches, fans. Few images capture the essence of being a champion more than teammates dousing each other in champagne.
However, we can't overlook the very underrated practice of an athlete sharing their joy with their children. Sure, it's more subtle than circling and tearing down the goal posts, setting a couch on fire or getting a DUI, but the quiet nature of the act doesn't make it less meaningful.
Those athletes who seize the opportunity to make their greatest achievement an experience shared with the ones they care most about certainly have created something that never goes flat.
What makes athletes celebrating with their kids even better? In a world of never-ending cameras, you and I get to be a little part of it too.
These are photos of athletes celebrating with their kids that are touching, funny and everything in between.
Begin Slideshow

»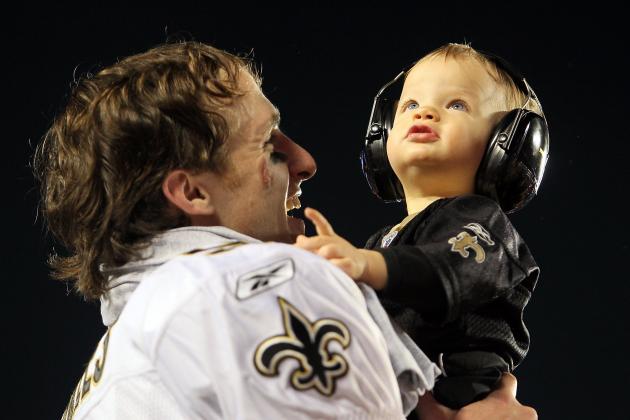 Andy Lyons/Getty Images

Date: Feb. 7, 2010

Event: Super Bowl XLIV
New Orleans Saints quarterback Drew Brees celebrates his first Super Bowl, and the first in franchise history, with his young son, Baylen Robert Brees.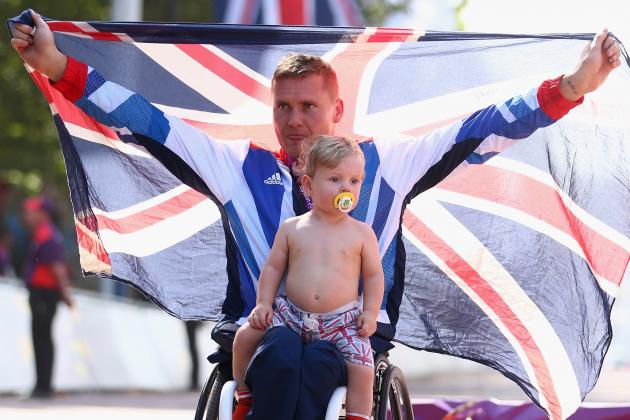 Michael Steele/Getty Images

Date: Sept. 9, 2012
Event: 2012 London Paralympics - Athletics Marathon
Great Briton's own David Weir celebrates his fourth gold medal of the 2012 Paralympic Games with a patriotic display, ably assisted by his son Mason.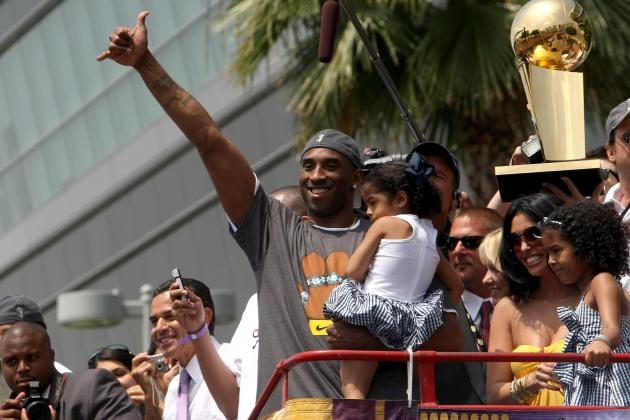 Stephen Dunn/Getty Images

Date: June 17, 2009
Event: Lakers Championship Victory Parade
Los Angeles Lakers superstar Kobe Bryant—daughter Gianna Maria-Onore Bryant in arm—joins his teammates to celebrate the franchise's fifth NBA championship of the new millennium and the team's 15th overall.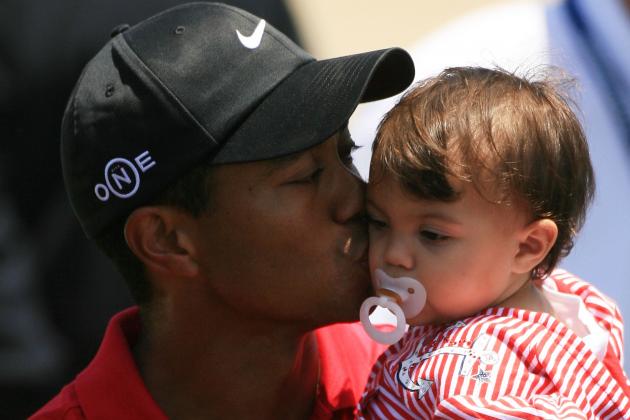 Travis Lindquist/Getty Images

Date: June 16, 2008
Event: U.S. Open Championship
After winning what many consider to be the greatest, if not the most grueling, U.S. Open in history, Tiger Woods spreads the love to then-infant daughter Sam.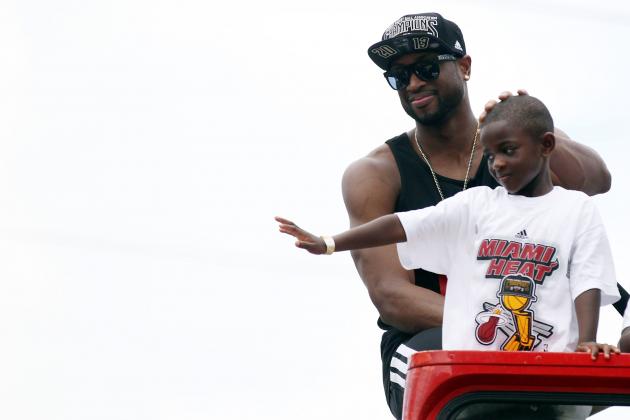 Marc Serota/Getty Images

Date: June 24, 2013

Event: Miami Heat NBA Championship Victory Parade
Miami Heat star Dwyane Wade's son, Zion Malachi Airamis Wade, waves to throngs of fans in a celebration that will likely become routine. Being the child of a key part of Miami's "Big Three" has its perks.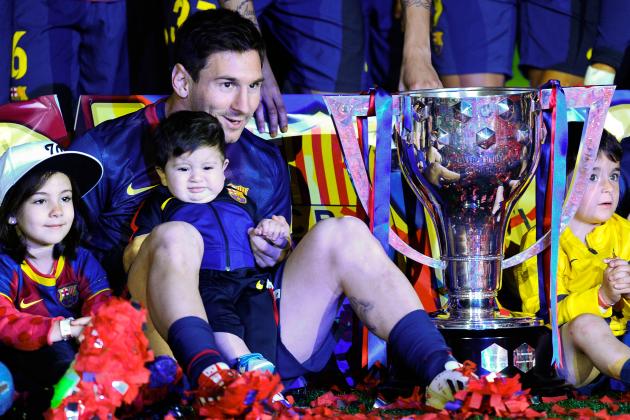 David Ramos/Getty Images

Date: May 19, 2013

Event: Barcelona vs. Real Valladolid
After vanquishing Valladolid and securing the La Liga title, legendary footballer Lionel Messi soaks in the victory with son Thiago Messi, who appears to be affected by a wind tunnel only he can see and feel.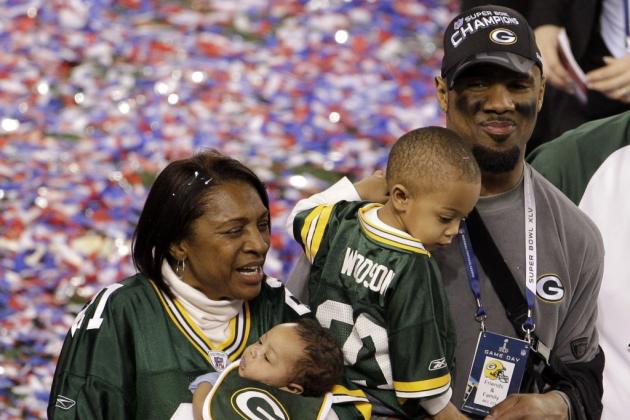 Image via Lynne Sladky
Date: Feb. 6, 2011

Event: Super Bowl XLV
Former Green Bay Packers defensive back Charles Woodson is letting is son, Charles Woodson Jr., take in the massive amount of confetti that just rained down from above.
A word to the wise: Now he's going to expect you to make blizzard-like confetti showers happen all the time.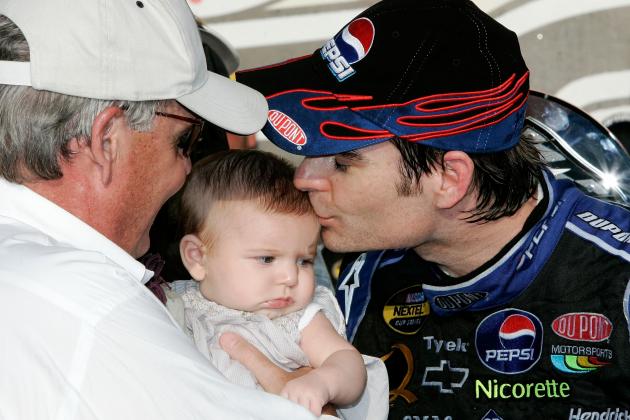 Jason Smith/Getty Images

Date: Oct. 7, 2007

Event: UAW-Ford 500
This winning moment may be lost on Jeff Gordon's baby daughter, Ella Sofia, but she'll have her whole life and the immortality of this photo to relive it.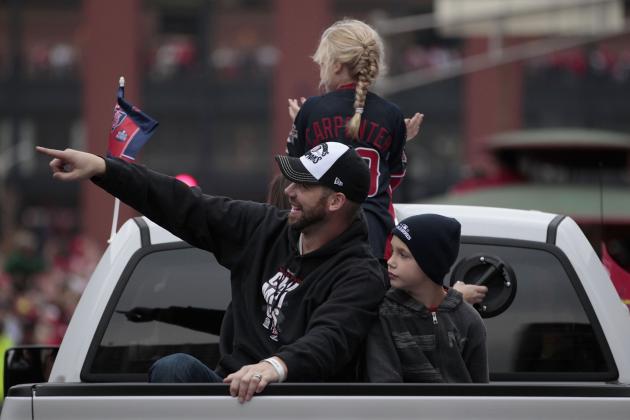 Whitney Curtis/Getty Images

Date: Oct. 31, 2011

Event: St. Louis Cardinals World Series Victory Parade
Kids love parades, even if they never seem to get close enough for their liking. One way to solve that problem is to call the St. Louis Cardinals' Chris Carpenter "dad," which worked for Ava.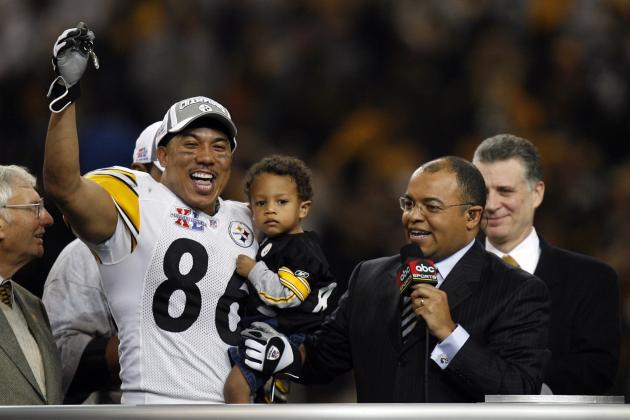 Allen Kee/Getty Images

Date: Feb. 5, 2006

Event: Super Bowl XL
Son Jaden may not have quite mastered his father's trademark smile (even if dad's team just won "one for the thumb"), but I bet Hines Ward gives him ample opportunities to practice.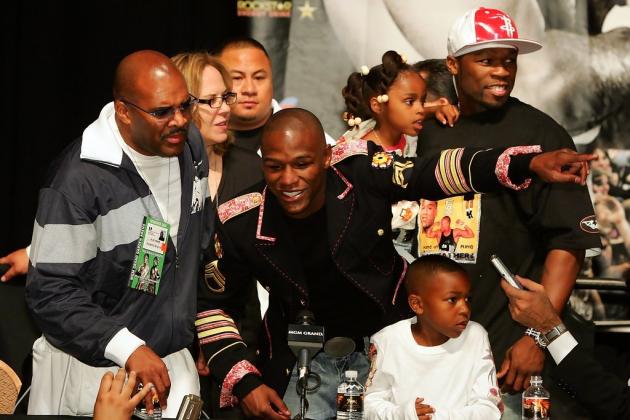 Ethan Miller/Getty Images

Date: March 5, 2007
Event: Floyd Mayweather Jr. vs. Oscar De La Hoya
In this moment, Floyd Mayweather Jr. had plenty to smile about: He just won a split-decision in one of the most hyped fights in decades and launched himself into superstardom.
In breaking the record for the largest purse ever, Mayweather's children, Jirah, Zion, Iyanna and Kouran, certainly must have had an amazing Christmas morning.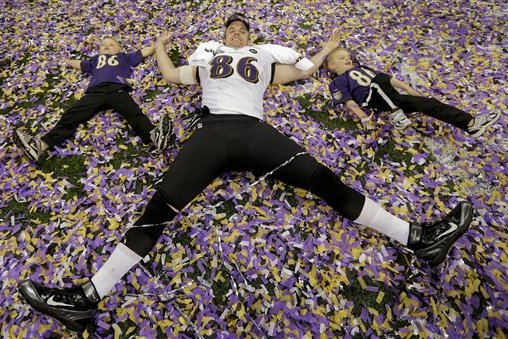 Image via Marcio Sanchez
Date: Feb. 3, 2013

Event: Super Bowl XLVI
Veteran Baltimore Ravens tight end Billy Bajema caught lightning in a bottle. Playing for his third team in seven years, he scored one of the rarest feats in pro football: a Super Bowl victory.
There was only one thing left to do – make confetti angels with his sons.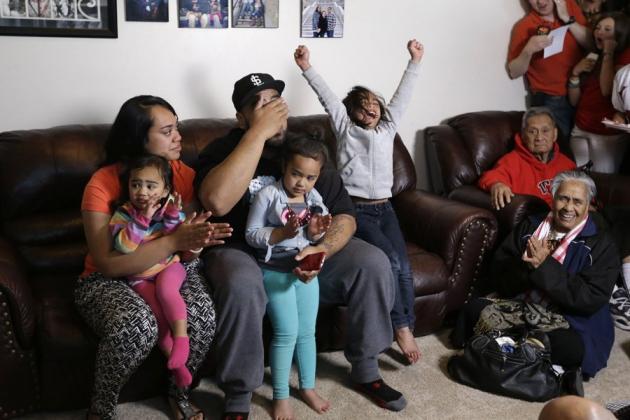 Image via Rick Bowmer
Date: April 25, 2013

Event: 2013 NFL draft
Unlike future New York Jets quarterback Geno Smith, Utah defensive tackle Star Lotulelei chose to hedge his bets and watch the draft with his wife, Fuiva, and children, Pesatina and Arilani, in the comfort of his own home.
In getting selected 14th overall by the Carolina Panthers, he may have missed out on the Roger Goodell handshake, but who would want that over this adorable moment?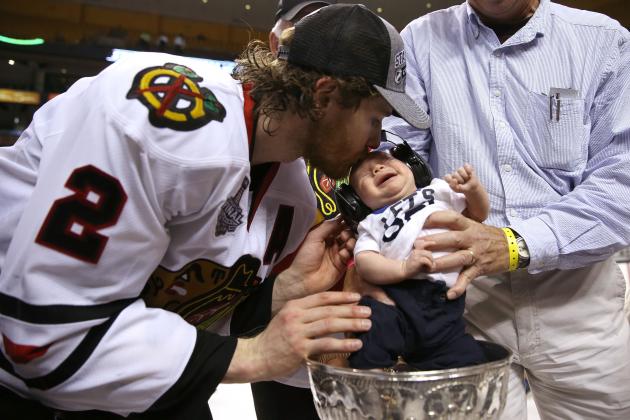 Bruce Bennett/Getty Images

Date: June 24, 2013

Event: Stanley Cup Final, Game 6
The legend of the Stanley Cup is built on tales of mischief, mistakes and gratuitous use, so why not plunk your newborn inside it moments after it becomes yours for a season?
I think the horrified expression on Colton's face tells us he could make a case for why not.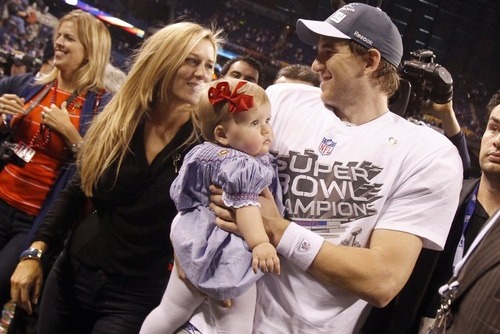 USA TODAY Sports

Date: Feb. 5, 2012
Event: Super Bowl XLVI
Eli Manning's little angel, Ava Frances Manning, may be conveying that familiar baby look of equal parts bewilderment and detachment, but the smart money says that when she's old enough to understand the game, her dad will still be playing football.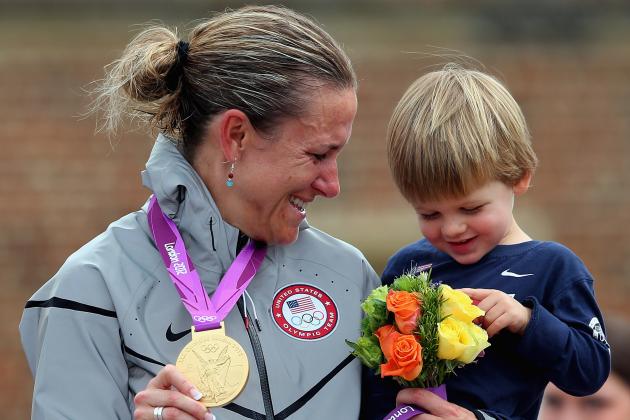 Alex Livesey/Getty Images

Date: Aug. 1, 2012

Event: London Summer Games, 18-Mile Race
U.S. cyclist Kristin Armstrong has no relation to you know who, and there is no better evidence than the gold medal around her neck and the smile of her son, Lucas William Savola.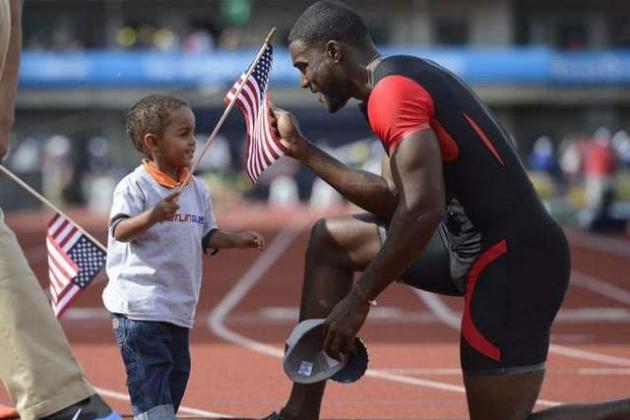 Andy Lyons/Getty Images

Date: June 24, 2012

Event: U.S. Olympic Track and Field Team Trials, Day 3
U.S. sprinter Justin Gatlin earned the opportunity to compete in the London Summer Games after finishing a four-year ban for PED use. When repairing your reputation, it never hurts to tote around your adorable son, Jace.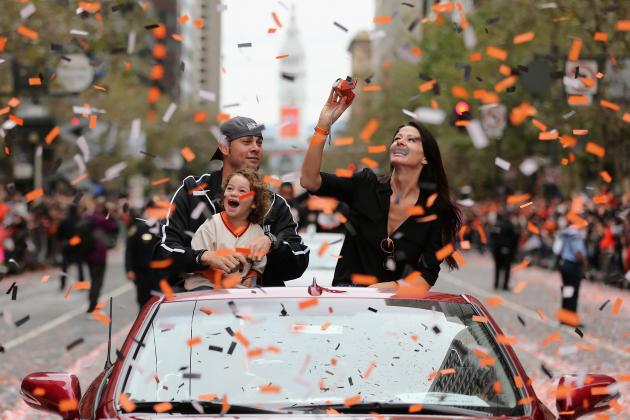 Ezra Shaw/Getty Images

Date: Oct. 31, 2012

Event: San Francisco Giants World Series Victory Parade
There is one little kid who leaves no doubt regarding whether he is enjoying his moment to be in the parade rather than watching it from the sidewalk – Ryan Vogelsong's joyous son, Ryder.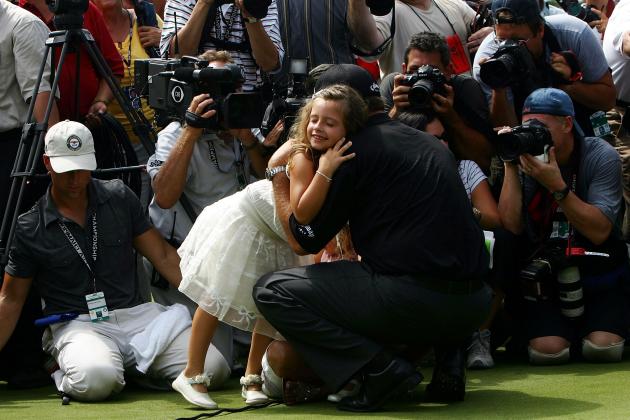 Jeff Gross/Getty Images

Date: Aug. 15, 2005
Event: PGA Tour Championship Final Round
Golfer Phil Mickelson is coming off a huge come-from-behind win at the 2013 British Open, and this picture with daughter Amanda Brynn shows why he is so popular with fans.
Nick Laham/Getty Images

Date: May 28, 2012
Event: Indianapolis 500 Champions Portrait Session
Hey, "kids" can be an open-ended term. I bet racer Dario Franchitti treats these little babies like royalty. Dogs, kitties (not a lynx), and maybe pet skunks can very much be your children, or least cause you to spend enough money to feel like you're raising a child.
Not monkeys, though—that's weird. And pet monkeys are usually quite terrifying. Seriously.