Power Ranking Every San Antonio Spurs Player on the Roster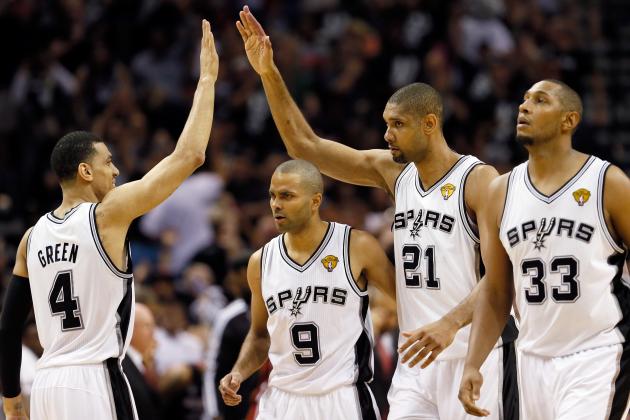 Kevin C. Cox/Getty Images
Tony Parker and Tim Duncan may lead the team, but players like Danny Green and Boris Diaw are critical pieces.
The San Antonio Spurs always seem to use a variety of players to assemble a terrific roster, and the team's 14-season streak of 50-plus wins is proof.
As is typical, new faces will not overpower San Antonio's squad, though a couple new players have made their way to South Texas for the 2013-14 campaign.
The Spurs are not strangers to a plethora of role players, but San Antonio still has its Big Three. Like any team, however, the skill level of some players overshadows a team's role players.
But in San Antonio's case, plenty of backups received adequate playing time last season and performed valuable roles en route to the team's Western Conference championship.
And the Spurs will be counting on these players in 2012-13, as San Antonio looks to win the franchise's fifth title.
Note: Statistics courtesy of Basketball Reference.
Begin Slideshow

»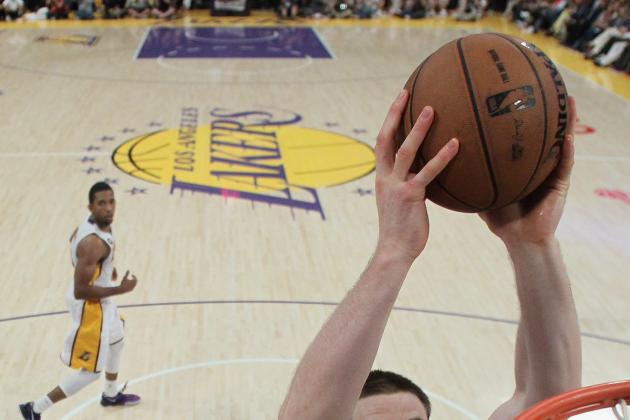 Jeff Gross/Getty Images

A rookie in 2012-13, Aron Baynes saw limited action and appeared in 16 games playing 8.8 minutes per contest.
Baynes is a good rebounder, though, as he consistently grabbed a handful of boards when on the court.
The Washington State product scored a career-high nine points against the Orlando Magic in early April and also dropped six points in the Spurs' series-clinching game over the Los Angeles Lakers.
Behind a loaded San Antonio frontcourt, Baynes will not see many minutes next season, but he is a valuable end-of-the-bench player who is learning from one of the best power forwards to ever play.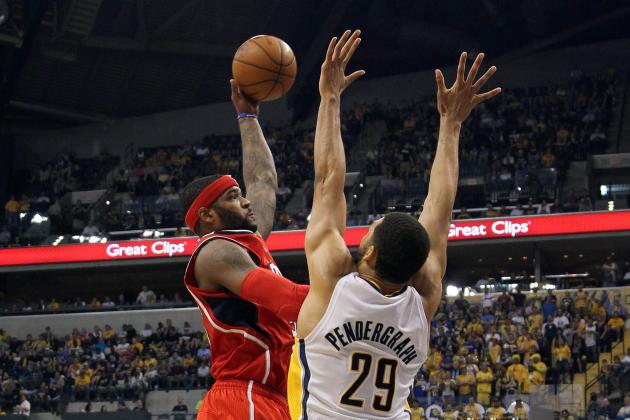 Brian Spurlock-USA TODAY Sports

Jeff Pendergraph was likely signed by the Spurs to replace DeJuan Blair, since the undersized center will probably choose another franchise.
Pendergraph averaged 10.0 minutes, 3.9 points and 2.8 rebounds per outing in 37 appearances for the Indiana Pacers last season.
According to Mike Monroe of mysanantonio.com, Spurs general manager R.C. Buford called Pendergraph "a very physical player. His skill set fits us. He's a good passer who can play four and five. All indications are he's an 18-foot jump shooter who just hasn't had a lot of opportunities."
If Blair does, in fact, sign with another team, Pendergraph seems to be on the right track to get more opportunities next season.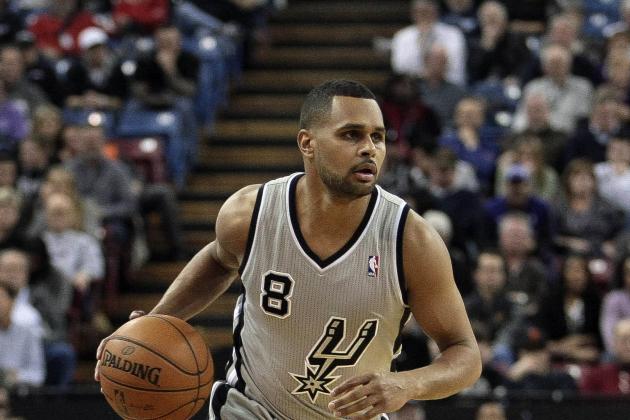 USA TODAY Sports

Patty Mills played 11.3 minutes per game during the regular season, but he only managed garbage time during the playoffs.
Of course, there is a specific reason for that discrepancy.
Mills, along with a couple other teammates, is a valuable minute-eater who allows San Antonio's starters and top backups to rest during the long 82-game season before a potentially grueling playoff run.
The fifth-year pro must really love the Spurs, though, since he decided to return to the team despite his player option and limited playing time. Mills' per-minute measurement (and the 2012 London Olympics) shows he is one heck of a scorer at 17.4 points per game for his career.
San Antonio is happy to have Mills back not only for his regular season contributions, but because it sure is hard to replace the best towel-waver in the league, too.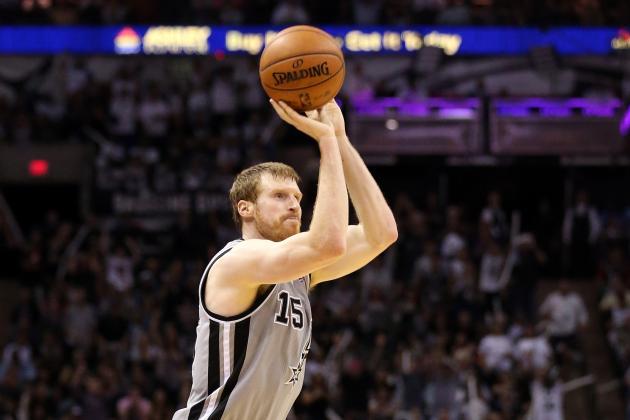 Stephen Dunn/Getty Images

The tenth-year pro may not actually be a one-trick pony, but Matt Bonner sure is good at one thing.
He drains the three-ball at an astounding rate, and an abundance of that skill is something the Spurs love to utilize.
Bonner has a career mark of 41.7 percent from distance, and he made 44.2 percent of his three-pointer attempts in 2012-13. Granted, Bonner took 130 fewer three-pointers than he did the season prior, but that is simply a result of head coach Gregg Popovich giving other players more playing time.
Bonner can still give a few good defensive minutes, too, as he showed during the Western Conference Finals against the Memphis Grizzlies.
At age 33 and in the final year of his contract, the 2013-14 season could be Bonner's last hurrah in San Antonio, but he still performs decently well on the court.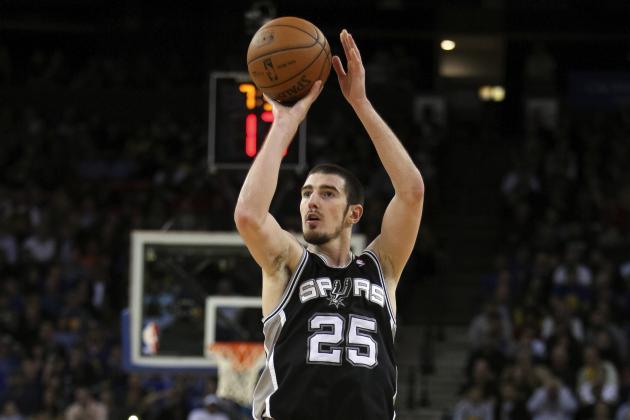 Kelley L Cox-USA TODAY Sports

Nando De Colo finally made his way to the NBA in 2012-13, and he played 12.8 minutes per game during 72 appearances in the regular season.
But in the playoffs, De Colo took a back seat, as he had just 14 total minutes on the court. With that being said, he is learning under one of the best point guards in the league.
De Colo's per 36 minutes was better than many expected from the rookie. The 26-year-old averaged 10.8 points, 5.4 rebounds and 5.4 assists in that sample.
Add in the fact he shot just under 38 percent from three last season, and the 6'5" point guard holds plenty of potential to be a very solid backup in the near future.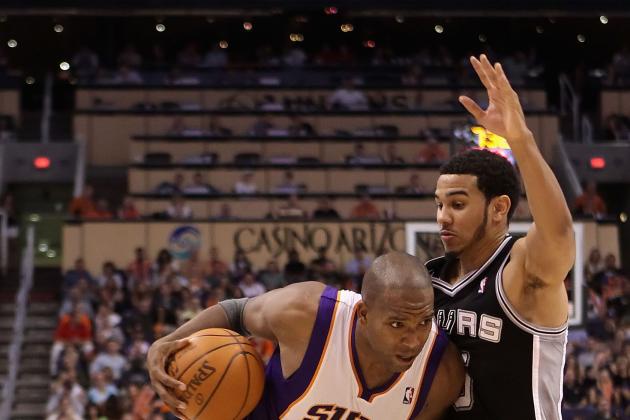 Christian Petersen/Getty Images

Cory Joseph may not have played as many NBA games as De Colo did last season, but the University of Texas product had an excellent reason.
Joseph asked to play for the Austin Toros—San Antonio's Developmental League team—because, according to NBA.com's Ken Rodriguez notes, Joseph said, "I could be sitting on the bench in San Antonio, or I could be getting better."
Joseph is a hustle player whose contributions (diving for loose balls and gritty defense) do not necessarily appear on a stat sheet.
But as for measurable statistics, Joseph played over De Colo in the playoffs and controlled the ball admirably. He committed only 10 turnovers in 192 playoff minutes which averaged out at 0.5 per game.
If Joseph can improve his offensive attacking instead of being simply a passer and solid defender, the Spurs will have yet another multi-talented weapon off the bench.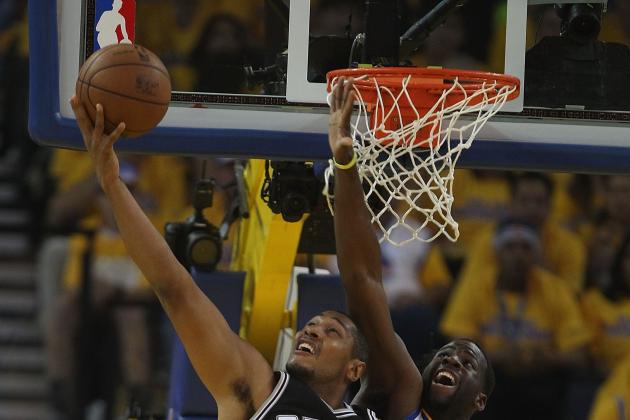 Jed Jacobsohn/Getty Images

Boris Diaw was an underrated contributor last season, as the 10th-year pro averaged 5.8 points, 3.4 rebounds and 2.4 assists while starting 20 of his 75 appearances.
Knocking down an occasional three-ball and providing quality defense were Diaw's biggest assets to the team, and his second-best and career-best marks in offensive (113) and defensive (103) rating, respectively, show that.
Note: For those unfamiliar, Basketball Reference defines the ratings as an estimate of points produced per 100 possessions.
Diaw gave plenty of quality minutes in the finals, and he even forced LeBron James into a massive cold streak.
He will not dazzle on the court, but Diaw superbly fills his role on both ends of the court as a top backup.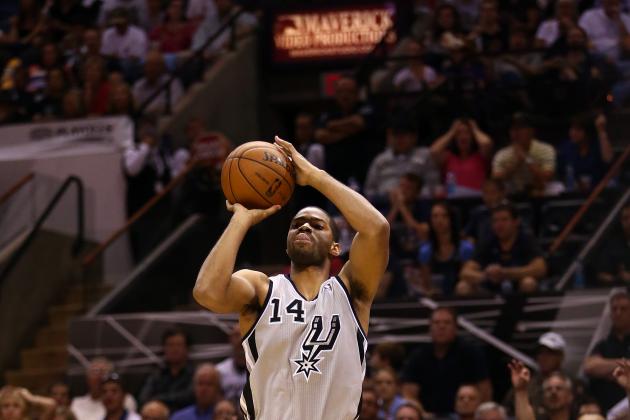 Ronald Martinez/Getty Images

As of this writing, Gary Neal remains a restricted free agent, but ESPN's Jared Zwerling says it is likely Neal re-signs with San Antonio, so he will be included.
Although Neal may be listed as a point guard, he, ultimately, is more of a shooting guard than anything.
While he was occasionally responsible for handling the ball, top-tier competition, such as the Heat, exposed Neal's decision-making ability.
But like Bonner, Neal is an excellent three-point shooter as he makes slightly below 40 percent of his career trifecta attempts. He netted 14-of-30 shots from distance during the finals, too.
Neal is a valuable shooter off the bench, but he will need to work on his ball-handling skill since both of San Antonio's guard positions are constantly improving.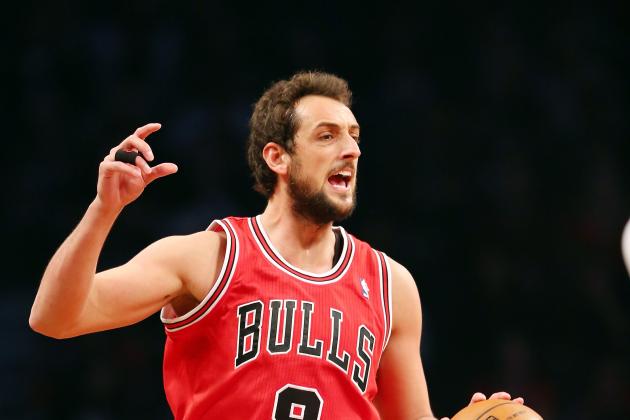 Elsa/Getty Images

On his fifth team in seven NBA seasons, Marco Belinelli has journeyed around the league looking for a team that can utilize his specific skill set.
Belinelli brings a typically reliable three-point stroke and respectable off-ball movement to a team that loves open threes.
Well that works out, doesn't it?
Belinelli will take some of the pressure off Manu Ginobili to be a playmaker, and it certainly will help the Spurs immensely.
With that being said, Belinelli will be fighting with Neal, Danny Green and Ginobili for minutes, but that is a good problem for the Spurs to have.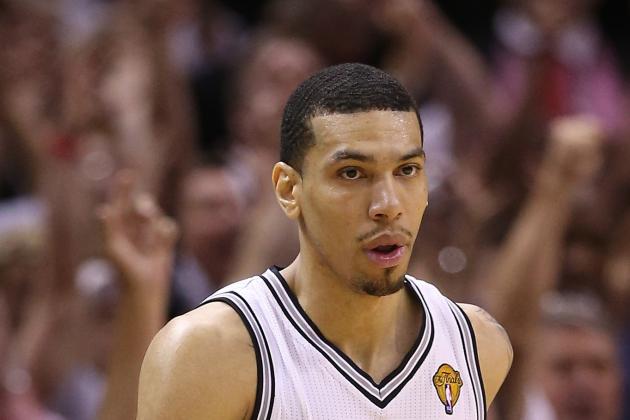 Christian Petersen/Getty Images

Even though Games 6 and 7 did not go in Danny Green's favor, the sharpshooter still had one heck of an NBA Finals.
The former University of North Carolina national champion set a finals record, draining 27 threes throughout the series.
So, quite obviously, Green is a three-point specialist, but he also plays decent defense. Green was a nuisance while guarding Stephen Curry during the playoffs. Consistently defending well is the next step in Green becoming a more complete player.
Green started 80 games for San Antonio last season, and the overall finals performance can only boost his confidence heading into 2013-14.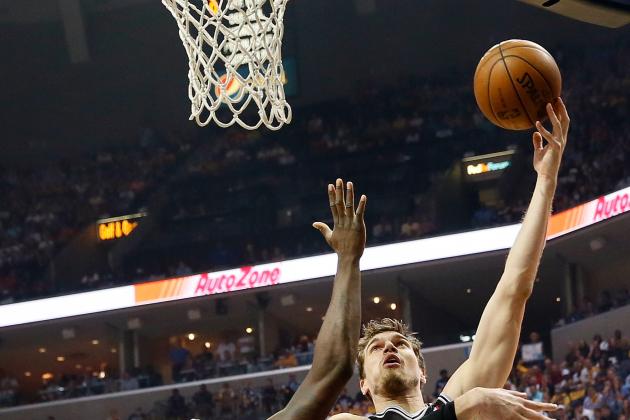 Kevin C. Cox/Getty Images

Tiago Splitter is by no means a dominant center, but there's no doubt he is a productive one.
Based on 200 career games, Splitter's per 36 minutes measurement (15.3 points, 9.5 rebounds and 2.1 assists) is rather eye-opening. Bleacher Report's Andy Hu discusses whether or not Splitter is worth his massive contract, and the per-36 comparison is discussed in more detail.
Splitter has performed adequately in San Antonio, but at 28 years old, he must prove the new deal is worth the Spurs' money.
However, Splitter does give maximum effort every possession. Period. Even after the block party that the Heat "celebrated" against Tiago, he continued to attack the rim when give the chance.
Splitter finds himself at the fifth spot on the list due to efficiency, effort and production.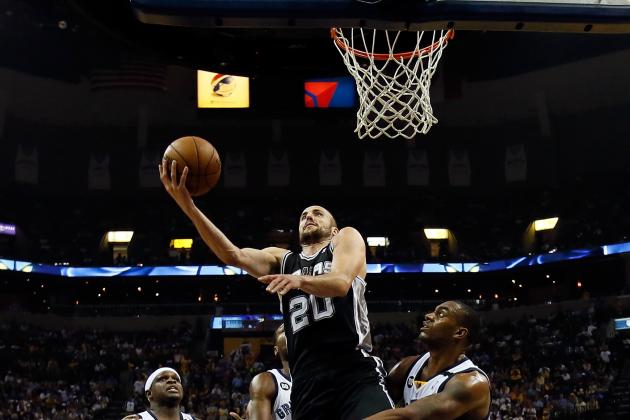 Kevin C. Cox/Getty Images

Manu Ginobili is certainly not the player he once was. He can still lead San Antonio as he did in Game 5 of the finals, but his 12 turnovers during the last two matchups with the Heat negatively affected the Spurs' chance to win the series.
As frustrating as those ridiculous turnovers can be, however, Ginobili still has a knack for making illogical, yet sensational plays.
But due to the addition of Belinelli and also the emergence of a certain small forward that will be discussed soon, Ginobili can become more of a facilitator and less of a playmaker.
Manu shouldering less of the scoring and ball-handling responsibilities when Parker is on the bench will improve the Spurs' offense.
San Antonio only needs to improve by one playoff win.
It does not mean Ginobili will not attempt to make a few highlight-reel plays, but Manu should not completely stop doing what defines him, either.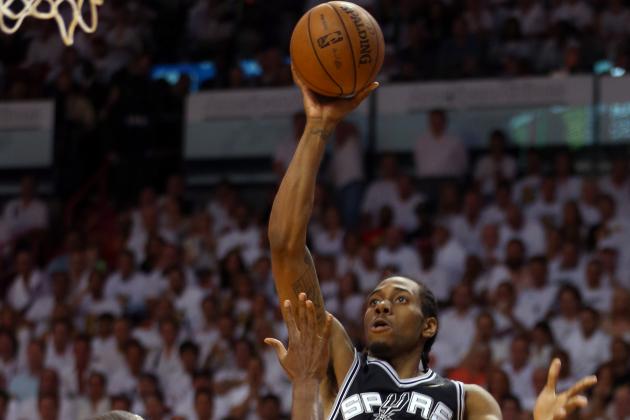 Mike Ehrmann/Getty Images

Kawhi Leonard was supposed to be a lockdown defender during the finals, but he emerged as an offensive weapon, too.
Leonard's unexpected versatility played a huge role in San Antonio pushing the Heat to the brink of elimination.
The second-year pro did not necessarily overwhelm his opponents offensively, but Leonard demanded attention as he slashed to the basket, made short jumpers and controlled rebounds for second chance opportunities.
Leonard compiled 13.5 points, 9.0 rebounds and 1.8 steals per game while guarding LeBron James, the best player in the world.
Heck, when you make that best player in the world do this, you know you're doing something right.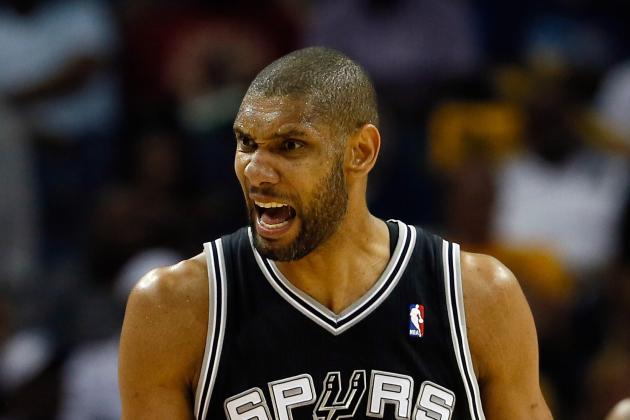 Kevin C. Cox/Getty Images

The old man can still play, so he will.
At 37 years old, Tim Duncan will look to improve on the already impressive 17.8 points, 9.9 rebounds, 2.7 assists and 2.7 blocks per game marks he accomplished in 2012-13.
And who says you can't teach an old dog new tricks? Duncan set a career-best in free-throw percentage, shooting 82 percent from the charity stripe.
Duncan also posted a 24.4 player efficiency rating last season, so when the 6'11" power forward is on the court, he scores, rebounds, distributes and disrupts for his team.
But most importantly, Duncan is a leader. How often do you see a superstar literally drag another star off the court, and the other player immediately allows it?
When Tim Duncan is that superstar doing the work, that's when.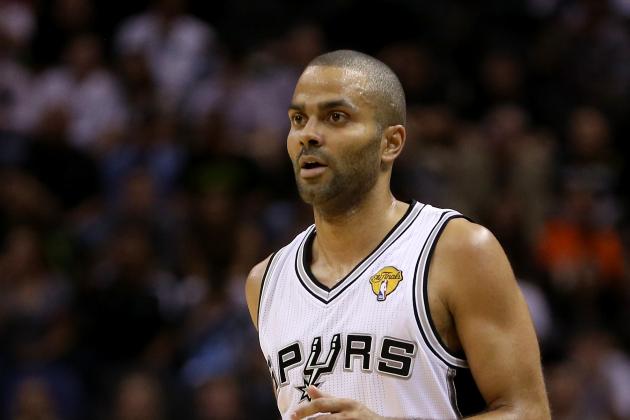 Christian Petersen/Getty Images

Tony Parker was putting together an MVP-caliber season, but then he injured his ankle.
And despite a slow finish to 2012-13 following the injury, Parker still posted 20.3 points and 7.6 assists per game while shooting 52.2 percent from the field.
Although his playoff averages stayed nearly the same as he netted 20.6 points and dished 7.0 assists per contest, the 12th-year pro came up clutch in multiple situations.
Parker shredded the Grizzlies with 37 points and six assists during the conference finals-clinching game and made a ridiculous game-sealing basket with seconds remaining in the finals opener.
Those were just two of his great performances.
Though he has been a member of the Spurs' Big Three for a decade, Parker is just 31 years old, seems to have plenty of high-caliber basketball left in his tank and is San Antonio's best player.