Updating Biggest 2013 MLB Draft Winners and Losers Post-Signing Deadline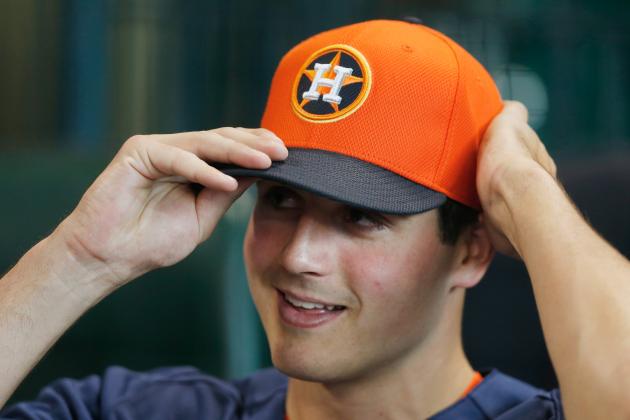 Scott Halleran/Getty Images
After a lot of speculation about him last year, things worked out well for Mark Appel in 2013.
The signing deadline for the 2013 Major League Baseball draft has come and gone. Surprisingly, there was very little drama at the end with only one team not having its first-round pick signed.
For all of the talk about how bad the collective bargaining agreement is for the draft and international free agency—and it really is—at least we can say that moving the signing deadline up a month has done wonders to benefit the teams and prospects.
Since players are signing earlier than they were in the past, they are able to start playing games. Think back to a few years ago, when Bryce Harper was the top pick in the 2010 draft. Since Bud Selig was hell bent on having an unofficial slot system, the Nationals couldn't announce a deal with their top pick until the middle of August. By the time he signed, it was too late to send him out on an assignment and delayed him starting his professional career.
That doesn't mean there isn't plenty to dissect from the last month. Here are the biggest winners and losers from the 2013 draft with the signing deadline now in the rear-view mirror.
Begin Slideshow

»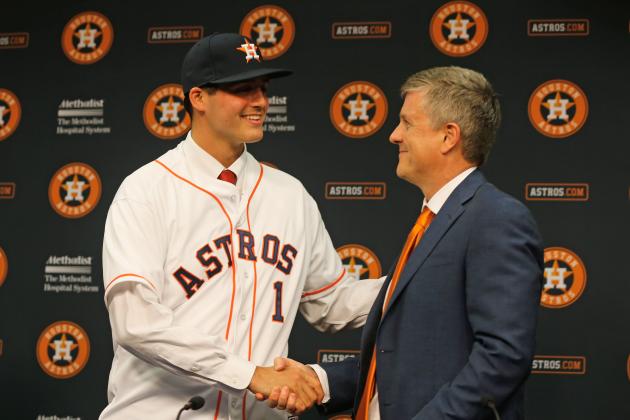 Scott Halleran/Getty Images
The addition of Mark Appel was a huge coup for a much-improved Astros system.
The Astros were unable to get as creative with their draft this year like they did in 2012, taking Carlos Correa first overall before spreading money around to Lance McCullers (Compensation Round) and Rio Ruiz (fourth round) later on.
However, what this class lacked in overall talent, it made up for a lot of that by landing the top player in this class, Mark Appel, and then signing him for an under-slot deal worth $6.35 million.
(The full value of the No. 1 pick this year was $7.8 million.)
With Appel under contract and currently pitching on Houston's Low-A team in Quad Cities, the front office added another high-upside talent to a farm system that has seen an absurd amount of upgrades over the last 12 months.
The big league team is often difficult to watch, but keep an eye on the Astros in two years when players like Appel, Correa, Jonathan Singleton, George Springer and Mike Foltynewicz graduate. They will be fun to watch.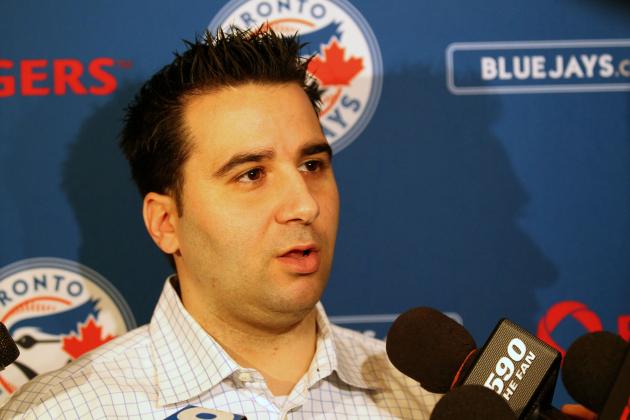 Matthew Emmons-USA TODAY Sports
A difficult season for the Blue Jays got even worse on Friday.
The Blue Jays have rightly earned praise in recent years for their draft strategy of going after high-risk, high-reward players. It paid off for them, as they turned a lot of those assets into trade chips that landed Jose Reyes, Mark Buehrle and R.A. Dickey last winter. They did all that wheeling and dealing in the offseason, yet still managed to keep top prospect Aaron Sanchez.
Unfortunately this year was a different story. While the team still shot for ceiling in the draft, it wasn't nearly as impressive as it has been in the past. Second-round pick Clinton Hollon can bring the heat, but is an undersized right-hander who probably ends up as a reliever.
But even more distressing was the news from general manager Alex Anthopoulos on Thursday when he told reporters that 10th overall pick Phil Bickford wasn't likely to sign before the deadline. And he didn't.
Blue Jays play-by-play announcer Mike Wilner said that Anthopoulos told him the issue with Bickford was not money. That has led to a lot of rumors and speculation, but the truth is no one outside of Bickford, his family and the Blue Jays really know what, if anything, happened.
Perhaps Bickford just wanted to go to college instead. But it was not a great day for the Blue Jays, to say the least.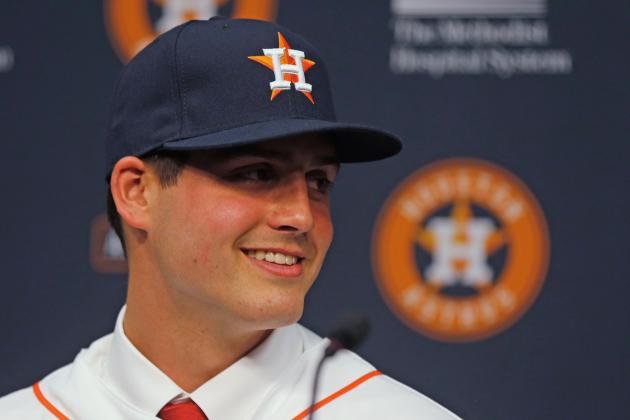 Scott Halleran/Getty Images

Last year Appel fell to the Pittsburgh Pirates with the eighth overall pick, but failed to agree on terms for a slot deal worth $3.8 million.
Appel returned to Stanford with a lot of anger being hurled his way from Pittsburgh and the knowledge that as long as he stayed healthy in 2013 he could be the No. 1 pick.
Sure enough, Appel shined for the Cardinal this season, showed improved stuff across the board and a better feel for pitching than ever before and went to the Astros with the first overall pick.
On top of that, instead of the $3.8 million he would have gotten a year ago, Appel got an additional $2.55 million. It turns out that playing the market worked for Appel, who will still get to the big leagues very quick and has a slightly higher ceiling now than he did in 2012.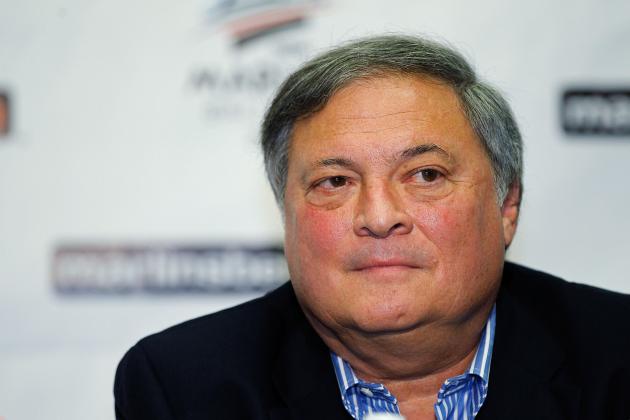 Mike Ehrmann/Getty Images

In the scheme of things, there is actually nothing wrong with the Marlins' 2013 draft class. Colin Moran was one of the best hitters in the class and agreed to a slot deal with the team on Thursday night.
But then came the news that they weren't going to sign 35th overall pick Matt Krook due to an issue with his physical. You can't fault the Marlins for not going above and beyond to add a pitcher with some type of red flag.
Ben DeLuzio, the team's third-round selection, reportedly decided that he wanted to attend Florida State and never gave the Marlins an opportunity to sign him.
Again, none of this is the fault of the Marlins. Sometimes these things happen, especially when you are dealing with teenage boys who change their minds on a second-by-second basis. Krook was a different situation altogether.
Yet you can't help but feel like this wouldn't happen to any other franchise in baseball. The Marlins will fail to add two of their first five picks at a time when they really needed to add all the talent they can and help convince their fans, if there are any left, they are moving in the right direction.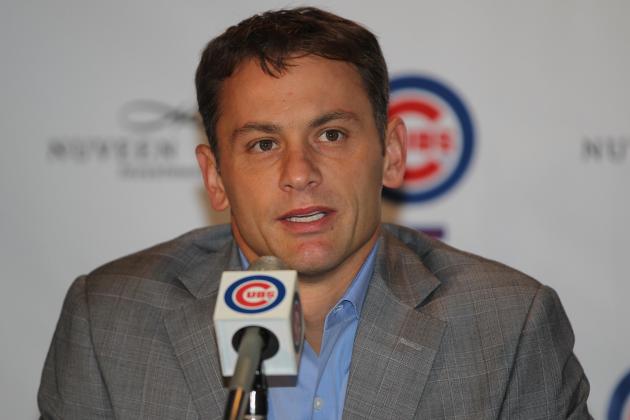 Jonathan Daniel/Getty Images

Even though there were a lot of Cubs fans sweating out the Kris Bryant negotiations, there was little doubt that the two sides would come to an agreement. The only question would be for how much.
Well, in an interesting twist, it was actually Bryant, not Mark Appel, who got the biggest draft deal. Jim Callis of Baseball America reported that the Cubs gave the No. 2 overall pick just over $6.7 million.
For the Cubs, this is yet another sign of the dedication the Jed Hoyer and Theo Epstein regime has about doing what it takes to add high-ceiling, impact talent to what has become one of the best farm systems in baseball. It wasn't a great draft overall, but they got exactly what they wanted and were still able to sign 19 of their first 20 picks.
For Bryant, this deal is a huge win. It was naturally assumed that Appel, as the first pick, would get the most money in this class. Instead, while it is not a huge difference, the College Player of the Year wound up leveraging the one tool he has that so few in baseball have right now—right-handed power—into the best deal in the draft.
The Cubs can now focus on getting Bryant onto a team, presumably in Rookie Ball, and look forward to watching him hopefully develop into a middle-of-the-order anchor for the next 10-plus years.
The Red Sox had, in my opinion, the best draft of any team this year. They obviously won't sign all of the players they took, especially after the 10th round, but have done very well with their early-round selections.
One of them, right-handed pitcher Teddy Stankiewicz, was grabbed with the 45th overall pick. He signed quickly, agreeing to an under-slot $1.1 million bonus from the Red Sox.
Unfortunately, as reported by Jim Callis of Baseball America, Stankiewicz had a minor issue crop up with his physical and was subsequently offered (and signed) a $915,000 contract. He lost nearly $200,000 as a result.
If Stankiewicz makes it to the big leagues, this will be just a blip on the radar. But considering that $200,000 was almost 20 percent of what he was supposed to get, he has a lot of work ahead of him.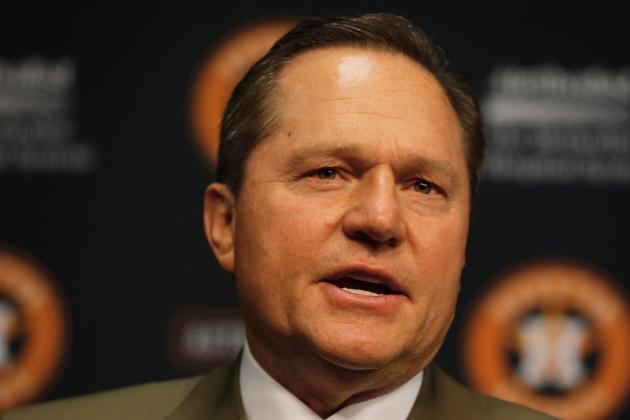 Scott Halleran/Getty Images

I don't understand the anger that fans have towards Boras. He is an agent whose job is to get the best deal for his client, no different than anyone else in the business. Just because Boras is better at it than anyone else makes him a bad guy. Okay...
That little rant aside, and regardless of the things that Jay-Z raps about him, Boras had a very, very good draft year.
Representing both Mark Appel and Kris Bryant, Boras had the top two players taken in the draft and got the two biggest deals from teams. In addition to that success, Jim Callis of Baseball America noted that the super-agent has represented the four players with the biggest bonuses in draft history (Gerrit Cole, Stephen Strasburg, Bubba Starling and Bryant).
Mock drafts should always be taken with a grain of salt, because no one knows exactly what each team is thinking. But the consensus coming into this year's draft was that Jonathan Gray and Mark Appel would be the top two players taken in either order.
Unfortunately for Gray, things unraveled a bit for him during draft week when it was reported that the Oklahoma right-hander failed a pre-draft drug test for Adderall. It was hardly the worst thing a person could test positive for, but it still brought some negative attention.
In typical fashion, though, Gray had to be picked apart before the draft. He was built up in the months prior when his fastball was sitting in the mid 90s and backed up with a knockout slider. Since he didn't have much of a track record before 2013 and saw a spike in velocity this year, there was some doubt about his ability to maintain what we were seeing long term and how much was just a one-year anomaly that you will occasionally see from pitchers.
Then, when it seemed completely logical for either the Astros or Cubs to take Gray with the first or second pick, both teams passed on him. Mark Appel was the top talent in this draft and a good pick for the Astros. Kris Bryant, who went No. 2 to the Cubs, is a rare power hitter in a sport where finding home run hitters has become increasingly difficult and more than worthy of his selection.
But Gray was the pop-up prospect in this class. He still went No. 3 overall to the Rockies, who had to be thrilled with getting a power pitcher who has the body and stuff to work 200-plus innings, and signed for $4.8 million.
It just didn't feel as exciting and exhilarating as it usually does when a team makes such a high-profile selection.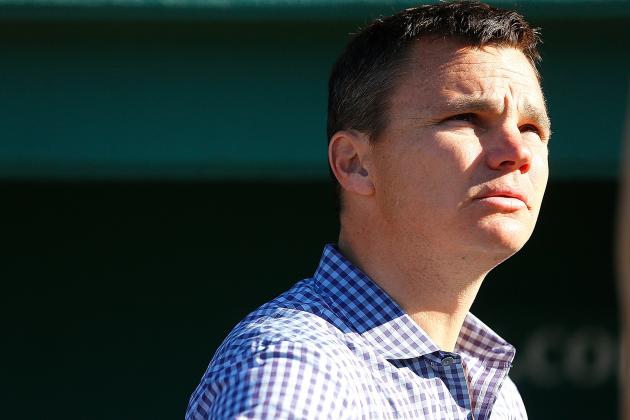 Jim Rogash/Getty Images

After touching briefly on Boston's draft class when discussing Teddy Stankiewicz, it is time to dive a little deeper into what makes it such a strong group.
First, the Red Sox shot for ceiling in the early rounds and were largely successful at getting everyone signed. Myles Smith, a right-handed pitcher from Lee College in Tennessee, was the lone holdout among their top 12 picks before agreeing to a deal on Friday for $400,000.
They didn't sign later round picks like Jordan Sheffield and Ryan Boldt, both of whom are coming off injuries that pushed them much further down draft boards because they had high price tags that teams weren't going to meet because they didn't play enough leading up to the draft.
Trey Ball, the seventh overall pick, is a projection left-hander with a good fastball already. Jon Denney, taken in the third round, was a first-round talent as an offensive catcher with plus bat speed and raw power.
Even Stankiewicz, while there is some physical concern, is a 6'4" right-hander with a power fastball and is learning to develop a breaking ball.
All told, the Red Sox signed 18 of their first 21 picks and added a number of intriguing players with ceiling to a system that has gotten markedly better in the last year thanks to some shrewd moves by general manager Ben Cherington.
It has become easy to make fun of the Philadelphia Phillies, especially when Ruben Amaro, Jr. continues to convince himself that the team could end up being buyers at the trade deadline instead of trying to turn some of their aging, expensive assets into players who might be around and productive in a few years.
But we are also not so stubborn that we can't give praise when it is warranted. The Phillies built a championship team by drafting high-ceiling athletes and finally got back to that strategy this season. They also went above and beyond to make sure they got most of their best picks signed, finishing $73,500 over their slot allotment for the first 10 rounds, according to Baseball America.
I loved three of their first four picks (J.P. Crawford, Cord Sandberg and Jan Hernandez). The only one I didn't like, Andrew Knapp, could carve a career out as a backup catcher.
Crawford was the only true shortstop prospect in this class with a chance to perform on both sides of the ball. Sandberg is a tremendous athlete with a great physical 6'3", 215-pound frame, as well as boasting good raw power and good speed. He is incredibly raw as a baseball player, splitting time with football in high school. Hernandez has a very nice swing with above-average bat speed and raw power.
A very strong draft class for a franchise that has gotten lax when it comes to drafting and developing its own in recent years.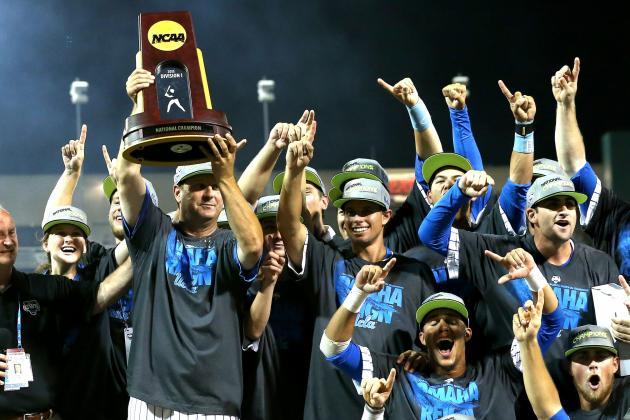 Stephen Dunn/Getty Images

As great as it is to see a majority of the top high school players getting into professional baseball now and giving themselves a chance to reach the big leagues earlier than they otherwise would have with three years of college, it does hurt the collegiate game having so many of the top names signing right away.
Don't get me wrong, I love it when these young players get into a professional system and start working with professional coaching. But as someone who has grown to appreciate the college game, I would also like to see more names that casual fans can gravitate towards to make it bigger.
Players like Kohl Stewart, Clint Frazier, Austin Meadows, Trey Ball, J.P. Crawford and the many other first-round high school picks could have brought a lot of attention to the game. Instead, with the exception of Phil Bickford (Cal State Fullerton), Matt Krook (Oregon) and Ben DeLuzio (Florida State), no high school player taken in the top three rounds will be going to college.
The good news is that there are very good players at the top of next year's college crop worth watching throughout the season. N.C. State might have the first two picks in the 2014 draft with pitcher Carlos Rodon and shortstop Trea Turner. Tyler Beede was taken in the first round by Toronto in 2011 and will be the top pitcher for Vanderbilt.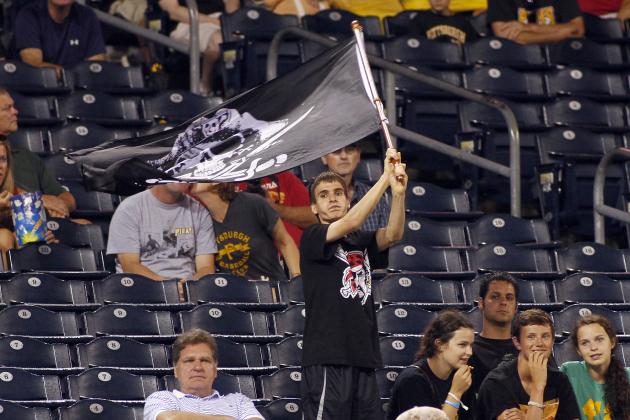 Justin K. Aller/Getty Images

Way back in the introduction, we talked about how much better things are now that the signing deadline has been moved up from the middle of August to one month after the draft.
But when you really look at the way things operate now, this system, save for the whole issue of putting a cap on draft spending, is so great for all parties involved.
Just look at what we are talking about today. Instead of harping about which players weren't going to sign, a lot of the top talent taken in the draft last month has already signed and started playing games.
The only first-round pick who hadn't signed by Friday was Phil Bickford with Toronto and we expected that based on news that came out earlier in the week.
Teams get to look at their investments right away to see where they are and can start making plans for where they will go in 2014. More and more players are able to start their first full season in pro ball with a full-season club.
For example, last year's top two picks, Carlos Correa and Byron Buxton, started 2013 in the Midwest League. With the old system, their deals probably wouldn't have been announced until the deadline and prevented them from getting enough playing time to warrant a full-season assignment.
Now, Correa is picking apart the Midwest League and Buxton has been moved up to High-A and looks like the best prospect in baseball. That added experience is invaluable to the development and can greatly escalate the timetable for a prospect to debut.
Fans win because they are able to see all of this talent on the field in person much sooner than before. There was a time when they would have to wait and read reports from the Arizona Fall League or winter leagues to get any information.
Now, they have the luxury of being able to watch them when they come through their town. Mark Appel has been assigned to the Midwest League already and, since that is right in my neck of the woods, I can't wait to go see him play. But under the old system, odds are good he would never have made a stop at Quad Cities on his way to Houston.
If you want to talk the draft, or anything else baseball related, feel free to hit me up on Twitter with questions or comments.