They missed out on Dwight Howard, but the Los Angeles Lakers are still trying to improve their team and make another run at a championship.
As such, there are a number of rumors involving the team floating around. Who are the Lakers looking at to try to become a better team?
We'll break down the latest buzz surrounding the purple and gold below.
Lamar Odom
Mike Ehrmann/Getty Images
According to Ramona Shelburne of ESPN LA, the Lakers are interested in bringing back Lamar Odom:
Lakers have reached out to Lamar Odom, but it been hard to determine how high interest level is on either side thus far.

— Ramona Shelburne (@ramonashelburne) July 6, 2013
Lakers still interested in Lamar Odom, among others. But have only vet mins now after Kaman signing today

— Ramona Shelburne (@ramonashelburne) July 8, 2013
Odom seems to be past his prime and is definitely declining in skill. After averaging 14.4 points for the Lakers in 2010-11, the 33-year-old Odom averaged just 6.6 points for the Dallas Mavericks in 2011-12, and only four points for the Los Angeles Clippers last season.
While it's possible that a return to the Lakers could help rejuvenate Odom, it's not likely. He's declined in nearly every meaningful statistical area since leaving the Lakers. Averaging four points in 19 minutes a game with the Clippers, while playing with Chris Paul, should be a red flag for the Lakers.
The Lakers may want to recapture the glory days, but re-signing Odom is not the way to do it. His decline is real and he may create more distractions than necessary.
It would be wise for Los Angeles to stay away.
Ronald Martinez/Getty Images
According to Ramona Shelburne of ESPN LA, the Lakers are interested in Elton Brand:
Lakers also have an interest in Elton Brand, but he may be outside their price range

— Ramona Shelburne (@ramonashelburne) July 6, 2013
Although they signed Chris Kaman, the Lakers could use some more interior depth. While not the same player he used to be, Brand had a decent season with the Dallas Mavericks last year, averaging 7.2 points and six rebounds in 21 minutes per game.
Brand wouldn't start for the Lakers, but he would be a nice option off the bench. He's a good rebounder and would bring good effort on defense, as well as some normalcy and sanity after the Dwight Howard disaster.
He would also provide veteran savvy and be a good influence in the locker room while Kobe Bryant rehabs from injury.
But as Shelburne reported, Brand may want more money than the Lakers can afford. If Brand is willing to accept less money, he would be a really good fit for Los Angeles.
Sasha Vujacic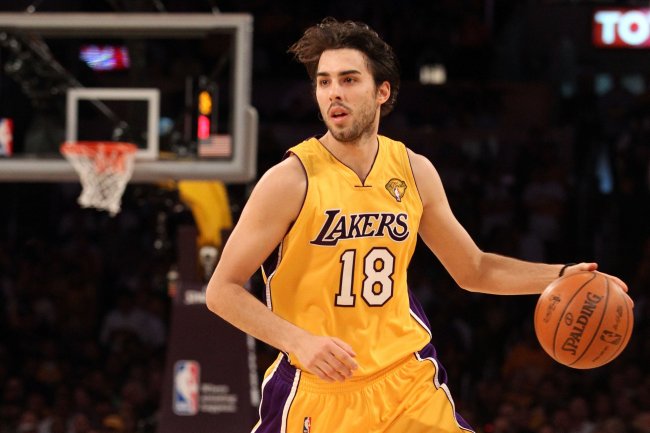 Ronald Martinez/Getty Images
According to Arash Markazi of ESPNLA, the Lakers could be reunited with Sasha Vujacic.
Sasha Vujacic is back in LA and has been in touch with the Lakers. Source said he'll be in NBA next season and Lakers are his top choice.

— Arash Markazi (@ArashMarkazi) July 2, 2013
Vujacic last played in the NBA in 2010-11, when he averaged 11.4 points with the Nets. That was his career-high.
Since then, Vujacic has played in Turkey.
If he were to re-join the Lakers, where he played for over six seasons, he would help with the three-point shooting. Vujacic is a career 37.1 percent shooter from distance.
Last season, the Lakers as a team shot 35.5 percent from three. Mike D'Antoni's offense is made for three-point shooters, so Vujacic could be a nice option.
He's not an ideal fit, since the Lakers already have Jodie Meeks on the roster.
Still, Vujacic is a veteran who could flourish in the wide-open offense that D'Antoni employs.