Power Ranking Every Boston Red Sox Player's Importance in the Second Half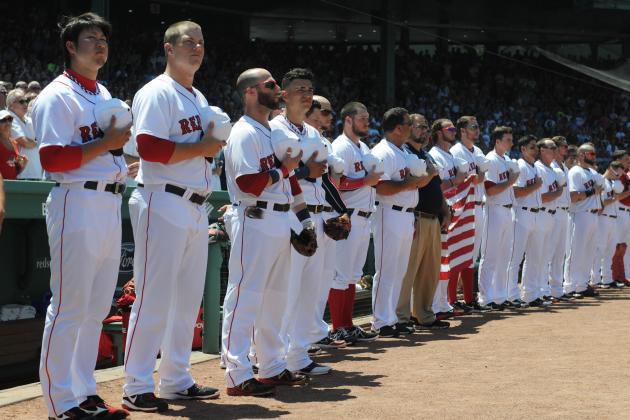 Darren McCollester/Getty Images

The Boston Red Sox are rolling into the All-Star Break with the AL East lead. The primary catalyst for Boston's surprise run has been their depth, as the 2013 team's fortitude in withstanding injuries was not necessarily present in previous years.
Although rankings do inherently marginalize the importance of some players, the Red Sox have constructed arguably the most well-rounded team in the majors. Thus, even those at the bottom of this list are major contributors who will have a significant say in the pennant race. That the Sox only sent three players to the Midsummer Classic suggests that their record is an inclusive effort.
With that, here's the second-half significance of every man on the projected 25-man roster. "Projected" roster means that currently injured players such as Clay Buchholz and Stephen Drew will make the list over temporary stopgaps like Brandon Snyder and Pedro Beato. And again, this is not necessarily a projection of how well each player will play, but how important they will be to the Red Sox's overall success in the second half.
*All stats courtesy Fangraphs.com
Begin Slideshow

»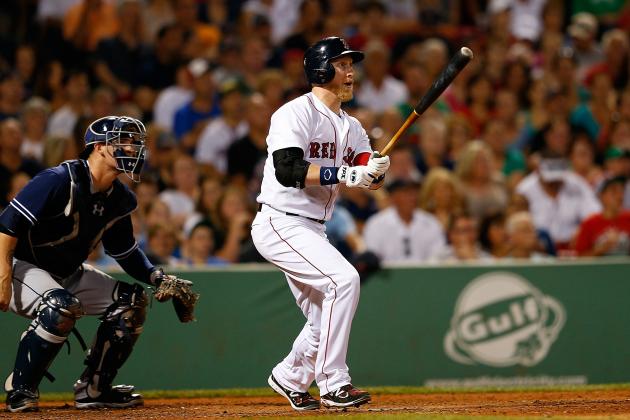 Jim Rogash/Getty Images

25. Alex Wilson (Currently on DL)
24. Steven Wright

23. Ryan Lavarnway

22. Matt Thornton

21. Mike Carp
None of these players are guaranteed a regular role going forward, though each has shown flashes of value.
After Andrew Miller's season-ending injury, the Sox were in desperate need of left-handed bullpen arms, leading to the trade for the declining Thornton. Wright's game-saving 5.2 inning shutout relief effort against the Mariners on July 11 was the best effort of his career, and it was a drastic improvement over his disastrous debut on April 23 against Oakland.
As for the bench bats, Lavarnway still strikes out way too much, but he's shown improved isolated power in limited at-bats, and David Ross is on the 60-day DL with a concussion.
Carp, meanwhile, might belong in the next set of players on this list, as he has mashed right-handed pitching this season. Additionally, his versatility as both a first baseman and outfielder provides insurance at both positions.
Still, none of these players are guarantees for postseason roster spots—if the Red Sox make it there—as highly-touted minor league standouts like Jackie Bradley Jr. or Rubby De La Rosa could usurp them in September.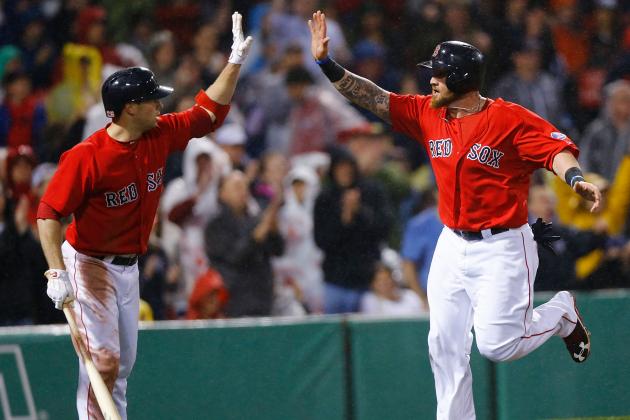 Jared Wickerham/Getty Images

20. Jonny Gomes
19. Jose Iglesias
18. Ryan Dempster
17. Jarrod Saltalamacchia
16. Daniel Nava
Gomes and Iglesias could be part of respective platoons if either hits closer to preseason expectations. Gomes has actually fared considerably worse against lefties this season, allowing Nava to become an everyday player. Though Nava is a switch-hitter, his left-sided batting average is roughly 80 points higher. If Gomes can approach his absurd career .879 OPS against lefties, that would be a huge power boon.
Iglesias, meanwhile, has a BABIP of about infinity. Assuming his heavy ground-ball tendencies level that out, Iglesias might be better served facing lefties at shortstop. That does depend on Will Middlebrooks remembering how to hit again, but with Drew's struggles against southpaws, Iglesias should still find playing time regardless.
Dempster and Saltalamacchia will continue to be regulars, so in that sense, they're not true "niche" specialists. But you could also argue that the Sox are looking for one steady contribution from each: innings from Dempster, in order to alleviate the bullpen's stress, and power from Saltalamacchia. Salty has improved his defense though, an important factor considering he's been playing more frequently since Ross' injury.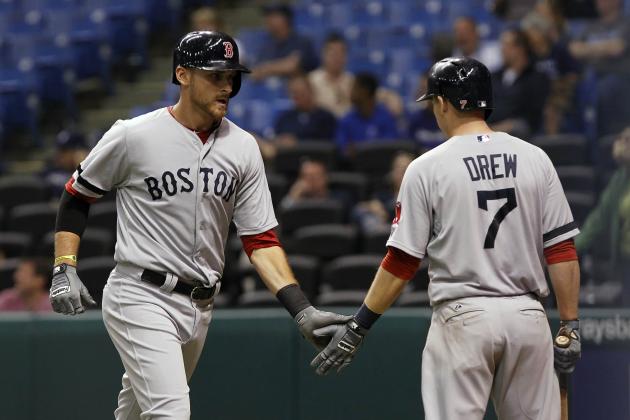 Kim Klement-USA TODAY Sports

15. Junichi Tazawa
14. Craig Breslow
13. Stephen Drew (Currently on DL)
12. Felix Doubront
11. Will Middlebrooks
Breslow and Tazawa have been saviors in the bullpen. Though he's struggled lately, Tazawa has also worked the most innings of any Boston reliever this season, nearly matching his entire 2012 total already. Breslow has simply been a stud, as his chronically under-appreciated consistency since coming off the DL in May has been invaluable.
Drew and Middlebrooks had two of the most disappointing first halves of anyone on the team, and at least one of them must rebound in order to solidify the bottom third of the order. Middlebrooks' sky-high strikeout rate and unlucky BABIP have conspired to submarine his batting average, while Drew is living up to the family's injury-prone name. Expected regression from Iglesias' could really hurt the Sox, if both Drew and Middlebrooks flounder for the rest of the season.
Doubront has been a revelation, slicing his home run rate to become a reliable mid-rotation arm. After failing to go further than six innings for the first eight weeks of the season, Doubront has gone longer than six innings in four of his past five starts. Amidst inconsistencies and injuries from the team's aces, the 25-year-old southpaw picked a great time to harness his natural talent.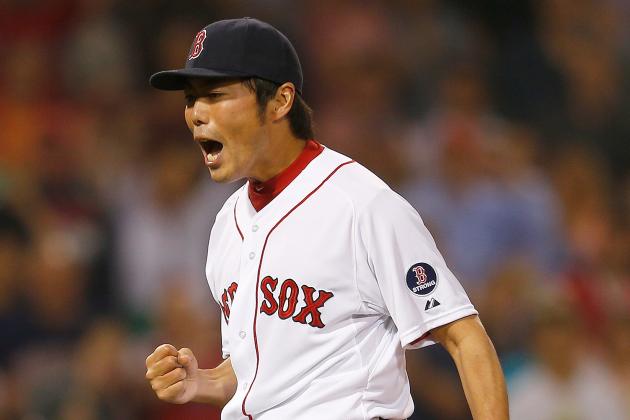 Jim Rogash/Getty Images

Koji Uehara has really saved the bullpen's bacon this past month, stepping in to secure the ninth-inning role after Andrew Bailey's collapse. By all accounts, the 38-year-old has been one of the best relievers in baseball, with an astounding 7.5 strikeout-to-walk ratio, which ranks fifth among all MLB relievers this season.
However, there are significant concerns about Uehara's long-term viability, as he is on pace to shatter his previous career-high in innings pitched and appearances, a worrisome fact at his advancing age. The Red Sox signed Uehara to a tiny deal in anticipation of him being an occasional seventh-inning reliever at best, not their highest-intensity reliever.
Other bullpen arms will need to perform better regardless (more on that later), but Uehara must at least hold the fort a little longer. Unfortunately, at the current rate he is pitching, his arm might fall off by the end of August.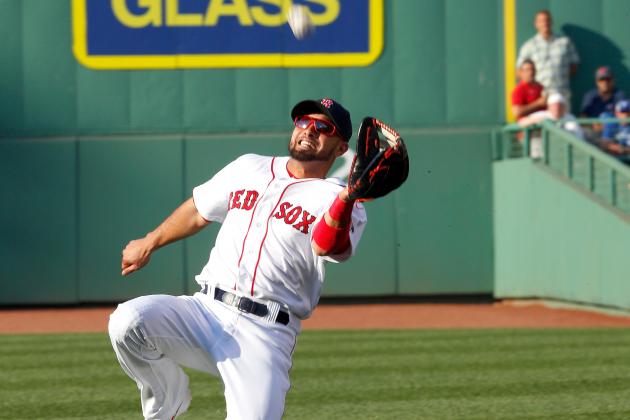 Jim Rogash/Getty Images

Media experts and armchair GMs alike widely panned Shane Victorino's signing as one of the offseason's worst transactions. Seven months later, those critics are still busy shoving their foot in their mouth.
Coming off a season where Victorino posted career-worsts in essentially every significant category, his contributions in 2013 have been unexpected, to say the least. Given Jacoby Ellsbury's rollercoaster campaign, Victorino's steadiness atop the order has been invaluable.
Moreover, Victorino's fielding alone has accounted for an extra win or two. Among right fielders with at least 500 innings, the Flyin' Hawaiian tops the list in UZR by a wide margin. Even with the imperfect nature of fielding measurements, plays like this and this leave no doubt about his value.
Victorino's main issue is staying healthy. With Boston's solid outfield depth, the 32-year-old can afford some maintenance days here and there, but any prolonged absence would rob the Red Sox of an important table setter in their batting order.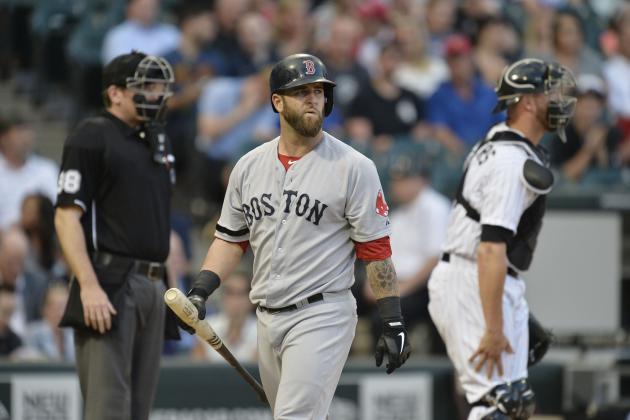 Brian Kersey/Getty Images

Speaking of middle-of-the-order bats, Napoli's year has been a tale of two seasons.
After eight home runs in April and May put him on pace for a roughly 30-homer season, the first baseman has gone yard just three times in June and July. With the Red Sox's dearth of right-handed power, Napoli is an important cog in a balanced lineup.
Unfortunately, things might get worse for Napoli if he doesn't show more plate discipline. His .259 average looks passable, but it's propped up by a .382 BABIP, well above his .309 career average. Napoli is striking out more and walking less than at any point in his career, to the point that his 33.5(!) strikeout percentage is second-worst in baseball.
Nobody expected Mauer-like contact ability from Napoli, but few expected him to turn into an alarming out machine. Napoli will continue to strike out, but he cannot do so at a league-leading rate without providing any semblance of power.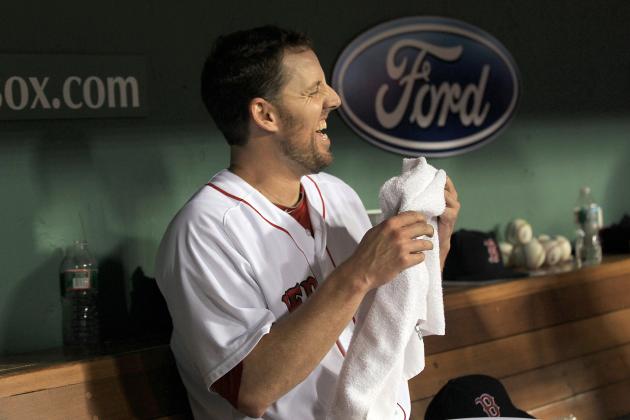 Jim Rogash/Getty Images

Two years ago, it would not have been a stretch to claim that John Lackey was the most reviled Boston athlete. When Lackey underwent Tommy John surgery prior to last season, Red Sox Nation treated the news with either indifference or muted joy.
Now, Lackey has unarguably been the most consistent starting pitcher in the first half. He's gone at least seven innings in eight consecutive starts, never allowing more than two runs while providing the overtaxed bullpen with much-needed relief. For someone who was clearly miserable in 2011, Lackey's confident resurgence is one of the best storylines of the Red Sox season thus far.
Though he's received a bit of good fortune from a low BABIP and high strand rate, Lackey's K/9, BB/9 and ground ball percentage are all his best rates since his prime years with the Angels. That would seemingly indicate that his bounceback season is for real, even if he doesn't continue at a top-10 rate.
It's understandable if Red Sox fans are still hesitant to believe, but John Lackey is a starter that the team can trust.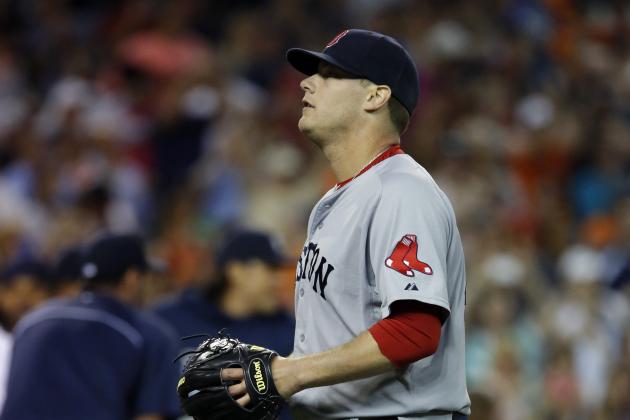 Duane Burleson/Getty Images

It might seem strange to place a setup man this high, but Bailey is truly the lynchpin of the Red Sox's bullpen. Whether or not Bailey rebounds and stays healthy will likely determine if the Sox bullpen is a liability that is too great to overcome.
Bailey's recent outings have been better, as he has yet to allow a run in July. The key has been a reduced walk rate, with just one free pass given out this month. Combined with nine strikeouts, that's a much prettier K/BB ratio than what Bailey had put forth previously.
As simple as it sounds, walks and strikeouts have really dictated the success of Bailey's outings. Bailey's career-worst 2.2 HR/9 rate has been fostered by a lack of consistent command, and most of his home runs have resulted from poor pitches over the middle of the plate when behind in the count. That correlation has been glaringly obvious this year.
Fortunately, the signs are getting better, and the Sox are beginning to use Bailey in higher-leverage situations again. If the improvement is for real, then the Red Sox would be best served moving Bailey back to the closer's role and preserving Uehara's arm for the stretch run.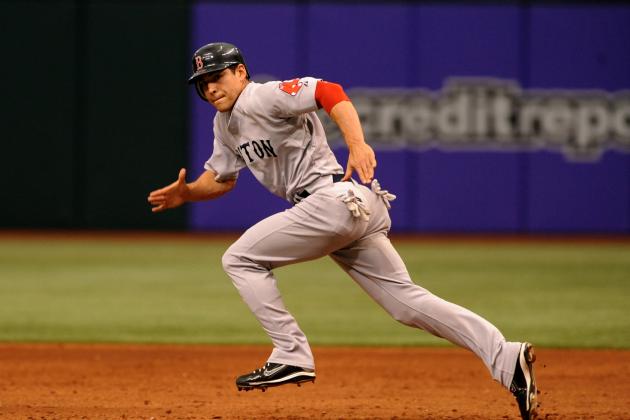 Al Messerschmidt/Getty Images

More than any individual player, Jacoby Ellsbury is the barometer for the Red Sox's success. In April, the lead-off hitter batted .283 as the Sox jumped out to a 18-8 start. But he swooned in May, batting just .254, as Boston went an even 15-15 that month. Since then, Ellsbury's batted .363, and the Red Sox have gone 25-17 en route to the best record in the American League.
Ellsbury's success this year is largely due to his increased contact percentage. Putting the ball in play usually leads to good results for the speedy outfielder, as evidenced by his above-average career BABIP.
The stats definitely support the eye test, as Ellsbury got in trouble last season when trying to duplicate his 32-home run 2011 season. Instead of driving and pulling everything, he appears content to now put the ball in play and do his damage on the basepaths.
The adjustment has produced fruitful results, as Ellsbury is actually on pace to create more runs (wRC+) than he did in his MVP runner-up campaign. Like Victorino, Ellsbury provides a steady presence atop the lineup for Dustin Pedroia and David Ortiz to drive in runs. He may price himself out of Boston in the offseason, but for now, the Red Sox will welcome Ellsbury's consistent production.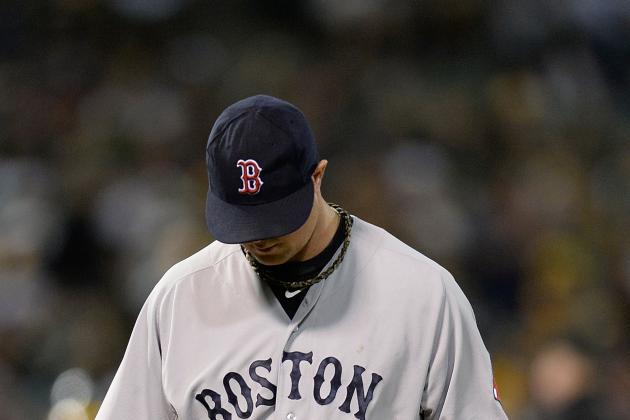 Thearon W. Henderson/Getty Images

No player on the Red Sox's roster befuddles more than Jon Lester. After seemingly rediscovering his ace form in April, the lefty has gone south, largely replicating his disappointing 2012 numbers.
It's fair to question whether Sox fans should change their perception of Lester as a top-of-the-rotation starter. He hasn't been that type of pitcher since 2011, as his overreliance on a declining cutter has gotten him into significant trouble.
Media pundits have proposed a plethora of theories to explain Lester's struggles, from physical wear to mental concentration. Though Lester has generally refuted the notion of mechanical struggles, ESPN's Buster Olney recently contradicted that on WEEI's Mut & Merloni Show:
The Red Sox really think he is fouled up mechanically, Olney said. It was interesting when we had a conversation with John Farrell before we did the Sunday night game about 10 days ago. He was fairly circumspect when he was talking about [Clay] Buchholz and he was talking about Lester and he made sort of these references to Lester's mechanics, and his concern is that he tries to draw his arm back a little bit farther and get a little bit extra and that is when he begins to lose it.
Regardless, Lester absolutely must find a way to be more than a fifth starter by season's end. As shocking as it may seem, he probably would not make the postseason rotation as of today.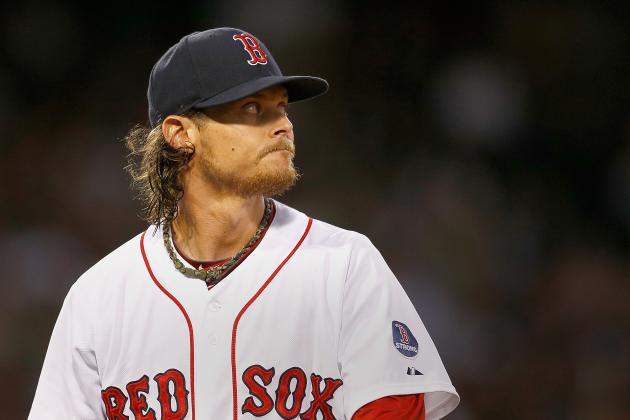 Jim Rogash/Getty Images

Buchholz's season has been almost as frustrating as Lester's, but for an entirely different reason. After pitching like an early Cy Young Award favorite, Buchholz has not made a start since his June 8 victory over the Yankees. Since then, his injury saga has become the subject of much bewilderment and speculation.
I won't bog you down with a recap of the whole ordeal, but there have been enough twists and turns regarding the injury throughout the past month to rival Homer's Odyssey. According to Rob Bradford of WEEI, the latest news is that during Buchholz's rehab session on Monday, he again felt soreness in his shoulder and has no timetable for a rehab start. What a shocker.
At this point, the Sox have enough cushion to afford Buchholz's slow recovery, but if the setbacks continue, the Red Sox will have to strongly consider whether or not they can rely on their ace for the stretch run. If not, that may prompt them to acquire a starter at the trade deadline.
Nevertheless, the best option remains for Buchholz to overcome his persistent discomfort and pitch again. The media's anxiety is becoming reminiscent of Chicago's impatience with Derrick Rose, which isn't exactly fair to the player. Still, Red Sox fans should be increasingly concerned about their best pitcher.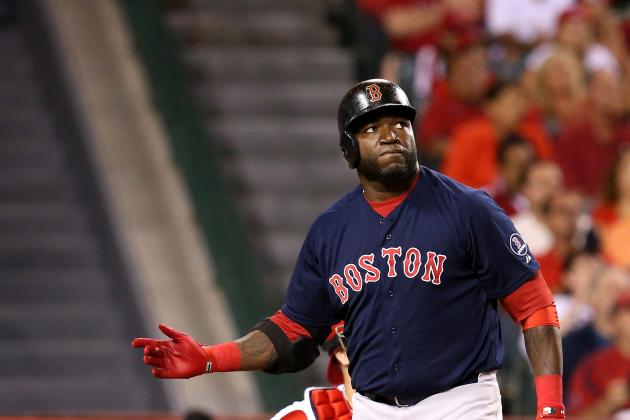 Stephen Dunn/Getty Images

At age 37, David Ortiz just keeps churning along.
After a seemingly irreversible decline at the beginning of 2009, Big Papi has been one of the best sluggers in all of baseball. Since 2010, only three players have a higher OPS, and only five have been worth more runs. Ortiz is truly the engine that drives the Sox offense.
This year has been more of the same, as Papi remains one of the best power hitters in the entire league. He is on pace for another 30-home run, 100-RBI season, which would be the seventh of his career. And Ortiz is clearly as effervescent and animated as usual.
For all the critics who say Ortiz is juicing again, the key to his revival doesn't require such conspiracy notions. Simply put, he's striking out significantly less, which has elevated his BABIP to levels above his previous career norm. For someone with as much power as Ortiz, increased contact invariably leads to huge power numbers.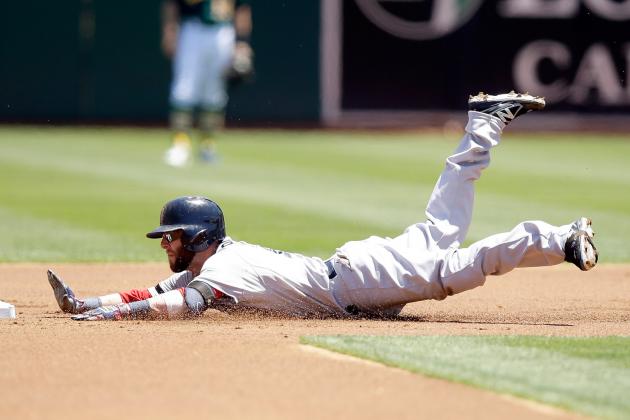 Ezra Shaw/Getty Images

Dustin Pedroia is the heartbeat of the Red Sox.
He first set the tone for this season's revival at the end of 2012, playing with a broken finger in the meaningless last series of the year. His tireless effort and intensity is the type of motivation needed to propel a team through the dog days of summer, and the second baseman is one of the best leaders in all of baseball.
On the field, Pedroia still isn't hitting for much power, but he more than compensates for that with a high OBP and plenty of doubles. His stat line reflects the general trend of the entire Sox lineup—not a lot of home runs, but good baserunning and lots of extra-base hits to create a tremendously effective offense.
There isn't much more to say about Pedroia that hasn't already been said. Someday (perhaps as soon as the front office locks him up for the rest of his career), he will probably succeed Jason Varitek as the captain. For this season, though, he is the glue that will keep the team together in what will surely be a tight playoff chase.