Summer That Saved Baseball II: Miguel Cabrera vs. Chris Davis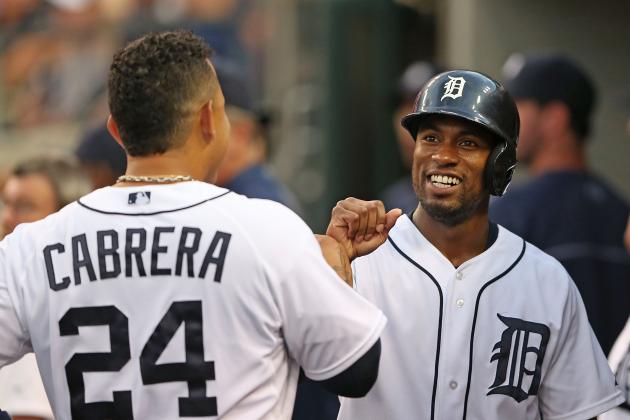 Leon Halip/Getty Images
Miguel Cabrera is on pace for another run at the Triple Crown, but he can't turn his back on Chris Davis who is right on his heels.
There may never be another "Summer that Saved Baseball," but Miguel Cabrera and Chris Davis are categorically playing like it's 1998.
Baseball fans of any generation never fail to neglect the excitement and history that Mark McGwire and Sammy Sosa produced in the '98 MLB season. The restless chase for Roger Maris' home run record was the ultimate adrenaline rush, even for someone watching at home.
McGwire finished that year with a then-record 70 home runs, while Sosa finished just behind with 66. Sosa also posted a league-leading 158 RBIs, while McGwire tallied 147, which was good enough for fourth.
If the numbers before the All-Star break are any indication, Cabrera and Davis are on pace to challenge the production of McGwire and Sosa step-for-step.
But who is having the better season?
While Cabrera is picking up right where he left off after a Triple Crown season, Davis has come out of nowhere, already bettering his numbers from all of last season.
Here's a look at how Cabrera and Davis compare in significant offensive categories.
Begin Slideshow

»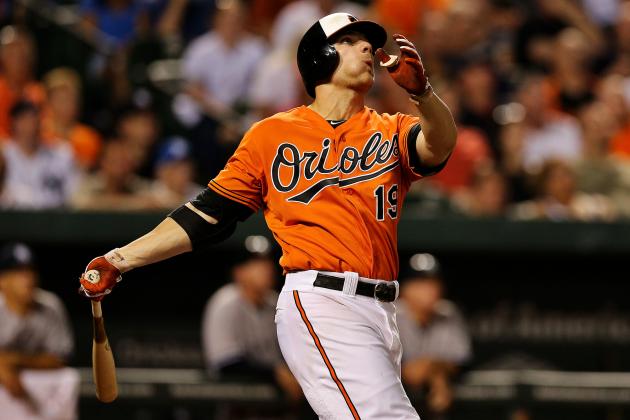 Patrick Smith/Getty Images

Chicks dig the long ball, as do baseball fans of every age. For this reason, Miguel Cabrera and Chris Davis are bringing much-needed excitement back to the game.
At the All-Star break of the 2013 season, Davis leads the league with 37 homers, four more than he totaled all of last season. Cabrera sits in second place with 30, only 14 fewer than all of last year.
To put these numbers into perspective, Mark McGwire also hit 37 homers before the break in that memorable 1998 season, while Sammy Sosa had 33 before the break.
Two players that aren't getting nearly the advertisement they should be are stringing together a season eerily similar to arguably baseball's most sensational season in the history.
Regardless of the asterisk that is now placed on the '98 campaign due to steroids, I've personally never experienced a season that put me on the edge of my seat as that one did. Until now.
In comparison to just each other, Davis has the power edge for now.
Advantage: Davis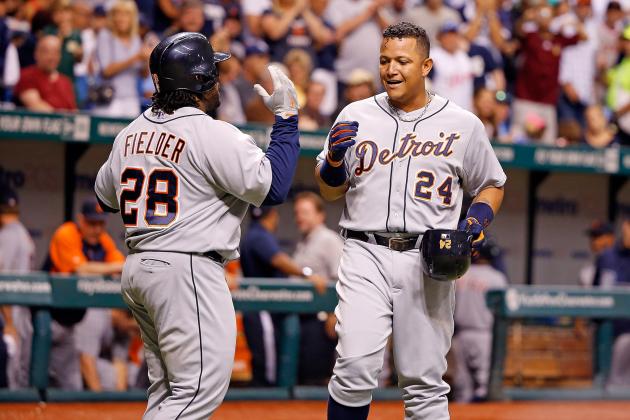 J. Meric/Getty Images

With all of the hype surrounding the importance of the home run, the runs batted in category can sometimes be ignored. Unjustly so.
It could be argued that a players ability to knock runners in is the most important as more runs equals more wins in most cases. Cabrera and Davis are on an astronomical pace in this category as well.
Cabrera, who on Thursday became the first player in MLB history to enter the break with at least 30 homers and 90 RBIs (you can read all about it in Tim Keeny of Bleacher Report's article), leads the league with 95 at the break. Davis is a close second with 93.
While Cabrera's home run total this season is more impressive than his runs batted in, coming off of his monumental 2012 campaign, his production is simply staggering.
Cabrera's 95 RBIs before the All-Star break is the third-most ever before the break. Davis isn't too far behind, but this excellence can't be undervalued.
Although Davis has a chance to challenge Cabrera for the league lead in RBIs before the end of the year, the edge here, and probably going forward, belongs to Miggy.
Advantage: Cabrera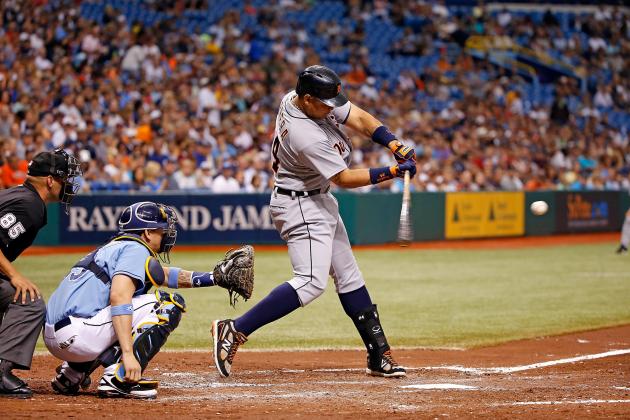 J. Meric/Getty Images

The statistic that most evidently separates the performance of Cabrera and Davis from Sosa and McGwire is batting average. While Big Mac and Slammin' Sammy could hit that ball farther than anyone, their averages were just okay.
Sosa finished 1998 with a fair .308 batting average, while McGwire notched a .299 average. At the break, Cabrera and Davis are sitting at .365 and .315 respectively.
Miggy is a career .321 hitter, so it's nothing new to see him near the top of the league in batting average. Davis, however, a career .267 hitter, has never batted better than .285 for a season.
Davis' .315 average at the break has to be the more impressive stat despite only putting him at just No. 20 in the MLB. Although it isn't likely he'll keep this pace, it's worth noting due to unexpectedness.
Cabrera is currently well ahead of any other player in batting average heading into the break. Despite the surprise of Davis, he will likely run away with this category even after the first half.
Advantage: Cabrera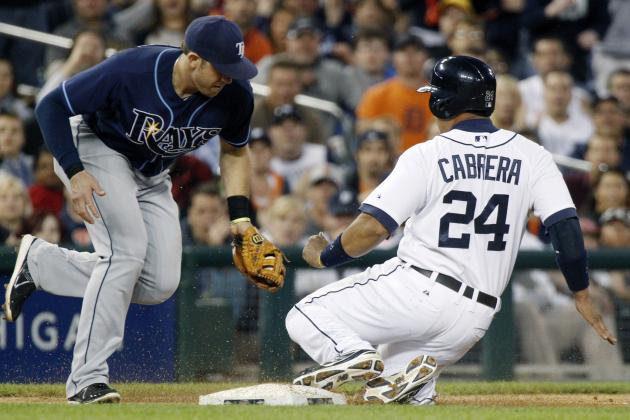 Duane Burleson/Getty Images

If I'm running a team, one of the first things I look for in a hitter is his ability to get on base. While this is more important for hitters at the very top of the lineup, it's always nice to have middle-of-the-order guys who can get on at a high clip.
Surprise, surprise: Miguel Cabrera is leading the majors in OBP at the break too. Miggy has posted an on-base percentage of .458 while Davis sits at No. 14 in the MLB with a .392 OBP.
Davis holds a respectable .325 career on-base percentage, and his total at the break should be commended. But Cabrera is on another level.
Miggy has become the epitome of a No. 3 hitter, doing everything well at the plate. He's easily leading the league in this category, reaching base nearly 50 percent of the time.
Edge goes to Cabrera, again.
Advantage: Cabrera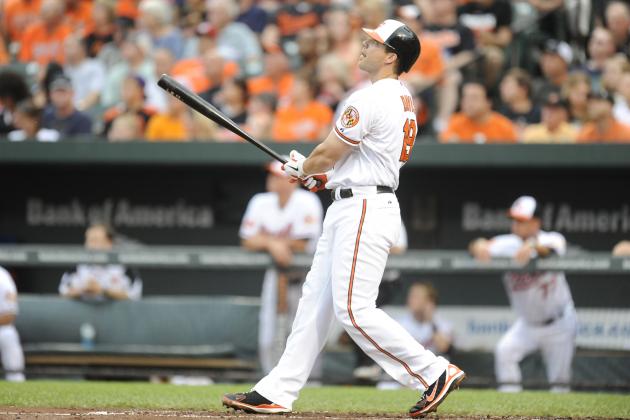 Mitchell Layton/Getty Images

A player's slugging percentage is basically calculated by dividing his total bases by number of at bats. For a more accurate calculation, here is the actual arithmetic: SLG= (1B)+(2x2B)+(3x3B)+(4xHR)/At-Bats.
Historically, players who hit a lot of home runs are typically near the top of this category due to the number of points earned from doing so. It is still a good measure of all-around hitting as well.
Chris Davis and Miguel Cabrera enter the All-Star break at No. 1 and No. 2 in the SLG category, with percentages of .717 and .674 respectively.
Back in 1998, McGwire and Sosa were hallmarks for this category, with McGwire posting an amazing .752 slugging percentage for the season to lead the league, while Sosa finished No. 3 at .647.
Davis and Cabrera are well on their way to challenging these numbers, but this category will tell the tale of all-around power hitting.
Davis gets the edge at the break, but look for Cabrera to keep pace.
Advantage: Davis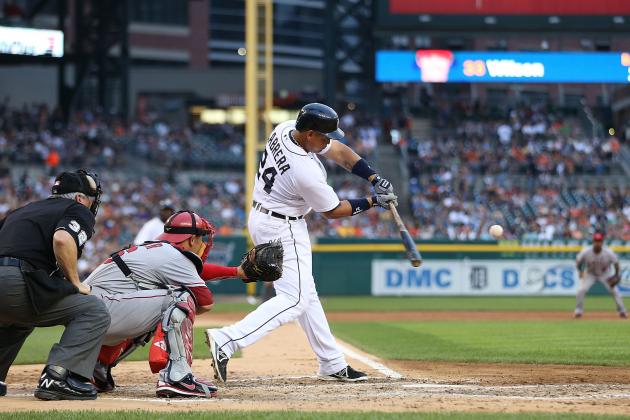 Leon Halip/Getty Images

Speaking of all-around hitting, the on-base plus slugging percentage stat may more accurately reveal a more complete hitter.
In another close category between Cabrera and Davis, Miggy leads at the break with a 1.132 OPS while Davis is second in the majors at 1.109.
OPS is a relatively underrated statistic, much like on-base percentage. But the player who finished this season with the highest OPS will have proven their worth in more ways than one.
For comparison alone, McGwire finished 1998 with a 1.222 OPS while Sosa was at 1.024.
The stats are getting shockingly similar to that season, and Cabrera has the edge for now.
Advantage: Cabrera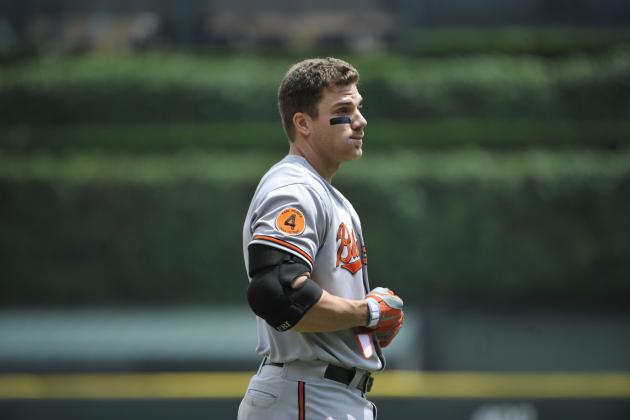 David Banks/Getty Images
Chris Davis is on pace for an historic season, but his strikeout percentage likely won't allow him to challenge Cabrera for the league lead in batting average.
In the first of two unofficial hitting categories, I'm interested in two things: how many times each player has walked, and how many times he has struck out.
It's typical for homerun hitters to accumulate a lot of strikeouts, although I can't say I'm entirely sure why, but that's beside the point. A player who strikes out too much can be as much of a liability as he is an asset regardless of his home run total.
At the break, Cabrera has totaled a stellar 64 strikeouts, while Chris Davis has the sixth-worst total in the MLB with 110.
Another stat that tells two different stories sometimes is walks. A high walk total either means a player is respected and often put on base on purpose, or he has a good eye and doesn't swing at bad pitches.
Both Cabrera and Davis have shown a knack for drawing walks, with Cabrera sitting at No. 3 in the league with 60 and Davis tied for No. 30 with 38 walks.
This section seems to separate the two more than all the rest. Cabrera gets the easy nod here.
Advantage: Cabrera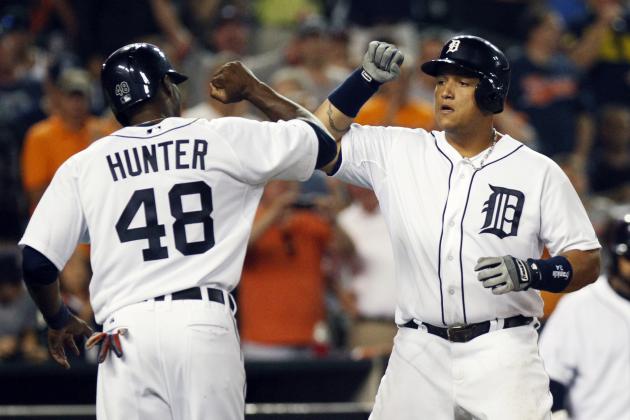 Duane Burleson/Getty Images

Clutch hitting isn't an official category because so many things go into it. But in my opinion, it is the most important category to succeed in.
Miguel Cabrera is putting up another season for the ages, and he's hitting when it matters as well. Cabrera is currently hitting .391 with 21 homers with runners on base and an astounding .448 with runners in scoring position.
Davis has eclipsed many of his totals from all of last season and has proven himself to be above average in clutch situations this season. He is currently hitting .365 with 15 homers with runners on base and .372 with runners in scoring position.
It's very hard to knock Davis at all for his performance this season; in fact, it's almost impossible. But Cabrera has the edge in this category as well.
Advantage: Cabrera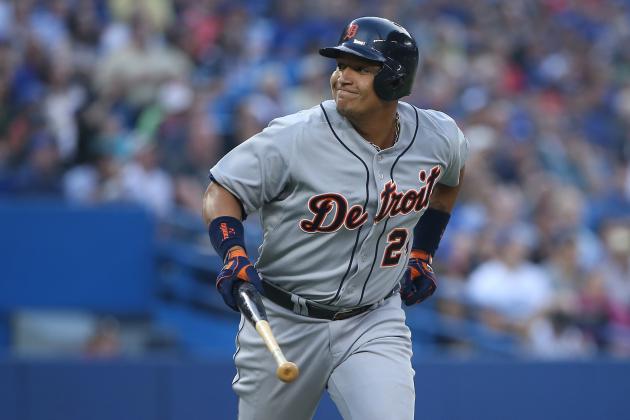 Tom Szczerbowski/Getty Images

I've saved hits for last simply because a player can produce big with homers and RBIs but fall behind in the hits category.
Miguel Cabrera, as unbelievable as I find it, will enter the All-Star break leading the MLB with 132 hits. Chris Davis, more of a power-hitter first and foremost, has logged a solid 108 hits.
For fear of being too redundant, I won't even say it.
Advantage: Cabrera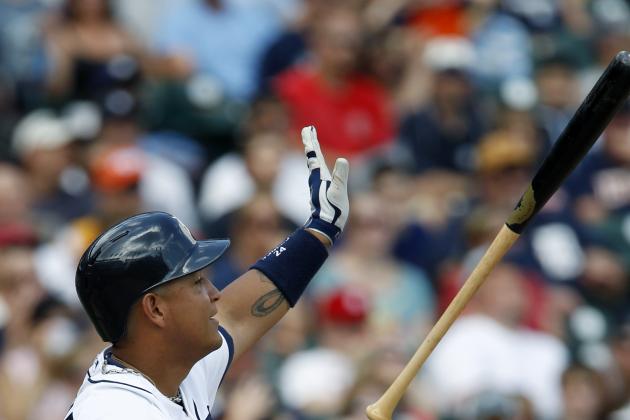 Duane Burleson/Getty Images
With all things, and statistics considered, Miguel Cabrera will more than likely walk away from this season with another MVP and maybe Triple Crown
When it's all said and done, the 2013 MLB season should be spoken about much like the 1998 "Summer that Saved Baseball."
Miguel Cabrera and Chris Davis are accumulating statistics amazing similar to those of Mark McGwire and Sammy Sosa in their best home run season. And they'll probably end with slightly better numbers.
Davis is already well ahead of his best career season and is one of the more feel-good stories in baseball at a time when steroids continue to form clouds over excellence. He has every opportunity to challenge Cabrera for the Triple Crown and the Most Valuable Player award this season.
But Cabrera doesn't appear willing to stop his domination.
Miguel Cabrera will win his second consecutive Most Valuable Player award this season. And if Davis slows down his home run pace even a little, Cabrera will walk away with a second straight Triple Crown.
Major League Baseball: where unprecedented happened, happens, and will continue to happen.