Many of the marquee free agents have been signed in the 2013 NBA offseason, but the latest chatter on the rumor mill involves two former NBA champion Los Angeles Lakers.
Recently acquired by the Cleveland Cavaliers, as reported by ESPN's Chris Broussard, center Andrew Bynum has innate red flags with regard to his on-court consistency and his general ability to stay healthy, and those concerns have been reemphasized.
Bynum's former Laker teammate, Metta World Peace, was officially amnestied by the team on Thursday evening, per ESPNLosAngeles.com's Dave McMenamin. His top destination could be the New York Knicks, in the state where he grew up, or the crosstown rival Clippers.
Meanwhile, the Houston Rockets appear to be done in the free-agency market after landing Dwight Howard, but a recent revelation may explain why they didn't give as much chase to newly minted Detroit Pistons forward Josh Smith, Howard's former AAU teammate.
Let's take a closer look at the latest buzz, complete with analysis as to what the whispers mean for the futures of the teams involved.
Andrew Bynum's Knees, Drive in Question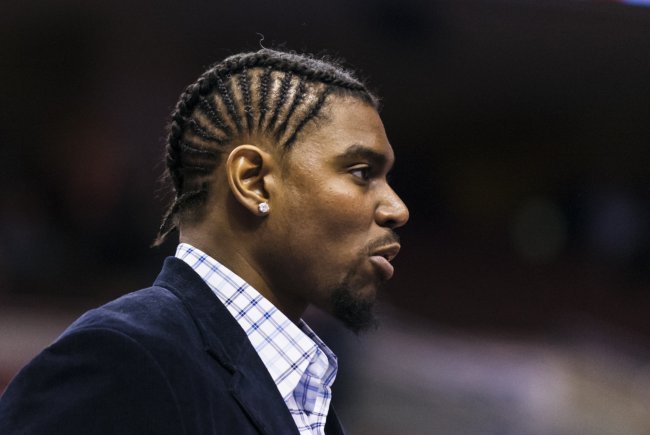 USA TODAY Sports
A report by the Cleveland Plain Dealer's Jodie Valade outlined the terms of the deal for Bynum, which is heavy on incentives and thus depends upon how much the 25-year-old can play.
Bynum is guaranteed $6 million in the first season, but the Cavs have wisely inked a team option for Year 2, which means if Bynum is an absolute catastrophe, he can be dropped after the 2013-14 season.
Several sources are still concerned about Bynum's shortcomings, though. One league source said the health of his knees is "not a slam dunk" and another insider questions the heart the big man possesses to get his career back on track.
What helps is the presence of head coach Mike Brown, who, with the exception of last year's nightmarish firing from the Lakers after a 1-4 start, has been a raging success at the helm of the Cavs in the past.
Part of the reason Bynum signed in Cleveland was Brown's presence, and GM Chris Grant has assembled quite a talented, young roster.
Last year's injury-depleted roster eventually featured the likes of Marreese Speights, Shaun Livingston, Wayne Ellington and others seeing significant minutes at various times. It's safe to say Grant has upped the ante.
The future looks bright in Cleveland, but Bynum would elevate the team to another level and provide an imposing offensive presence in the post that the Cavs simply lack right now.
Despite the concerns raised by sources, this was a risk worth taking for Grant and Co. as the franchise looks to return to prominence since struggling for three years following the end of the LeBron James era.
Metta World Peace: Stay in the City of Angels, or Homecoming to the Big Apple?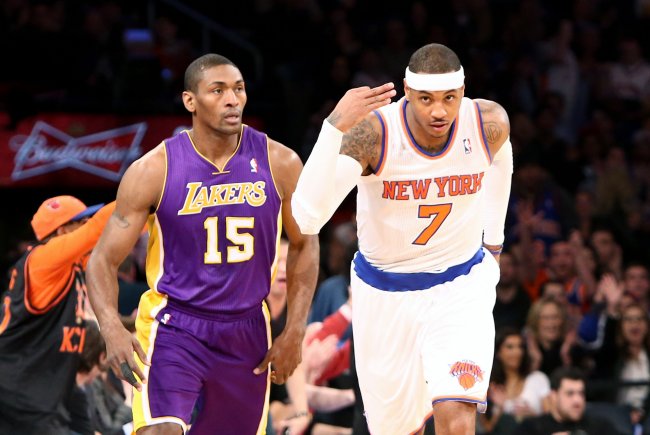 USA TODAY Sports
Nothing is truly confirmed as of now, except for the aforementioned report that the mercurial forward will not return to LA next season, as the Lakers look to avoid getting hit harder by the strict luxury tax.
ESPNLA's Arash Markazi highlighted the top two choices for Metta World Peace should he become a free agent:
If MWP becomes a free agent his top two choices will be the Knicks and Clippers.

— Arash Markazi (@ArashMarkazi) July 11, 2013
From the time Metta World Peace was amnestied, 48 hours remained before he would hit the open market.
It's rather likely he will be a free agent, since he would still command roughly $7.7 million in salary if he were picked up in that time frame. Otherwise, teams will only have to pay $1.4 million, the veteran's minimum, as listed by Hoopsworld.
Who will have a better season in 2013-14?
Should the Knicks land him, it would be a massive bargain and a necessary asset for a team set to exceed the salary cap significantly, as roughly $83.3 million is due in player salaries, per Hoopsworld.
The Clippers are definitely the best team in Los Angeles on paper, and making their foes weaker while keeping Metta World Peace in the same city should be a strong pull.
The fact that first-round pick Reggie Bullock could be the eighth man in L.A.'s rotation shows how deep the Clips are, and new head coach Doc Rivers is also a strong source of recruiting material.
Either way, it appears Metta World Peace is headed for a contender and should be a significant contributor as an energetic defensive presence off the bench.
Rockets Favored Chandler Parsons' Future Over Adding Josh Smith
Scott Halleran/Getty Images
Inserting a dynamic forward such as Smith into the lineup—assuming the Rockets shipped off Omer Asik in the process—could have given Houston a prospective starting five of Howard, Smith, Parsons, James Harden and Jeremy Lin.
However, the Rockets' talented roster was able to be assembled partially due to Parsons still being under his rookie contract.
Parsons makes peanuts compared to his fellow high-profile teammates as a former second-round pick (due $926,500 this coming season) but he should be rightfully compensated for his stellar play soon enough, per Hoopsworld.
The former Florida Gator is the reason GM Daryl Morey didn't more aggressively pursue Smith, according to radio personality Dave Baumann:
Source: The #Rockets held back on Josh Smith in FA, in part, to extend @ChandlerParsons as soon as '14. Listen in: http://t.co/9bO0lN2zb1

— David Baumann (@DavidBaumann33) July 12, 2013
As the source with knowledge of the situation relayed to Baumann, it appears Parsons is deservedly due to be extended with a more lucrative contract as early as next offseason.
That would be wise, because Parsons would likely demand a ticket out of Houston if he made less than $1 million the following year—the last of his current deal.