10 Intriguing Candidates Who Could Follow Bud Selig as MLB Commissioner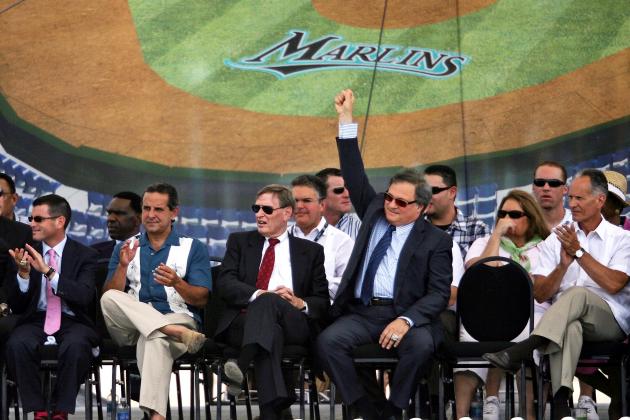 Marc Serota/Getty Images

Bud Selig has once again said that he is going to step down as commissioner of baseball after the 2014 season. There's only one problem: no heir.
For over two decades, Bud Selig has run baseball in his way, reshaping the game to a point where his fingerprints are on almost every phase of the game. New stadiums? Bud. New playoffs? Bud. New economics? Bud. Even labor peace and the drug testing program are part and parcel of Selig's reign.
While not a dictatorship, he's never had a strong number two or a clear successor in place. His longtime consigliere, Bob DuPuy, was little more than a standby lawyer with little standing inside the game. After DuPuy left in 2010, his position wasn't filled.
While MLB and the so-called "Office of the Commissioner" run effectively, the lack of a clear replacement, especially considering Selig will turn 79 at the end of this month, is surprising. With just over a year left in his reign, allegedly, baseball has no one ready to take over in the way that the NBA does for David Stern. Of course, we must also remember that few knew who Roger Goodell was before he got the job, though he'd been an important league functionary for decades. Similar people will be similarly solid candidates in baseball.
While some toss out candidates that remind us that many think the commissioner is the advocate for the game, such as Peter Gammons, Bob Costas or George Will, those names likely won't even make it to the long list. Even qualified candidates like Paul Beeston or Rick Levin might have a hard time getting much consideration. The hard part isn't finding qualified candidates, but finding candidates that will appeal to the fractious group of owners. And let's be clear—the commissioner works for the owners.
In fact, it's not clear that baseball has even begun looking for a replacement. While MLB would not comment on any search plan or committee, there is no clear indication that such exists. If Selig is going to show someone new the ropes, time is running out. With the help of Maury Brown, a longtime observer of Bud Selig's business at his site, The Biz of Baseball, we help MLB narrow down the field.
Here's our top ten candidates to replace Bud Selig and why.
Will Carroll is the Lead Writer for Sports Medicine at Bleacher Report and was one of the first internet-first writers to be a member of the BBWAA. Maury Brown is the president of the Business of Sports Network, which includes BizofBaseball.com. He is also a contributor to Baseball Prospectus and Forbes.com.
Begin Slideshow

»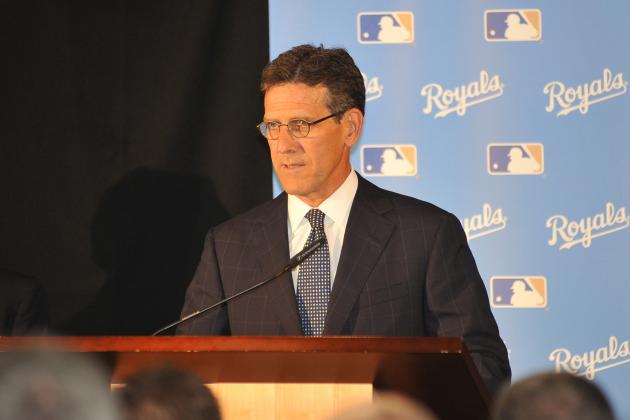 Denny Medley-USA TODAY Sports

The theory goes that with no strong heir, the owners might default to someone they know, someone on the inside. No one is more of an insider than Tim Brosnan. Currently the Executive Vice President for Business inside the Office of the Commissioner, Brosnan may have a low public profile, but he's got over twenty years of experience inside the game.
Brosnan began work on international matters for MLB and has overseen the expansion of the game into new markets. He's overseen both the integration of Japanese talent like Ichiro Suzuki and Yu Darvish into the game as well as managing the World Baseball Classic since its inception.
In recent years, Brosnan has also taken on the tasks of handling broadcast and sponsorship duties, two of the engines that have driven the revenue increases for the owners. The handling of MLB's cash cow Extra Innings package is a big feather in Brosnan's cap. As someone that hands them money, that could help Brosnan get votes from the owners.
His lack of public profile may work against him slightly, but the insider view is that Brosnan is more a functionary than a leader. Everyone seems to think he does a great job doing what he does, so moving him to a role he may be less suited for doesn't excite ownership.
Maury Brown's Insider View: "Brosnan's been the television guy and that's where his strength lies. MLB has strengthened it's positions with the Extra Innings deal, with new national and local deals, and the owners remember who did those deals. With revenues set to double in 2014, that puts Brosnan in a unique position of strength. He's done more than that, but he's in a better position now because of it."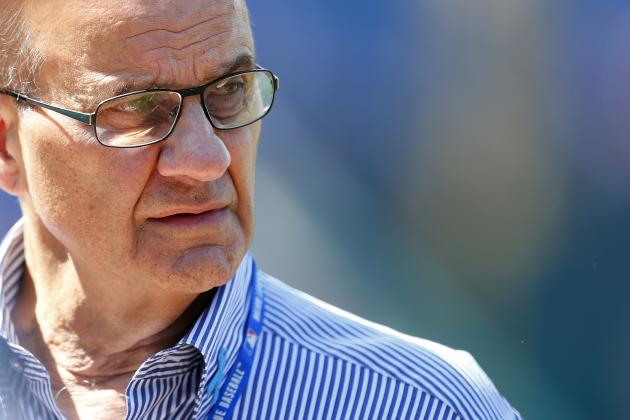 Rich Schultz/Getty Images

There's some thought that Selig's replacement needs to be in a caretaker mode. Bringing someone in that won't rock the boat, doesn't have ambitions to put their mark on the game and will allow someone like Tim Brosnan and the other members of the Office of the Commissioner to continue running things for the near term while someone is groomed or found has supporters.
If the owners decide to go that way, Joe Torre is a name that will come up. He's well respected inside and outside the game, well known and carries the gravitas that many associate with the Commissioner's role. On the downside, he has very little experience with the business side and in his job as Executive Vice President of Baseball Operations, he deals more with field staff and front offices than owners and team presidents.
Torre would be 74 when Selig is scheduled to retire, so a long tenure is very unlikely. Torre does have a lot of supporters in the media, which could help the perception of his candidacy more than it will actually help with the men that will select the next Commissioner.
Maury Brown's Insider View: "Not an owner but highly respected. Seen as evenly keeled, which is needed to be able to reach both low and high revenue clubs. Was a key player rep in the the early days of the MLBPA, which is a unique position and maybe not a positive for the owners. As an ex-player and manager, he's likely the one fans would most like to see."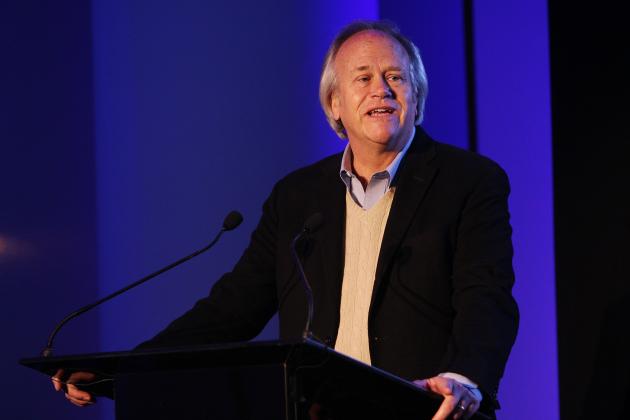 Stephen Lovekin/Getty Images

Television is still the engine that drives the revenue growth and public perception of sports. No man has done more for that growth engine than Dick Ebersol. In his career in TV, Ebersol has built the Olympics and the NFL into ratings juggernauts while handling a wide range of creative and business functions as well. If you can run Saturday Night Live, you can probably handle baseball owners.
Ebersol, along with TV execs like ESPN's George Bodenheimer and MLB's own Tony Petti, will get some consideration due to the importance of that side of the business and the lack of experience of the other candidates in this area. Like Torre, Ebersol is older (67 at the time Selig would step aside) and wouldn't have a long term tenure, nor would he seem the type to make ambitious changes in the game or the Office of the Commissioner.
The downside for Ebersol is that he's known to be combative and doesn't have significant baseball experience. His time at NBC did not coincide with much baseball, aside from the ill-fated Baseball Network experiment. Ebersol was forced out at NBC by new owner Comcast as well, an entity that baseball has a lot of business relationships it could not afford to jeopardize.
Maury Brown's Inside View: "In television circles, Ebersol is considered nearly royalty. I'm not sure how he would be across the divergent ownership ranks, but highly respected.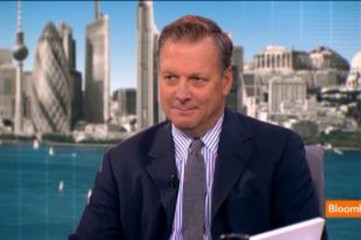 Courtesy Bloomberg LP
If baseball is going to go with someone focused on the media, they are more likely to go with their own guy. Bob Bowman has grown MLB Advanced Media—you know it as MLB.tv and MLB.com—into a monster revenue stream from something that didn't exist a decade ago. He also forsaw the shift to mobile, leading the charge onto smartphones, the kind of risky move that MLB is not known for.
Moreover, Bowman is "inside the tent." He's a guy who's had to deal with the teams over and over and regularly hands them a big check. Since internet revenue is split equally among the 30 teams, he's stronger with the medium and small market teams which could help in any vote.
Bowman is known as a combative guy, but a creative genius, as well as one with big ambitions. Bowman considered a run for governor in his home state of Michigan a couple years back, but stayed with MLBAM. That was probably a smart move given the economics of the two entities.
Unlike some others inside the game, Bowman could be shifted out of his position without too much issue. MLBAM has a solid organization and a deep bench. Bowman's also surprised many by working well with the powers at the MLB Network, an organization he felt should be under his purview.
Maury Brown's Insider View: "Very sharp. Has been able to take MLB's digital rights arm further than the owners could have dreamed. Like Brosnan, not a household name, but someone that has grown the league's coffers to incredible levels."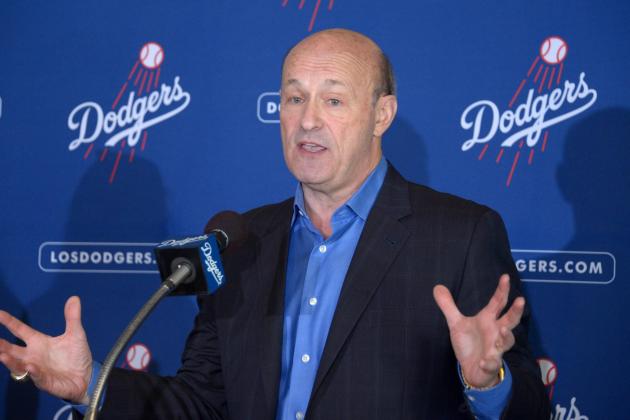 USA TODAY Sports

Not so long ago, this would have been Sandy Alderson. Before that, it was Andy MacPhail. The well-thought of executives worked in key positions for Bud Selig, but Selig outlasted them all. Both decided to go back and run their own teams rather than wait for Selig to tire of his job.
Stan Kasten never came to New York, but he's established himself as the key figure in a couple big franchises that have helped polish baseball's image. He handled what could have been an awkward transition in Washington, turning that franchise into one of baseball's strongest.
Then he left to do the same in another messy situation. Kasten ended up being the baseball insider in Los Angeles, just as he had been in D.C. Kasten's power is always in consensus, a trait he shares with Selig. While technically an owner, Kasten's status is really more as a fixer or in Hollywood terms, a "showrunner." He's neither the public face or the big money.
Kasten's got a lot of friends in baseball, but his share of enemies as well. He's shuffled from franchise to franchise in search of better deals, which to his credit, he's always done. No one seems excited about Kasten as Commissioner, but if they want someone who's in Selig's image—specifically the coup-leading Selig of the Fay Vincent era—there's no one better suited than Kasten.
Maury Brown's Insider View: "Kasten has broad experience across not only MLB, but the NBA and NHL. He's been on rebuilders (Braves and Nationals), and now is working with deep pockets in the Dodgers. Stan's an exceptional league soldier. He's also got the gift of "Stan Speak"—an ability to talk around tough topics.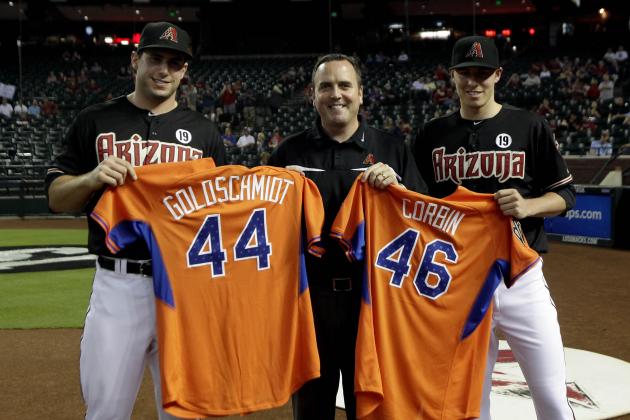 Rick Scuteri-USA TODAY Sports

While several names from teams are mentioned by insiders, only one seems to have much enthusiasm behind it. Derrick Hall is the President of the Arizona Diamondbacks and his background and visibility within the game will help him, though it's not clear he has enough of a base within ownership to make a strong push for the 24 votes needed.
Hall's background is in communications and marketing, which is a unique background for someone in his position. He worked with the Dodgers before coming to the Diamondbacks, with a side trip as Vice President at KB Homes. If that seems a bit odd, remember that the "B" in KB is Eli Broad, one of the richest men in America and one of the losing bidders for the Dodgers.
Hall has turned the Diamondbacks into a model franchise on and off the field. While the owner, Ken Kendrick, wouldn't be willing to make the Seligian leap into management, many think that he would aggressively push his guy Hall for the position. Kendrick, along with some other owners like Ray Davis and Mark Attanasio, might well like their own kind of guy in the commissioner's office rather than following the old school collective of Selig-allied owners like Jerry Reinsdorf, John Henry and Jeffrey Loria.
Maury Brown's Insider View: "One thing that Selig brought that no other did prior was experience in ownership. While Hall isn't an owner, he has front office experience at the club level. He's younger, which would allow a long tenure. And while Phoenix is far from a small market, he's been able to pull the Diamondbacks through a bit of a rebuild after Jerry Colangelo leveraged the future to win the World Series in 2001."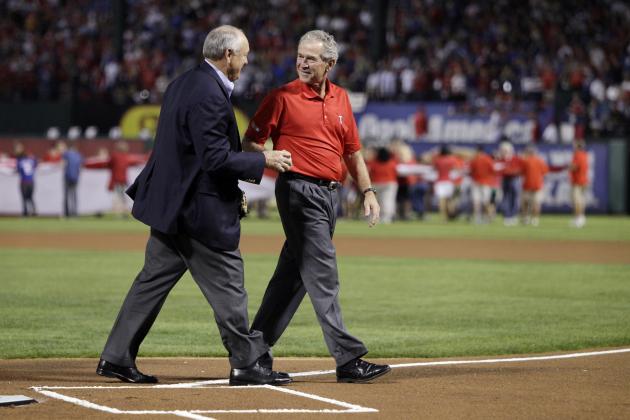 Pool Photo-USA TODAY Sports

Liberals may not like the idea, but former U.S. President George W. Bush still has a lot of friends inside the game. Cardinals owner Bill DeWitt was a big fundraiser for Bush as both Texas governor and in his two campaigns for president, but he was hardly alone.
Bush's tenure as the frontman for the Texas Rangers helped introduce him to the state. He sold his minuscule stake in the team to help finance his run for governor, but maintains connections inside the game. The tale that Bush believed he was promised the commissionership by Selig remains, though both have denied the substance of the tale. Still, it could be true, just twenty years later.
Bush is known to owners, can handle the public relations part of the job and wouldn't be someone who needed to put his fingerprints all over the game the way that Selig has. Bush's legacy is solid and being commissioner would be largely symbolic, giving the ex-President something to do. Bush could be considered a more long-term commissioner than many given his age and his father's vigor into his 90's. (Speaking of Poppy, the first President Bush is also very popular among baseball owners.)
There are negatives to a Bush commissionership, starting with a less-than-stellar reputation among half the U.S. electorate. He's more of a delegator than even Selig and his seeming lack of focus might make him a bit of an absentee commissioner (some owners might consider that a positive). Bush wouldn't campaign for the position, but it seems that if he were asked, Bush would serve.
Maury Brown's Insider View: "Democrats—both in the ownership ranks and from the fans—might scream, but Bush is a former owner of the Texas Rangers and you have to figure having an ex-president running the league would send a pretty strong message. It would certainly give MLB bragging rights."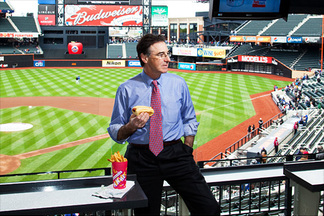 No one has more baseball bone fides than Steve Greenberg. Not only was his father a Hall of Fame player (Hammerin' Hank Greenberg, the Detroit Tigers great), but Greenberg has been involved with nearly every major baseball transaction of the last two decades since leaving the the Commissioner's office.
As an executive with the powerful Allen & Co., Greenberg has been involved in sales of franchises, major sponsorship agreements, television deals and perhaps most importantly has helped set up the credit facilities used by owners to finance operations.
The downside here is that Greenberg is thought of as a back-room dealmaker, not the public face that the Commissioner is often forced to be. This is despite his previous role in the commissioner's office, which doesn't overlap with many current owners.
His media and financial savvy are second to none, and no one would say anything bad about Greenberg, even off the record, which speaks to Greenberg's power. In fact, one team executive said he didn't think Greenberg would want the job. "Why accept a demotion?" he asked, not joking.
Maury Brown's Insider View: "Fay Vincent always thought Greenberg would have been the better selection over Selig, but history has shown Bud has done a very good job. But, if you're going to make a short list to replace Selig, Greenberg is right there. He's not only a life-long baseball man through his dad, Hank, but he's brokered a long list of club sales. And while the league has dramatically changed since he had the title, being deputy commissioner of the league doesn't hurt."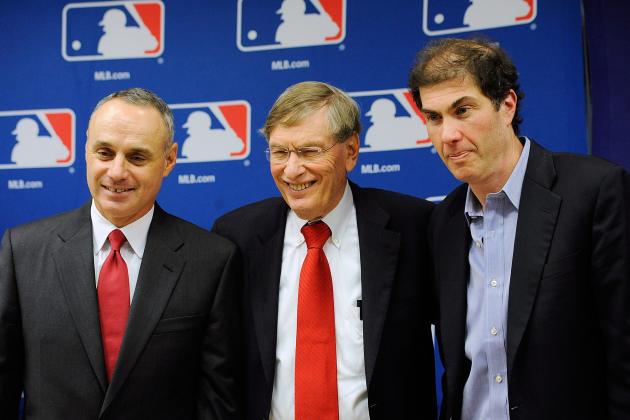 Patrick McDermott/Getty Images
Manfred (L), Selig, Weiner
If, God forbid, Bud Selig passed away, Rob Manfred would likely step into the role. While some think that's what might be necessary to get Selig out of office, Manfred is going to be strongly considered for the position regardless of just how Bud leaves.
Manfred is incredibly well respected throughout baseball. He's considered even-handed even by his opposition at the MLB Player's Association. Manfred's handling of labor issues and the drug testing agreements show just how deftly he can play his hand. It also shows just how much leeway he got from Selig to run his department his way.
Uncertainty in the next labor agreement works against Manfred stepping up to the big job. There's definite tensions as the Office of the Commissioner has become very aggressive with drug investigations and being seemingly unable to stop leaks into those same investigations. In addition, uncertainty over the health of MLBPA head Michael Weiner, Manfred's counterpart in the last several CBAs makes it tougher to take Manfred out of that key role.
Manfred is the ultimate insider candidate, unlikely to rock the boat or change the course that is working, but is young enough to put his stamp on the position down the line if needed. Manfred's lack of public profile shouldn't be considered a lack of charisma either. He is regularly described as the guy you want on your side in any argument.
Maury Brown's Insider View: "While Selig is the big picture guy, Manfred does much of the heavy lifting. When it comes to labor matters, he and Michael Weiner have formed a very good working relationship. If there's a downside, it's that owners may see losing Rob to the commissioner's role as eroding the labor negotiation process. Could easily see him in an interim capacity, if needed."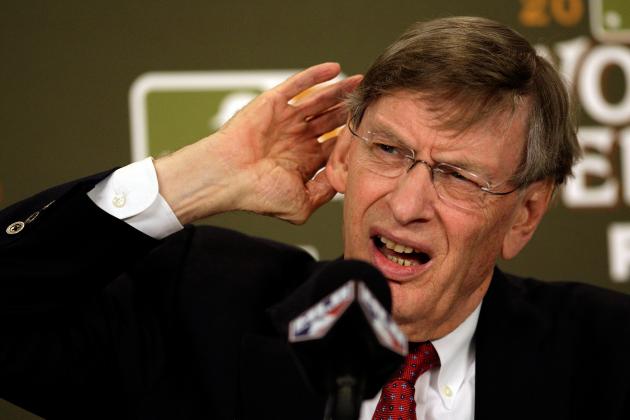 Jamie Squire/Getty Images

The once and future commissioner? Bud Selig has done this before.
Selig has said twice before that he would step down as commissioner, but his singular status among the owners and the great state of the game on both a business and labor level have caused the owners of the 30 teams to ask Bud to stay on. It's quite possible they will do it again.
The next commissioner will need 24 owners to agree on his or her appointment, something than none of the previous nine could do right off the bat. With no clear candidate, it's easy to imagine Selig stepping to the podium once again and saying he's agreed to stay on.
And why not? Despite his age, Selig has shown no signs of slowing down. Selig often works from home in Milwaukee, but his fingerprints are clearly on every area of baseball. Playoff changes? His. New stadiums around the league? His. All Star game "counts"? Yep, his as well, though he wishes images of that infamous shrug would vanish.
Selig can't be commissioner forever, but in 2014, there's no one ready to step into his shoes. Perhaps the owners will ask him to begin a transition, but his reign is very likely to continue.
Maury Brown's Insider View: "Highly misunderstood. Has Reaganesque qualities in that he's a consummate communicator. Can be on the phone listening to the plight of a large revenue club and the next second speak with a small revenue club owner and make them feel like he truly understands them. While there have been warts in his tenure (that All-Star Game tie is certainly one of them), he'll go straight into the Hall of Fame without a struggle. As I've said before, the owners would let him run the league in the afterlife if they could. They love him that much."