Predicting 10 All-Star Futures Game Stars Who Will Impact MLB by 2014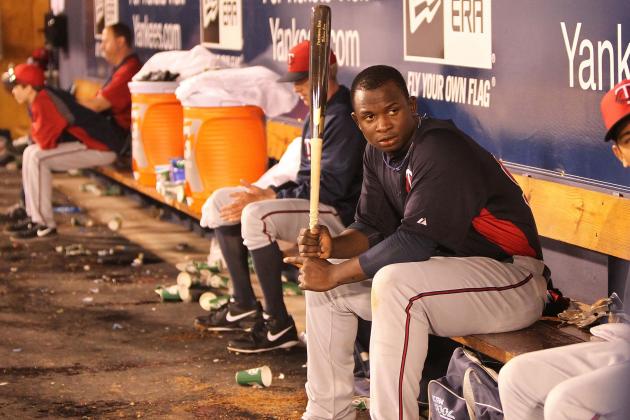 Kim Klement-USA TODAY Sports
Miguel Sano's power will be on display this Sunday in the SiriusXM Futures Game.
Since it's introduction in 1999, the Sirius XM All-Star Futures Game has evolved into the hidden gem of All-Star weekend.
The event offers fans a unique opportunity to watch baseball's brightest prospects on the same field.
In fact, 22 of the 50 players selected to participate for either the U.S. or World Team recently appeared in Prospect Pipeline's Midseason Top 50 Prospects, including nine who are ranked within the top 10.
Each year the event serves as a stepping stone for prospects destined for greatness in the major leagues. Among all the players chosen to play in the 2012 All-Star Game, 30 were alumni of the Futures Game.
Though some of the younger players are in the early stages of development, a majority of the participants in this year's game are within striking distance of the major leagues and could potentially debut before the end of the season.
Here's a look at 10 Futures Game prospects who are poised to make an impact in the major leagues by 2014.
The 15th annual SiriusXM All-Star Futures Game will take place at 2 p.m. ET on Sunday, July 14, at Citi Field in New York. The game can be seen live on MLB.com and ESPN2.
Begin Slideshow

»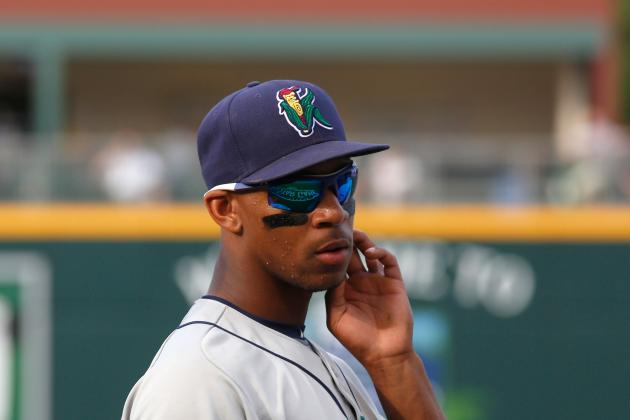 David Kohl-USA TODAY Sports

2013 Stats (A-/A+): .333/.417/.535, 109 H, 17 2B, 11 3B, 9 HR, 35 SB, 67/48 K/BB (82 G)
Byron Buxton is the one prospect that everyone wants to lay eyes on in this year's Futures Game—and for good reason.
The 19-year-old outfielder has emerged as the consensus top prospect in baseball thanks to an incredible first half of the season at Low-A Cedar Rapids (also his full-season debut). Through his first 68 games, Buxton destroyed the Midwest League to the tune of .341/.431/.559 with 68 runs, 15 doubles, 10 triples, eight home runs, 55 RBI, 32 stolen bases and a 56/44 K/BB ratio.
The Twins recently rewarded their future superstar with a promotion to the pitcher-friendly Florida State League. So far, he's responded to the challenge by batting .298/.344/.421 with 17 hits, two doubles , a home run and eight RBI through his first 14 games.
While Buxton has showcased five tools on both sides of the ball this season, it's the rapid development of his baseball skills that stands out the most. Simply put: Buxton is way more polished than people expected, and he's going to move quickly.
Given the overall awesomeness of everything he does on the baseball field, he's the type of prospect that an organization will allow to mature at the major-league level—yes, just like Mike Trout, Bryce Harper and Manny Machado. At his current rate, Buxton will at least open the 2014 season in Double-A, and there's no telling how quickly he reaches the majors from there.
2013 Stats (A+/AA): 104.2 IP, 2.06 ERA, .220 BAA, 115/44 K/BB (18 GS)
A first-round selection of the Diamondbacks in 2011, Bradley passed on a football scholarship to play quarterback at Oklahoma in favor of a club-record $5 million signing bonus.
The 6'4" right-hander made an impressive full-season debut for Low-A South Bend in 2012, registering a 3.84 ERA and .181 BAA with 152 strikeouts in 136 innings. The only thing holding him back at the time was shaky command, as he allowed almost as many walks (84) as hits (87).
This season, however, everything has come together in a hurry for the 20-year-old. After posting a 1.26 ERA with 43/10 K/BB over five starts for High-A Visalia, the Diamondbacks promoted Bradley to Double-A, where it's been more of the same: 2.37 ERA, .221 BAA, 72/34 K/BB in 76 innings.
With his across-the-board improvement this season against advanced competition, Bradley has quickly emerged as one of the top pitching prospects in baseball. Beyond his athleticism and durable frame, the right-hander's stuff is ridiculously good, and it is highlighted by arguably the best fastball-curveball combination in the minor leagues. But what I love about Bradley—and what makes him so difficult to barrel—is his ability to throw everything on a steep, downhill plane. Since the start of the 2012 season, he's allowed just 10 home runs in 235.1 innings.
In previous years, the Diamondbacks have been aggressive with their top pitching prospects, and it's looking like Bradley will have a chance to help at the major-league level later this season.
2013 Stats (A+/AA): 83.2 IP, 2.69 ERA, .252 BAA, 90/20 K/BB (16 GS)
Originally a supplemental first-round selection by Blue Jays in 2010, Syndergaard was acquired by the Mets in the offseason trade that sent R.A. Dickey to Toronto.
The 6'6", 240-pound right-hander emerged as a top-tier pitching prospect last year at Low-A Lansing (Blue Jays) with a fastball in the mid-to-upper-90s and 12-to-6 curveball. Since joining the Mets' system, Syndergaard has developed a hard slider that in turn has improved the consistency of his curve. However, it's the 20-year-old's ability to command all three offerings that has led to his surge up the ladder this season.
Syndergaard registered a 3.11 ERA with 64/16 K/BB in 63.2 innings for High-A St. Lucie to open the 2013 season, and he was rewarded by the organization with a mid-season promotion to Double-A Binghamton. Through his first four starts at the more advanced level, the right-hander has allowed three earned runs and has also struck out 26 batters in 20 innings.
Based on how the Mets' handled Matt Harvey and Zack Wheeler at similar points in their respective careers, Syndergaard will likely spend the rest of the season at Double-A. And if his development goes as planned, he should reach the major leagues at some point during the second half of the 2014 season.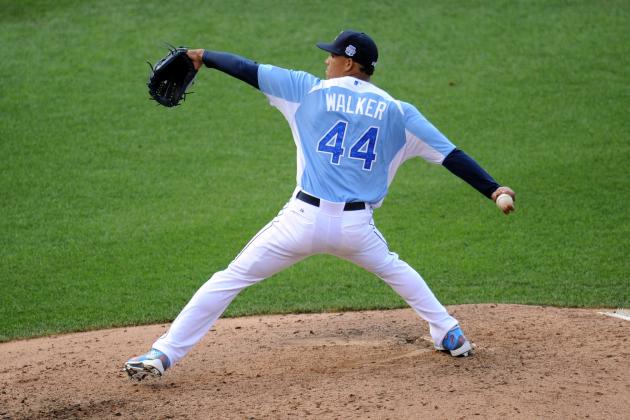 Peter G. Aiken-USA TODAY Sports

2013 Stats (AA/AAA): 100 IP, 2.16 ERA, .193 BAA, 112/35 K/BB (17 GS)
Selected by the Mariners in the supplemental first round of the 2010 draft, Walker has everything you want in a future ace. At 6'4", 210 pounds, the right-hander is an outstanding athlete with a fluid delivery, quick arm and exceptional stuff.
After a strong showing at Low-A Clinton in 2011, the Mariners aggressively bumped Walker to Double-A—bypassing the High-A level—to begin the following season. As expected, the then-19-year-old showed flashes of brilliance but struggled with his command and execution. However, the lessons he learned last year as a younger player at an advanced level were crucial to his overall development.
Assigned back to Double-A Jackson to begin the 2013 season, Walker has quickly evolved into the pitcher everyone knew he'd become. Through his first 14 starts, the right-hander registered a 2.46 ERA and .195 BAA with 96/30 K/BB in 84 innings, and ultimately forced a promotion to Triple-A. And in his first three starts at the new level, the 20-year-old allowed one earned run while striking out 16 batters in 16 innings.
Walker boasts a plus-plus fastball that reaches the upper-90s, and he has also developed a high-80s/low-90s cutter that should be at least above-average at maturity. Although his command of both pitches has vastly improved this season, he still tends to leave too many up in the zone—something that will be exploited at the next level.
Both of Walker's secondary offerings are also in need of refinement. The right-hander induces whiffs with a curveball that has big-time depth and heavy downer action, though his lack of control makes it an inconsistent offering. Meanwhile, he's still developing a feel for a changeup that's average at the moment but plays up when he's working the corners with the fastball and cutter.
Given his success and overall maturation from a thrower to a pitcher this season, it seems increasingly likely that Walker will receive his first taste of the major leagues later this season. The organization doesn't need to overexpose him in the Pacific Coast League, and more importantly, a promotion in September represents the next logical step in his development. And while I don't expect him to open the 2014 season in the starting rotation, the right-hander should at least spend several months in the major leagues.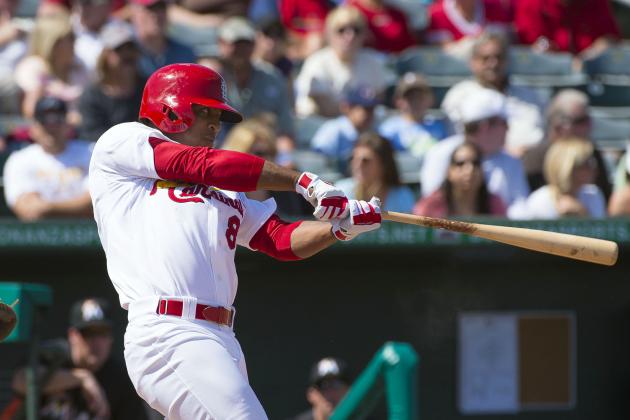 USA TODAY Sports

2013 Stats (AAA): .306/.341/.462, 17 XBH (5 HR), 5 SB, 22/9 K/BB (46 G)
Coming off of a monster 2012 campaign at Double-A Springfield, in which he posted a .953 OPS with 37 doubles, 23 home runs and 56/42 K/BB in 124 games, Taveras entered the 2013 season as the best pure hitter in the minor leagues.
After landing on the disabled listed with an ankle sprain May, Taveras returned to action with Triple-A Memphis on June 8 but was still noticeably playing through pain. The lingering injury also impacted his production, as the 21-year-old posted a .735 OPS with five extra-base hits over his next 15 games. On June 23, Taveras was placed back on the disabled list after he aggravated the injury while returning to second base on a pickoff attempt.
With no obvious spot for Taveras in the Cardinals' outfield—though that may change depending on the severity of Matt Holliday's hamstring injury—the organization will offer him as much time as he needs to recover. Provided that the ankle isn't an issue once he returns, Taveras should at least spend September in the major leagues. And with Carlos Beltran set to become a free agent after the season, right field should be his to lose in 2014.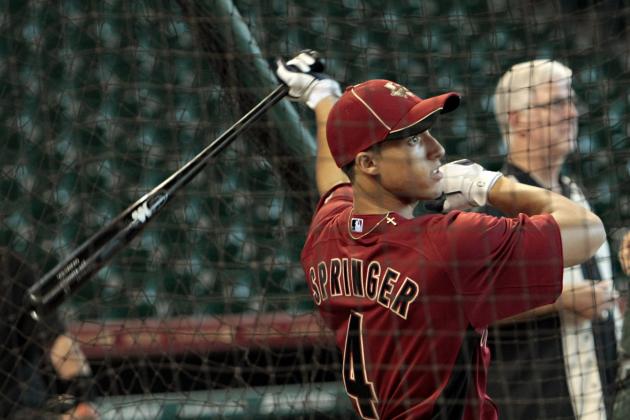 Bob Levey/Getty Images

2013 Stats (AA/AAA): .315/.419/.627, 21 2B, 26 HR, 28 SB, 112/52 K/BB (88 G)
A first-round selection out of the University of Connecticut in 2011, Springer has enjoyed a quick ascent within the Astros' system over the last two years, thanks to a projectable blend of plus power and speed.
During his full-season debut in 2012, the 6'3", 200-pound outfielder batted .302/.383/.526 with 24 home runs and 32 stolen bases in 128 games. However, while his overall numbers were obviously impressive, Springer spent a majority of the season in the hitter-friendly California League (High-A). And when he was finally promoted to Double-A Corpus Christi for the final month of the season, he only posted a .630 OPS in 22 games.
The other major issue with Springer is his excessive strikeout rate. Between both levels last season, he fanned 156 times in 128 games, amounting to 30.8-percent of his total at-bats. However, his robust raw power and ability to coax a walk (12.3-percent walk rate) made his propensity to swing and miss tolerable.
Assigned back to Double-A for the 2013 season, Springer solidified his prospect stock by batting .297/.399/.579 with 20 doubles, 19 home runs and 23 stolen bases through 73 games. And although he fanned 96 times during that span, the 23-year-old also worked 42 walks while making more consistent contact. As a result of his success during the first half of the season, the Astros promoted Springer to Triple-A Oklahoma City in late June, where he has since batted .412/.524/.882 with seven home runs and 16/10 K/BB through 15 games.
Since strikeouts will always be an issue for Springer, the key to his success at higher levels will be whether he can reach base at a favorable clip while making consistent contact within the strike zone. While he's likely to receive his first exposure to the major leagues later this season, Springer would seemingly benefit from further seasoning in the minor leagues. At the same time, what you see is basically what you get with the 23-year-old. And even if he does strike out at a disgusting rate in the majors, he still has the ability to impact the game with his power, speed and defense in center field.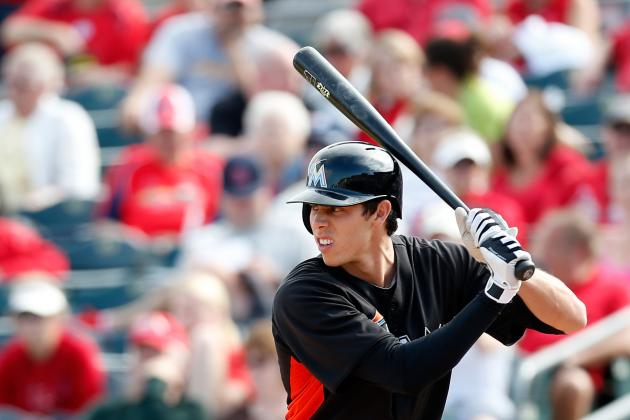 Chris Trotman/Getty Images

2013 Stats (AA): .251/.333/.497, 24 XBH (6 HR), 49/21 K/BB (43 G)
Selected by the Marlins in the first round of the 2010 draft, Yelich has absolutely raked at every minor-league stop and has had his prospect stock soar as a result.
At 6'4", 195 pounds, Yelich is a left-handed hitter with, in my opinion, the sweetest swing in the minor leagues. Possessing a compact and fluid swing, the 21-year-old is able to track the ball deep in the zone before firing his hands to drive the ball from line to line. And while his bat path is seemingly geared towards consistent contact, he also possesses enough power to turn around velocity and jump the yard to all fields.
After an outstanding performance this spring in the major-league camp, Yelich has been limited to only 43 games at Double-A Jacksonville this season due to a pair of trips to the disabled list (foot, abdominal strain). As a result, the outfielder has yet to truly find his groove at the plate with a .251/.333/.497 batting line, 24 extra-base hits and an uncharacteristic 49 strikeouts.
However, there's no doubt that Yelich's bat will heat up in the near future, and once it does, he should reach the major leagues at some point during the second half of this season. The 21-year-old has the makings of a future All Star and should be a main cog in the Marlins' lineup for years to come. But for right now, all that matters is whether he can stay healthy.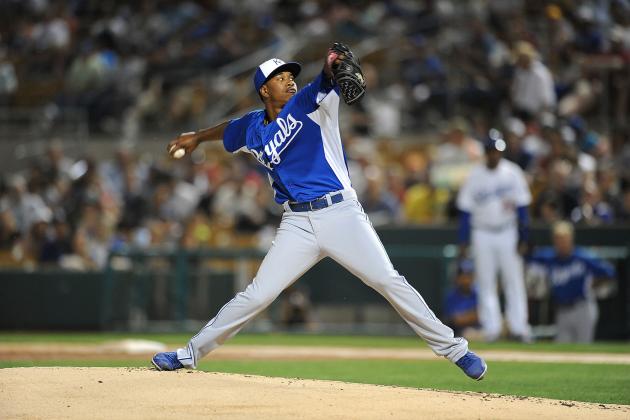 Norm Hall/Getty Images

2013 Stats (AA/AAA): 92.1 IP, 3.31 ERA, .215 BAA, 110/37 K/BB (18 G/17 GS)
Ventura made tremendous strides in his development last season for High-A Wilmington, registering a 3.30 ERA with a 98/28 K/BB ratio in 76.1 innings. However, the flame-throwing right-hander struggled following a late-season promotion to Double-A Northwest Arkansas to conclude what was an otherwise successful campaign.
This year, Ventura's overwhelming success while repeating the level led to a promotion to Triple-A Omaha after only 11 starts. Though the 22-year-old has registered a 3.31 ERA and .215 BAA while missing 110 bats in 92.1 innings between both levels, his command and execution has been challenged at Triple-A.
With a true triple-digit fastball and secondary offerings that have vastly improved over the last year, there's no question that Ventura has the pure stuff to pitch in the major leagues. However, the ongoing development of his command and secondary offerings will ultimately dictate whether he is used as a starter or a reliever. Expect the Royals to audition him in the major leagues later this season with the goal of adding him to the rotation at some point in 2014.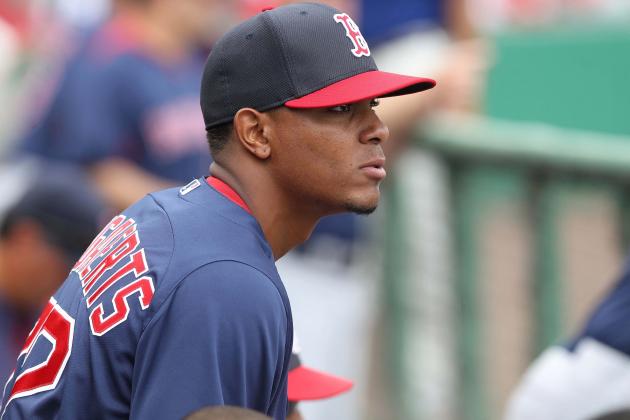 Kim Klement-USA TODAY Sports

2013 Stats (AA/AAA): .297/.391/.494, 31 XBH (13 HR), 7 SB, 70/49 K/BB (84 G)
Bogaerts prospect stock took off last season when reached Double-A Portland as a 19-year-old and posted an .896 OPS with 37 doubles and 20 home runs in 127 games across two levels. But, as is often the case with young hitters at an advanced level, his aggressiveness at the plate was exploited, as he struck out 22.3-percent of the time. Therefore, the Red Sox wisely assigned Bogaerts back to Double-A Portland for the 2013 season.
After a sluggish first two weeks at the new level, Bogaerts finally caught fire and began to hit for both average and power. And after posting a .909 OPS with 24 extra-base hits through 56 games, the Red Sox promoted the 20-year-old to Triple-A Pawtucket in early June. After enduring a brief adjustment period, the shortstop has settled in nicely and batted .267/.357/.475 with six home runs and 19/14 K/BB through 28 games.
Perhaps the most impressive aspect of Bogaerts' game this season is his vastly improved plate discipline and ability to control the strike zone. In addition to trimming his strikeout total against advanced pitching, he has worked deeper counts and made more consistent contact without selling out for power.
Although Jose Iglesias has done a tremendous job filling in at both shortstop and third base this season, there's an extreme lack of power on the left side of the infield for Boston. So if Bogaerts continues to mash at Triple-A Pawtucket, there's a realistic chance that the organization gives him shot at the hot corner over Will Middlebrooks.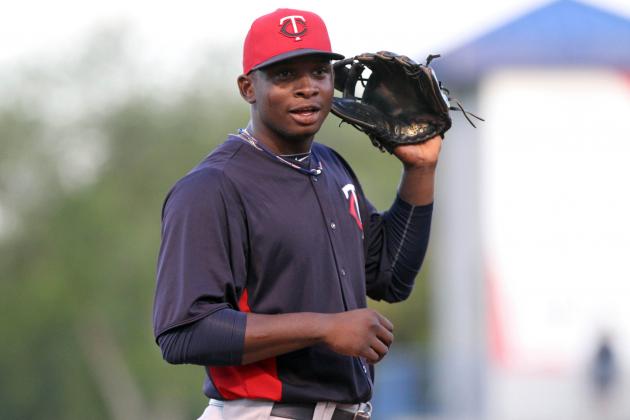 Kim Klement-USA TODAY Sports

2013 Stats (A+/AA): .291/.384/.610, 64 R, 45 XBH (22 HR), 90/41 K/BB (83 G)
Signed out of the Dominican Republic in 2009, Sano solidified his status as the top power-hitting prospect in the minor leagues last year by launching 28 home runs in 129 games during his full-season debut for Low-A Beloit. However, it was also the first time that Sano's lack of plate discipline was exploited, as he fanned 144 times.
This season, Sano's across-the-board improvements on both sides of the ball has led to his emergence as the top corner infield prospect in the game.
Moving up to the Florida State League for the 2013 season—a league that tends to be challenging for young hitters—many believed that the 20-year-old's shortcomings would be exploited at the higher level. However, Sano thrived in the face of advanced competition, batting .330/.424/.655 with 51 runs scored, 33 extra-base hits (16 home runs), nine stolen bases and 61/29 K/BB through 56 games.
As a result of his hot start and overall progress, the Twins offered him a promotion to Double-A New Britain in June. Even though Sano is batting just .198/.287/.500 with 29 strikeouts in 27 games, the 6'3" slugger's robust power has been on display with 12 of his 17 hits going for extra bases, including six home runs.
Assuming that Sano is able to make adjustments during the second half of the season at Double-A, he's seemingly on pace to reach the major leagues in late 2014. And like future teammate Byron Buxton, he'll likely be allowed to complete the final stages of his development at the highest level.