Power Ranking Every OKC Thunder Player Already on Roster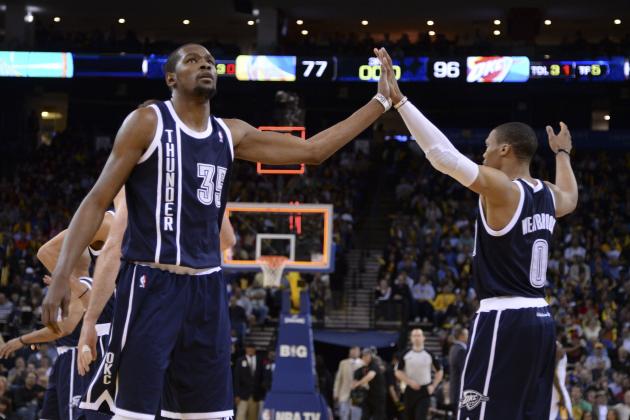 Kyle Terada-USA TODAY Sports

While a lot of NBA teams are still busy shuffling around their players in free agency and trades, the Oklahoma City Thunder pretty much have their 15-man roster all set.
Amongst these 15 men, there are established superstars, supporting role players and some young talent that needs developing. From the Kevin Durants down to the Daniel Ortons, there is a place for everyone.
Obviously, some players are better than others, and the divide is visible even in the early stages of this offseason. However, the 2013-14 season is still quite a bit away, so there is definitely room for all of these guys to move up and down this list.
Without further ado, let's scan through the current Thunder roster to see where everyone ranks at this current time.
Begin Slideshow

»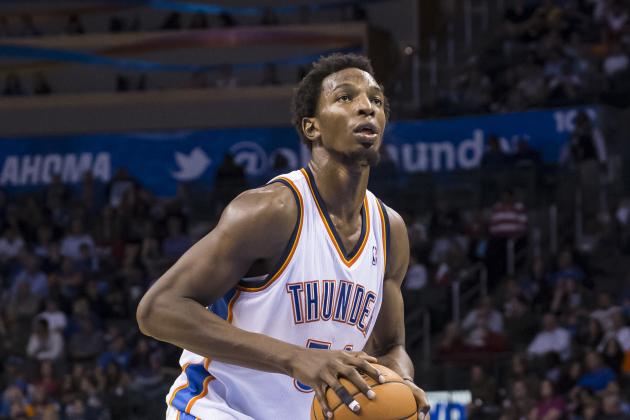 Shane Bevel/Getty Images

Now I know that all of the unproven talent ranked above Thabeet here hasn't even stepped foot on an NBA court yet, but the upside of that talent alone outranks what we already know about Thabeet.
We know that Thabeet has a ginormous 7'3", 263-pound frame, but we also know that he hasn't come close to living up to the expectations placed upon him when he was drafted No. 2 overall in 2009. When Oklahoma City brought him in before last season, it was seen as a really low-risk signing with potentially a lot of reward from a once-promising big man.
Unfortunately, Thabeet didn't show much progress in his play during his 11.7 minutes per game—producing averages of just 2.4 points and three rebounds.
His contract for the upcoming season isn't guaranteed, and he may possibly be waived by the Thunder should they find a better fit for a roster spot.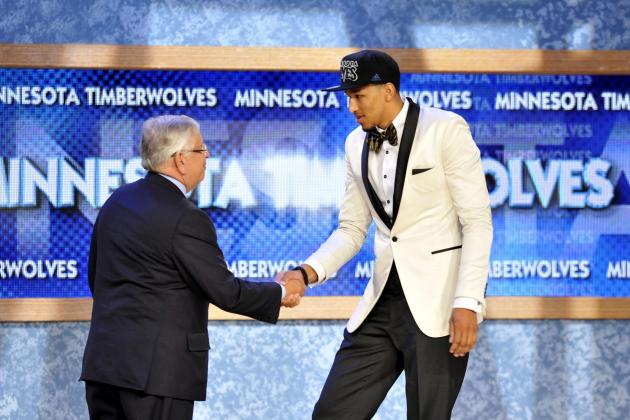 Joe Camporeale-USA TODAY Sports

While Hasheem Thabeet has failed to live up to expectations, rookie Andre Roberson has shown that he is right on track to fulfill his.
Coming out of the University of Colorado, Roberson made a name for himself with his tenacious rebounding ability. As a junior this past season, he was second in the nation in rebounds per game (11.2) and 10th in total rebounds (347).
In the three summer league games under his belt, Roberson has posted averages of four points, seven rebounds and 1.3 steals per game. This very small sample size still magnifies the strengths in Roberson's game and what he could potentially contribute to the Thunder.
Even with these positive signs, I'd think Roberson still has a ways to go before he sees any significant or consistent court time in OKC.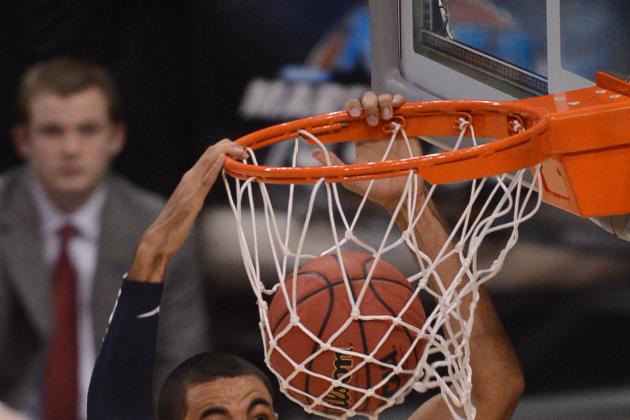 Jayne Kamin-Oncea-USA TODAY Spor

Grant Jerrett is another rookie on the Thunder who has been doing pretty well for himself during the summer league.
In his three games, the former Arizona Wildcat is averaging 11 points, 4.3 rebounds and 1.7 blocks per contest. These kinds of numbers may shed light onto Jerrett's potential to be a stat-stuffing role player for the Thunder, while also providing some floor spacing with his solid shooting range.
Much like fellow rookie Andre Roberson, though, Jerrett is bound to be used sparingly in the upcoming season. However, he should see plenty of time in Tulsa with the 66ers to develop and refine his game some more.
I see a lot of upside for Jerrett to become a good combo-forward off the bench for Oklahoma City, even if it takes him a few seasons to get there.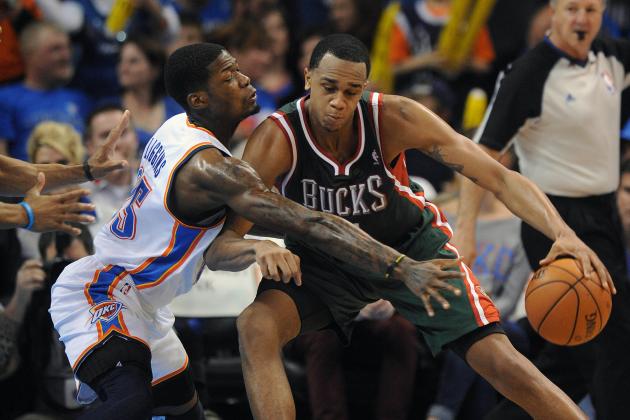 Mark D. Smith-USA TODAY Sports

Though DeAndre Liggins wasn't the biggest part of the Thunder last season, he still managed to do his job and do it well.
Liggins was brought in before last season and earned his roster spot during the preseason with his high-energy, blue collar style of play. He plays quality perimeter defense and hustles every single second that he's on the court, which makes the secondary unit for Oklahoma City that much stronger.
However, Liggins doesn't offer too much in the statistics department, which can often bring him down in the eyes of those outside of the coaching staff. Also working against him is the fact that there's some quality young talent, like Roberson and Jerrett, nipping at his heels.
His defensive attributes and hard work should be good enough to keep him on the active 12-man roster, but that could easily change as the season and players beneath him on the rankings progress.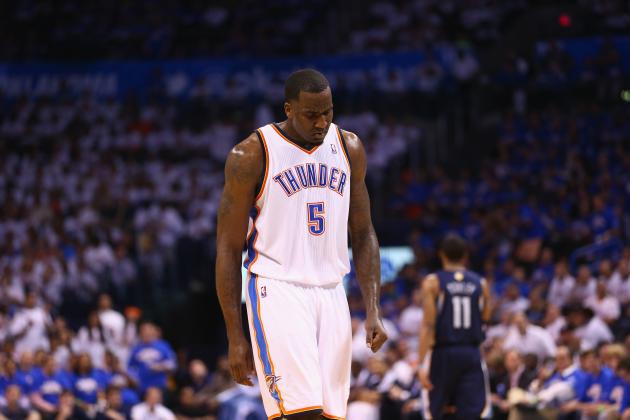 Ronald Martinez/Getty Images

Most people won't be surprised to see Kendrick Perkins this low on his own team's power rankings.
The rate of productivity is at an all-time low for Perk, and his time in Oklahoma City seems to be very much on the verge of ending. It doesn't help that he's been having to deal with injuries, as Perkins had yet another surgery performed on his knee this past week.
Depending on how quickly and how well Perkins' likely replacement (Steven Adams) develops, there could be a deal in the works to ship Perk and his burdensome contract elsewhere. Finding a suitor to take the oft-hurting Perkins and his bloated salary won't be easy, but the Thunder will likely jump at just about any chance they get to unload him.
Don't get me wrong, Perkins has done a lot for OKC in his time with the Thunder, and he can still contribute some more with helping Adams out in his rookie season. His days are truly numbered in Oklahoma City, though, as it is probably best for both parties to part ways sometime in the near future.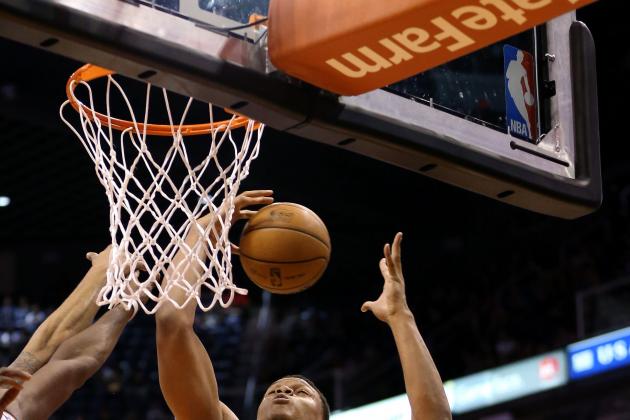 Mark J. Rebilas-USA TODAY Sports

Though Daniel Orton has had two pretty uneventful seasons in the NBA, the Thunder's patience with him may end up paying off this year.
Before a collision with teammate Reggie Jackson sidelined him with a mild concussion, Orton had some impressive showings in his first two summer league games.
His two outings yielded averages of 12 points, 5.5 rebounds and 1.5 blocks—showcasing some of the talent that the Thunder saw in him when they signed Orton last summer. Orton is a bit undersized for the center position, but utilizes his strength and body size well to bully his way between the blocks.
His time at the University of Kentucky wasn't filled with big numbers, but Orton was drafted based on his potential to produce at the next level—something he could prove as early as this season.
With Hasheem Thabeet's contract being non-guaranteed, there's a slight possibility Orton could usurp his spot as a reserve center on the bench. This all, of course, depends on how many more solid performances Orton is able to turn in during the summer league games and the preseason as well.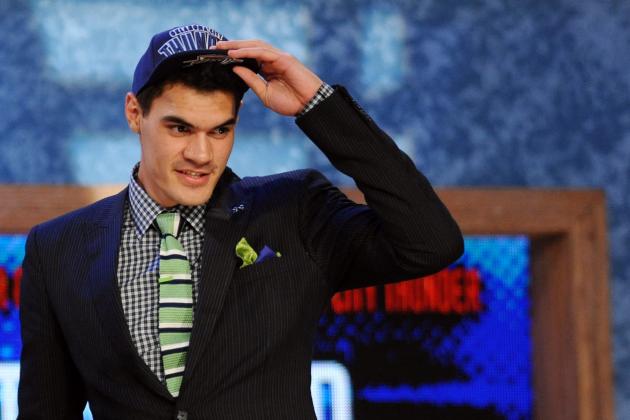 Jerry Lai-USA TODAY Sports

There's a bit of quiet hype surrounding Steven Adams, as he may be next in line to be starting at the center position in Oklahoma City.
So far, Adams has looked pretty good during the summer league but still has some polishing to do. Considering he's been playing with NBA competition for all of three games, Adams could very well progress a lot by the time the regular season starts up, and the Thunder are certainly hoping he does.
One area Adams was praised coming into the draft was his ability to defend without fouling. However, he's struggled with that quite a bit in the summer league—averaging four personal fouls a game. We could credit these foul troubles as part of the rookie-learning curve, but it may become a cause for concern if Adams doesn't patch it up over the next couple of months.
Overall, the potential is definitely there for Adams to become a good center in the NBA, but he also has a lot to prove if he wants to get there by late October.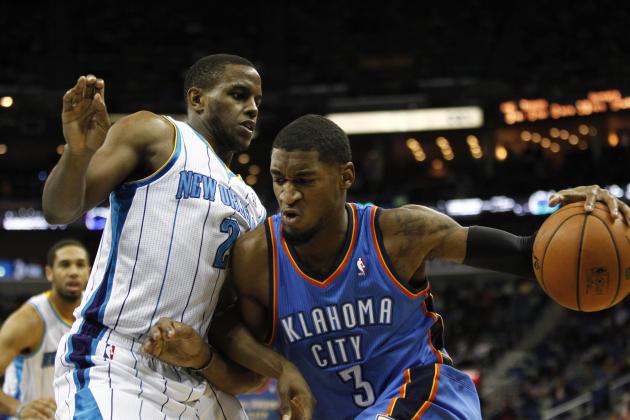 Derick E. Hingle-USA TODAY Sports

This ranking is based mostly on how good I think Perry Jones is right now, since there's not a substantial amount of evidence to base it on.
Jones was supposed to be playing in the summer league, but an unexpected oral surgery has sidelined him, which only continues the mystery surrounding just how good he can be.
When his draft-stock plummet dropped him to the Thunder in the 2012 NBA draft, he was being touted as a possible steal for a contending team, and he still very well may be just that. However, Jones was limited in playing time during his rookie season, and his lack of playing time in the summer may not remedy that this year.
With those things considered, Jones still has a lot of upside thanks to his physical attributes and versatility in his game. Standing at 6'11", Jones could play either forward positions and maybe even the center spot if the Thunder were in a really tight pinch.
His amazing athleticism paired with last season's developments in Tulsa could be part of the formula for a mini-breakout season, but that all depends on if he's able to earn some playing time in the offseason/preseason.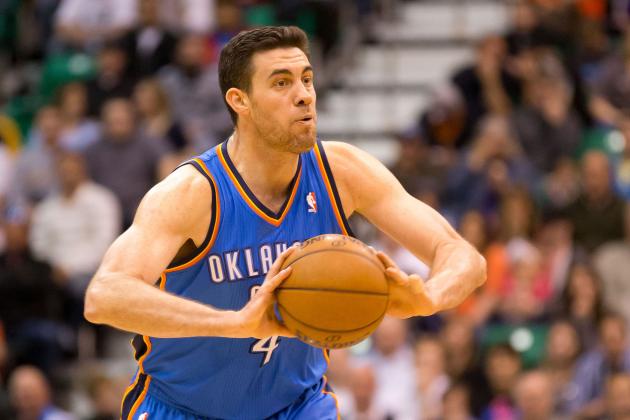 Russ Isabella-USA TODAY Sports

Oklahoma City's favorite hustlin' big man is still flying a bit under the radar with this ranking.
As it stands right now, Collison is fitting into his role perfectly as a reliable player off the bench providing quality minutes. However, age eventually catches up to everybody, and Collison's number is creeping up. He'll be 33 by the start of the regular season.
The low impact of a pretty small amount of minutes over his career means that Collison may be a bit fresher than most 33-year-old players in the league. But it could also mean that he will have to step aside to let the fresh faces get some burn, too.
For the time being, Collison is one of the better players in OKC's second unit, even if it doesn't show that in the box scores. He plays hard, grabs rebounds and takes charges. He can even score a bit when given good enough looks at the basket.
Consistency is a big part of Collison's game, and it's the same thing that will keep him right around this place in the power rankings throughout the season, as well.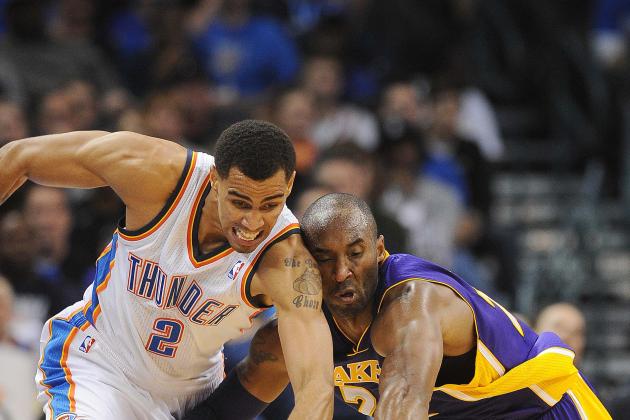 USA TODAY Sports

Much like the player ranked just beneath him, Thabo Sefolosha is doing just fine for the Thunder right now.
Coming off a career year in terms of offense, Sefolosha still looked sharp in playing his role as a lockdown defender on the court. Though he wouldn't be starting in too many other cities, the eighth-year guard has proven himself worthy to be amongst the stars in the starting five, serving as a perfect counterbalance of defense to the offensive outpourings of Kevin Durant and Russell Westbrook.
Sefolosha's time in OKC has been successful, and he's shown no signs of slowing down. Even with the rise of James Harden in past seasons, Thabo remained the starter as head coach Scott Brooks stood by his winning formula.
This season should be another solid one for Sefolosha, who's increased his aggressiveness on offense. Though a potential championship wouldn't be fully credited to a guy like Thabo, he's certainly a very vital part of this Thunder team and how well they perform down the stretch.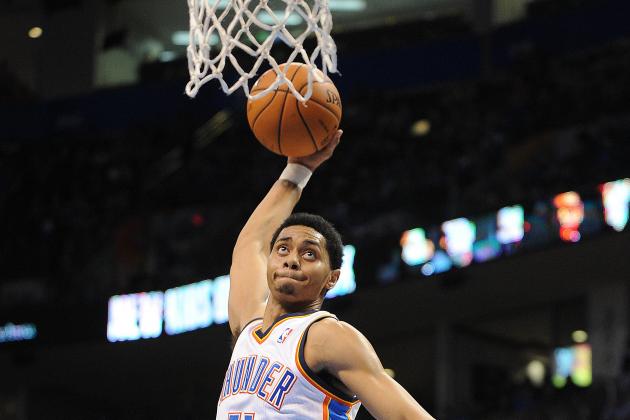 Mark D. Smith-USA TODAY Sports

The time to step up and shine is right now for Jeremy Lamb, as the departure of Kevin Martin has left the sixth-man spot wide open.
Lamb was a less prominent piece of the blockbuster James Harden trade, but the Thunder are hoping that he ends up balancing that deal out. His freaky athleticism and shooting abilities make Lamb a very potent scoring threat. The only hindrance for Lamb right now is his general lack of seasoning in the pros, since he spent the better part of last season playing in Tulsa rather than Oklahoma City.
This season is bound to be different for Lamb, though, since the Thunder are in dire need of a scoring spark off the bench, and Lamb is pretty much the only guy to fill that role. Lamb has been working to sharpen his skills in the summer league and exploded for 32 points in his most recent game against Philadelphia.
His shooting looked much better in that performance (10-of-14) after having some troubles in his first two games, where he shot just 28 percent. Overall, it seems Lamb could be turning a big corner during these offseason games, and it could build up some much-needed confidence to help him succeed at the next level.
Going from a somewhat shaky rookie two seasons ago to a potential star this upcoming season shows the startling progress Reggie Jackson has made in a short amount of time.
The fact that he could be considered the fourth-best player on this team is not a stretch by any imagination, but what's scary is that he could be even higher. I'm not insinuating that he will be dethroning Durant or Westbrook for the top-dog spot, but leaping into the third spot is not out of the question.
Jackson had a strong showing during the Thunder's postseason run, where he was unceremoniously thrust into the starting point guard role after Westbrook's knee injury.
If that wasn't impressive enough, Jackson had a record-setting outing during a summer league game a few days ago, where he dropped an astounding 35 points with 23 of them coming in the fourth quarter.
It may only be a matter of time before Jackson breaks out and blossoms into one of the better young players in this league, and he could potentially be the perfect leader for OKC's second unit of players.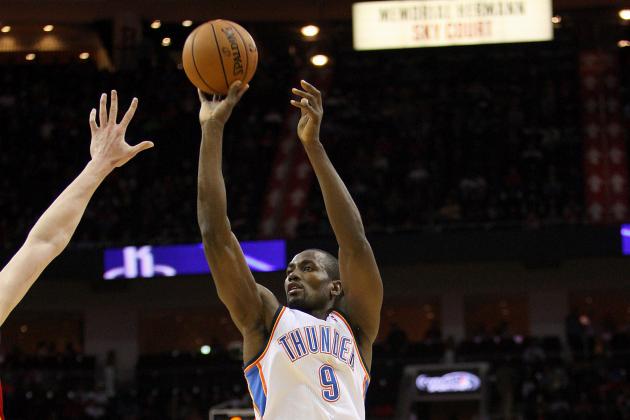 Troy Taormina-USA TODAY Sports

One little detected ripple effect of the James Harden trade was Serge Ibaka seeing a small increase in his playing time as well as scoring opportunities.
Ibaka has taken full advantage of that the past season, averaging double-digit points (13.2) for the first time in his young career. Entering this season, Ibaka seems poised to at least match his averages from last year if not increase them.
Benefiting from an increased shooting range, Ibaka's offensive game has opened up and compliments his strong defensive output on the other end of the floor. Having a quality big like Ibaka who is evolving his versatility helps out the superstars playing beside him, as he can take some scoring pressure off of them if they are struggling.
No matter how much better he gets this season, though, Ibaka's ceiling for the team power rankings is always going to be three as long as Westbrook and Durant are around.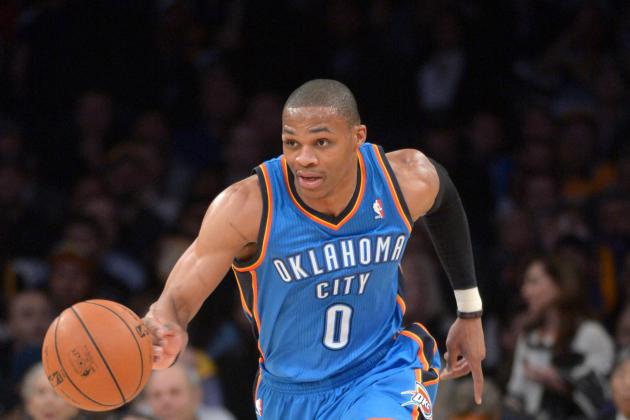 USA TODAY Sports

This past season ended in a lot of frustration for Russell Westbrook, as he had to sit and watch his team be eliminated from the postseason.
Though Kevin Durant is definitely and without question the best player on this team, Westbrook may be the biggest competitor and the strongest emotional leader. His fiery, sometimes errant play has drawn him a lot of criticism as being a jealous player who is trying to steal some spotlight from KD.
But a lot of that criticism was put to rest when the Thunder had to try and win without Westbrook in the playoffs last season. Those who begged for Kevin Durant to become the sole source of offense saw just how much the team dynamic relies on the duo rather than the individual.
Now that Westbrook is on his way to a full recovery and has shed himself from the weight of many haters, he may be due for the best season of his career. Before his injury, he had never looked so in control of his chaos than he was during the regular season.
It seems like he is still getting better, too.
Though individual stats and accolades are nice, Westbrook is a winner, and his ultimate end goal is nothing short of raising a championship banner in Oklahoma City.
USA TODAY Sports

As if anyone else was going to be at the top of these power rankings.
Thanks to a certain player in Miami, Kevin Durant may not be able to boast the title of "best basketball player on the planet." However, "second-best basketball player on the planet" isn't too shabby, either.
Durant's all-around game continues to grow and improve as he continues to shape himself into much more than an elite scorer. Though he may look smaller than a lot of the huge guys in the league, Durant's strength has really improved in the past few seasons, and he's combined that with his insane length to make improvements on both sides of the ball.
As for his mental state, I don't think Durant has ever been hungrier for a championship than he is right now. Seeing his rival win two straight titles, with one of them coming at his own team's expense, must be fueling the fire within KD.
Sure, he's a nice guy off the court, but Durant is slowly shedding that image on the court, as he's starting to gain more of an edge as his self-confidence has grown in recent years. That's not an ego thing or a bad thing at all. It's that type of competitive edge that's needed to lead your team to a championship.
Kevin Durant is flat out the best player on this team night in and night out, and whether or not the Thunder raise a championship banner in the next few seasons is riding heavily on his shoulders.