7 Superstars Who Need a Great Showing at WWE Money in the Bank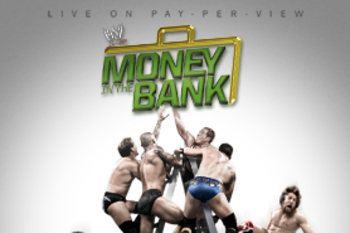 Photo Courtesy WWE
This Sunday at WWE Money in the Bank, most of WWE's top names will be in matches of one kind or another. But some, more than others, need a good showing.

In the following seven slides, I'll describe why each wrestler (OK, some slides have more than one on it) needs to be at his best.
No. 7: Everyone in the World Heavyweight Championship Money in the Bank Match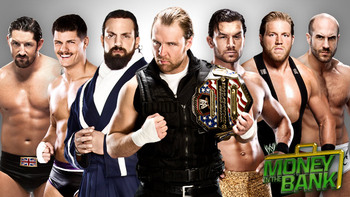 Photo Courtesy WWE
OK, so this slide alone has seven wrestlers. But each person in this match needs a win—or at least has to look really good losing. Since these guys are mostly midcard wrestlers, they all can gain a lot by winning. There are a lot of guys to list in this slide, so I'll keep it brief.
Fandango
Fandango danced his way into the imagination of WWE fans, only to miss what seems like forever with an injury and has only recently returned. If he doesn't put on a good show, he risks being more out of style than the Charleston.
Wade Barrett
Wade Barrett, well, needs something, anything good to happen for him. Each time he seems to get a push, he's un-pushed just as quickly. He just hasn't been the same since losing control of the Nexus. A good showing may help him get back into the spotlight he sporadically enjoys.
Cody Rhodes
Cody Rhodes is another young wrestler that seems to be brought back to earth each time he builds some momentum. He had a reasonable showing in the Royal Rumble, and a nice performance here would help his chances at getting a shot at a midcard title. Unless he wins, that is.
Jack Swagger
This guy has really shot himself in the foot this year and needs redemption badly. Coming away a loser would have to be seen as a major disappointment, especially since he's a previous winner.
Antonio Cesaro
Swagger's new cohort needs a good performance as well. Cesaro is one fantastic wrestler, but WWE seems to think he's boring. I guess dead-lifting guys from outside the ring into vertical suplexes is boring. He's yodeled, worn a beret and even had Jack Swagger steal his gimmick, only to become Swagger's lesser in a newly formed faction.
Damien Sandow
Damien Sandow is entertaining. His matches with Sheamus have been good. And the crowd gives him a reaction. But he still seems to be doing mostly nothing most of the time. He lacks long-term direction, and there's only so many more brain games he can play with Sheamus before the crowd gets bored. He's got the talent, and a bit more exposure could help propel him into the upper card. You're welcome.
Dean Ambrose
Finally, we come to Dean Ambrose. He's the reigning United States champion and a member of The Shield, but he's not been as dominant as he once was. Since picking up midcard titles, Ambrose and the other members of The Shield have basically "played down" to their competition. Ambrose needs to make a bold statement in this match and show he's as ruthless and unstoppable as he was before.

Phew, now that that's over, on to the next slide...
No. 6: Curtis Axel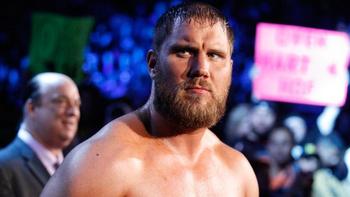 Photo Courtesy WWE
Curtis Axel is Paul Heyman's next project. He has potential and has looked relatively good in his most recent run with WWE.

The problem is not so much with Axel this Sunday, but with his opponent. The Miz, who was once one of WWE's top stars, has been basically relegated to Main Event commentary and lower midcard feuds that he mostly has lost.

If Axel loses to The Miz, it would be devastating. He would lose all his momentum. And worst of all, he'd be in a feud with The Miz. I was a Miz apologist for a long time, but his recent work has been shoddy at best.

Axel doesn't really need to look great; he just has to win.
No. 5: Ryback
Photo Courtesy WWE
Ryback needs a win. Badly. Every time a pay-per-view comes around, I write the same sentence. And every month, he loses.

Ryback, once WWE's undisputed No. 2 face, has become a heel that no one cares about. For lack of a better way to say this, WWE has ruined him.

Ryback really only has one option to get back to the top of the card, and that's looking dominant in a match, and then actually winning it.

He faces Y2J Chris Jericho, who is known for putting people over very well. This is as good a chance as he will have to get a good win over a top name.

Another loss and he may well be finished.
No. 4: The Shield (Rollins and Reigns)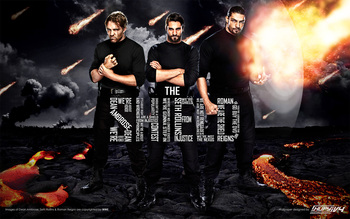 Photo Courtesy HupyV4
The Shield really has lost its luster as of late. After defeating anyone and everyone that was in its way, it can't seem to get that swagger back quite like it once had.

Maybe it's the fact we STILL don't know what "injustice" The Shield is fighting, or maybe it's that it just lost to the Usos and Christian on SmackDown.

Whatever it is, Rollins and Reigns need to basically destroy the Usos this Sunday. If they lose, we may be looking at the beginning of the end.
No. 3: Mark Henry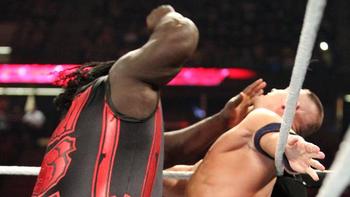 Photo Courtesy WWE
There are so many reasons why Mark Henry should beat John Cena this Sunday, but I'll only cover two.

Henry is likely at the end of the line career-wise, and a WWE Championship reign, even a short one, would be a fitting end to his long career.

There's also the fact that he's facing Cena. And who doesn't want to see Henry give John Cena a World's Strongest Slam through the announcer table?

Henry needs to capitalize on his incredible promo and get a big win to cap his WWE career.
No. 2: Daniel Bryan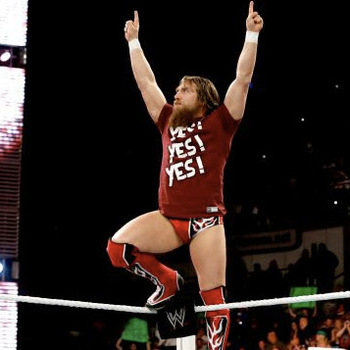 Photo Courtesy WWE
Is anyone hotter right now than Daniel Bryan? Bryan may well be the most popular wrestler in WWE right now, and he needs to capitalize.

He's in the WWE Championship Money in the Bank match, which gives him the opening he needs to make the jump to the WWE Championship picture.

A loss may well put a damper on his meteoric rise. Worse still, it could keep him out of the main event at SummerSlam. If he wins the match, he's got his golden ticket.
No. 1: Rob Van Dam
Photo Courtesy WWE
RVD has not been in WWE since 2007, and his return has been the talk of the pro wrestling world for weeks now. He spent the last few years in TNA and apparently left on not-so-great terms.

The moment his music hits, he's certain to elicit the biggest reaction of the night, and maybe of the year in any WWE arena. The only thing that could ruin the night is if he doesn't live up to the hype.

He's still in good shape, and there's absolutely no reason why he can't bring the house down. But if for some reason he disappoints, it will look very bad for WWE.
Keep Reading