Group A took the stage in Day 4 of the 2013 Gold Cup as Panama seized sole control of the lead with a 1-0 victory over Martinique. Mexico joined Panama on the list of winners in the day's second game with a 2-0 triumph over Canada.
Gabriel Torres stood out as one of the top stars in the group once again, showing that he is one of the biggest scoring threats in the tournament with yet another goal, while Martinique showed that their win over Canada was no fluke.
Canada, on the other hand, struggled once again as El Tri was able to find the net twice in a match that Mexico will hope gets them back on track.
Here's a look at how it all went down in Seattle.
Panama 1, Martinique 0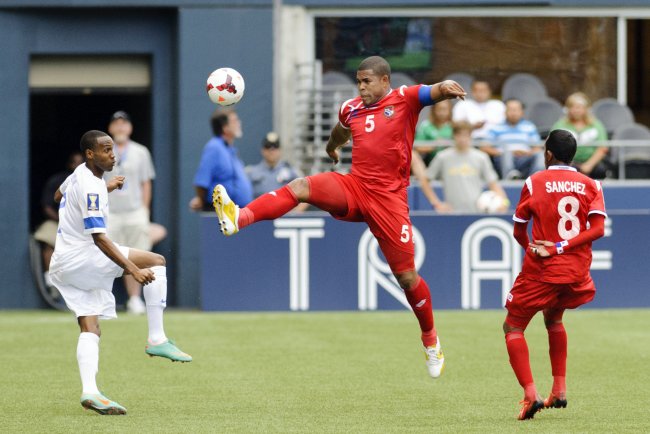 Steven Bisig-USA TODAY Sports
The first half of this match was much more competitive than expected as Martinique proved that they could hold their own from the outset.
Martinique, which is considered part of France for FIFA purposes (but not CONCACAF), maintained possession 44 percent of the time in the first half but outshot their opponents 6-4.
Panama was able to move the ball, but they found mounting any sort of threat against the Martinique backline to be rather difficult.
As Matthew Doyle of MLSSoccer.com noted, it wasn't the most thrilling half to watch:
Panama and Martinique tried real hard to break me, but even after that half, I still love soccer. #CantHoldUsBack

— Matthew Doyle (@MLS_Analyst) July 12, 2013
Action began to pick up in the second half as both sides came out with a greater sense of urgency.
Although no goals were tallied from the burst in action, Martinique defender Jacky Berdix was sent off in the 73rd minute after picking up his second yellow card, per Joshua Myers of The Seattle Times.
Martinique's Jacky Berdix has been sent off in the 73rd minute after getting his second yellow card.

— Joshua Mayers (@joshuamayers) July 12, 2013
Martinique defended with just 10 men admirably, but the combination of playing with a man down and fatigue took its toll, as Daniel Herelle committed a foul in the box to award Panama a penalty kick.
As Fox Soccer tweeted out, Gabriel Torres capitalized on the opportunity:
GOAL Panama! Torres converts the penalty kick to give his side a late 1-0 lead over Martinique. Watch: - http://t.co/UcJs8vxbUE

— FOX Soccer (@FOXSoccer) July 12, 2013
It was yet another example of Torres coming through for Panama. He scored two goals in their opening win against Mexico and now has them atop the Group A table with the game-winner in this one.
Mexico 2, Canada 0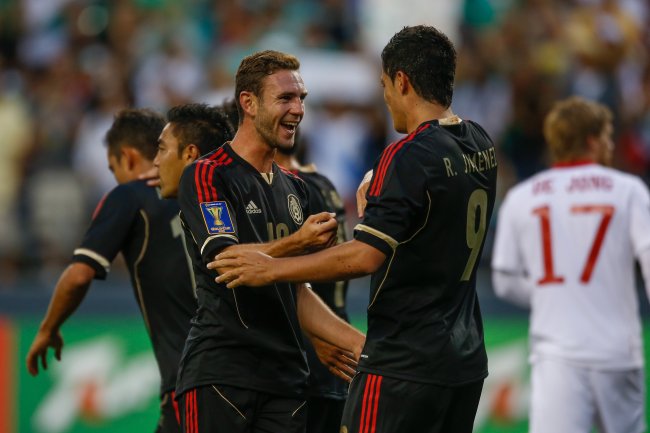 Otto Greule Jr/Getty Images
With each team looking to avenge a loss in Group A, play started with aggression from Mexico.
To Canada's credit, the struggling side was able to keep El Tri out of the net for much of the first half. Canada even created a few opportunities to score a surprising go-ahead goal, including this close call that Fox Soccer tweeted out:
So close! Haber makes Orozco work to make a huge save. Watch it: - http://t.co/j9nq1LQ9nj

— FOX Soccer (@FOXSoccer) July 12, 2013
Following the lost opportunity, the Canadians eventually allowed Mexico to get on the board with Raul Jimenez banging a beautiful header home in the 42nd minute to give his team the first-half edge. Fox Soccer had the highlight:
GOAL Mexico! Raul Jimenez scores to give his side a 1-0 lead over Canada. See his header: - http://t.co/cZtpbIZktR

— FOX Soccer (@FOXSoccer) July 12, 2013
The second half would be more of the same early on as Mexico showed an offensive rhythm that has been lacking in recent fixtures. While they were unable to cash in on the opportunities created, they caught a break when Marco Fabian was awarded a penalty kick on a questionable call from the official, per Fox Soccer Trax:
61' MEX 2-0: Huge task for Canada now. And it's a bit unfair with replays showing little, if any, contact by Edgar on Fabian for PK.

— FOX Soccer Trax (@FOXSoccerTrax) July 12, 2013
Fabian converted the opportunity:
GOAL Mexico! Marco Fabian gives El Tri a 2-0 lead over Canada. See his penalty kick: - http://t.co/DYipj6B9CL

— FOX Soccer (@FOXSoccer) July 12, 2013
After dropping their first match to Panama, 2-1, this was an excellent showing for the Mexican side. Canada isn't the best of squads, but El Tri's aggression was encouraging, and the shutout victory is something they can build on moving forward.
They'll have to prove that the momentum is legitimate in a match against Martinique on July 14.
For Canada, this was another disappointing performance. They are all but eliminated with a July 14 match against group-leading Panama on the horizon.