Jason Heyward Injury: Updates on Braves Star's Hamstring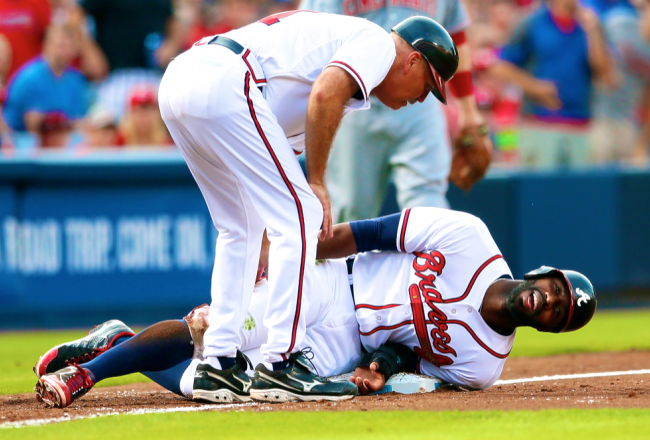 Atlanta Braves outfielder Jason Heyward has returned to the lineup after dealing with a hamstring injury.
The Braves have announced that Jason Heyward will return to the lineup for tonight's game vs. New York.
Tonight's lineup at NYM (7:10, SS/680AM/BRN): Simmons 6 Heyward 8 JUpton 9 Freeman 3 McCann 2 Gattis 7 Uggla 4 CJohnson 5 Teheran 1

— Atlanta Braves (@Braves) July 22, 2013
July 19: Braves radio personality Kevin McAlpin adds an update on Heyward:
Fredi says he hopes one more day will help both Freeman & Heyward. #Braves

— Kevin McAlpin (@KevinMcAlpin) July 19, 2013
July 19: Atlanta Journal-Constitution reporter David O'Brien reports that Heyward won't be in the lineup Friday night:
Braves lineup: Constanza 7l RJohnson 8, JUpton 9, McCann 2, Gattis DH, Uggla 4, CJohnson 5, Simmons 6, Terdoslavich 3 (Hudson 1)

— David O'Brien (@ajcbraves) July 19, 2013
David O'Brien of the Atlanta Journal-Constitution has an update on Jason Heyward's status.
#Braves are optimistic about having Heyward and JUpton back in lineup Friday.

— David O'Brien (@ajcbraves) July 18, 2013
Kevin McAlpin of the Braves Radio Network reports that Heyward is out of the Braves' lineup on Saturday.
#Braves lineup vs Reds: Constanza 7, Simmons 6, Freeman 3, McCann 2, Uggla 4, C Johnson 5, R Johnson 8, Terdoslavich 9, Minor 1.

— Kevin McAlpin (@KevinMcAlpin) July 13, 2013
The Atlanta Journal-Constitution reporter Carroll Rogers has the latest on Heyward:
Jason Heyward said his right hamstring was feeling better Friday, a good indication that he avoided the worst when he injured it running the bases Thursday night. Heyward is considered day-to-day but the Braves plan to rest him through the weekend series against the Reds, giving him a full week's rest coming out of the All-Star break.

"If we could just keep improving every single day and just get him through the weekend, I think we'll be in good shape when we come out from the All-Star break," Braves manager Fredi Gonzalez said.
The Atlanta Journal-Constitution's David O'Brien has the latest on Heyward's status, courtesy of tonight's starting lineup.
#Braves lineup: 1. Simmons SS 2. R Johnson RF 3. J. Upton LF 4. Freeman 1B 5. McCann C'6. Uggla 2B 7. C'Johnson 3B 8. B Upton CF 9. Medlen P

— David O'Brien (@ajcbraves) July 12, 2013
Heyward reached on an infield single in the second inning against the Reds, and went from first to third on another infield single from fellow outfielder Justin Upton just one at-bat later.
It appeared that the 23-year-old injured his hamstring on the slide into third base, as this tweet from Braves radio announcer Kevin McAlpin would suggest:
Heyward goes first to third on an infield single and is down at third. Possibly a hamstring? Oh boy...

— Kevin McAlpin (@KevinMcAlpin) July 12, 2013
Visibly in pain at third base, Heyward laid on the ground near the bag before ultimately finding his footing and heading to the dugout. He would be replaced by pinch runner Reed Johnson, who would stay in the game and take over in right field.
Already on the disabled list once this season due to appendectomy surgery, it would be troubling for the Braves indeed if this hamstring issue forced Heyward to the disabled list for the second time in 2013.
Heyward was activated from the DL on May 17, and has hit .257 since returning to Fredi Gonzalez's lineup. He had a four-game hitting streak snapped on Wednesday against the Miami Marlins, and was moving toward turning the corner with his bat before Thursday night's unfortunate injury.
On the season, Heyward was hitting .225 with seven home runs and 21 RBI before Thursday night's game against the Reds.
In four seasons with the Braves, Heyward has a career .256. batting average with 66 home runs and 217 RBI. He was a National League All-Star as a rookie in 2010, won a Gold Glove in right field last year and has not made an error in the field so far during the 2013 season.
Heyward had a career high in games played in 2012 with 158, but won't come close to that total after missing nearly a month of the 2013 season with the appendectomy surgery. Braves fans can only hope his strained hamstring doesn't put him on a path to appear in less than 100 games for the first time in his MLB career.
This article is
What is the duplicate article?
Why is this article offensive?
Where is this article plagiarized from?
Why is this article poorly edited?