Blockbuster MLB Trade Ideas That Make Sense for Both Teams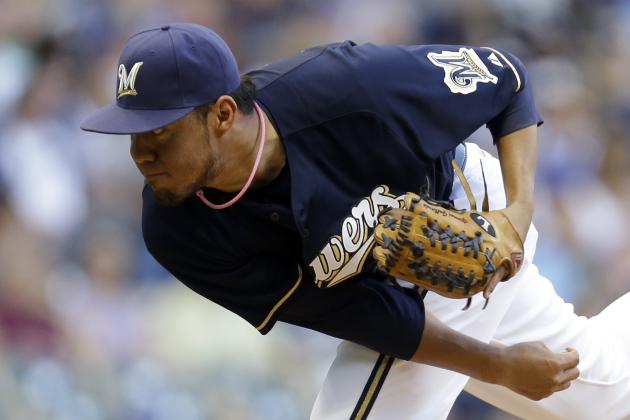 Mike McGinnis/Getty Images

The closer we get to the July 31 MLB trade deadline, the faster the rumor mill will spin, spitting out all sorts of speculation surrounding each of baseball's 30 clubs.
While most of these rumors never amount to much of anything, nothing stokes the flames of fans and pundits alike more than rumors and speculation surrounding established stars and big-time prospects—the two components needed to elevate a trade to "blockbuster" level.
While every general manager in baseball talks about not wanting to mortgage the future, only a few find themselves in a position where they aren't expected to construct a playoff-caliber roster on a yearly basis.
More often than not, those executives are long gone before the minor league talent that they valued so highly ever steps foot on a major league field, much less makes an impact.
Sometimes, a GM just needs to roll the dice and give their teams the best chance to win today, filling the holes that exist while letting the other guy worry about tomorrow.
With that said, lets take a look at some blockbuster trade ideas that meet all of the aforementioned criteria—and also ones that would wind up being one of those rare win-win occasions.
Begin Slideshow

»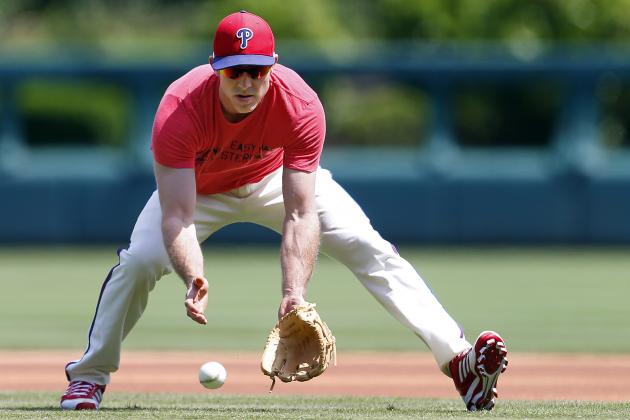 Rich Schultz/Getty Images

The Deal
Los Angeles Gets: 2B Chase Utley
Philadelphia Gets: LHP Chris Reed, IF/OF O'Koyea Dickson
Why It Makes Sense For Los Angeles
Dealing Chris Reed is not an easy decision to make, as the 23-year-old southpaw is one of the team's best pitching prospects. But the Dodgers are built to win now, and second base is a position where the team could use an upgrade.
CBS Sports' Jon Heyman opines that the Dodgers could have interest in Utley, a California native. And while the price is sure to be steep, given Philadelphia's reluctance to move him, Utley could be the missing piece that puts the Dodgers over the top in the NL West.
Why It Makes Sense For Philadelphia
As CBS Sports' Danny Knobler noted earlier this month, Phillies GM Ruben Amaro Jr. does not want to move Utley, saying that he views the five-time All-Star as a "Phillie for life."
That's understandable, but the 34-year-old second baseman isn't going to get any better, nor is he a part of the team's long-term future.
A free agent after the season, there's no guarantee that Utley will want to re-sign with a team that has more questions than answers, and with his career closer to the end than the beginning, Utley could look to latch onto a potential World Series contender.
It's far better for Philadelphia to get something for Utley now rather than losing him for nothing.
In Reed, Philadelphia would get a very good left-handed pitching prospect who projects to be a solid middle-of-the-rotation arm, along with an under-the-radar prospect in O'Koyea Dickson, who has shown a solid approach at the plate and the ability to produce runs at every level that he's played at thus far.
With Ryan Howard's inability to stay on the field, Dickson could not only serve as insurance for the veteran, but he would be his eventual replacement when his albatross of a contract runs out following the 2016 season (there's no way the Phillies exercise the team option for 2017...is there?)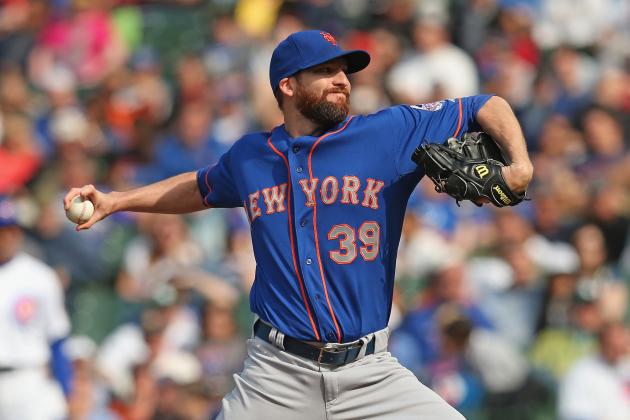 Jonathan Daniel/Getty Images

The Deal
Detroit Gets: RHP Bobby Parnell
New York Gets: 3B/OF Nick Castellanos
Why It Makes Sense For Detroit
The Tigers have been searching for an answer in the ninth inning for most of the season. While Bruce Rondon has been excellent in Triple-A, pitching to a 1.52 ERA and 0.91 WHIP over 29.2 innings of work, the 22-year-old is unproven.
Built to win now, the Tigers simply cannot afford to have Rondon learn on the fly in the big leagues.
Sure, Joaquin Benoit has been solid in the closer's role, but acquiring a legitimate ninth-inning option would allow the Tigers to use Benoit in the eighth, deepening the bullpen and shortening the game for the team's starting rotation.
While Bobby Parnell hasn't been a full-time closer for very long, the 28-year-old has pitched to a 2.46 ERA and 1.11 WHIP since the beginning of 2012 and has saved 16-of-19 games for the Mets this season.
Under team control through 2015, acquiring Parnell would allow the Tigers to focus its offseason efforts on bolstering other parts of the roster, and it wouldn't prevent the team from giving Rondon a shot to win the job in spring training next season, as Parnell has been very good in setup in the past as well.
ESPN's Jayson Stark reported late last month that the Tigers weren't opposed to moving Nick Castellanos or Avisail Garcia in the right deal, and shoring up the one real weakness that the team has would seem to be the right deal to me.
Why It Makes Sense for New York
Simply put, the Mets aren't going anywhere this season. While the team has the makings of a solid young core in Matt Harvey, Zack Wheeler and Travis d'Arnaud, the Mets need to add multiple pieces before they have a chance of contending with Atlanta and Washington in the NL East.
Nowhere is the team's need bigger than in the outfield.
While Newsday's David Lennon reports that the Mets would have to be "blown away" to trade Parnell, landing an outfield prospect of the caliber of Nick Castellanos would be a major step in the right direction for a team that desperately needs someone besides David Wright to serve as a run producer in the lineup.
A third baseman who was moved to the outfield due to the fact that he is being blocked at the position by some guy named Cabrera in Detroit, Castellanos would not only immediately become New York's best outfielder, but he would give manager Terry Collins a viable replacement for Wright on days that the All-Star third baseman needs a day off.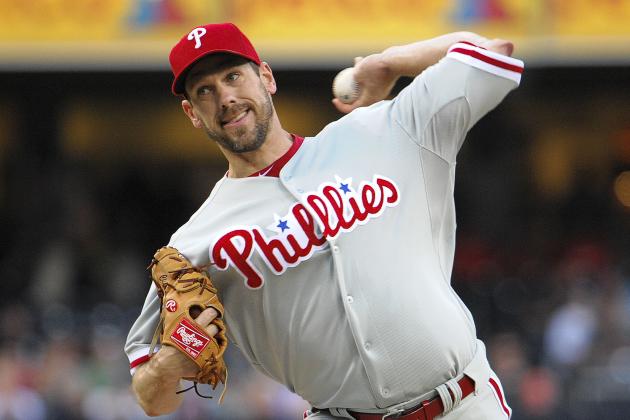 Denis Poroy/Getty Images

The Deal
Philadelphia Gets: 2B/SS Jurickson Profar, RHP Justin Grimm, RHP Neil Ramirez
Texas Gets: LHP Cliff Lee
Why It Makes Sense For Philadelphia
Ruben Amaro Jr. continues to operate under the misguided belief that his team is only a piece or two away from making a deep playoff run, as ESPN's Buster Olney reports that multiple executives have told him that Philadelphia is looking to buy, not sell.
I wrote about why that's the wrong road for the Phillies to travel down earlier this month, and I stand by that theory. The team has a rapidly aging core and simply lacks the impact prospects in the minors to infuse the team with youth and athleticism.
As CBS Sports' Danny Knobler reports, the Rangers would love nothing more than to have Cliff Lee back in Texas, and with Yu Darvish now on the disabled list, the time is right for Amaro to pick up the phone and have a chat with Rangers GM Jon Daniels.
Profar would immediately become the team's second baseman of the present and future (more on that on the next slide), giving the Phillies a pair of dynamite youngsters in Profar and Domonic Brown to build around.
Justin Grimm's numbers may not be pretty (a 5.88 ERA and 1.58 WHIP), but he's struck out 65 batters in 85.2 innings of work while walking only 29. With a little experience and some refinement, Grimm could be a solid middle-of-the-rotation arm to pair with Cole Hamels and Kyle Kendrick.
While Neil Ramirez, 23, lacks any major league experience, he also projects to be a solid middle-of-the-rotation arm with the ceiling of a No. 2 starter.
Why It Makes Sense For Texas
Elvis Andrus is the team's shortstop, and Ian Kinsler, who is entrenched at second base and is signed through 2017 (with a team option for 2018), has resisted moving from the position in the past, which leaves Profar as a man without an everyday position.
The team could look to move him to an outfield spot or make him a full-time designated hitter, but that would be a waste of his excellent defensive skills up-the-middle, whether it be at second base or shortstop.
With Lee under team control through 2015 (with a team option for 2016), this wouldn't be a case of trading for a short-term rental, and a combination of Lee and Darvish atop the rotation for the next few seasons would be as good as any one-two punch in baseball.
Grimm is expendable with Alexi Ogando working his way back from a shoulder injury. And while Nick Williams projects to be a solid contributor from a corner outfield spot, he isn't arriving in Arlington anytime soon.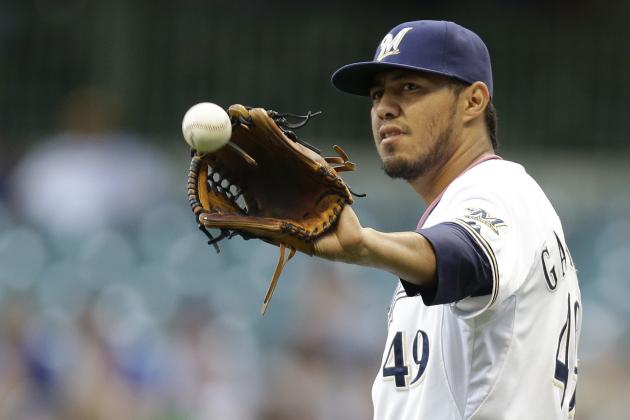 Mike McGinnis/Getty Images

The Deal
Arizona Gets: RHP Yovani Gallardo
Milwaukee Gets: LHP Tyler Skaggs, OF A.J. Pollock, RHP Randall Delgado
Why It Makes Sense For Arizona
Despite GM Kevin Towers' insistence that he's focused on bolstering the bullpen and not the starting rotation, as he told MLB.com's Steve Gilbert, there's no question that the Diamondbacks could use help in the rotation.
Diamondbacks starters have pitched to a 4.09 ERA and 1.30 WHIP this season—not terrible numbers, but not great either—and two members of the rotation, Brandon McCarthy and Ian Kennedy, have pitched to an ERA above 5.00 this season.
CBS Sports' Jon Heyman reports that Arizona has been talking to Milwaukee about a deal involving Gallardo, with southpaw Tyler Skaggs supposedly being one of the pieces that the Diamondbacks have been dangling.
While Arizona's starting rotation has plenty of name recognition, Patrick Corbin has been the team's only consistent starter. Gallardo, 27, has fallen on hard times in 2013, but he has a track record of success at the major league level and could simply need a change of scenery to get back on track.
Signed through 2014 (with a $13 million team option for 2015 that is almost guaranteed to be picked up), Gallardo would be more than a one-year rental for the Diamondbacks as well.
A.J. Pollock was decent at the plate and phenomenal in the outfield while filling in for Adam Eaton, but Arizona has a crowded outfield situation in 2013 and beyond, even if the team declines to pick up the $7.5 million option it holds on Jason Kubel at the end of the season.
Skaggs has struggled at the major league level, both in 2013 and last season, while Delgado is an expendable piece if the goal is to acquire a true ace (especially with Archie Bradley dominating at Double-A and looking like he's ready for prime time).
Why It Makes Sense For Milwaukee
The Brewers need young pitching—a lot of it—and the team's best option to acquire multiple pieces is to move a veteran starter like Gallardo.
Delgado and Skaggs are both under the age of 25, have both spent time in the majors (Delgado far more than Skaggs) and would be massive upgrades over what Milwaukee currently has filling out its rotation after Gallardo and Kyle Lohse.
While Pollock doesn't offer big-time power, he's shown the ability to produce runs in the past, and with Ryan Braun's murky future, Pollock would serve as insurance for the team in left field if and when the 2011 National League MVP is forced to be a spectator.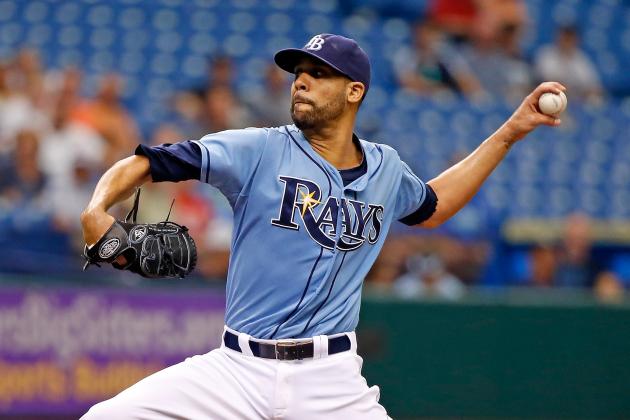 J. Meric/Getty Images

The Deal
Tampa Bay Gets: 2B/SS Jurickson Profar, LHP Martin Perez, IF/OF Mike Olt, OF David Murphy*
Texas Gets: LHP David Price
*This deal was originally proposed by CBS Sports' Danny Knobler last November, but I think it makes a lot of sense for both clubs and is worth revisiting.
Why It Makes Sense For Tampa Bay
Its no secret that Tampa Bay is financially strapped, and with David Price due to receive a substantial raise over his $10.1 million salary via arbitration through the 2015 season, it's highly unlikely that the Rays can afford to hang on to their ace.
Tampa Bay would also solidify its infield by adding Profar at shortstop and Olt at first base, while Perez is the kind of high-upside arm that Tampa Bay loves. Murphy, while struggling this season, has a track record of success and would give Tampa Bay an option other than the Matt Joyce/Sean Rodriguez platoon in left field.
Why It Makes Sense For Texas
Texas gets an ace to pair next to Yu Darvish for at least the next two years, and they certainly have the financials to work out a long-term deal with Price, who the team would assuredly be hot on the trail of were he to become a free agent.
Price and Darvish would unquestionably be the best one-two combination in baseball, and along with Matt Harrsion, would give the Rangers a top three in the rotation that would rival any in baseball.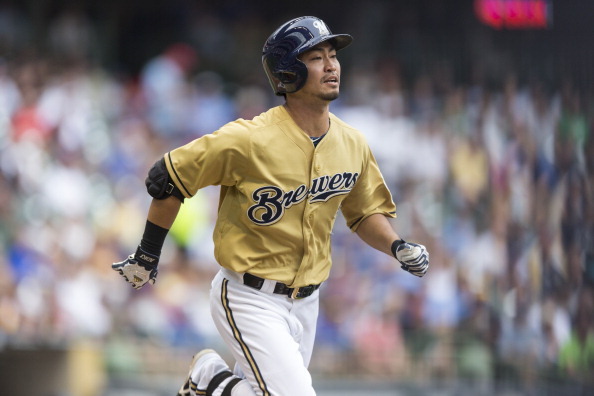 Tom Lynn/Getty Images

The Deal
Milwaukee Gets: IF/OF Mike Olt, RHP Justin Grimm, LHP Martin Perez, RHP Neil Ramirez
Texas Gets: RHP Yovani Gallardo, OF Norichika Aoki
Why It Makes Sense For Milwaukee
The team would get three young arms with upside in Grimm, Perez and Ramirez, while Olt can play first base until Hunter Morris is ready. Olt could then slide over to third base to replace Aramis Ramirez, who is signed through the 2014 season (with a $14 million mutual option in 2015 that the Brewers are unlikely to exercise).
Both Aoki and Gallardo have come up in talks between Brewers GM Doug Melvin and Rangers GM Jon Daniels, according to Fox Sports' Jon Paul Morosi.
Why It Makes Sense For Texas
If the Rangers are completely against dealing Jurickson Profar, then a deal for an arm like Gallardo makes the most sense. While the Brewers are sure to ask for him (what team wouldn't?), Milwaukee needs pitching more than it needs a middle infielder at this point, and the Rangers have enough young arms in the system to put together an attractive package.
Gallardo would slide into the rotation as a solid No. 2 starter behind Yu Darvish and ahead of Matt Harrison, while Aoki would be an upgrade in left field over David Murphy, who has struggled this season.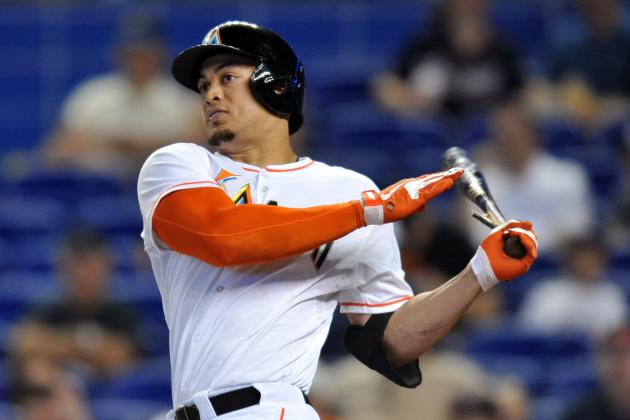 Steve Mitchell/Getty Images

The Deal
Miami Gets: RHP Taijuan Walker, RHP Brandon Maurer, 2B Dustin Ackley, IF/OF Daniel Paolini
Seattle Gets: OF Giancarlo Stanton
Why It Makes Sense For Miami
There's a better chance of Jeffrey Loria being named "Man of The Year" in Miami than there is of Giancarlo Stanton signing a long-term deal with the Marlins, something that Fox Sports' Ken Rosenthal touched upon last month. This begs the question: what is Miami waiting for when it comes to moving Stanton?
With this package, the Marlins would get a pair of excellent young pitching prospects in Walker and Maurer, with Walker and Jose Fernandez comprising perhaps the best young duo of starting pitchers that the game has seen in a very long time.
Ackley, who was terrific as a rookie in 2011 but stumbled at the major league level ever since, is a classic change-of-scenery candidate who continues to prove that he's got nothing left to prove in the minors, as he continues to crush Triple-A pitching. He gives Miami its second baseman of the present and future.
Paolini, while not a "name" prospect, has shown an excellent approach at the plate as he works his way through Seattle's minor league system, walking nearly as many times as he strikes out while hitting for both average and power. While he's played first and second base primarily, Paolini's bat would fit in a corner outfield spot as well.
Why It Makes Sense For Seattle
The Mariners have been looking to add a bat since Josh Hamilton spurned the team's advances this past winter.
Giancarlo Stanton fits that need.
Under team control through the 2016 season, Stanton would immediately become the most dangerous hitter in Seattle's lineup, providing help and protection for Kyle Seager and Nick Franklin, the only other two members of the current roster who look like pieces to build around.
While moving Walker and Maurer isn't an easy decision to make, young pitching is something that Seattle has plenty of. Even after moving this pair, the Mariners still have prospects Danny Hultzen, James Paxton and, eventually, Luiz Gohara to plug into the rotation.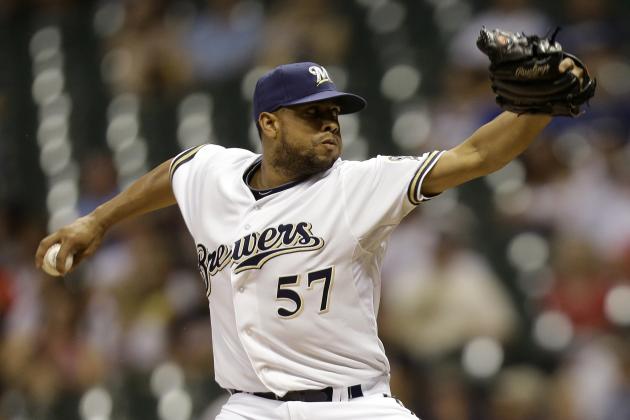 Mike McGinnis/Getty Images

The Deal
Boston Gets: RHP Yovani Gallardo, RHP Francisco Rodriguez, LHP Mike Gonzalez
Milwaukee Gets: LHP Henry Owens, RHP Anthony Ranaudo, RHP Matt Barnes, 3B Will Middlebrooks
Why It Makes Sense For Boston
While its no secret that the Red Sox are in need of bullpen help, bolstering the starting rotation wouldn't be a terrible idea either, especially with Jon Lester struggling and Clay Buchholz being injured with no timetable for his return.
Gallardo would be an excellent No. 3 starter behind a healthy Buchholz and Lester.
Rodriguez and Gonzalez would help to bolster a Red Sox bullpen that has pitched to a 4.19 ERA this season, the 25th highest in baseball, with Gonzalez giving manager John Farrell a second left-handed option out of the pen other than Craig Breslow.
Middlebrooks has clearly fallen out of favor, and with Xander Bogaerts and Garin Cecchini working their way through the minors and both being capable of handling the hot corner, Middlebrooks becomes expendable.
Why It Makes Sense For Milwaukee
The Brewers get a trio of young starters to build a future rotation around, with Owens carrying the most upside of the three.
While the currently injured Aramis Ramirez is due $20 million through the 2014 season (including a $4 million buyout to get out of a $14 million mutual option in 2015), he's not part of the long-term future in Milwaukee.
Middlebrooks, who struggled badly this season after a solid debut in 2012, would serve as the team's third baseman of the not-so-distant future.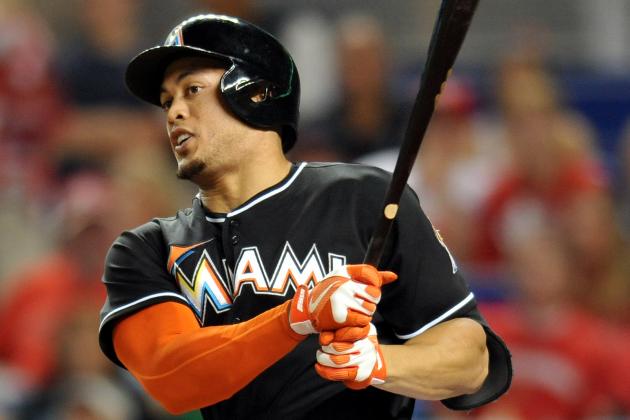 Steve Mitchell/Getty Images

The Deal
Miami Gets: RHP Ivan Nova, LHP Vidal Nuno, C Gary Sanchez, RHP Rafael de Paula, 2B Angelo Gumbs
New York Gets: OF Giancarlo Stanton
Why It Makes Sense For Miami
There's no question that Miami would need to be overwhelmed to consider moving Giancarlo Stanton, but this package from the Yankees might just be enough to get a deal done.
Miami would get an excellent young arm in Nova to immediately plug into its rotation, while Nuno (currently injured) has shown the ability to pitch effectively as a starter or reliever in limited playing time this season.
While he's struggled a bit since being promoted to High-A, Rafael de Paula has been one of the most talked about pitching prospects in baseball this season, striking out 108 batters over 79 innings while walking only 28.
Gary Sanchez is arguably the best catching prospect in the game who possesses immense raw power and projects to be a future All-Star.
Angelo Gumbs doesn't get a whole lot of attention, but the 20-year-old has incredibly quick bat speed and the potential to be a 20-plus home run hitter at second base when he fully develops, which would allow the team to keep Adeinny Hechavarria at shortstop.
Why It Makes Sense For New York
As Fox Sports' Ken Rosenthal pointed out recently, the Yankees are in the market for an impact bat—and you'd be hard-pressed to find a bigger difference maker than Giancarlo Stanton.
Stanton would fill the right-handed void in the middle of New York's lineup and give the team a long-term answer in right field.
While selling a huge chunk of the farm isn't an ideal scenario for a team with a rapidly aging core, the chance to acquire a talent like Stanton is one that the team simply couldn't pass up.