If you were to ask any ordinary WWE fan who's followed wrestling for more than a decade what their favorite match in history is, they might respond with The Rock vs. Stone Cold Steve Austin from WrestleMania 17 or maybe even Shawn Michaels vs. Razor Ramon in a Ladder match from WrestleMania 10.
Since I've been a wrestling fan for only five years, it would be wrong to say that any match that occurred prior to April 2008 is my favorite of all time, simply because I wasn't a fan at the time it happened and wasn't able to watch it live.
But, of all the matches I've seen in the last five years, CM Punk vs. John Cena for the WWE Championship from Money in the Bank 2011 is by far my favorite. Not only was the match memorable, but everything leading up to the bout was so amazingly executed that nothing has come close to topping it since, in my opinion.
With today marking the two-year anniversary of this monumental match, I thought it would only be appropriate to take a trip down memory lane and relive the spectacle that was Punk vs. Cena.
Long before they began their feud over the WWE title, Punk and Cena had several matches against one another in 2009, 2010 and 2011. As excellent as their matches were, they had yet to spark a full-fledged feud.
Then there was the summer of 2011.
On the June 13 edition of Raw, Punk defeated Cena in the night's main event as a result of a ringside distraction from R-Truth. Following his valiant victory over The Champ, Punk claimed he was the "best in the world," four words that would later become much more than a simple catchphrase on a T-shirt.
CM Punk vs. John Cena - Raw, June 2011
Prior to cleanly defeating Rey Mysterio that Sunday at Capitol Punishment, Punk promised to make one of the most "honest" decisions in history. After winning a No. 1 Contender's Triple Threat match for the WWE Championship the next night on Raw, Punk revealed that his contract would expire the night of the Money in the Bank pay-per-view and that he would leave his hometown of Chicago as WWE Champion.
This announcement sent shock waves throughout the WWE, with many people wondering what would become of not only Punk's New Nexus faction, but also the WWE title if he were to actually win it. As interesting as the championship match between Punk and Cena was at this point, it was about to get a whole lot more intriguing in one week's time.
On the subsequent edition of Raw, Punk cost Cena his Tables match against R-Truth in the night's main event. Moments later, Punk demanded a microphone and made his way to the top of the stage.
While wearing a vintage Stone Cold Steve Austin shirt and sitting Indian-style, The Straightedge Savior proceeded to air out his grievances for the whole world to hear. From Mr. McMahon to The Rock, Punk called out everyone he had a problem with and even made references to Paul Heyman, Brock Lesnar and Ring of Honor, among other things.
CM Punk speaks his mind on Raw.
Interestingly enough, Punk wasn't even given the chance to finish his tirade. His mic was shut off five minutes in and the show concluded with Punk screaming at both the camera and the audience.
I was watching Raw that night with both of my brothers, one of whom isn't a wrestling fan. Even he realized the seriousness of the situation and knew just how epic Punk's promo truly was.
Needless to say, it was one of the greatest shoots in WWE history and easily the most controversial conclusion to Raw in years. The wrestling business was forever changed in that one sweltering June night.
Minutes after Raw ended, the Internet exploded with rave reviews of Punk's "pipe bomb." WWE subsequently suspended (in storyline, of course) Punk and went even as far as to un-verify him on Twitter, which made me believe that the entire angle was 100 percent real.
Since the following episode of Raw was taped that same night, it was later revealed that it was all a part of the storyline, but that didn't take anything away from it. The angle was still exciting as ever, and I, for one, couldn't wait for next week.
Despite being on vacation on the Jersey Shore, I rushed back to my hotel room that unforgettable Fourth of July night to find out what was next in the CM Punk saga. Mr. McMahon returned to Raw that night to confront Cena, who begged McMahon to reinstate Punk and make the match (which had been called off the week prior) official for Money in the Bank.
John Cena pleads with Mr. McMahon to reinstate CM Punk.
McMahon reluctantly agreed, but on one condition: If Cena were to lose to Punk at the event, he would be fired. I, along with many other viewers, took this stipulation with a grain of salt, especially considering the fact that Cena had been "fired" the previous year and continued to appear on Raw each and every week, regardless.
Despite that, the build towards their epic encounter at Money in the Bank was getting more and more suspenseful by the week. It got to the point where I simply couldn't wait until Monday and the rest of the week felt like it was dragging on.
At last, the final Raw before Money in the Bank had arrived. Punk kicked off the show, commenting on his "suspension" before Cena interrupted him.
As The Champ made his way towards the ring, Punk made a hilarious remark with his megaphone. "Sir, I'm afraid your music is just too loud," he said as "My Time Is Now" blared throughout the Boston arena.
The two crossed paths once again later in the night, when a contract signing between Punk and McMahon took place in the middle of the squared circle. After stating that he wanted his own movie and ice cream bars with his face on them (one of which we ended up getting), the Chairman of the WWE simply couldn't keep up with Punk's demands.
CM Punk and Mr. McMahon renegotiate Punk's WWE contract.
Cena came to the aid of McMahon, saying to Punk that he had "lost sight" of the situation. Punk fired back by saying Cena lost sight long ago in the sense that he was no longer the underdog that he claimed to be.
After Punk called Cena the "New York Yankees" of the WWE, the leader of the Cenation jabbed at Punk, putting an end to The Second City Saint's rant for the time being. Who knew that all you had to do to anger John Cena is to compare him to a baseball team?
Punk grabbed a microphone and cut one final promo. "This Sunday, say goodbye to the WWE title, say goodbye to John Cena, and say goodbye to CM Punk."
If that last line didn't convince you to buy the pay-per-view, I don't know what would have.
In the six days that followed, fans made predictions as to what would go down in Chicago. Would CM Punk successfully capture the WWE Championship and leave the company with it? Would John Cena put an end to Punk's Cinderella story? Would Vince McMahon attempt to double-cross The Voice of the Voiceless in his own hometown?
Rumors ran rampant, and everyone's anticipation was at its highest as July 17 came around. After nearly a month of waiting, the second annual Money in the Bank pay-per-view was underway.
CM Punk vs. John Cena promo
Throughout the evening, we witnessed a number of historical happenings. Daniel Bryan ascended the ladder to win the SmackDown Money in the Bank briefcase, Del Rio took one step closer to fulfilling his destiny and Christian was successful in regaining the World Heavyweight Championship from Randy Orton (albeit via disqualification).
After several excellent events, it would only get better. It was main event time.
The explosive Chicago crowd came alive with roaring CM Punk chants just as "This Fire Burns" by Killswitch Engage blasted throughout the Allstate Arena. This marked the final time that song would ever be heard on WWE television.
Punk played to his hometown followers, sporting a new red, black and white shirt with "Best in the World" written across the back of it, along with the date. His signature mustache had since been shaven off, and Punk appeared ready for battle.
Those massive cheers soon turned to jeers as John Cena entered the arena. It was unlike Cena to not salute the fans at the top of the stage, but as Michael Cole noted on commentary, The Champ was in enemy territory.
Soon after the belt was raised high by the referee, the bell was rung and the monumental match kicked off. Punk and Cena exchanged holds to start the matchup before transitioning into their signature maneuvers.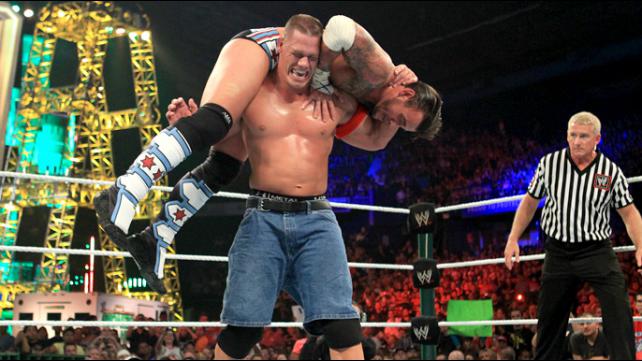 One thing that I absolutely adored about this match while watching it live was the fact that Punk kicked out of not one, but two Attitude Adjustments. Cena didn't hesitate in pinning Punk, either. He went straight for the pinfall after connecting with his finishing maneuver and Punk kicked out both times, which put Punk over in a big way and said a lot about his resilience.
Was the match perfect? No, but it was close. There were a few botches over the course of the contest, but that did not at all take away from the overall excitement of the bout.
As the clock slowly ticked towards midnight, Punk and Cena found themselves in a stalemate. They used everything in their arsenal and were now resorting to desperate measure to put the other away.
From the Anaconda Vise to the STF, both valiant competitors refused to submit to the other. By the 30-minute mark, this viewer was practically biting his nails in anticipation of what would come next. Neither Punk nor Cena appeared to have anything left in the tank.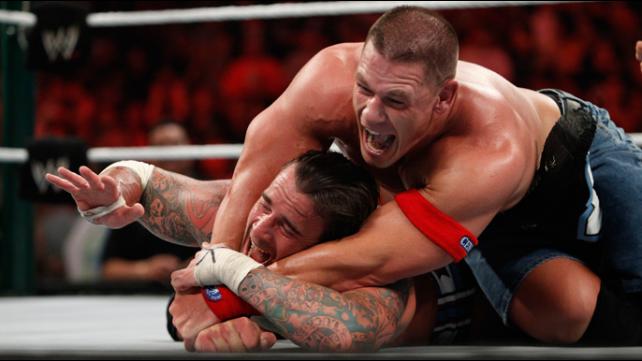 In the final few minutes of the contest, Mr. McMahon and John Laurinaitis were seen standing in the ramp. This would be Laurinaitis' first (and certainly not last) appearance on WWE television under his new name, as he, too, was the target of disparaging remarks made during Punk's initial rant promo.
Cena locked in the STF on Punk for the second time in the matchup and looked to be on the verge of forcing the hometown hero to tap out. Before that could be done, though, McMahon ordered Laurinaitis to ring the bell and end the bout.
As the man formerly known as Johnny Ace ran to ringside, Cena released his submission hold on Punk and clocked Laurinaitis with a right hand before he could make it to the timekeeper's area. Cena told McMahon that he didn't want it done that way before making his way back into the ring.
As he re-entered the squared circle, he was met with a GTS from Punk, which put Cena out for the three count. Ironically enough, Cena's strongest attribute was what essentially cost him the title.
The Allstate Arena came unglued as Punk was awarded his very first WWE Championship.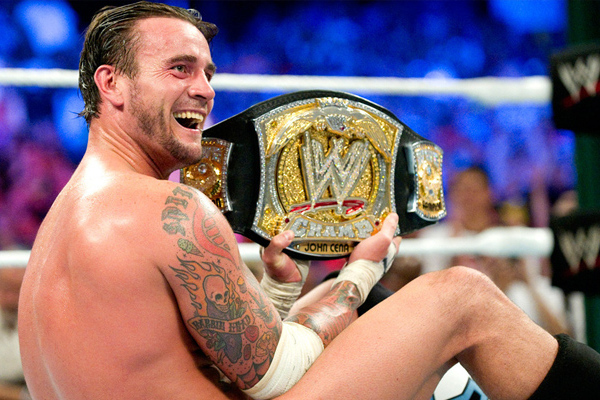 McMahon attempted to cut short Punk's title celebration by grabbing Jerry Lawler's headset and calling for Alberto Del Rio to cash in his newly won Money in the Bank briefcase. Del Rio raced to the ring, but was caught with a devastating kick to the side of the head from The Second City Saint.
Punk shot a smug smirk to McMahon at ringside, who realized that any chance of regaining his company's championship belt was long gone. Punk jumped over the barricade with the title in tow, symbolically blew a kiss goodbye to McMahon and the WWE itself, and scurried through the rabid Chicago crowd, holding the strap high one last time before departing the Allstate Arena an unemployed man.
The final image of Punk hoisting the prestigious prize high above his head was forever etched in the minds of wrestling fans. It concluded what was one of the greatest pay-per-view events in recent years.
Although Punk's departure was short-lived and he ultimately returned to the company just eight days later, it was still a summer full of unpredictability and excitement. Cena and Punk have faced off several times in the last two years, but none of their matches have had a better buildup than their bout at 2011's Money in the Bank event.
Many fans have told me that they got back into watching wrestling on a regular basis during the time CM Punk held the WWE hostage. Every episode of Raw that summer was something invigorating and unprecedented, leaving viewers on the edge of their seats heading into the subsequent week.
The payoff was perfect, plain and simple. The follow-up was questionable, but the buildup was excellently executed.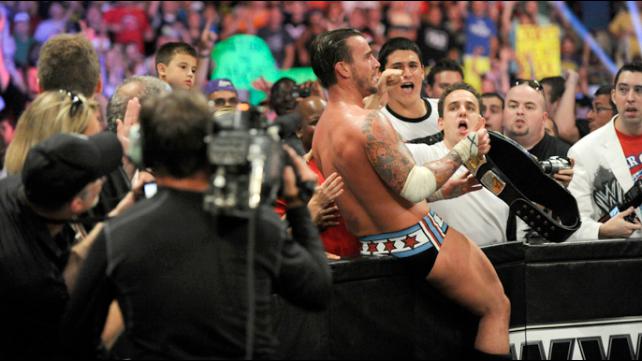 Punk and Cena did something that night that not many wrestlers have been able to do in the last five years: They made watching wrestling fun again. If it were anyone else, the angle may not have been as extraordinary as it was, but that's something we'll never know for sure.
As previously noted, their match from Money in the Bank 2011 is by far my favorite match in WWE history. It's one of few matches that I remember almost exactly everything I was doing on the night of the show and the days that preceded it.
Since that summer was so spectacular, the remainder of the year paled in comparison. WWE had brief periods of tremendous television in the years that followed, but they were unable to maintain their high stock until just recently.
In May, WWE returned to prominence and has been delivering must-see television for the first time since the summer of 2011. I look forward to seeing the product improve moving forward and hope that they continue to light the wrestling world on fire.
Thanks for reading, and be sure to drop a comment below with your thoughts on the CM Punk vs. John Cena match from two years ago today. As always, your criticism and feedback on my latest piece is welcomed and greatly appreciated.
GSM out.
Visit my website at Next Era Wrestling and listen to my wrestling radio talk show SAVE US GSM every Wednesday night at 10 p.m. ET.