Ranking the 5 Greatest All-Star Performances in New York Mets History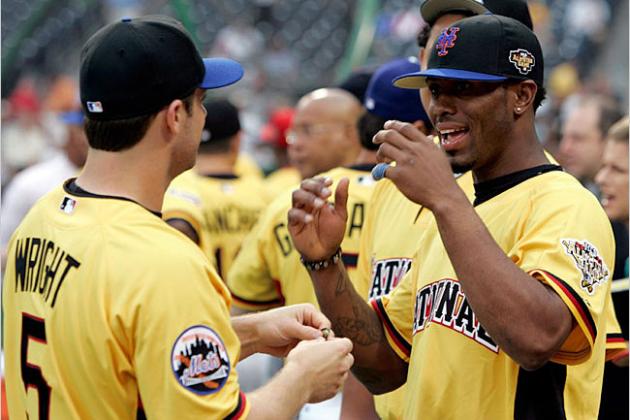 Photo via: http://graphics8.nytimes.com/images/2006/07/11/sports/11mets.2_650x460.jpg
With the All-Star Game just around the corner at the New York Mets' Citi Field, there is no better time to look back at some of the greatest All-Star performances in Mets history.
The Mets have certainly had their fair share of failure as a team. But when it comes to producing the best players in the league, the Mets have had a handful of players become stars.
And in the All-Star Game, where the best of the best are on display, many of these players have shined.
Here are the rankings of the best All-Star Game performances in Mets history:
Begin Slideshow

»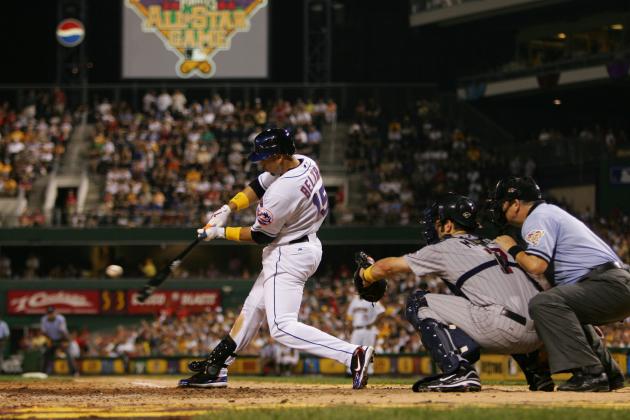 Al Bello/Getty Images

Oh, how the times have changed.
Despite being played almost a decade ago, four of the eight starting American League fielders are comically now members of the New York Yankees: Ichiro Suzuki, Derek Jeter, Alex Rodriguez and Vernon Wells, who went a combined 1-for-10 this game.
Even more, the starting pitchers for each side, Kenny Rogers and Brad Penny, did not even come close to repeating the form that earned them the role of All-Star Game starter. Rogers flamed out of the league in 2008 after two horrible seasons, while Penny had a solid 2007 season before injuries and a dip in form moved him to the bullpen.
Also, Mets fans may get a good laugh (or scream) at seeing who the cleanup hitter was for the National League: Jason Bay.
But that may not even be as bizarre as seeing who their leadoff hitter was: Alfonso Soriano. Soriano inexplicably has 10 stolen bases already in 2013, despite not reaching double digits in that stat in the previous five seasons.
In fairness to Soriano, though, the slugger did have a superb 40-40 season in 2006, even though his base-stealing ability seemed to plateau immediately after 2006.
As for David Wright and Carlos Beltran, they are producing just as much now as in 2006.
In the All-Star Game, Wright went 1-for-3 with a superb line drive home run off Rogers, and Beltran went 2-for-4 with a double off Rogers. Beltran also got a single off Roy Halladay, but missed out on an RBI when Soriano was thrown out at home.
The missed run would prove crucial, as the AL would prevail 3-2. Perhaps we may even see the same man earn the save this year as we did in 2006: Mariano Rivera.
Interestingly, Wright's future teammate, Johan Santana, got Wright to ground into a double play in this game.
Also, two phenoms, eventual Silver Sluggers and top MVP vote-getters barely had a role in this game: Miguel Cabrera and Jose Reyes. Then-Met Reyes did not even appear in the game at all.
Yet perhaps the craziest aspect of this All-Star game is the fact that four of the eight elected starting NL fielders were Mets: Wright, Reyes, Beltran and Paul Lo Duca. Lo Duca, though, finished 0-for-2. Tom Glavine was also voted onto the team, but he did not appear in the game.
Despite the wackiness of the 2006 All-Star Game, Wright and Beltran represented the Mets extremely well and turned in superb performances.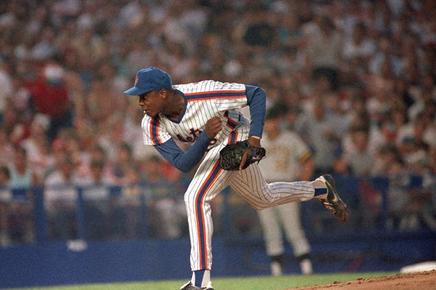 Photo via: http://assets.nydailynews.com/polopoly_fs/1.1322620!/img/httpImage/image.jpg_gen/derivatives/landscape_635/image-1-1322620.jpg
Dwight Gooden and David Cone, who both had the privilege of pitching to fellow teammate Gary Carter, were both superb in the 1988 All-Star Game.
Although Gooden was handed the loss in the AL's 2-1 victory, he put in a phenomenal performance.
Gooden started the game and went three innings, allowing just three hits and one walk. One of those hits, though, was a solo home run to Terry Steinbach, who would earn MVP honors.
Other than the home run, Gooden handled a stacked AL lineup, getting out elite players like Cal Ripken, Dave Winfield, Wade Boggs, Paul Molitor (twice), Jose Canseco, Mark McGwire and Gary Gaetti.
Cone was also just as dominant in his inning of work.
He pitched a perfect fifth inning, getting out Rickey Henderson, Molitor and Boggs in order.
Gooden, Cone and Carter were also joined by Darryl Strawberry in this game.
Strawberry started and hit cleanup for the NL, but went just 1-for-4 with a strikeout. Carter was also quiet at the plate, going just 1-for-3 with a strikeout.
Even though Strawberry and Carter had a moderate day, Gooden and Cone were very solid on the mound. The two players accounted for four innings of an All-Star Game pitcher's duel, and certainly made Mets fans proud that day.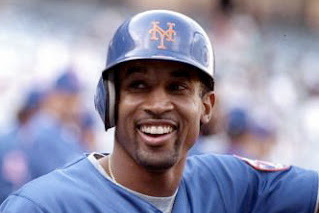 Photo via: http://1.bp.blogspot.com/-30MFZH9fJyU/T2U9QrMk1_I/AAAAAAAAErg/rXCwXZcBQQA/s320/lance+johnson+mets+osw1.jpg
Lance Johnson, appearing in the only All-Star Game of his career, started in center and batted leadoff for the National League team.
Johnson was certainly well-deserving of the starting spot, as he had a monster first year with the Mets in 1996.
Johnson finished the season hitting .333 with an MLB-best 227 hits and 21 triples. Over the course of his career, Johnson never had more than 18 doubles and only once had more than 76 runs in a season, yet Johnson finished 1996 with 31 doubles and 117 runs.
In fact, Johnson finished the year with career-highs in hits, at-bats, runs, doubles, triples, stolen bases, batting average and OPS.
And here are Johnson's eye-opening stats before the All-Star break: .322/.345/.473 line, 16 doubles, 13 triples, five home runs, 40 RBI, 65 runs and 28 stolen bases.
In the All-Star Game, Johnson was electric in helping the NL earn a decisive 6-0 victory. He finished the game 3-for-4 with a double off Charles Nagy, a run scored and a stolen base. Johnson's other hits came off Roger Pavlik and Troy Percival.
Johnson was also joined in the All-Star game by fellow Met Todd Hundley. But Hundley flew out to center off Roberto Hernandez in his only at-bat, where he pinch hit for future Met great Mike Piazza.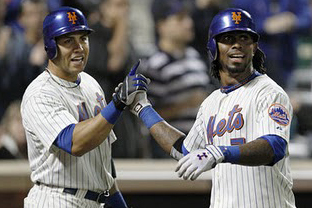 Photo via: http://smhttp.18058.nexcesscdn.net/808D60/wordpress/wp-content/uploads/2011/06/carlos_beltran_jose_reyes.jpg
After missing out in 2006, Jose Reyes dazzled in his first opportunity in the All-Star Game.
Reyes started and batted leadoff, going 3-for-4 with a double off Josh Beckett and a stolen base. Reyes also singled off Dan Haren and C.C. Sabathia.
Carlos Beltran also started and hit third for the NL. He played great defense in center field and also contributed a superb triple to right field off Justin Verlander, eventually scoring on a Ken Griffey Jr. sacrifice fly.
David Wright also started for the NL, hitting fifth in the lineup. But Wright was fairly quiet on the day, playing good defense and going 1-for-3 with just a sixth-inning single, also off Verlander.
Another Met All-Star that year, closer Billy Wagner, struggled in his lone inning of work.
Wagner only let up two hits and no walks, but one of the hits was a two-out, line drive two-run home run to Victor Martinez. Surprisingly, though, Wagner's eighth-inning strikeout of Grady Sizemore was the first and only strikeout for the National League pitching staff all game.
Also, Mets fans may find it interesting that five of the pitchers who appeared in the 2007 All-Star Game saw time as a member of the Mets: Wagner, Chris Young (who also earned the loss), Johan Santana, J.J. Putz and Francisco Rodriguez.
In the end, despite some electrifying performances from Reyes and Beltran, the AL won once again, 5-4, with Rodriguez earning the save.
Photo via: http://assets.nydailynews.com/polopoly_fs/1.1097293!/img/httpImage/image.jpg_gen/derivatives/landscape_635/tom-seaver.jpg
Was there ever a chance that Tom Seaver would not make this list?
Seaver, who as a rookie earned the save in the previous year's 15-inning All-Star Game, was masterful in the 1968 Midsummer Classic.
In fact, 1968 was the first season the Mets sent multiple players to the All-Star Game. Seaver was joined by pitcher Jerry Koosman, the eventual Rookie of the Year runner-up, as well as catcher Jerry Grote.
Seaver and Koosman were a formidable duo for the Mets that year, foreshadowing the miracle run to the 1969 World Series (as well as Seaver's first of three Cy Young awards).
On the season, Seaver went 16-12 with a 2.20 ERA and 205 strikeouts, while Koosman went 19-12 with a 2.06 ERA and 170 strikeouts.
In the All-Star Game, Seaver was dominant.
He pitched the seventh and eighth innings, allowing just two hits and no walks while striking out a whopping five batters. Three of those strikeouts were to guys named Carl Yastrzemski, Mickey Mantle and Boog Powell. Powell would go on to be the AL MVP runner-up the following year before winning the award in 1970.
Seaver also got Rod Carew to ground out in the game.
Koosman only pitched to one batter this game, but he earned the save. Koosman preserved the 1-0 victory, striking out a man who may have lost some sleep that night: Yastrzemski.
As for Grote, a great defensive catcher who hit a surprising .282 that year, let's just forget about how he went 0-for-2 with a strikeout.
Stats and/or info via mlb.com, baseball-reference.com, ESPN.com