Duke Football: Top 5 Storylines of 2013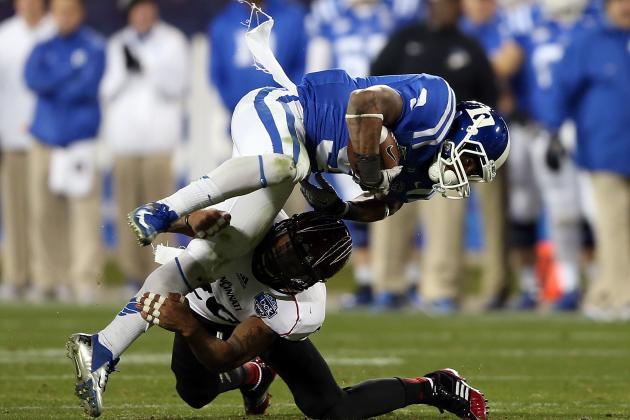 Streeter Lecka/Getty Images

Duke turned heads in 2012 when they began the season 5-1.But they finished 6-6 and lost in the Belk Bowl to the Cincinnati Bearcats.
So while the Blue Devils made their first bowl game since 1994, they still have not had a winning season since that '94 team went 8-4.
Considering that rather pedestrian and disappointing finish, coupled with departures of quarterback Sean Renfree and two of their top three receivers, what do we expect from Duke this year?
Without question, this is the biggest test for coach David Cutcliffe because there will actually be some expectations in 2013.
Will Duke try to build on their moderate success or will they resume their place in the basement of the ACC standings?
Here are the key storylines that will define the Blue Devils this season.
Begin Slideshow

»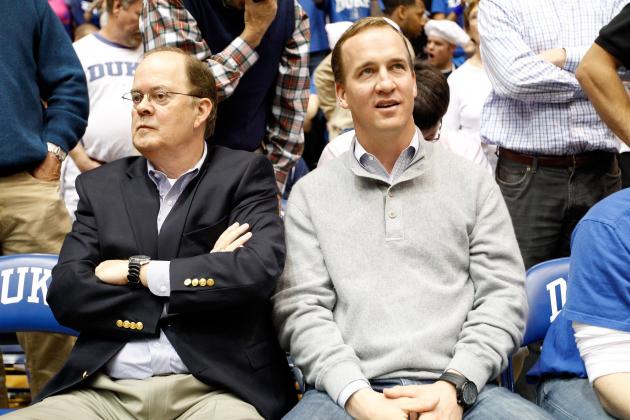 Streeter Lecka/Getty Images

The praise over Duke coach David Cutcliffe has been quite consistent over the years.
After all, everyone knows that winning football games at Duke is an incredibly difficult job. If you do not ask me, you can ask Ted Roof, Carl Franks, Fred Goldsmith and Barry Wilson.
In fact, the last head coach not named Steve Spurrier to have a winning overall record with the Blue Devils was Bill Murray, and that was in 1965.
So yes, Cutcliffe deserves to be judged on a slightly different scale than Nick Saban or Urban Meyer.
However, Duke has never finished above fifth in the six team ACC Coastal Division in Cutcliffe's five seasons. All seven of Duke's losses last season had their opponent score at least 42 points.
In 2011, six of their opponents won by scoring at least 31 points. In 2010, five of their losses were by opponents who scored 30 points or more.
In other words, we tend to be trending the wrong direction.
Yes, Cutcliffe earned ACC Coach of the Year and fans were excited and a bit surprised that he has spurned former employee and SEC bigwig Tennessee twice to be the Blue Devil coach.
However, where exactly is the ceiling for this Duke program under Cutcliffe?
How many seasons of around .500 football will satisfy Duke, even with their admittedly lower expectations?
Eventually all this talent, promise and potential has to go somewhere?
Yes, you trained Peyton Manning. Now is the time to find your new star.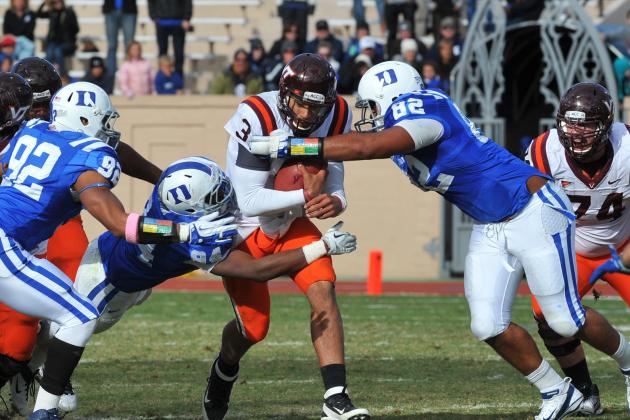 Al Messerschmidt/Getty Images

We all know that sports hinge upon perceptions.
While we know that Duke can intimidate anyone on the basketball court, the football team does not carry the same gravitas.
Indeed, Duke football has been pushed around for so long that their success in 2013 will hinge upon their ability to push back on both sides.
Take the defense for example.
Duke's defense has been inexcusably bad over the years. In 2012, the Blue Devils gave up an average of 36 points per game. If you ranked all 124 teams by scoring defense last season, Duke would rank 111th.
Granted, not every team has to play Stanford out of conference but no ACC team gave up more points. The last ACC team to average that many points on scoring defense was Duke in 2005.
So, Duke simply cannot get pushed around on defense and allow teams to keep quarterback Anthony Boone and the offense off the field.
That toughness goes on offense too, though. With four of five offensive linemen returning, Duke needs to be able to run the ball and protect the quarterback effectively.
Even coach Cutcliffe admits there is really no excuse from the line in 2013.
If Duke can show the toughness that is needed to win these shootouts, they can surprise yet again and really pull off a few big wins in the ACC.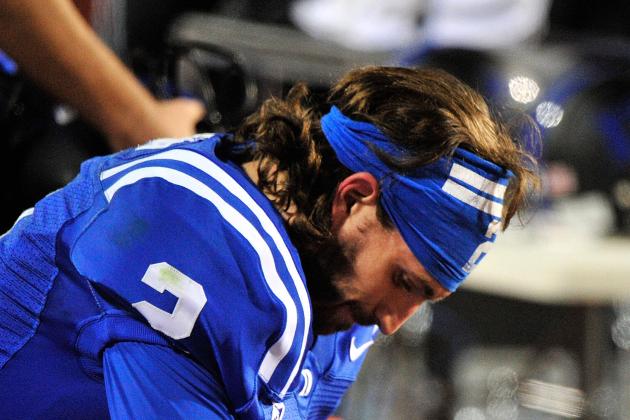 Grant Halverson/Getty Images

The number one thing Duke fans and the outside media are wondering is, can the Blue Devils do it again?
With six returning starters on offense and seven on defense, there are going to be some question marks.
On the other hand, Duke does have more experience than some may realize.
Replacing quarterback Sean Renfree is a man with 148 passing attempts and six touchdowns to go along with 211 rushing yards in Anthony Boone.
Although Conner Vernon may no longer be a target, Boone still has leading receiver Jamison Crowder. So while there are holes in certain spots, there is still talent and the cupboard is far from bare.
That takes us to the schedule and trying to find the six wins to make Duke bowl eligible.
Duke has certainly winnable games against Navy, Memphis and Troy to go with a guaranteed win against North Carolina Central.
Barring a big hiccup, that would mean two or three victories in the ACC to get Duke that bowl birth.
The two most likely candidates would be Virginia (which Duke has won four of the last five) and Wake Forest (where the six of the past seven meetings have been decided by a touchdown or less).
If not, Duke will have to hope to sneak up on North Carolina or Pitt.
The road is certainly tough but far from unattainable.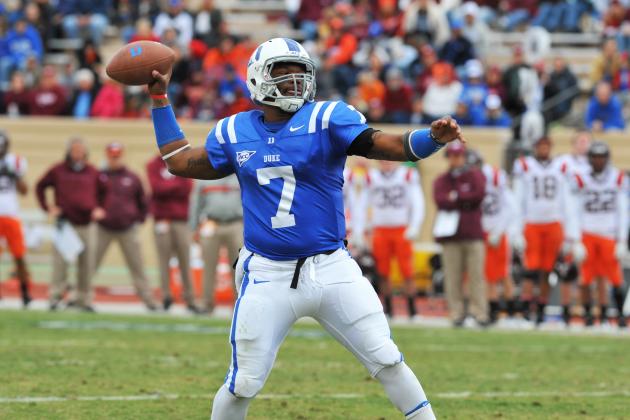 Al Messerschmidt/Getty Images

Coach Dave Cutcliffe likes to groom pocket passers and certainly has had success doing it.
Ignoring Boone's mobility, though, would be a big mistake though, particularly with no established running back to relieve pressure off the passing game.
Boone showed us that he was more than ready to fill in when he was placed into duty against the Virginia Cavaliers last season. He responded with an 18-of-31 performance for 212 yards, four touchdowns and 41 rushing yards to boot.
In fact, Boone has more experience than several quarterbacks that are going to start this September in the ACC. He ranks sixth among active quarterbacks in total touchdowns for the conference and has the talent to put up big numbers in 2013.
How big though, and can those numbers translate into success?
Boone has a golden boy receiver, a strong offensive line and a porous defense that will force him to score points nearly every possession.
Can he stay upright and healthy considering just how much he will be a focal point and will his big arm lead him into making dangerous throws that could be picked off?
Boone will need to be the star while maintaining a high efficiency. Can we realistically expect him to find the perfect balance between playmaker and game manager?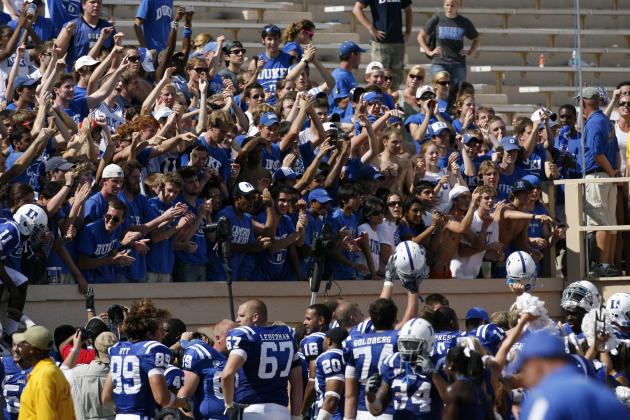 Kevin C. Cox/Getty Images

This storyline comes more from the outside of the Duke community than from the inside, and certainly will draw criticism.
The old argument goes which comes first, the chicken or the egg?
Well in sports, you find that same relationship between fan support and success.
Are teams successful because the fans create a winning environment or does success encourage fans to actively and loudly support their team in approval?
If Duke wants to be seriously considered as a contender, their fan base has to believe in them. Wallace Wade Stadium has historically been one of the worst home field advantages in football over this nadir of 1995-2013.
Athlon Sports ranked it last in the ACC, but at least things seem to be improving after last year's success.
I understand that Wallace Wade is a small stadium comparatively speaking, with just over 33,000 for capacity. However, size never stopped Cameron Indoor from being the mad house that it is. Comparing Duke football and basketball is obviously worse than apples and oranges, but the fact remains that crowds can win games by motivating their charges and making the other team struggle to hear play calls.
Fans must help do their part for Duke's success and they appear to be on the right path. How much support are they going to get in 2013 and can they keep their opponents fans out of Wallace Wade?