Highlighting the Best Rounds to Draft Each Position in 2013 Fantasy Football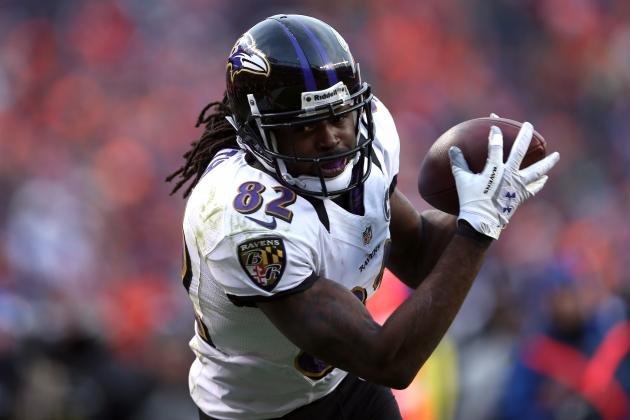 Jeff Gross/Getty Images

Like Winter, fantasy football is coming. It may already be here for some of you.
Whether you have only begun preparing for your exploits in the fantasy football realm or you have already gotten a leg up on your competition, there are superior strategies in snake drafts worth considering.
Here, we talk about the best rounds to take each position. Should you take Aaron Rodgers with a high draft pick or wait until the 11th hour? Where can you find the best values at wide receiver?
Click through to find out.
Average draft position (ADP) data culled from ESPN, Yahoo, NFL.com and CBS.com.
Begin Slideshow

»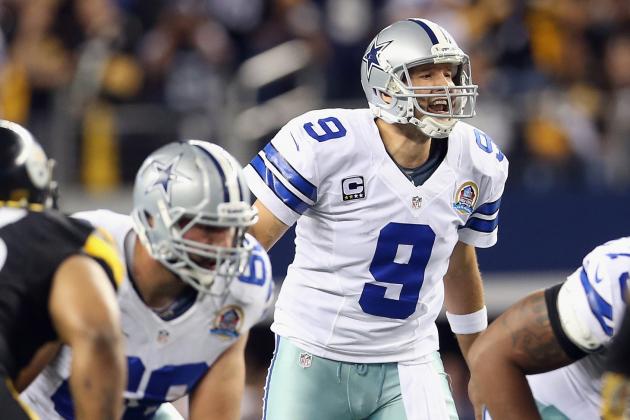 Ronald Martinez/Getty Images

Best Round: Fifth
Wait. At. Quarterback.
They will tempt you. Aaron Rodgers is the best quarterback in the league, so why not take him with your second-round pick, right?
You'll be sorry.
Well, not with Rodgers' production—barring injury he will be in the top three at the end of the season—but you will put yourself behind the eight-ball at other positions.
If you take one too early, you will be forced to take a lesser-quality running back or wide receiver in the next round, which will, in-turn, force you to take a lesser-quality player with the following pick. It is a snowball effect.
Consider the alternative: wait at the position and take one of the dozen starting-caliber quarterbacks in the fifth round. Guys like Robert Griffin III, Russell Wilson and Matthew Stafford can be had at this stage in drafts across multiple sites, and they will still put up big numbers for you.
Other good rounds: Third, Sixth, Seventh, 11th
If you are unwilling to wait that long for a quarterback, consider waiting until the fourth, where you can have Cam Newton or Peyton Manning. Both guys figure to challenge for a place in the top five—Newton in particular, given how much he scores with his legs—and you will not be behind the curve at running back.
The sixth and seventh rounds produce quality starters like Andrew Luck and Tony Romo, who might be the most underrated commodity in fantasy football this year. If you can snag Romo—the sixth-best fantasy quarterback last season and Top-10 finisher in his last three healthy seasons—in the seventh round, you might just win your draft.
Then there are the bargain-bin guys you can snag in the teens. Jay Cutler, Sam Bradford and Josh Freeman are all big-time sleepers for 2013, good guys to snag as backups or if you are taking a committee approach at the position.
Value is the name of the game at quarterback.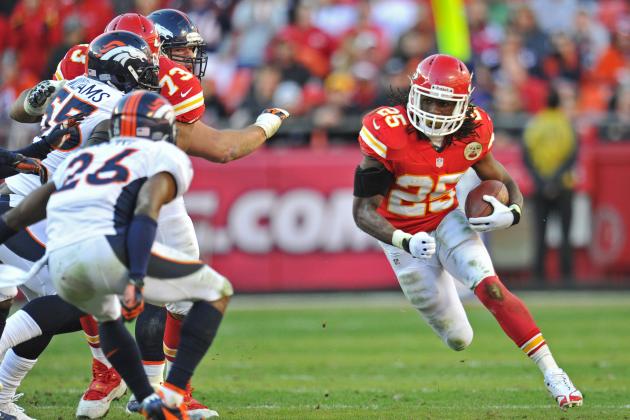 Peter Aiken/Getty Images

Best Round: First
Don't get cute. Draft a running back in the first round.
Unless you play in a crazy 16-team, two-points-per-reception league or you find yourself picking in the last couple of spots, there are too many quality running backs to pass up with your first pick. This is especially important if you pick in the top half of your draft—you do not want to be stuck with Darren McFadden as your top running back.
Aside from the no-brainer that is Adrian Peterson with the first pick, Jamaal Charles, LeSean McCoy, Arian Foster, Doug Martin, Ray Rice and Trent Richardson are all guys that can and should be taken in the first round. These are all workhorse running backs expected to finish in the top 10, guys who cannot be replicated in later rounds.
Other good rounds: Second, Fourth, Fifth, Ninth
Given the relative positional scarcity at the position, it is a solid strategy to take your second running back early. That means going back-to-back at the position in many cases, perhaps taking Alfred Morris or Chris Johnson with your second-round pick.
If you play in a PPR league and cannot pass up a top-shelf receiver in that second round, guys like David Wilson, Ryan Mathews, Lamar Miller and Chris Ivory are good choices in the fourth and fifth round. There is this void of troublesome running backs going in the third round—guys like Darren McFadden and DeMarco Murray, who are injury-prone—that makes it a bad round to take your second guy.
If you wait too long to get that second running back, however, you could be in trouble. Some later-round guys to keep an eye on are Andre Brown, Pierre Thomas and Ahmad Bradshaw. But those should be bench stashes if you can help it.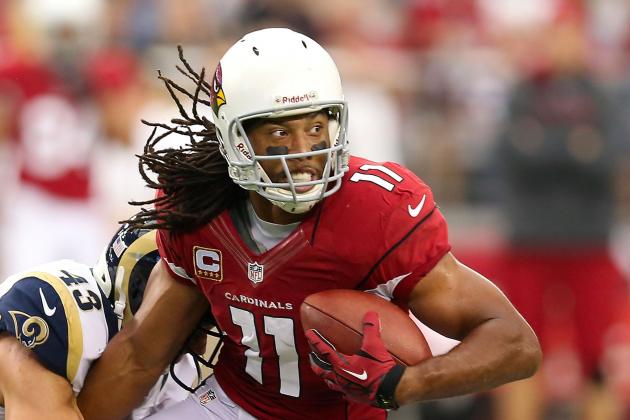 Christian Petersen/Getty Images

Best Round: Third
If you follow a sound drafting strategy at running back, you will find that waiting to take a receiver in the third round will pay dividends.
The most prominent receiver falling into the third round on average across multiple sites plays football out in the Arizona desert. Larry Fitzgerald's fantasy stock has tumbled because he has been stuck in quarterback purgatory in recent years.
With Carson Palmer in town to shore up the position, Fitzgerald could bounce back in a big way. Getting him in the third round is a steal.
Other great options in the third include Percy Harvin, Victor Cruz, Roddy White and Vincent Jackson. These guys can all put up WR1 numbers for a discounted price.
Other good rounds: Fourth, Fifth, Eighth and Beyond
Assuming you are being a good soldier and waiting at quarterback, you are going to want to continue stockpiling talent at running back and wide receiver. That means all sorts of options for you in the middle rounds.
Among the best of those in the fourth or fifth round is Torrey Smith, who figures to see a nice jump in fantasy scoring this year with Anquan Boldin gone. Jordy Nelson's draft stock is suffering because of a down season, but getting him in a similar draft range is excellent value.
For some reason, Danny Amendola's draft stock hasn't caught fire since he landed in New England several months ago. He is the best receiver on the team, in line for a ton of catches if he can stay healthy. He can be had in the fifth or later.
DeSean Jackson, Lance Moore, Miles Austin, Jeremy Maclin, and many other under-the-radar guys will be available in the eighth or later, giving you plenty of quality options for your bench.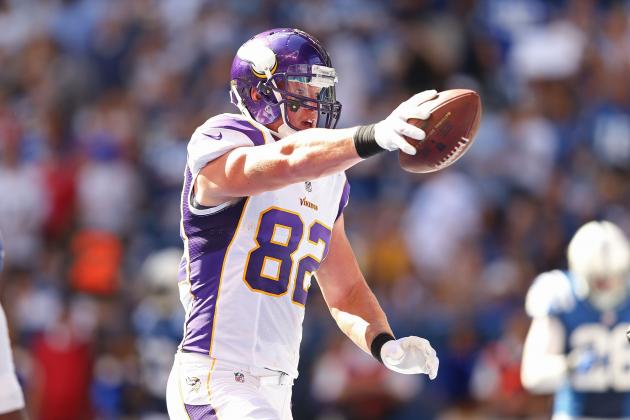 Andy Lyons/Getty Images

Best Round: Seventh
Tight end is an interesting position in fantasy football this season.
Jimmy Graham is the clear-cut No. 1 guy there, but he is going to be quite expensive. You might have to draft him at the end of the first round if you love him that much.
Behind him, though, there is a precipitous dropoff. Rob Gronkowski might be the top dog here if he weren't coming back from multiple surgeries. Tony Gonzalez and Jason Witten are nice options, but neither figures to have the production Graham is projected to have.
That leaves several mid-round options at your disposal.
Namely, Kyle Rudolph and Dennis Pitta are falling into the seventh round, two guys who figure for spots in the top five.
Rudolph scored nine touchdowns last season—a number that could fall, but his usage could go up—and Pitta has an even bigger role in store with Anquan Boldin gone.
Other good rounds: Fourth, 11th
If, for some reason, Rob Gronkowski falls into the fourth round, snap him up.
That is where he has fallen in recent weeks given all the injury woes. Owners want to avoid the second-round bust with him. Of course, if he is cleared to play in Week 1, he is unlikely to fall out of the third.
Then there is the sad tale of Jermichael Finley, whose heart is wrought of gold but hands are made of stone. He has burned fantasy owners enough to fall out of starter status in drafts, making him a bargain in the 11th around.
Still don't trust him? How about Martellus Bennett, Dustin Keller or Brandon Myers in the 11th?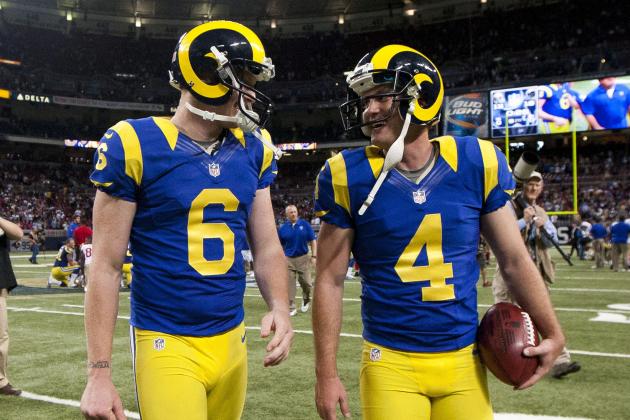 David Welker/Getty Images
"This guy took me in the 11th round..."
Best Round: The Penultimate Round
This cannot be stressed enough: never draft a kicker or defense before the final rounds. Yes, it's tempting to snap up the San Francisco 49ers defense in the ninth round once you have rounded out your starting lineup, but you are pulling a Plaxico Burress if you do that—shooting yourself in the leg.
Defenses are wildly unpredictable when it comes to fantasy scoring. Last year's top scorer is this year's overhyped bust. The 49ers might be consistently good, but they might get outscored by six other defenses.
It is much better to continue building solid depth at running back and receiver than to waste a relatively high pick on a defense.
Other good rounds: The Last one
Really. If you are drafting a kicker anytime before the final round, you're doing it wrong.
In some leagues you aren't even required to take a kicker in the draft. It would be better to take one last positional flier and pick up a kicker just before Week 1 at that point.