Grades for All of Tennis' Top Stars in 2013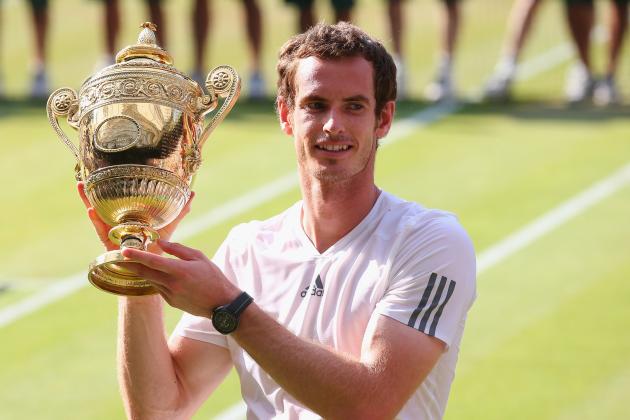 Julian Finney/Getty Images

The 2013 tennis season has had a much different turnout than many people expected.
Many players have been challenging the Top 10 guys, and it seems that an exclusive ranking is no longer good enough to shake opponents off.
With a new wave of talent emerging all so suddenly, it is questionable whether those players will join in the dominance as well. But we should know in a year or so.
I have assigned grades for all of the top players based on their 2013 performances.
Some players are excused for an unexpected bad loss here or there, but other than that, my grading is strict and appropriate.
Begin Slideshow

»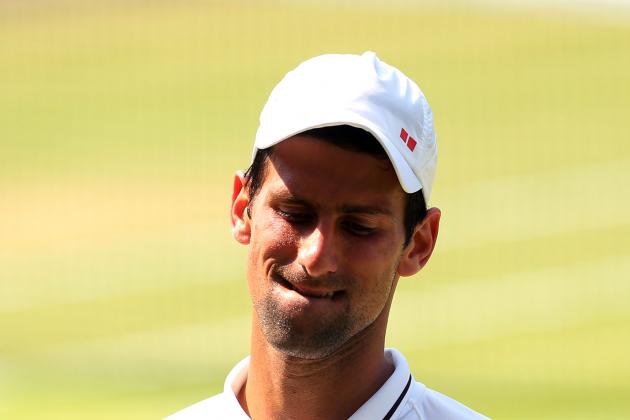 Julian Finney/Getty Images

Nole has done very well in the majors this year, making the semis or better in all of them.
However, he has won only one and does not have many titles to his name besides that.
The Serb has been upset in strange ways this season, including by Tommy Haas, Grigor Dimitrov and Tomas Berdych.
One of the biggest problems is that he is not that aggressive, and because of that he keeps winding up in tough situations or marathon matches.
He lost a very tough five-setter against Rafael Nadal at the French Open and won a tight one against Juan Martin del Potro at the All England Club. But maybe that semifinal match damaged his system in some way. On top of that, he was very close to losing in the fourth round of the Aussie Open.
He has lost his 2011 dominance, and though he is still making it very far in some tournaments, he cannot be trusted as much.
Grade: A-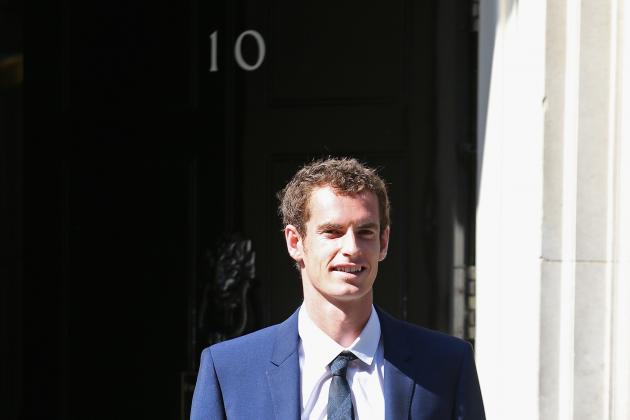 Chris Jackson/Getty Images

There are many positive things to be said about Andy Murray's year.
Excusing his French Open withdrawal, he made the final or better in the two slams of the year that he participated in.
He also seems to have the answers for Novak Djokovic on a quick court, as exemplified by a U.S. Open win and two consecutive victories on grass.
Murray did not let the home crowd down at Wimbledon and is doing way better than anybody expected. Even for him to have an early exit at the Open, his season would still be labeled as highly successful.
Grade: A+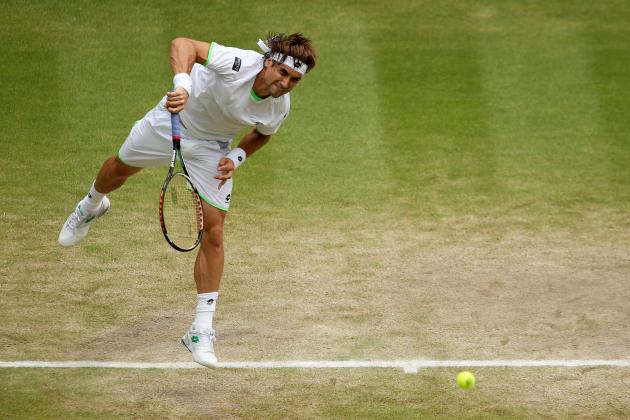 Clive Brunskill/Getty Images

The scrappy Spaniard beat all expectations during the first half of the year.
Making the Australian Open semifinals, Sony Open final (and holding a match point), French Open final (his first, and likely, last major final) and Wimbledon quarterfinals (for the second time in his career), it seems that the sky is the limit for him.
He did not feel or play well at Wimbledon and reached his previous best result. He can easily reach the U.S. Open semifinals again, and he deserves to be ranked as high as No. 3 for the moment.
Grade: A+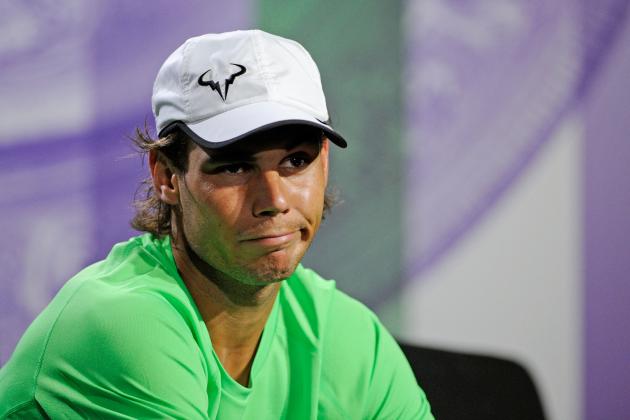 Pool/Getty Images

Rafa did not play the Australian Open, and he fell in the first round of Wimbledon.
These were the only two tournaments and reasons why he was not given an A+.
His other two losses came in finals—one to Horacio Zeballos when he was just returning to the ATP tour and one to Novak Djokovic.
Rafa has won the most tournaments this year, including many red clay events and Indian Wells.
He has not even played his best most of the time, but his tenacity and defense has still given him an edge over the competition.
Grade: A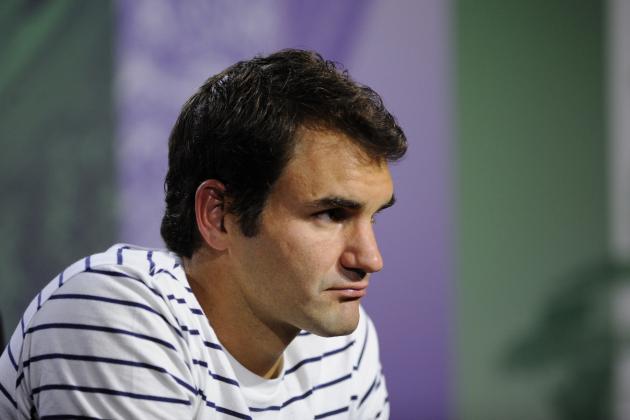 Pool/Getty Images

The lowest grade of this list goes to Roger Federer, though he has not flunked out.
Playing inspired tennis in Melbourne, winning a tournament and playing Rafael Nadal in the final of another, he has had glimpses of brilliance.
His consistency, however, is off-the-charts poor. The Maestro's game is becoming more erratic with each successive day, and his break point conversion rate is seemingly lower than ever.
I still say he has a good shot to win the U.S. Open, and by doing so his grade would be lifted to about a B+.
Grade: D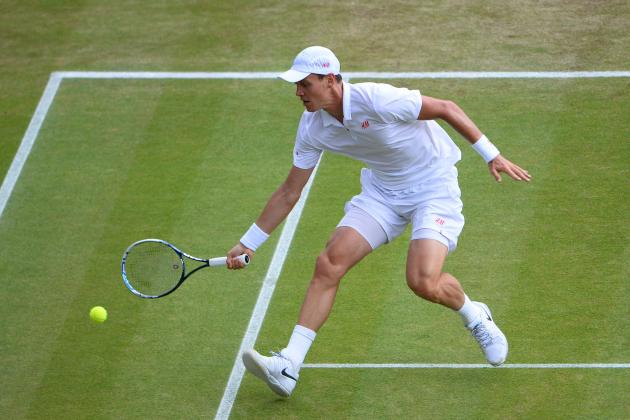 Mike Hewitt/Getty Images

Tomas Berdych pushes himself to be a better player every year.
This year he had a surprisingly good start, and he enjoyed one of his best clay seasons to date.
However, he had a few bad losses as usual—one to Gael Monfils in the first round of the French.
For whatever reason, Berdych cannot be trusted to beat any of the players ranked directly above him, except for Andy Murray.
As the world's best players continue to succeed and raise the bar, Berdych is seemingly losing his grasp but is not ready to fall just yet.
Grade: B-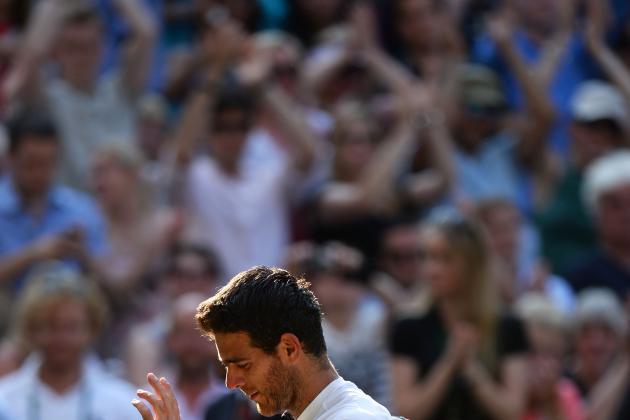 Mike Hewitt/Getty Images

The Argentine was dominant en route to the Wimbledon semifinals and was also a set away from reaching his first final there.
He also played a remarkable Indian Wells tournament, beating two of the top-three players in the world at the time.
Besides those two tournaments, though, success has not been there for him. He has been fighting nagging injuries and losing to more players than he should.
His Australian Open was horrific; his shocking loss to Jeremy Chardy indicated signs of weakness in his game.
He also missed the French Open entirely because of injury and seemed to carry an injury at SW19, so it is very tough to predict how he will finish the year.
Grade: B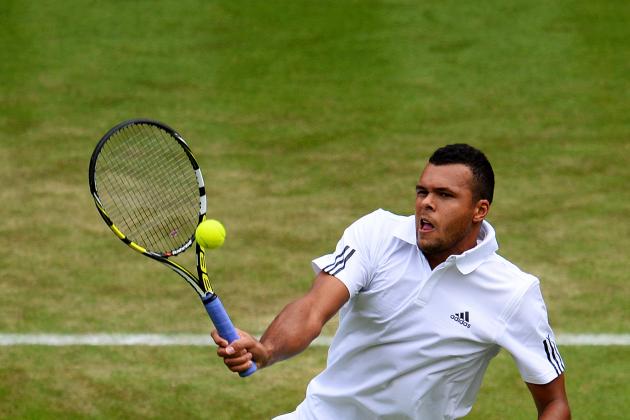 Mike Hewitt/Getty Images

Tsonga has been in full flight for most of the year.
He was visibly better than usual against Roger Federer at the Australian Open and French Open, but was forced to withdraw from an early-round match at Wimbledon because of injury.
He is playing with a lot of confidence and keeps whacking the ball into each corner of the court.
His new coach, Roger Rasheed, is clearly beneficial to Tsonga's game, and there is no telling how great he can become in the next two years with Rasheed by his side.
Grade: B+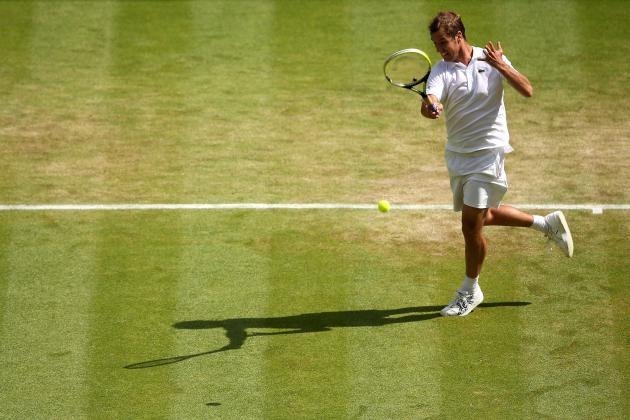 Clive Brunskill/Getty Images

Grading Richard Gasquet's performances was a very difficult thing to do.
Surely he did not play poorly at the Australian Open, though his forehand let him down significantly in the latter stages of that match he lost.
At the French Open, he had to play a very inspired Stanislas Wawrinka, and while he should not be losing after winning the first two sets, each set was competitive and very close. In other words he played his heart out and did not choke, so to speak.
At Wimbledon, he lost to an on-fire Bernard Tomic, but it was Gasquet's fault for not being more aggressive against the very tricky Aussie player.
So, compare these three "OK" losses, and you see a trend that is both good and bad for the Frenchman. Since he did very well at the Sony Open and a couple of other tournaments, I am going to give him a grade that I think sums up his season.
Grade: B-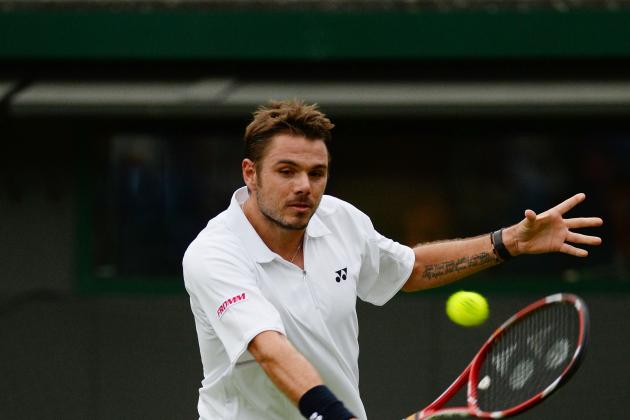 Mike Hewitt/Getty Images

Stanislas Wawrinka and Tommy Haas have had pretty much identical seasons when you think about it.
Both have powerful, accurate ground strokes and know how to work their opponents around the court.
Both did well at the French Open and they traded off on good performances at the Australian Open and Wimbledon.
Even though their ages are so far apart, their rankings and successes have been so identical this past year.
Look for both of them to do damage in the upcoming months in hopes of securing a spot in the World Tour Finals for the first time.
Grades: A+