After two draws started off the action on Day 1 of the women's Euro 2013, there were two more on the second day.
Day 2 featured the first action for Group B, which is arguably the toughest selection of teams in the tournament. Not only does this group include five-time defending champion Germany, but Norway, Netherlands and Iceland all represent some of the best teams in Europe.
While there is a long road to lifting the trophy, this first round of matches will play a big role going forward in the group stage.
Here are the highlights of what happened Thursday at Euro 2013.
Day 2 Results
Iceland 1, Norway 1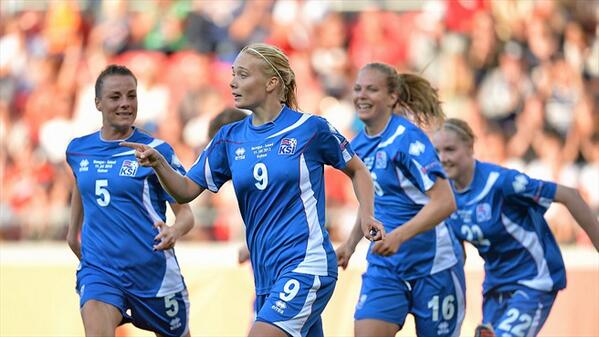 Norway came in as the favorite in this match and seemed like it would have an easy time with a strong start.
In the 26th minute, a long pass from Ingrid Hjelmseth was sent perfectly to Kristine Hegland in front of the net. The young forward controlled the ball well and finished past the keeper to give Norway a 1-0 advantage.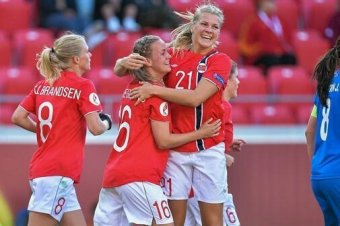 This score stood throughout the first half and a long time into the second half as Norway maintained a lot of possession and took plenty of shots. The fact that Iceland continued fouling also did not help the cause.
However, there was plenty of late drama as a major mistake changed the match. Sara Bjork Gunnarsdóttir made an aggressive move in the box in the 86th minute and ended up being fouled by Marit Christensen of Norway.
Margrét Lára Vidarsdóttir took the penalty shot for Iceland and successfully gave her side the equalizing goal.
With little action in the final few minutes, the teams finally left the pitch with a 1-1 draw. Although this was a disappointing final for Norway, it is a huge result for Iceland. As Wayne Harrison of UEFA.com notes, this is the first point for the squad in this competition's history:
#Iceland celebrate earning their first @UEFAWomensEURO point - at the fourth attempt. #Kalmar #EURO2013 pic.twitter.com/gVZzgSF9W0

— Wayne Harrison (@UEFAcomWayneH) July 11, 2013
Iceland is now firmly in this competition as up to three teams can advance to the knockout stage from each group. The schedule continues to get harder, but a positive result against the Netherlands would be major.
On the other hand, Norway likely needs a victory against the Dutch squad to feel comfortable going forward.
Germany 0, Netherlands 0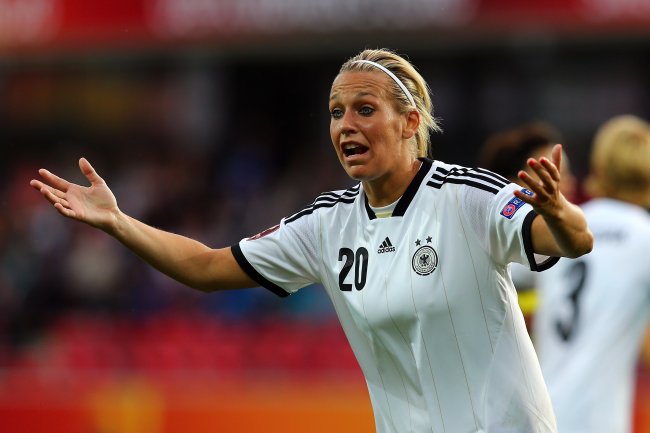 Martin Rose/Getty Images
After winning every European championship since 1995, Germany was the clear favorite to dominate this tournament. However, the opening match did not necessarily go according to plan.
Ian Holyman of UEFA.com notes the expectations after how successful the offense was during qualifying:
#GER scored 64 goals in qualifying. And now they're getting more shooting practice. Beware #NED ! #GERvNED #Euro2013 pic.twitter.com/ODo2LOhLnU

— Ian Holyman (@UEFAcomIanH) July 11, 2013
Unfortunately, sloppy play in the final third prevented Germany from getting quality shots on the net. The team had 16 attempts at the goal, but only three of them were on net.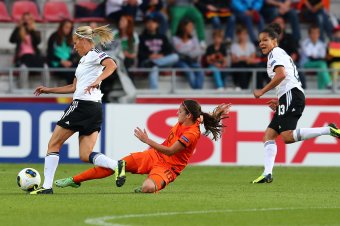 Martin Rose/Getty Images
Meanwhile, the Dutch played strong enough in the first half defensively to keep the match scoreless. Although there were a few more chances after intermission, it seemed like the squad was more than happy to play for a draw.
Thanks to some strong play by both goalkeepers, that is exactly what happened as the teams finished their opening match with a scoreless draw. Nadine Angerer of Germany and Loes Geurts of the Netherlands each tallied three saves and helped give their squads one point on the day.
Paul Saffer of UEFA.com discusses the strangeness of the championship so far:
Germany 0-0 Netherlands - 4th draw in 4 #euro2013 games. At #euro2009 there were 14 positive results before the 1st draw (France 1-1 Norway)

— Paul Saffer (@UEFAcomPaulS) July 11, 2013
Hopefully, one of the teams in Group C can finally get a win to change things up.
Germany remains a favorite to make a deep run in this tournament, but it will need to perform better in its next match against Iceland. Holland will try to make a run at the top of the standings with a matchup against Norway on Sunday.
Group B Standings
| | | | | | | | |
| --- | --- | --- | --- | --- | --- | --- | --- |
| Team | W | D | L | GF | GA | GD | Points |
| Iceland | 0 | 1 | 0 | 1 | 1 | 0 | 1 |
| Norway | 0 | 1 | 0 | 1 | 1 | 0 | 1 |
| Germany | 0 | 1 | 0 | 0 | 0 | 0 | 1 |
| Netherlands | 0 | 1 | 0 | 0 | 0 | 0 | 1 |
What's Next
The championship continues Friday with the first appearance for each team in Group C. France will face Russia at 12 p.m. ET, while England and Spain will battle at 2:30 p.m. ET.
For the squads that were in action today, they will be off until Sunday. Norway and Netherlands will play each other in the early match, followed by Iceland against Germany.
Follow Rob Goldberg on Twitter for the latest breaking news and analysis.