SEC Football: 5 Most Overrated Units in the Conference
Al Messerschmidt/Getty Images
College football fans have a tendency to get carried away and overrate teams, coaches and players.
SEC fans love to point the finger at the Big Ten and Big 12, but they are guilty as well. While the SEC boasts the most talent of any conference, it doesn't mean the conference is perfect with a 99 overall rating in every position on the football field. Nope, this isn't NCAA '14, where fans get the opportunity to make every unit resemble Jadeveon Clowney's rating.
Brace yourselves fans, as this will likely anger most of you, but before anyone gets their panties in a wad, read this precursor—all of these units are great in their own right, but some have been overhyped heading into 2013.
Which positions have been? Let's discuss.
Defensive End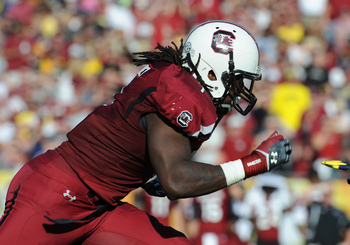 Al Messerschmidt/Getty Images
Even the best defensive end in the country can't carry the weight of an entire unit.
In fact, Clowney, as well as the hype surrounding newcomer Robert Nkemdiche, is the reason this position is overhyped this year.
People always get caught glancing at the surface and fail to dig deeper and recognize the overall depth.
It becomes clear when you take a trip down memory lane. It's not a long one. Compare the defensive ends this year to last year. The biggest differences are the losses of Sam Montgomery, Barkevious Mingo, Corey Lemonier and Damontre Moore. Those five men combined for a total of 30.5 sacks.
Sure, Clowney, Nkemdiche, Chris Smith, Alvin Dupree and Chaz Sutton are all impressive in their own right, but it's hard to make a case that those five defensive ends top that production.
Offensive Line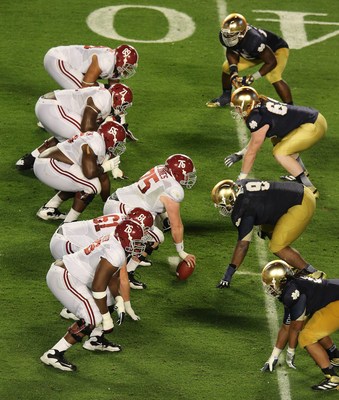 Robert Mayer-USA TODAY Sports
It's a hard knock life being an offensive lineman.
They have to do all of the dirty work, and, most of the time, they never get the credit they truly deserve.
Last year, SEC offensive lines received the credit. Alabama's was undeniably the best offensive line in the country, while Texas A&M boasted the two best offensive tackles in the nation, and, though Tennessee passed around the blame for its failures last year, the offensive line was viewed as one of the few bright spots on the team.
Now, that brings us to this season. While it's still one of the best units in the country, the offensive lines in the SEC are not as good as they were a year ago.
Cyrus Kouandjio, Jake Matthews, Gabe Jackson, Travis Swanson and Antonio Richardson highlight the returning offensive linemen, and though there are spectacular individuals, most of the units in the SEC, with a major exception for Tennessee and Georgia, will be inferior to their respected 2012 offensive lines.
Defensive Tackle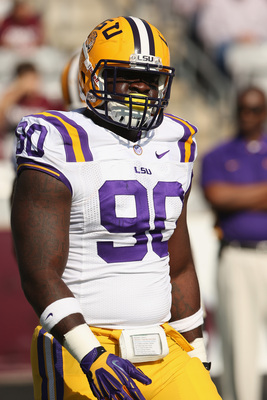 Ronald Martinez/Getty Images
The SEC prides itself on elite defensive tackle play.
Well, entering the 2013 season, the biggest names set to return have yet to really scratch the surface of their potential.
The fans all know that the sky is the limit for players like Anthony Johnson, Dominique Easley, Daniel McCullers and Kelcy Quarles, just like they know their team is going to win the SEC this year...
Nothing is a guarantee. All four of those men combined for 32 tackles for loss in 2012. Terrible? Well no, but that's not exactly dominant play upfront that fans have come to expect.
Let's see if these crown jewels on the defensive line make a larger impact in 2013.
Cornerback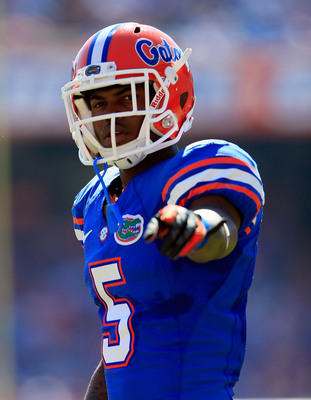 Sam Greenwood/Getty Images
Has the argument for best cornerback in the league ever been this wide-open before?
Who's the best—Marcus Roberson, Andre Hal, Loucheiz Purifoy, Jalen Mills, E.J. Gaines or Damian Swann?
An argument could be made for each man, but, the truth of the matter is, those names fail to compare to Jonathan Banks, Dee Milliner, Tharold Simon, Trey Wilson and Sanders Cummings. Heck of the six names mentioned for 2013, only two of them made the Thorpe Award watch list.
Just like teams have rebuilding years, the SEC is having a rebuilding year at cornerback.
Young, talented and unproven players will be given the spotlight this fall, and many will likely break out, therefore causing a tremendous amount of hype for the 2014 season. It truly is an endless cycle.
Running Back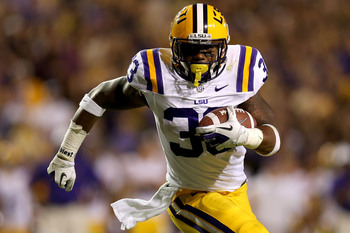 Matthew Stockman/Getty Images
Say it ain't so!
Look, the SEC undoubtedly has some of the best running backs in the nation with Todd Gurley, T.J. Yeldon and Keith Marshall in the spotlight.
However, the running back position in the conference is top-heavy. After those three names, who could you consider to be a prime-time player? Jeremy Hill could have been, but he's likely to miss this season for a battery charge.
Names like LaDarius Perkins and Henry Josey have been staples for their respected clubs in the past.
The rest of the backs like Mike Davis, Matt Jones, Jonathan Williams and others are unproven, and, though they may be talented, we all have yet to see what each can do. Until proven, those running backs can't be considered elite.
Keep Reading