The 50 Greatest MLB All-Star Game Moments of All Time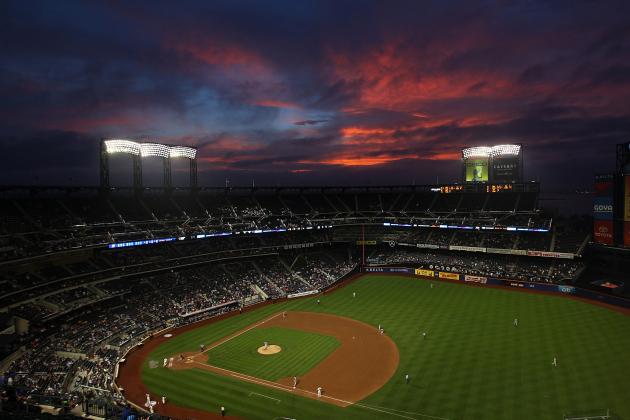 Mike Stobe/Getty Images
The 2013 All-Star Game will take place at Citi Field, home of the New York Mets.
When a collection of the sport's finest players gather together for one star-studded game, it's inevitable that storied memories will transpire. Since 1933, Major League Baseball's first All-Star Game, there have been countless great moments.
But great moments can be defined in a number of ways: the sentimental, the unexpected, the sublime, the disputed and even the gruesome. All of these moments are great in their own right.
Over the past 80 years, there have been a plethora of unique events. Below are 50 of the greatest ones.
All statistics are sourced from Baseball Reference. Photo and video content sourced on individual slides.
Begin Slideshow

»
Going into the first half of 2012, Melky Cabrera had been swinging a hot bat. Cabrera posted a .353 batting average with eight home runs and 44 RBI.
His momentum continued into the All-Star Game, smoking two hits while collecting two RBI.
Cabrera was crowned the MVP, which made him the first San Francisco Giant to win an All-Star MVP since Bobby Bonds did it in 1973.
Video source: YouTube
Who needs small ball? In the 1995 All-Star Game, the National League scored three runs off three solo shots. The home runs came from Craig Biggio, Mike Piazza and then a pinch-hitting Jeff Conine.
Conine, a reserve selection, won the All-Star MVP.
Video source: YouTube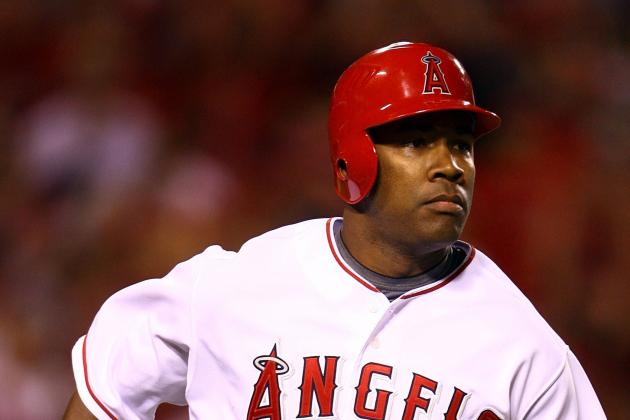 Jeff Gross/Getty Images
Garret Anderson lead the American League with 49 doubles in 2003.
It's always an honor to just get picked for an All-Star team, but it's another thing to completely dominate the weekend.
In 2003, Garret Anderson edged out a young Albert Pujols in the Home Run Derby and also took home the All-Star Game MVP award.
Talk about an All-Star sweep.
The 1997 All-Star Game took place at Jacobs Field in Cleveland and Sandy Alomar Jr., the catcher for the Indians, did not want to disappoint the hometown crowd.
In the seventh inning, with two runners on, Alomar launched a three-run shot off Shawn Estes to put the American League up 3-1. The AL was able to hang onto the game and won it by the same score.
Video source: YouTube
The 1967 All-Star Game went on, seemingly, forever. The two leagues battled it out for a whopping 15 innings (most innings in All-Star history until 2008), before Cincinnati Reds' third baseman Tony Perez smacked a home run off American League pitcher Catfish Hunter.
Tom Seaver pitched a scoreless inning for the National League, giving the NL an exhausting victory.
Video source: YouTube
It takes one swing to hit a home run, but one man to end a game with it.
Stan "The Man" Musial did just that in 1955, hitting a walk-off home run in the bottom of the 12th inning to win it for the National League.
Musial's shot was his fourth career All-Star home run, breaking an on-going tie with Ted Williams and Ralph Kiner.
Video source: YouTube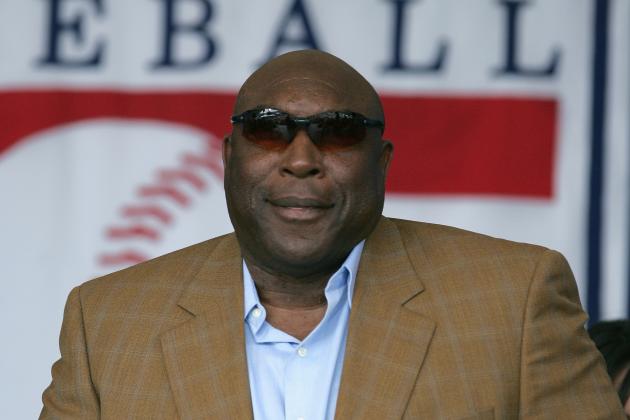 Ezra Shaw/Getty Images
Willie McCovey swatted 521 home runs in his career.
San Francisco Giants' first baseman Willie McCovey was in the midst of a MVP-esque season going into the All-Star break. McCovey didn't deny spectators his lumber either, slugging two two-run home runs, helping the National League capture the 1969 All-Star Game.
McCovey ended up being the National League MVP that year by hitting to the tune of a .320 batting average, park-adjusted 209 OPS+, .453 OBP and 45 home runs.
Despite only having one full season under his belt in 2002, Torii Hunter was still en route to winning his second consecutive Gold Glove.
Perhaps overshadowed by the unpopular "tie" decision, Hunter's star still shined during the 2002 All-Star Game, robbing Barry Bonds of a home run with an "Angels in the Outfield"-type grab.
Video source: YouTube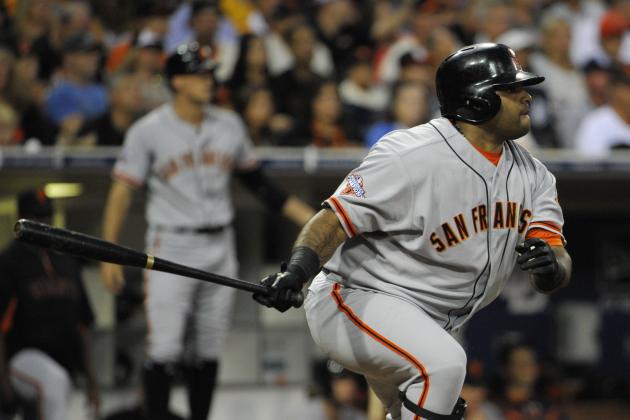 Denis Poroy/Getty Images
Pablo Sandoval has 14 career triples.
There have been a lot of great speeders over the course of baseball history. The San Francisco Giants' third baseman Pablo Sandoval, however, is not one of them.
But that didn't stop the husky Sandoval from legging out the first bases-loaded triple in All-Star history in the 2012 contest.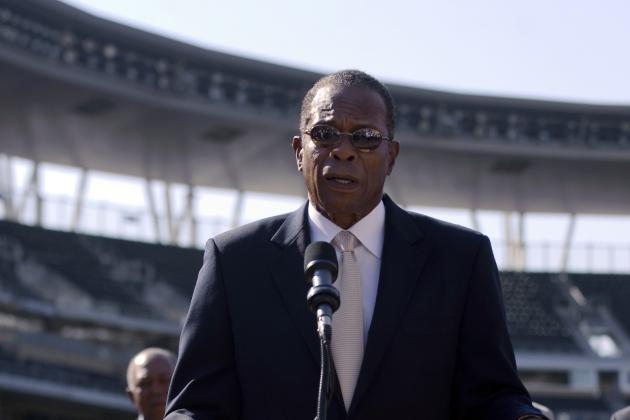 Hannah Foslien/Getty Images
Rod Carew owned a career .328 batting average.
With 112 triples to his name, Rod Carew was a three-bagger connoisseur.
In the 1978 All-Star Game, Carew showed off his expertise by socking two triples, making him the only player to ever achieve the impressive feat.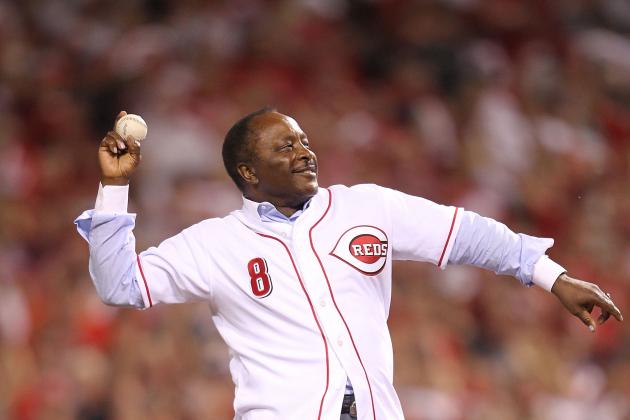 Andy Lyons/Getty Images
Joe Morgan was inducted into the Hall of Fame in 1990.
Home runs be damned.
The 1972 All-Star Game went into extra innings (the fifth time in history) after the National League scored a run in the bottom of the ninth.
With a runner on second in the bottom of the 10th, Cincinnati Reds' second baseman Joe Morgan stepped up to the plate and smacked a game-winning walk-off single.
Morgan was crowned with the MVP for his heroic hit.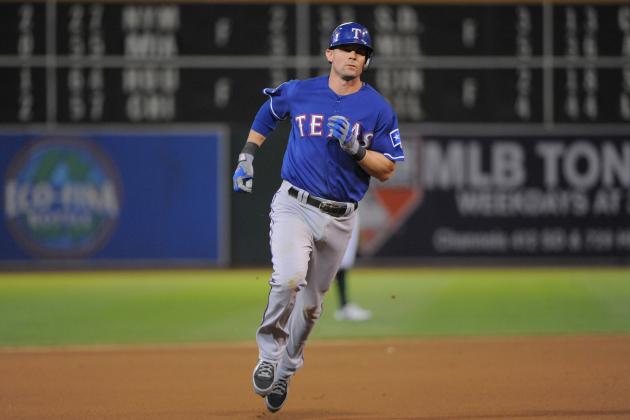 Kyle Terada-USA TODAY Sports
Michael Young has hit 58 triples in his career.
Trevor Hoffman rarely blew saves. The likely Hall of Fame closer saved 46 games in 2006 and placed second in the Cy Young Award voting too.
In the All-Star Game, however, opposing hitter Michael Young had his number.
With two outs—and two strikes—in the bottom of the ninth, Young smacked a two-run triple off Hoffman to win it for American League in dramatic fashion.
Young would also take home the MVP.
Ted Williams made history in 1941, becoming the last player, to date, to hit over .400 (he hit .406). At the 1941 All-Star Game, Williams did what he did best: hit the ball.
With the American League down three runs in the bottom of the ninth, Williams stepped up to the plate with two ducks on—including Joe DiMaggio. With one swing, Williams changed the fate of the game, smacking a walk-off three-run home run.
Video source: YouTube
Spectators always said Tony Gwynn played the game the right way. And the 1994 All-Star Game was just another prime example of it.
After slapping a single in the bottom of the 10th inning, Gwynn somehow advanced all the way home on a Moises Alou gapper.
The San Diego Padres' star (and future Hall of Famer) was safe by just a hair. But if not for his extreme hustling, it's possible the National League would have dropped their seventh All-Star game in a row.
Video source: YouTube
At the time, Dick Radatz was one of the most feared late-inning relievers in the game. In his first three seasons, the Boston Red Sox reliever combined for a 2.17 ERA (versus park-adjusted 181 ERA+), 1.06 WHIP, 3.27 K/BB and 78 saves.
"The Monster," as people called him, placed in the MVP voting all three years.
In the 1964 All-Star Game, however, Radatz looked vulnerable. After letting up the lead—and then putting another two men on—Radatz surrendered a walk-off, three-run shot to Philadelphia Phillies' outfielder Johnny Callison.
Video source: YouTube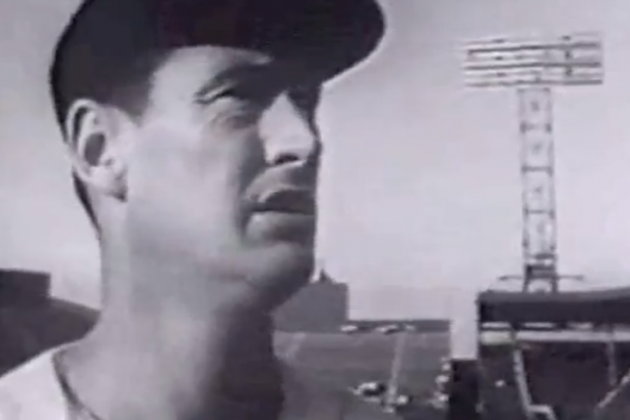 Ted Williams owns the record for highest career on-base percentage, with a .482 OBP.
Ted Williams was perhaps the most well-known professional baseball player to serve during World War II. Even though the Hall of Famer took a three-year hiatus from baseball to fight, Williams returned in 1946 and hit .342 with a park-adjusted .215 OPS+ and 38 home runs.
The "Splendid Splinter" also put on a show in the All-Star Game that year. Williams smacked two home runs, including one off pitcher Rip Sewell's infamous eephus pitch.
Photo source: YouTube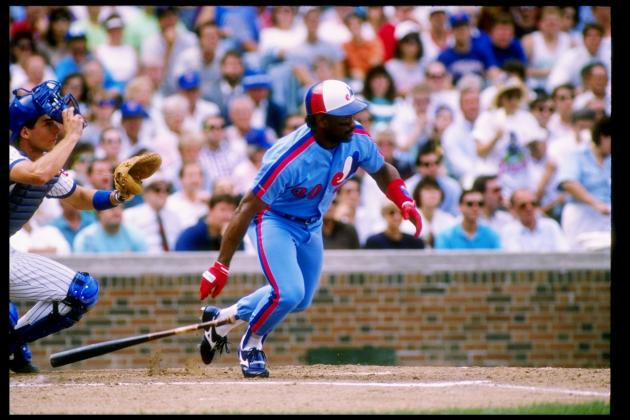 Jonathan Daniel/Getty Images
Tim Raines collected 808 stolen bases over his 23-year career.
Most of the hoopla surrounding All-Star selections is centered on the starters. But people easily forget that the starters usually only play a couple of innings before the reserves get their chance.
Montreal Expos outfielder Tim Raines entered the 1987 All-Star Game in the sixth inning, but was a pivotal part of the National League's victory.
Raines collected three hits, including a two-run triple. His two RBI were the only runs the National League needed, beating the American League 2-0.
Raines would also capture the MVP for his late-game heroics.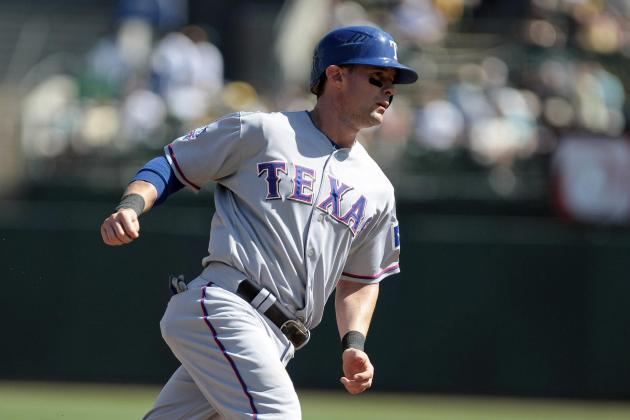 Kelley L Cox-USA TODAY Sports
As a Texas Ranger, Michael Young collected 2,230 hits.
For 41 years, the 1967 All-Star Game reigned as the longest All-Star bout in terms of innings. But the 2008 battle took four hours and 50 minutes to complete—and matched 1967's innings.
Fans certainly got their money's worth.
Spectators witnessed the game's finest duke it out in historic Yankee Stadium (the last year of its existence). Texas Rangers infielder Michael Young ended the suffering with a RBI sacrifice fly.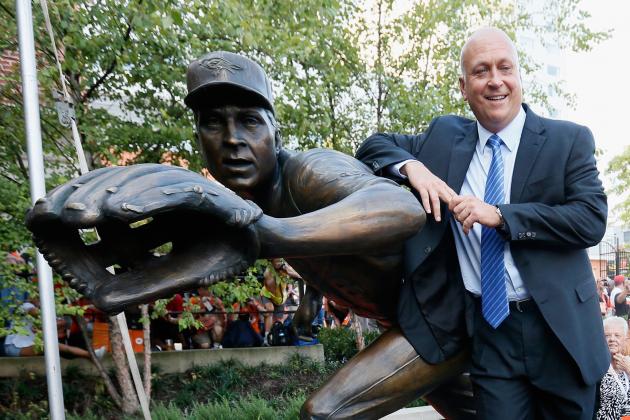 Rob Carr/Getty Images
Cal Ripken Jr. standing next to his own statue.
Being amazing wasn't out of the ordinary for Cal Ripken Jr.
In 1991, the Baltimore Orioles great became the only player to win the Home Run Derby, All-Star Game MVP, American League MVP, Gold Glove and Silver Slugger in the same season.
Similar to how present day fans wanted to see Yasiel Puig place in the 2013 All-Star Game, back in 1984 everyone wanted to witness the National League's two young aces, Dwight "Doc" Gooden (19) and Fernando Valenzuela (23).
The pitchers were as advertised, combining for six strikeouts in two innings of work.
Video source: YouTube
There's nothing worse for baseball fans than a strike. From June 12 to July 31, 1981, the players went on strike, depriving everyone of their national pastime.
But the strike ended in time for the All-Star Game and Montreal Expos catcher Gary Carter was perhaps the most eager to get back on the field.
Carter led the offensive charge for the National League, smacking two home runs in front of a record-setting 72,086 spectators.
Carter was rightfully handed the game's MVP award.
Video source: YouTube
Despite scheduling regular season night games since 1935, the All-Star Game always took place during the day. That tradition was snapped in 1943.
Like many inaugural American events, the first night All-Star game took place in Philadelphia at Shibe Park.
Video source: YouTube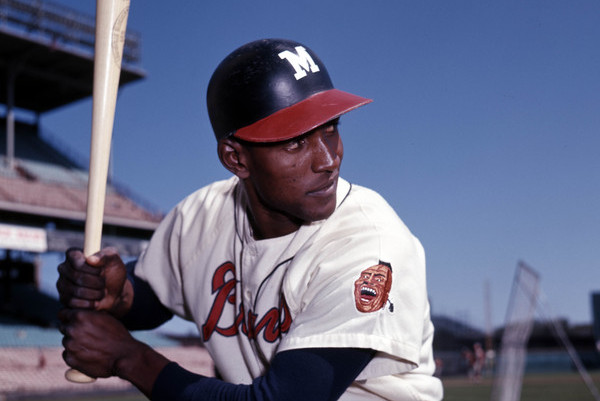 Rico Carty, a career .299 hitter, posted a league-leading .366 batting average in 1970.
Since Darth Vader and Bart Simpson didn't exist yet, fans instead wrote in Rico Carty on the 1970 All-Star ballot. Carty deserved the honor, as the right-handed hitter lead the league in both batting average (.366) and on-base percentage (.454).
Steve Garvey would also join the exclusive club in 1974.
Photo source: WisJournal.com
Strangely enough, prior to 1983, no hitter had ever slugged a grand slam during an All-Star Game. Contrary the announcer's ironic anti-Lynn comments, the California Angels' outfielder Fred Lynn quickly put an end to the fifty-year void by lifting one versus pitcher Atlee Hammaker.
The grand slam helped the American League prevail. Lynn also won the All-Star Game MVP too.
Video source: YouTube
From 1930 to 1937, St. Louis Cardinals' pitcher Dizzy Dean was one of the game's best hurlers. Dean owned a combined 2.99 ERA, 1.20 WHIP, 2.69 K/BB and 137 personal wins over 1737.1 innings.
But he was never the same after the 1937 All-Star Game.
While on the hill, Dean was struck with a line drive, fracturing his left foot. Instead of letting the injury properly heal, the 27-year-old jumped right back into action.
Dean would only play five more seasons—including a six-year hiatus in-between 1941 and 1947—but only posted a 3.29 ERA, 1.22 WHIP and 1.48 K/BB over 230 innings.
His early career success, however, earned him a trip to Cooperstown in 1953.
Video source: YouTube
Most of the great moments in All-Star history have to do with a timely hit or pitch, but Dave Parker did it with an outfield assist in the 1979 All-Star Game. With the score tied at 6-6 and the American League in the midst of a rally, the National League needed a little help to keep their hopes alive.
On a Graig Nettles two-out single to right field, Parker scooped up the ball and unleashed an absolute laser beam home to gun down runner Brian Downing.
Parker's incredible throw saved a run, which came in handy, as the National League scored in the top of the ninth and eventually won the game.
Video source: YouTube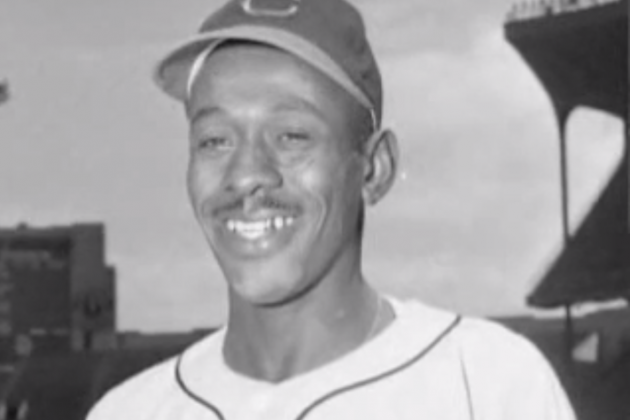 Satchel Paige began pitching professionally in 1926 in the Negro Southern League.
Watching an All-Star game never gets old, but in the case of Satchel Paige, it's an entirely different story.
Paige became the oldest player in history—at age 47—to participate in an All-Star game. History was cemented after the long-time hurler logged an inning of relief in the 1953 event.
The next oldest player to appear in an All-Star game was Tim Wakefield, who was 42 when he was selected to the 2009 All-Star Game.
Photo source: YouTube
Usually when a team runs out of available pitchers in extra innings, they begin to use position players. But in the case of the 2002 All-Star Game, neither the American League nor the National League felt like dabbling with non-pitchers.
Managers Joe Torre and Bob Brenly, as well as commissioner Bud Selig, decided that if neither team scored in the 11th inning, that the game would end in a tie.
After American League pitcher Freddy Garcia retired three batters, the game was officially ended. The boos could be heard for days.
It was the first (and hopefully last) time an All-Star game ever ended without a winner and loser since 1961.
Video source: YouTube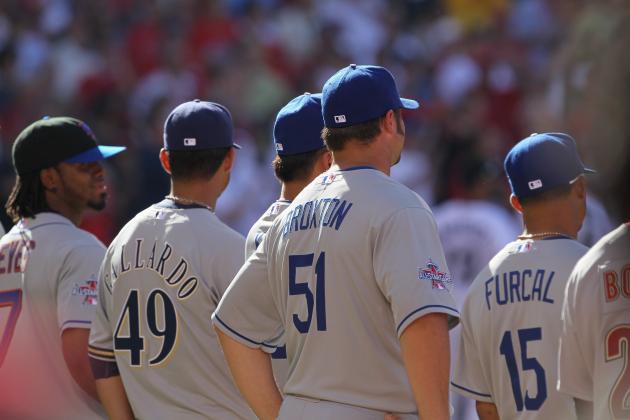 Stephen Dunn/Getty Images
A few of the National League's All-Stars lining up before the game.
Winning an individual All-Star Game isn't the biggest accomplishment, but losing 13 straight (in addition to one tie) is embarrassing.
That was the status quo for the National League until 2010, when Brian McCann broke the unfortunate streak. McCann hit a pinch-hit three-run double, which was enough support for the National League to win the game 3-1.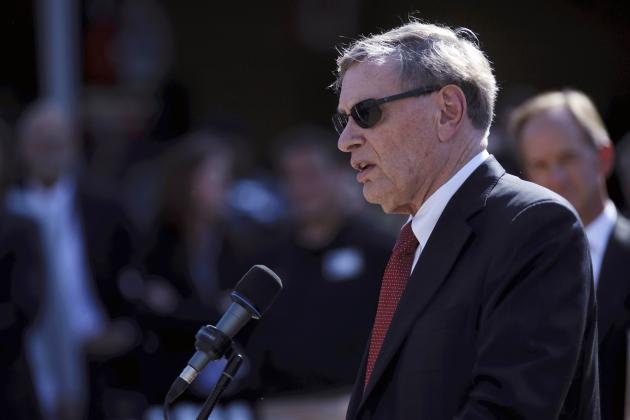 Hannah Foslien/Getty Images
Bud Selig has been commissioner since 1992.
In response to the 2002 All-Star Game "tie" debacle, commissioner Bud Selig decided to add some incentive to future All-Star games. Starting in 2003, the victorious league's team would gain home field advantage for the World Series.
And since the American League won the 2003 All-Star Game, the New York Yankees, who later advanced to the World Series, received home field advantage.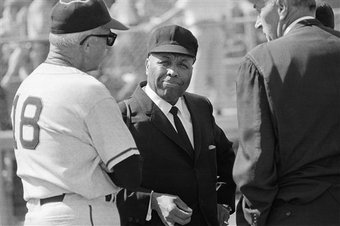 Emmett Ashford was the first African-American umpire in baseball.
Few people ever recall who umped in any All-Star game, but the 1967 All-Star Game was a historically significant one.
Emmett Ashford, who became the first African-American major league umpire in 1966, also received the same designation a year later in the 1967 All-Star Game.
Photo source: The North Star News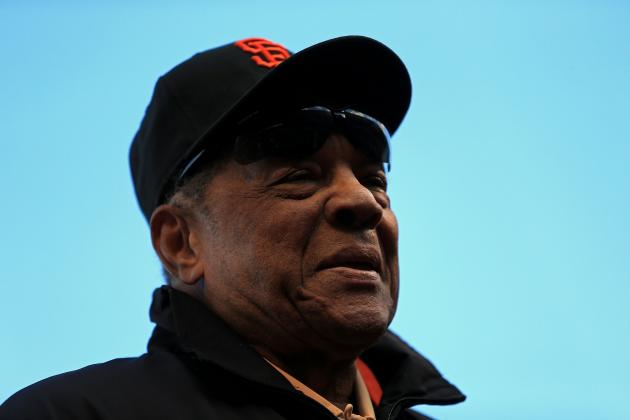 Doug Pensinger/Getty Images
Willie Mays owned a career .302 batting average with 660 home runs.
Willie Mays was not only one of the greatest players in baseball history, but also one of the most popular. The "Say Hey Kid" made his 24th and final All-Star appearance in 1973.
Mays retired after the 1973 season, but owned a career .307 batting average with 23 hits, 20 runs and three home runs in his illustrious All-Star career.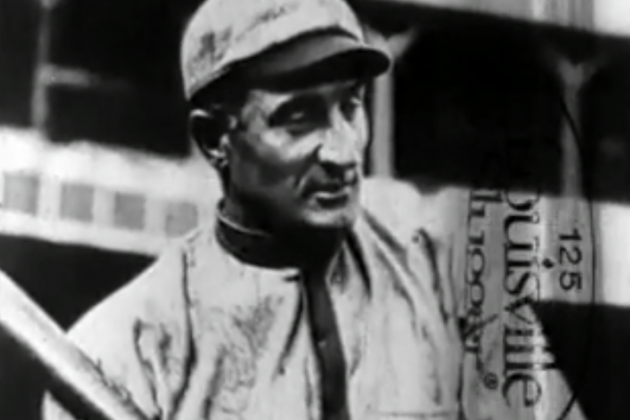 Honus Wagner only hit 101 home runs in his career, but is still widely considered the greatest shortstop in the history of the game.
The 1944 All-Star Game took place at Forbes Field in Pittsburgh, so as a friendly gesture to Pirates' legend Honus Wagner, major league baseball designated the Hall of Famer as an honorary coach.
Wagner was certainly deserving of the honor as the right-handed hitting shortstop owned a career .328 batting average. The "Flying Dutchman" was also one of the first five players inducted into the Hall of Fame.
Photo source: YouTube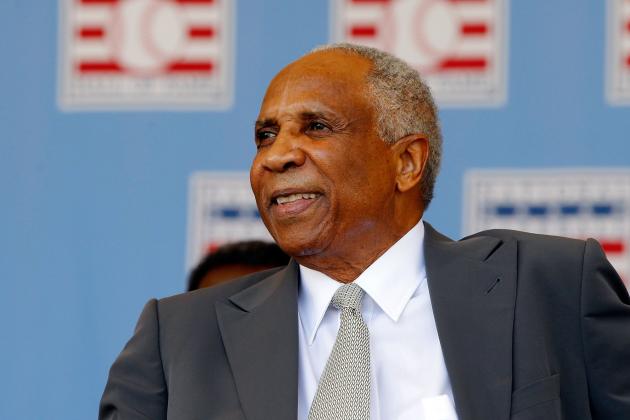 Jim McIsaac/Getty Images
Frank Robinson at the 2012 Hall of Fame ceremonies. Robinson was himself enshrined in Coopertown in 1982.
The New York Mets' campaign for David Wright's 2013 All-Star election might have seemed extreme, but it doesn't hold a candle to the ballot-stuffing back in 1957.
Cincinnati Reds' fans voted so much, that they almost successfully elected seven starting Reds: Johnny Temple (second base), Roy McMillan (shortstop), Don Hoak (third base), Ed Bailey (catcher), Frank Robinson (left field), Gus Bell (center field) and Wally Post (right field).
The Reds-dominated National League All-Star team caught the attention of commissioner Ford Frick. Frick made an executive decision to swap-in Hank Aaron and Willie Mays to replace Bell and Post as starters.
In addition, fans were also banned from choosing starting All-Stars until 1970.
For the first time since the 1933 American League All-Star team, the 1985 starting lineup boasted seven total future Hall of Famers. The '85 lineup included Ricky Henderson (center field), George Brett (third base), Eddie Murray (first base), Cal Ripken Jr. (shortstop), Dave Winfield (right field), Jim Rice (left field) and Carlton Fisk (catcher).
For reference, the 1933 AL starting lineup featured Lefty Gomez (pitcher), Rick Ferrell (catcher), Lou Gehrig (first base), Charlie Gehringer (second base), Joe Cronin (shortstop), Al Simmons (center field) and Babe Ruth (right field).
Which lineup do you think is better?
Video source: YouTube
When a manager selects his starting pitcher for an All-Star game, he usually picks the guy with the most dominating stuff.
American League manager Joe Torre must have been pretty pleased with Pedro Martinez's performance then, as the ace struck out five batters in just two innings of work in the 1999 All-Star Game.
The feat was particularly impressive, as Martinez mowed down Barry Larkin, Larry Walker, Sammy Sosa, Mark McGwire, Matt Williams and Jeff Bagwell.
Pedro also took home the MVP award.
Video source: YouTube
Ichiro Suzuki has always jumped at the opportunity to take the extra base. But in the 2007 All-Star Game, he took three.
Ichiro became the first player in All-Star history to collect an inside-the-park home run, smacking it off San Diego Padres hurler Chris Young.
Video source: YouTube. English version here.
Perhaps players were just tougher back in the old days, but Cleveland Indians first baseman Al Rosen refused to sit out the 1954 All-Star Game (which took place in Cleveland) despite having a broken finger.
Not only did Rosen play in the All-Star Game, but he also smacked two home runs, helping the American League win 11-9.
Video source: YouTube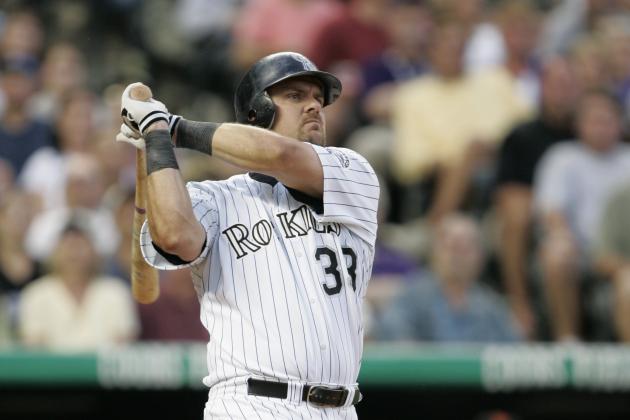 Brian Bahr/Getty Images
Larry Walker owned a career .313 batting average with 383 home runs.
Apparently, even great veteran hitters can be intimidated by a mean fastball.
In the 1997 All-Star Game, after southpaw Randy Johnson whizzed a pitch near Larry Walker's head, the left-handed hitter decided to become a righty. The Colorado Rockies' outfielder flipped his helmet around and batted right-handed for the rest of the at-bat.
Funny enough, Walker—who owned a career 11.3 walk rate—drew his first and only walk as a right-handed hitter against Johnson.
Throughout Randy Johnson's 22-year career, he struck out a whopping 4,875 batters. With a side-winding delivery and fastball averaging in the mid-to-high 90s, facing the "Big Unit" was likely an unsettling experience for opposing hitters.
But perhaps the embodiment of "what it's like to face Randy Johnson" was in the 1993 All-Star Game.
John Kruk, the first baseman for the Philadelphia Phillies, got a bit rattled after Johnson's first pitch sailed over his head. Kruk swung at the next few pitches like a scared little leaguer before hopelessly striking out.
Video source: YouTube
Alex Rodriguez can't seem to find a friend in the press nowadays, but at the 2001 All-Star Game, A-Rod was a true gentleman. Even though Rodriguez was slated to start at shortstop, he walked over to third baseman Cal Ripken Jr., who was playing in his final All-Star Game and insisted on him taking his position.
Ripken, who had played shortstop for the first 15 years of his Hall of Fame career, embraced Rodriguez in what became a classic All-Star moment.
Video source: YouTube
The All-Star Game is always a fun time to watch the best players of a given season duel it out for bragging rights. But it's not often that a collection of the best players in history are all present in one place.
Before the 1999 All-Star Game went underway, major league baseball unveiled the All-Century Team. Everyone from Willie Mays to even Pete Rose was in attendance, but since the All-Star Game took place in Boston, it was Ted Williams who received the loudest ovation.
Video source: YouTube
A list of the "Greatest All-Star Game Moments" wouldn't be complete without mentioning the first ever All-Star Game in 1933.
The American League boasted a particularly impressive starting lineup, featuring seven future Hall of Famers—including Lefty Gomez (pitcher), Rick Ferrell (catcher), Lou Gehrig (first base), Charlie Gehringer (second base), Joe Cronin (shortstop), Al Simmons (center field) and of course, Babe Ruth (right field).
As expected, the American League bested the National League, 4-2.
Video source: YouTube
For the first time since 1933, it seemed as though the players, more so than the fans, were specifically watching one player. In 1933, it was Babe Ruth—but in 1989, it was Bo Jackson.
Even though Jackson was nowhere near the player Ruth was, people were fascinated by Bo's pure athletic ability. Not only did Jackson smack 32 home runs and swipe 26 bases in 1989, but he also played professional football in the offseason.
Babe Ruth certainly didn't do that.
Jackson didn't disappoint spectators in the 1989 All-Star Game, spanking a pitch off Rick Reuschel over the left-center field fence.
Video source: YouTube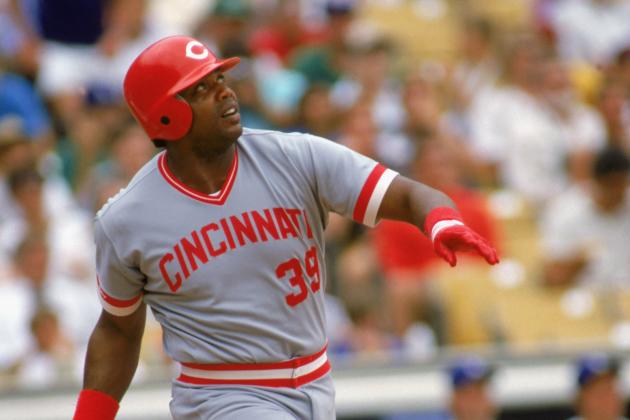 Mike Powell/Getty Images
Dave Parker hit 339 home runs in his 19-year career.
Even though Babe Ruth would have shined in the Home Run Derby, the fan-favorite spectacle didn't debut until 1985. Needless to say, the derby was an instant sensation.
Five hitters from each league participated, including future Hall of Famers Cal Ripken Jr., Eddie Murray, Carlton Fisk, Ryne Sandberg and Jim Rice.
However, it was Dave Parker, an outfielder for the Cincinnati Reds, who out-slugged the competition. Parker's six moonshots crowned him as the first Home Run Derby champion.
Jackie Robinson readies in the on-deck circle.
Jackie Robinson famously broke the baseball color barrier on April 15, 1947. But it actually took another two years for Robinson as well as Larry Doby, Roy Campanella and Don Newcombe to be recognized as baseball greats in the All-Star Game.
In 1949, the four great African-American players broke the All-Star Game color barrier, representing their respective teams and leagues at Ebbets Field.
Photo source: YouTube
In 2003, commissioner Bug Selig successfully proposed making the All-Star Game more meaningful by granting World Series home-field advantage to the winning league. Even though players now take the All-Star Game more seriously, perhaps no one competed harder in one than Pete Rose.
In the 1970 All-Star Game, Rose famously plowed over catcher Ray Fosse to score a run. Fosse separated his shoulder on the play and never truly recovered from the injury.
Video source: YouTube
Sure, Pedro Martinez might have struck out five great hitters of his day, but 65 year prior, Carl Hubbell made Martinez's performance look like child's play.
In the 1934 All-Star game, Hubbell sat down historic greats (and future Hall of Famers) Babe Ruth, Lou Gehrig, Jimmie Foxx, Al Simmons and Joe Cronin. Hubbell too would be inducted into the Hall of Fame in 1947.
Video source: YouTube
Not only did Reggie Jackson, who was 25 at the time, destroy Dock Ellis' pitch, but he also destroyed a transformer controlling the lights at Tiger Stadium.
To this day, Jackson's 530-foot home run is still the longest home run in All-Star Game history.
Video source: YouTube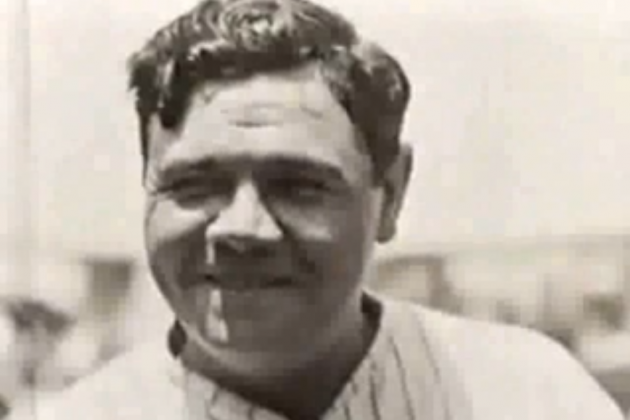 A classic Babe Ruth smile.
The All-Star Game didn't commence until the 1933 season, which was a bit late into Babe Ruth's career.
It didn't take the 38-year-old Ruth long, however, to make his mark. The Bambino launched a two-run shot in the bottom of the second inning, putting on a show for both fans and fellow players alike.
Given Ruth stature as arguably "the best hitter ever," his home run is by far the greatest All-Star Game moment.
Photo source: YouTube