Borussia Dortmund: 5 Potential Signings to Add to Aubameyang Capture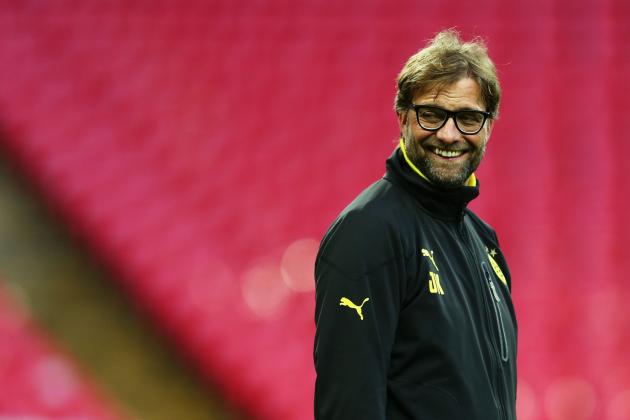 Alex Grimm/Getty Images

Throughout a week that has seen transfer speculation aplenty around Germany's top clubs, we've witnessed Borussia Dortmund, in particular, dive deep in to the transfer market and sign two premier players as they begin their fight for Bundesliga success.
First to arrive was Gabonese forward Pierre-Emerick Aubameyang from Saint Etienne last week in a move that surprised much of the sport in it's deployment and imagination. Then, in a less unexpected manner, Henrikh Mkhitaryan of Shakhtar Donetsk fame was announced in a deal set to have surpassed £20 million.
Yet, despite both players joining fellow signing Sokratis from Werder Bremen as three astute purchases in Jurgen Klopp's quest to catch league rivals Bayern Munich, one could argue that this still isn't enough. With further investment in the squad needed if the club have any ambition of winning more silverware in the coming season.
Click "Begin Slideshow" to see who we deem as the next best buys for Borussia Dortmund as they add to the reinforcements they've already signed.
Begin Slideshow

»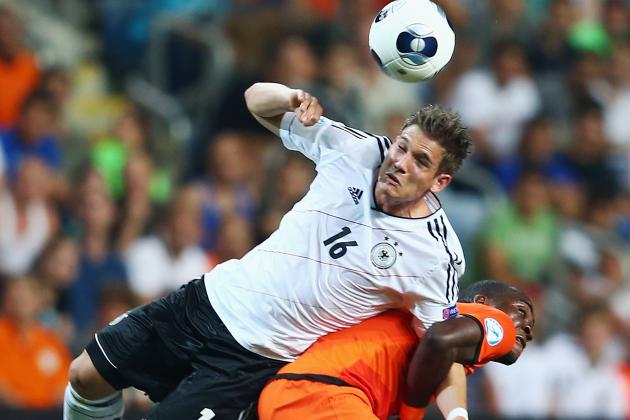 Alex Grimm/Getty Images

When it comes to Borussia Dortmund's first team, it usually never takes the neutral fan very long to distinguish just which player and position are constantly scrutinized as the team's weak spot. This is of course the position of left back, currently held by Marcel Schmelzer, and the very first problem that Klopp has to address going in to the new season.
Oliver Sorg, a young left back for Freiburg last season, is arguably the best fit for this position, for a team of Dortmund's stature. Despite his age, Sorg, at 23 years old, has already defined himself as one of the most promising defenders in the Bundesliga right now in his performances for a Freiburg side that achieved so much last season.
The dark horses that truly took the division by surprise built their success off the ability of their talented back line and used such a strong defence as a platform to move up the league. Sorg, who played 34 games for his side last season, was an integral part of that defence.
One of the other appealing factors about such a transfer is of course just how cheap the former Bundesliga champions would be able to get the defender for, with the added assurance that he has already proven himself in Germany's top division in a club chasing down European places.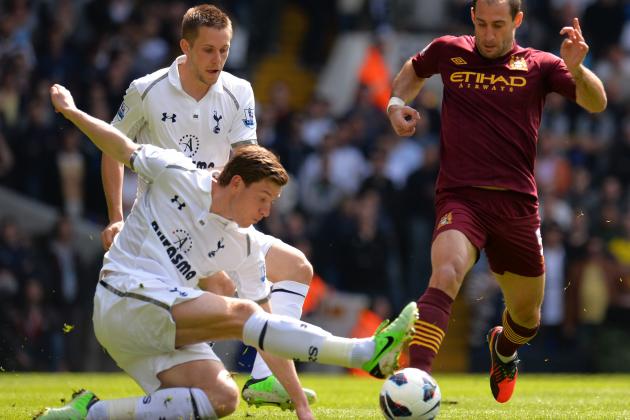 Shaun Botterill/Getty Images

The next position that Dortmund should look to strengthen in is an odd one considering they have already done so once this summer.
Yet despite how impressive Sokratis is as a player and the skills he will bring to Dortmund is as unquestionable as suggested since his arrival; he does come in to the squad as a like-for-like replacement for the departing Felipe Santana, leaving the team in the exact same position as before. They need a fourth centre back.
As critical as it may be to ensure that the club maintain a high level of quality throughout the starting 11 spots in the side, it's equally important that sufficient cover is available for all positions. And as we saw last season, Dortmund have suffered on occasion with the lack of genuine alternatives to the three leading central defenders.
As such, a fourth central defender such as Tottenham's Jan Vertonghen strikes one as an excellent example of exactly what this team is missing: a key player who can define the difference between a powerful first team and genuine strength in depth.
Now it would of course seem silly to suggest that Vertonghen would ever happily sit by and await his turn behind Mats Hummels, Neven Subotic and the aforementioned Sokratis, yet that in itself is exactly why Dortmund need to go out and bring a player like him to the Westfalonstadion.
They need a defender who will push the famous partnership of Hummels and Subotic to it's peak and demand a quality of performance week in and week out from each of Jurgen Klopp's preferred central pairing.
Then, and only then, will Klopp ever get the best out of his defence, and ensure it lasts the length of a gruelling season.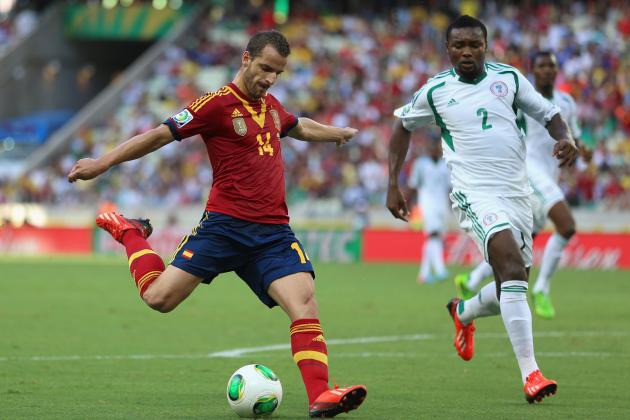 Jasper Juinen/Getty Images

The third option for Klopp & Co. to consider is similar to the central defensive scenario in which one could quite feasibly argue that the club have already addressed the situation.
Yet, when we consider where each of these two new players, in Pierre-Emerick Aubameyang and Henrikh Mkhitaryan, will actually play for Dortmund next season, it underlines a rather obvious point: Robert Lewandowski is still the only clear-cut striker of any quality at the club.
Yes, Aubameyang spent much of his time in Ligue 1 making a name for himself as a talented goalscorer, and Mkhitaryan attracted the likes of Dortmund with his ability to finish off a play, but neither is likely to actually play as a striker for Dortmund this season, and that's why they need another complete forward.
In this case, an alternative such as Roberto Soldado of Valencia offers a perfect solution to the Polish striker, in which Dortmund have grown dangerously reliant on over the past season and a half.
The Spanish striker scored 29 goals last season for Valencia and would likely blossom even more amongst the wealth of attacking quality on show at Dortmund, a complete forward who would perfectly compliment not only the players on the pitch around him. If Mkhitaryan does indeed go on to play as a number ten and Aubameyang a wide man, but the system that Klopp has put in place.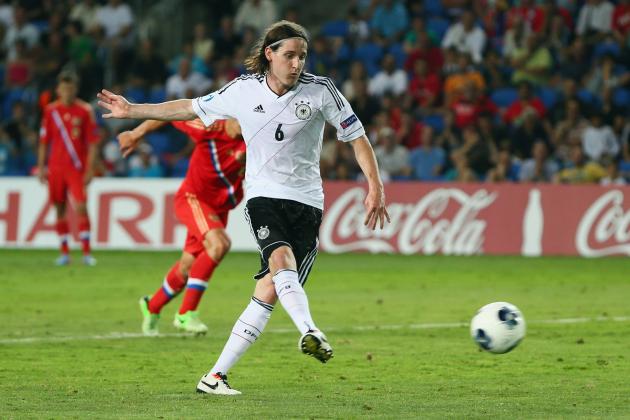 Alex Grimm/Getty Images

Another position that Dortmund would do well to strengthen would be that of defensive midfield in the shape of Hoffenheim's young midfielder Sebastian Rudy.
In much the same manner as Olvier Sorg, Rudy offers a young, viable option for Jurgen Klopp in the manner of a player with plenty of potential who can also move straight in to the first team and offer a competitive alternative to the current pairing of Ilkay Gundogan and Sven Bender.
Although Dortmund currently have three viable options in midfield in the shape of the two aforementioned first team players as well as Sebastian Kehl, the latter is growing older and has notably slowed down in the past twelve months. In assuming the 33-year-old can carry on his rigorous responsibilities for the team, Klopp may well be putting his side at risk.
As such, Rudy, who played throughout Hoffenheim's bumpy season as the anchor in their midfield, offers an inexpensive option who could prove vital over the course of a continental and domestic campaign.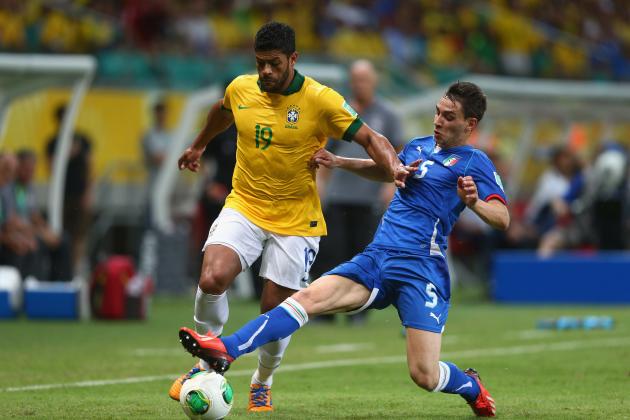 Clive Mason/Getty Images

The last of our possibly signings for Borussia Dortmund this summer is the young, Italian fullback Mattia De Sciglio, of AC Milan.
As notable as Dortmund's lack of strength on the left fullback position may be, a similar problem awaits Jurgen Klopp in the sense of depth he has in the right fullback roll; or rather the lack thereof such a thing.
As wonderful a defender Lukasz Piszczek may be, he is just the one man and as we've seen during the course of the past season, Klopp has been forced to bring in Kevin Grosskreutz or Jakub Blaszczykowski—two players who are more used to roles further up the pitch—when the Polish full back has had to take a rare break.
What De Sciglio then potentially offers Dortmund and Klopp is of course a viable back up to Piszczek in the form of a right back. Yet as we saw in Milan last season, the young defender is just as comfortable playing on the right hand side or the left.
A young, exciting defender with as much intelligence as skill, and a perfect option for Klopp to solidify two very shaky positions in his back line.