10 Biggest Grudge Matches to Watch in the EPL Next Season
Alex Livesey/Getty Images
We're just a matter of weeks away from the start of the latest EPL season, when business will pick up.
Three of last season's top four clubs have replaced their managers since then, with David Moyes given the unenviable task of succeeding Sir Alex Ferguson at champions Manchester United. Roberto Mancini found out to his cost that finishing second is nowhere, and he was replaced by Manuel Pellegrini.
Further south, Rafa Benitez's tumultuous reign at Chelsea came to an end, and the prodigal son of sorts, Jose Mourinho, has made his triumphant return to Stamford Bridge.
When the fixtures for the upcoming Premier League season were released a few weeks ago, it threw up a reminder of some of the grudge matches we'll see in 2013-14. Here's what I think the 10 biggest grudge matches will be next season. Feel free to leave your own picks in the comments section.
Arsenal vs. Tottenham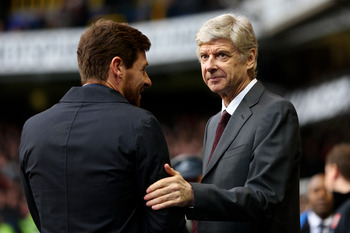 Paul Gilham/Getty Images
These are two clubs who will harbour ambitions of not just qualifying for next season's Champions League, but of winning trophies too.
Arsenal's sparkling run of form toward the end of last season saw them pip Spurs to the post in the race for Champions League football.
If you're looking at things objectively, the final Champions League spot is likely to go to one of these two clubs once again this season. They don't have strong enough squads to finish higher than fourth in my opinion.
Both Manchester clubs and Chelsea will strengthen again this summer, and while these two old London rivals might do the same, the players they sign probably won't have as much of an impact as those who head to Manchester and Stamford Bridge.
Local bragging rights, proud histories and that ever enticing carrot of Champions League football makes the matches between Arsenal and Spurs must-see, especially given how close these sides were in the league last season.
Everton vs. Manchester United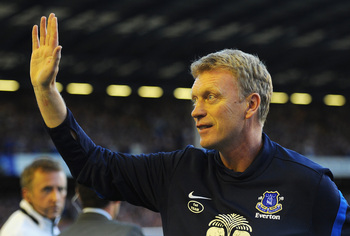 Michael Regan/Getty Images
On the first day of last season, Moyes was busy masterminding a fantastic 1-0 victory over Manchester United as Everton boss. As the kickoff to this season approaches, he finds himself in charge of the Manchester giants, who just also happen to be the reigning Premier League champions.
Given the emotional ties that Moyes has to Everton and the massive responsibility that's now on his shoulders at Manchester United, the first time he faces his old club as manager will be a fantastic occasion.
After winning the FA Cup with Wigan last season, Roberto Martinez suffered the heartbreak of relegation before being appointed as Moyes' successor at Goodison.
New rivalries are always developing in the Premier League, and if the quality of games we've seen between these two sides in recent seasons is anything to go by, then we're in for a treat when they face off again next season.
Liverpool vs. Chelsea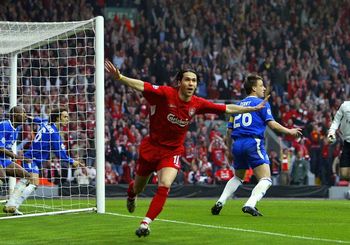 Image courtesy of espn.co.uk
For the last decade or so, there's been an intense rivalry between Liverpool and Chelsea.
Luis Garcia's "ghost goal" in the 2005 Champions League semi-final (pictured) has long been a source of annoyance for Chelsea's returning manager Mourinho, so he'll want to prove something of a point when he returns to Anfield with his Chelsea side.
It's not just that goal, though.
A few other things have happened over recent seasons to make this one of the most anticipated fixtures of any campaign, such as Fernando Torres' protracted and acrimonious departure from Liverpool to Chelsea two-and-a-half years ago and last season's incident between Luis Suarez and Branislav Ivanovic, which resulted in the striker being given a 10-game ban for biting the defender.
Whatever happens next season, you won't want to miss these two sides going head-to-head!
Cardiff vs. Swansea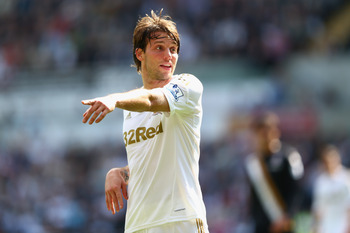 Michael Steele/Getty Images
For the first time ever, next season will see two Welsh clubs go toe-to-toe in the English Premier League, and having witnessed one of these games before myself, trust me—we're in for a treat! There's only a short distance between these sides geographically, and both sets of fans are incredibly passionate.
Cardiff might be inexperienced at Premier League level, but the fact they've been starved of top-flight football for so long might just create a sort of siege mentality around the place and give them that little bit extra to see them through some fixtures.
Swansea have had a fantastic couple of seasons, first earning promotion to the Premier League, then surviving in it before finishing last season as a top-half side with the Capital One Cup safely nestled in their trophy cabinet.
This derby is just as intense as others in the league, if not more so, so make sure you keep your eyes peeled for this one!
Newcastle vs. Sunderland
Michael Regan/Getty Images
When these sides met at St James' Park last season, Paolo Di Canio immediately earned himself a cult hero status with the Sunderland fans after winning 3-0 there in only his second game in charge of a struggling Sunderland side. Those three points on that day went a long way to securing the Mackem Premier League survival.
That defeat hurt the Geordies, and when the same fixture rolls around again, they'll want to dish out a dose of severe payback for that. In what's sure to be a hostile atmosphere, this game will be almost unmissable.
Liverpool vs. Everton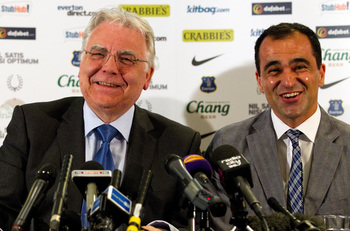 Paul Thomas/Getty Images
This game will be a complete and utter eye-opener for new Everton boss Martinez. He may have enjoyed, and sampled, the atmosphere of wins over some of the biggest sides in the country when he was at Wigan, but being Everton boss is a completely different kettle of fish altogether, especially when it comes to the Merseyside derby.
Everton have finished above the Reds in the league for the last couple of years now, but Brendan Rodgers looks to have made a couple of astute signings over the last six months in Phillipe Coutinho, Iago Aspas and Simon Mignolet. Those three players could play a key part in putting Liverpool back on top in Merseyside, especially if they end up losing Suarez and Pepe Reina.
Both games between these sides tend to serve up feisty affairs, and next season will be no different.
Last season's derbies are probably where Rodgers discovered just what it meant to be Liverpool manager, and their encounters next season will probably make Martinez realise just what a great club Everton are.
Arsenal vs. Chelsea
Shaun Botterill/Getty Images
Poor Arsene Wenger.
When Sir Alex Ferguson and Roberto Mancini both left their clubs at the end of last season, he must have thought his time had finally come to regain the Premier League crown. He'd be up against managers who had never won the Premier League before.
But then (Chelsea owner) Abramovich went and spoiled it all by doing something like appointing Mourinho. (Give yourselves a pat on the back if you got the song reference in there, by the way!)
These two old rivals will butt heads once again in their quest to prove just who London's biggest club is. If Arsenal invest wisely, then they could cause Chelsea problems. But then again, Wenger will be up against Mourinho's mind games again, so who knows what will happen?
Either way, it'll be great entertainment whatever happens!
Aston Villa vs. West Brom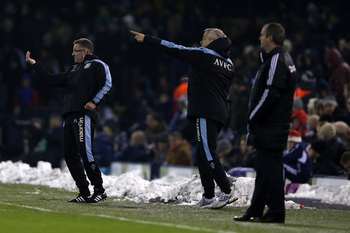 Ian Walton/Getty Images
You could argue that the two Scotsmen in charge of the Midlands' two Premier League clubs had pretty good seasons last year.
After struggling for the first six months of the season, Paul Lambert's young Villa side really came in to their own from February onward and had an excellent finish to the campaign. Christian Benteke got most of the praise, and rightly so, because he was almost talismanic at times. But other players like Matthew Lowton, Andreas Weimann and even Gabby Agbonlahor (who had been MIA for the last couple of seasons), all stepped up to the plate.
The struggles that Villa went through last season will stand them in good stead for the season to come, and that experience will no doubt give them more confidence in their ability.
West Brom had a fantastic start to the season and were even in the Champions League places at one stage, but things fell apart at the turn of the year, and their season fizzled out, probably down to the Peter Odemwingie fiasco.
Steve Clarke handled himself with class throughout, and hopefully, Odemwingie won't be there to cause problems for him next season. Romelu Lukaku was the star of the show for West Brom last season, and without his presence up front, they could struggle.
With these sides likely to end up in roughly the same position in the league table, they'll want to use these games to prove a point. There's no such thing as playing safe in a derby match, and these encounters will be as physical as they get.
Liverpool vs. Manchester United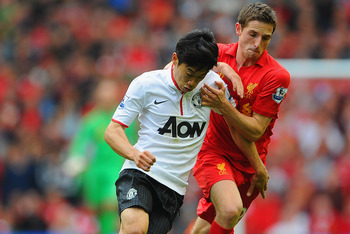 Michael Regan/Getty Images
The intensity in the games between Liverpool and Manchester United, two of English football's most successful clubs, never seems to die down. They're always hotly-contested, hard-fought, passionate encounters with neither side wanting to come out as the losers.
Liverpool played well in patches in these fixtures last season, but they just couldn't get the job done. Manchester United's relentless, never-say-die attitude pulled them through on both occasions as they ran out winners.
Rodgers' side will want to rectify that this season, and with the appointment of Moyes at Manchester United, these games will have a little added spice to them, as if they needed it!
Matches between these two fierce rivals are always blood and thunder type affairs, and next season they'll be games to look out for once again. Mark your calendars folks. These games ought to be good!
Manchester United vs. Manchester City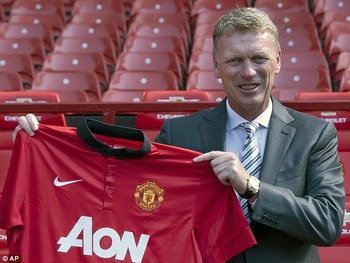 Image courtesy of dailymail.co.uk
Neither manager has the experience of a Manchester derby behind them, so when they go head-to-head in the early weeks of the season, they'll soon find out just what it means to be manager of these two fierce local rivals.
Pellegrini seems like a good coach, but will he get the chance to build a legacy at City? We'll have to wait and see. With seemingly endless riches to use, he can buy anyone he wants to, with Fernandinho and Jesus Navas already signed up and more signings likely before the end of the transfer window.
City are a bit light upfront after the departures of Carlos Tevez and Mario Balotelli to Italy in the last six months, so a striker looks to be a priority.
Moyes, on the other hand, looks to have a job on his hands persuading Wayne Rooney to stay. If the player is unsettled and affecting squad morale, it might be best to cut their losses and sell the Scouse striker.
Both managers will want to use this game to make a statement early in to their reigns, and with these sides sure to be battling it out for the title, the first side to get a derby win might just have the advantage in the title race.
Keep Reading