2013-14 NBA Point Guard Rankings: Mid-Summer Edition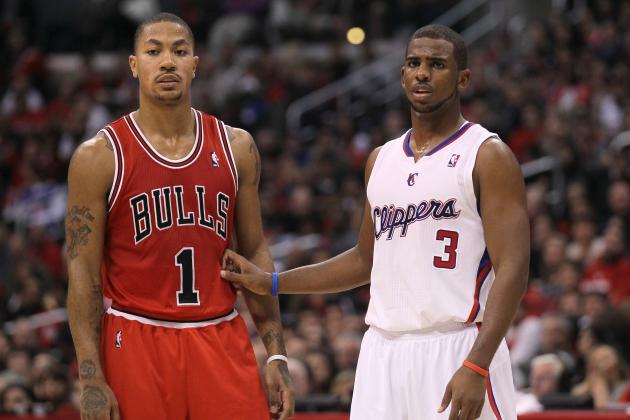 Stephen Dunn/Getty Images
The Derrick Rose-Chris Paul rivalry will resume in 2013-2014.
While the NBA's crop of small forwards may give them a run for their money, point guards currently rule the league and will continue to do so in 2013-14.
To illustrate this point, only one point guard (Allen Iverson in 1996) was picked No. 1 in the NBA draft between 1980 and 2007. And he even switched to shooting guard later in his career.
However, in the last six drafts since 2008, three point guards have been selected with the No. 1 pick (Derrick Rose, John Wall and Kyrie Irving).
This shift in teams' drafting strategies reflects a changing of the guard (or changing "to" the guard, I guess I should say) in the hierarchy of NBA positions. Skilled big men are scarce, but the league has dynamic point guards in spades.
Most NBA offenses are based around their point guard's abilities in scoring and passing the ball, while very few teams have a capable back-to-the-basket center that can consistently score against a single defender.
So who are the best of the best of these floor generals? Let's look forward to which point guards will rise above their peers in 2013-14.
Point guards will be ranked according to their predicted performance and statistics in the upcoming season, not past accomplishments. All 2012-13 stats are according to Basketball Reference.

Honorable mentions: Jrue Holiday, Mike Conley, Ty Lawson, Ricky Rubio, Brandon Jennings and Jeff Teague.
Begin Slideshow

»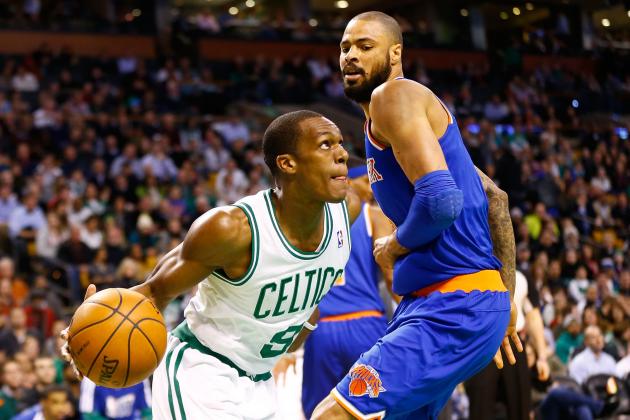 Jared Wickerham/Getty Images
Uncertainty is the key factor in Rondo's low ranking.
2012-13 per-game stats: 13.7 points, 5.6 rebounds, 11.1 assists, 0.2 blocks, 1.8 steals, 18.1 PER
Predicted 2013-14 stats: 16.1 points, 5.2 rebounds, 8.9 assists, 0.2 blocks, 2.1 steals, 17.2 PER
Less than a year ago, many people considered Rajon Rondo the league's premier point guard, including Rondo himself.
At the time, that declaration didn't look too far off considering Rondo had recently had the playoff run of his life and nearly led the Celtics to the NBA Finals.
Now, that notion just looks silly. The Celtics went 18-20 to start this season with Rondo on the floor. After the star point guard's ACL tear in late January, the Celtics improved that mark to 23-20.
Simply put, if your team's record is considerably better over that long of a time period without you than with you, you are not the best point guard in the game.
The Celtics will likely be in for an even bleaker 2013-14 season, with the losses of Kevin Garnett, Paul Pierce, Jason Terry and head coach Doc Rivers taking away a lot of the team's firepower.
However, according to his agent Rondo looks to be back for the regular-season opener.
Whenever he does come back, he will have to carry a lot more of the scoring load. To do so, he will need to be a lot more aggressive, driving the ball like he is above.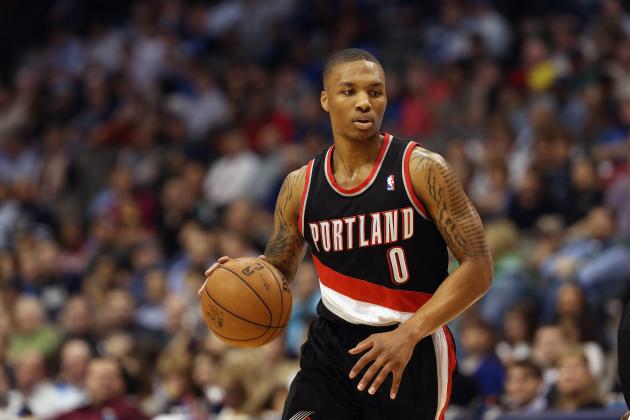 Ronald Martinez/Getty Images
Lillard will look to avoid a sophomore slump in 2013-2014.
2012-13 per-game stats: 19.0 points, 3.1 rebounds, 6.5 assists, 0.2 blocks, 0.9 steals, 16.4 PER
Predicted 2013-14 stats: 18.2 points, 3.3 rebounds, 6.9 assists, 0.2 blocks, 1.3 steals, 18.4 PER
Damian Lillard exceeded pretty much all expectations for him during his 2012-13 Rookie of the Year campaign.
While his scoring ability was predictably excellent, it was his passing and playmaking that really turned heads. After averaging four assists per game or fewer in all four of his college seasons at Weber State, Lillard averaged 6.5 assists in his rookie year.
But let it be known that Lillard's scoring ability deserves just as much attention as his improved passing. His best scoring game may have been his 35-point explosion against the Western Conference champion San Antonio Spurs.
In the upcoming season, Lillard looks to add a new dimension to his game by becoming a plus defender, something he was not last season.
To do that, this summer he is working with former Defensive Player of the Year Gary Payton, a point guard who mastered the art of on-ball defense.
With improved depth this season the Trail Blazers will be a solid team, which is what pushes Lillard past the more accomplished Rondo.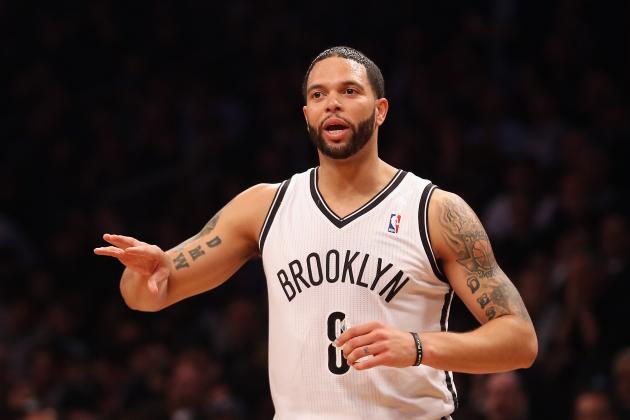 Bruce Bennett/Getty Images
Deron Williams will be have to be more of a distributor with his new supporting cast.
2012-13 per-game stats: 18.9 points, 3.0 rebounds, 7.7 assists, 0.4 blocks, 1.0 steals, 20.3 PER
Predicted 2013-14 stats: 16.1 points, 3.0 rebounds, 9.4 assists, 0.3 blocks, 0.9 steals, 21.5 PER
Last season was a tale of two halves for Deron Williams. Before the all-star break, Williams had modest per-game averages of 16.7 points, 7.6 assists and 41 percent shooting from the field.
After the break, Williams averaged 22.9 points, 8.0 assists and 48 percent shooting from the field. Somehow, Williams got these stats in slightly fewer minutes than he played in the first half.
With a new host of veterans to share the scoring load with (Kevin Garnett, Paul Pierce, Jason Terry and Andrei Kirilenko), Williams will be forced to become more of a facilitator for the Nets, despite becoming such a lethal scorer in the latter half of the 2012-13 season.
Many people quickly forget how Williams averaged double-digit assists per game in three consecutive seasons earlier in his career. I wouldn't be surprised if Williams did that again, but with fewer minutes than last season, I predict that he will come just short.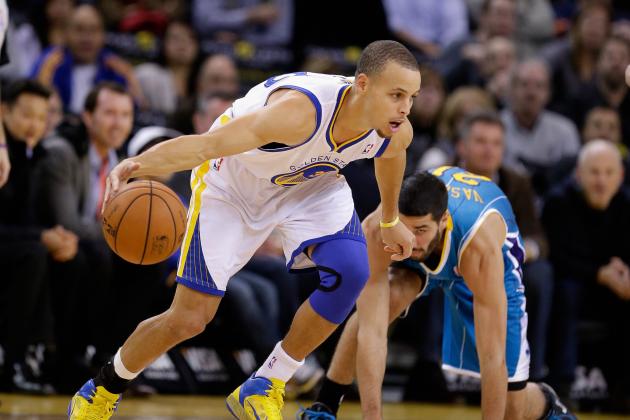 Ezra Shaw/Getty Images
Stephen Curry's shooting is his best weapon, but he will continue to show off his floor game in 2013-2014.
2012-13 per-game stats: 22.9 points, 4.0 rebounds, 6.9 assists, 0.2 blocks, 1.6 steals, 21.3 PER
Predicted 2013-14 stats: 22.1 points, 3.8 rebounds, 7.4 assists, 0.2 blocks, 1.4 steals, 22.4 PER
It says a lot about the quality of the guards in the Western Conference that Stephen Curry didn't make the 2013 All-Star game, because Curry had a season for the ages.
Aside from setting the record for three-pointers in a season (272 in 78 games), Curry led the Golden State Warriors to a surprise berth in the second round of the playoffs, where they gave the Spurs a scare before losing in six games.
In the upcoming season, Curry will learn to adjust to playing with Andre Iguodala, who is a beast in transition. He will also have to continue to get shots for budding young stars Klay Thompson and Harrison Barnes. For that reason, I am predicting more assists from Curry this year, but slightly fewer shots.
And although his stats may look too good to be all the way down at No. 7, his lack of elite quickness and explosiveness limits his impact on defense. Also, Curry is a major streak shooter, so his effectiveness drops off a cliff when his shot is off (which, admittedly, isn't TOO often).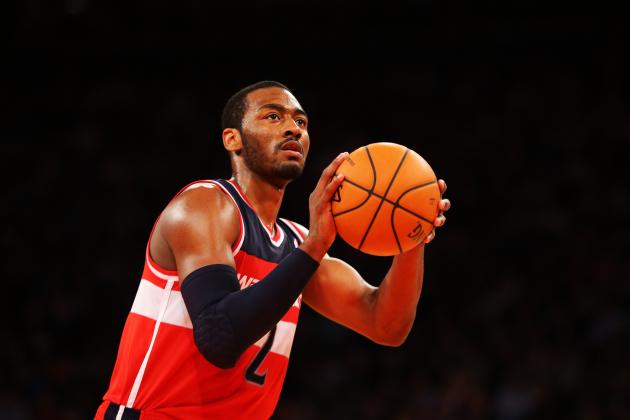 Al Bello/Getty Images
All eyes will be on John Wall's shooting stroke as he tries to make the leap to superstardom.
2012-13 per-game stats: 18.5 points, 4.0 rebounds, 7.6 assists, 0.8 blocks, 1.3 steals, 20.8 PER
Predicted 2013-14 stats: 19.6 points, 4.4 rebounds, 8.7 assists, 0.9 blocks, 1.6 steals, 21.9 PER
In my humble opinion, John Wall has the potential to be a better point guard than any of the players on this list.
As his high school mixtape will show, Wall essentially has Russell Westbrook's explosiveness, Derrick Rose's body control, Chris Paul's passing and Tony Parker's finishing ability all rolled into one player. If only he had Stephen Curry's jumper, he would be the perfect point guard.
But that's the catch: he doesn't. Not even close.
Wall's career three-point percentage currently sits at an anemic 24.3 percent. And realize, most of these attempts are wide open because his opponents don't respect the shot. He made some improvement before last season, but the fact remains that his jump shot is still subpar.
I have no doubt that Wall can make at least a little improvement in this area before the season and lead a much-improved Wizards squad to a playoff berth in 2013-2014.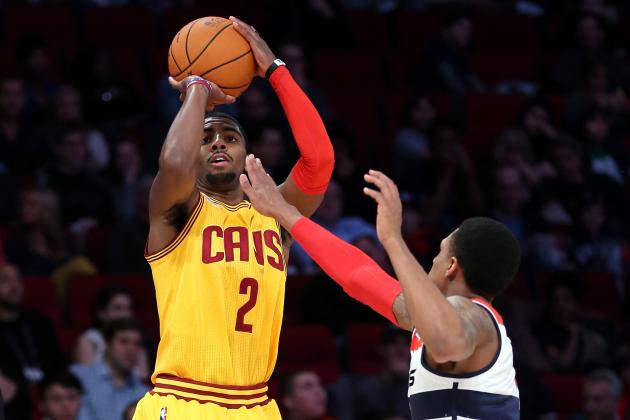 Ronald Martinez/Getty Images
If you're looking for the best scoring point guard, Kyrie Irving's your guy.
2012-13 per-game stats: 22.5 points, 3.7 rebounds, 5.9 assists, 0.4 blocks, 1.5 steals, 21.4 PER
Predicted 2013-14 stats: 23.1 points, 3.6 rebounds, 6.8 assists, 0.5 blocks, 1.4 steals, 23.0 PER
At just 21, Kyrie Irving is already the best scoring point guard in the NBA.
He drives well with a mind-boggling handle, he has a pretty jump shot (shown above) and has a great in-between game, as his shot charts will show.
But there are still glaring weaknesses in his game, most notably his defense and passing.
Terry Pluto of The Plain Dealer said this about Byron Scott, the Cavaliers coach from 2010 to 2013:
He has pulled Irving from games for a lack of defense. He has talked about Irving's disdain for defense. He consistently compares Irving to Chris Paul, adding that Paul is superior defensively. It's no secret that Irving is a soft defender.
The other weakness, passing, is not quite as glaring, and perhaps it has been magnified by the Cavaliers' weak supporting cast.
Irving does need to improve that area of his game, though, to help out 2013 No. 1 draft pick Anthony Bennett and free agent acquisition Andrew Bynum as they adjust to playing on the Cavaliers.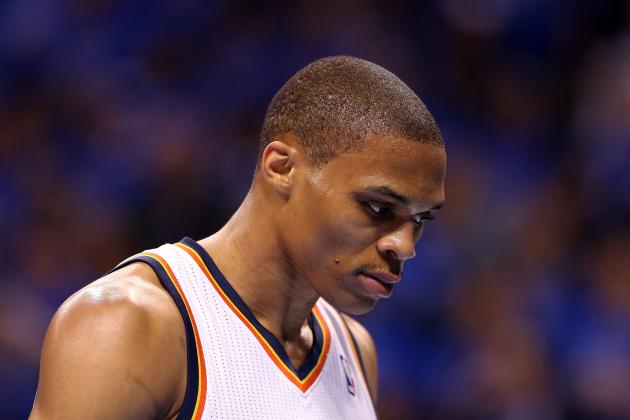 Christian Petersen/Getty Images
Russell Westbrook's on-court chemistry with Kevin Durant will be key for the Thunder in 2013-2014.
2012-13 per-game stats: 23.2 points, 5.2 rebounds, 7.4 assists, 0.3 blocks, 1.8 steals, 23.9 PER
Predicted 2013-14 stats: 22.9 points, 4.8 rebounds, 7.6 assists, 0.5 blocks, 1.9 steals, 23.4 PER
Russell Westbrook has a lot of doubters. But boy, were they silent during the Thunder's 2013 Western Conference Finals series against the Memphis Grizzlies.
Ironically, Westbrook didn't even have to step onto the court during that series to show his worth as a player.
Without the injured Westbrook, the Thunder bowed out in five games to the physical and defensive-minded Grizzlies. Durant had some success, but in crunch time, the Grizzlies knew where the ball was going, and could focus their entire defensive game plan around Durant.
Hopefully for the Thunder, Westbrook's torn meniscus in his knee will be 100 percent healed as soon as possible. And, according to ESPN, he's been off crutches for nearly a month, a great sign for his recovery.
But when he comes back, he will have to learn to share the load with Kevin Durant, probably the greatest scorer in the game right now. If Westbrook cuts down on the ill-advised pull-up jump shots and the out-of-control drives, the Thunder should be the favorites to come out of the Western Conference in 2013-14.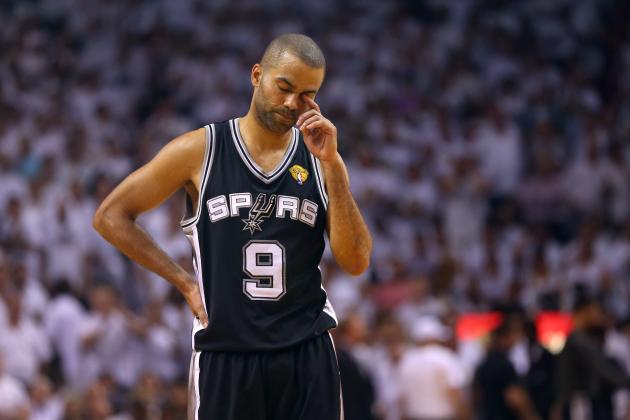 Mike Ehrmann/Getty Images
Tony Parker should come back with a vengeance after a heart-wrenching Finals loss.
2012-13 per-game stats: 20.3 points, 3.0 rebounds, 7.6 assists, 0.1 blocks, 0.8 steals, 23.0 PER
Predicted 2013-14 stats: 19.8 points, 2.9 rebounds, 7.1 assists, 0.1 blocks, 1.0 steals, 22.2 PER
Tony Parker is the least flashy player on this list. In typical Spurs fashion, he doesn't rack up his points from big dunks or rainbow threes, and his assists are aren't usually behind the back or no-look passes.
Rather, he scores and passes within the Spurs' motion offense, in a way that some may call boring. Call me a traditionalist, but I call it beautiful.
Parker had arguably his best season in the NBA in 2012-13, setting few career highs but coming close in many statistical categories.
At 31 years of age this season, a very slight decline can be expected in his numbers as younger Spurs start to ease Parker's load (e.g. Kawhi Leonard, Danny Green and Cory Joseph).
That said, Parker is still one of the most well-rounded point guards in the league. He can score, he defends decently well (his opponent's PER rating is markedly below the league average), and passes with the best of them.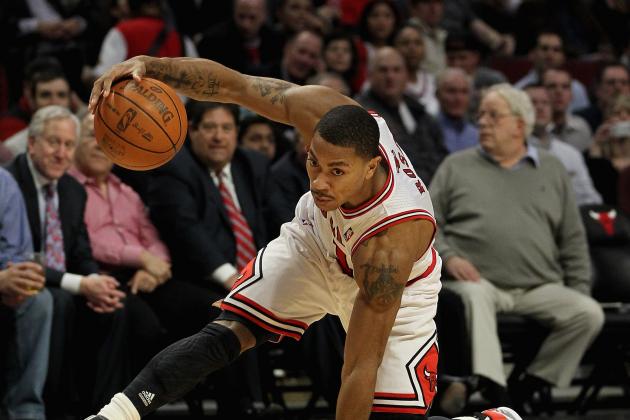 Jonathan Daniel/Getty Images
Will Derrick Rose be affected at all by rust after a lost season?
2011-12 per-game stats (Did not play in 2012-2013): 21.8 points, 3.4 rebounds, 7.9 assists, 0.7 blocks, 0.9 steals, 23.0 PER
Predicted 2013-14 stats: 20.5 points, 3.6 rebounds, 7.4 assists, 0.6 blocks, 1.1 steals, 23.6 PER
Like all the point guards returning from injury, Derrick Rose is tough to rank. We do know that he was cleared by doctors to play in early March, but cited not being mentally ready as the reason that he didn't return even two months after being cleared.
But Rose was the MVP of the league in 2011, and that holds some weight. Whether or not he deserved that award, he still had a fantastic season.
Rose vows to only return when he is 110 percent, which would make him an amazing player whenever he comes back.
In the end, just one point guard will be able to top a rested and motivated Derrick Rose from being the best.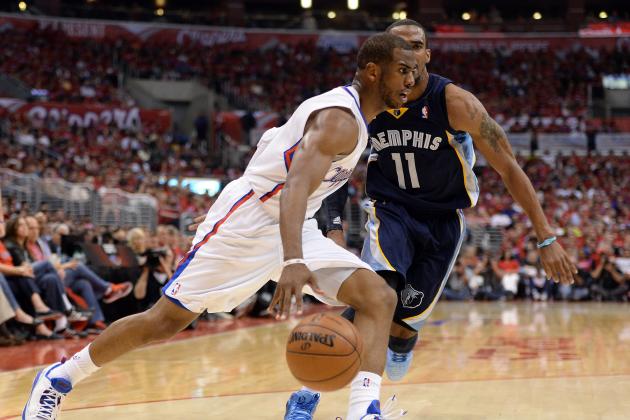 Harry How/Getty Images
With some new help at the wings and an elite coach, Chris Paul looks to lead the Clippers deeper in the playoffs in 2013-2014.
2012-13 per-game stats: 16.9 points, 3.7 rebounds, 9.7 assists, 0.1 blocks, 2.4 steals, 26.4 PER
Predicted 2013-14 stats: 17.9 points, 3.5 rebounds, 10.0 assists, 0.1 blocks, 2.2 steals, 25.7 PER
It's ironic that the smallest point guard on this list is also the best, but Chris Paul is just too skilled to let his height prevent him from being the NBA's premier point guard.
Paul's physical tools are worse than most of the point guards below him, but he makes up for it with a top-tier basketball IQ, a phenomenal handle, good shooting and solid defense.
In 2012-13, his Clippers basically jumped ship on him in the playoffs. Paul tore it up to the tune of a 29.2 PER, but no one else on his team averaged more than 13 points per game.
With the addition of former Celtics head coach Doc Rivers the Clippers will be much more prepared to battle the powers of the Western Conference come playoff time. And let's not forget the additions of sharpshooters J.J. Redick and Jared Dudley.
Paul's hyperactive backup, Eric Bledsoe, is gone, but I have no doubt Paul will be able to handle the probable slight bump in minutes.
Who knows, maybe Paul and the Clippers will finally be able to beat the curse and win a title in 2013-2014.