MMA's Biggest Upsets from the First Half of 2013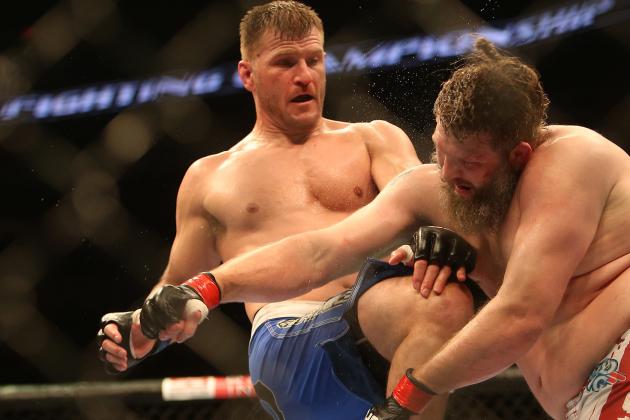 Tom Szczerbowski-USA TODAY Sport

Everybody loves an underdog, and in the first half of 2013, MMA fans were treated to a handful of upsets.
From Chris Weidman's improbable knockout against UFC legend Anderson Silva, to King Mo Lawal's incredible loss to Emanuel Newton at Bellator 90, there were plenty of fights to leave spectators with their jaws dropped.
The biggest upsets—the ones that made this list—have been determined by a number of factors. The most basic way to determine an upset is the betting line for a fight. However, instances such as Weidman's win over Silva, though not a huge upset in terms of odds, was a major upset nevertheless—Silva hadn't lost prior to UFC 162 in the promotion.
Have a look at the biggest upsets from the first half of 2013.
*While UFC 162 technically took place in the 2nd half of the year, the event has been included in our mid-year awards because it's on everybody's mind.
**Odds courtesy of Bovada Sportsbook
Begin Slideshow

»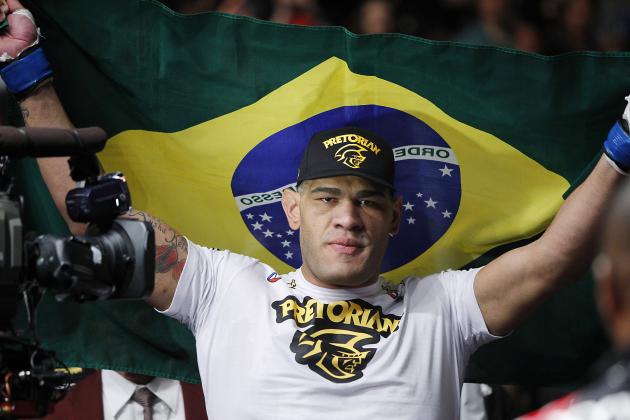 Gary A. Vasquez-USA TODAY Sports
UFC heavyweight Antonio Silva
Odds: Overeem (-450) vs. Silva (+325)
Alistair Overeem entered the UFC having not lost since 2007.
In his debut with the promotion, he easily put Brock Lesnar away with strikes in the opening frame. The win set him up for a shot at the title.
That shot would never happen, however, as Overeem failed a pre-fight drug test and was subsequently suspended.
Looking to get him back on track to gold, the UFC set "The Demolition Man" up against fellow former Strikeforce heavyweight Antonio Silva at UFC 156.
Overeem was supposed to win that fight. He was supposed to fight for a title next.
But Silva shook up the former Strikeforce champ's timeline with an unlikely third round stoppage.
The Brazilian entered the fight with a chip on his shoulder—partially due to his underdog status, but mostly due to the fact Overeem had recently failed a drug test. His opponent, however, managed to out-point him throughout the first two rounds.
Tired, and seemingly fine with cruising to a decision win, Overeem got careless, and Silva, still remarkably fresh for a heavyweight, turned up the heat.
"Bigfoot" battered his opponent up against the cage, and Overeem was unable to escape the onslaught.
The improbable win earned Silva a second fight against Cain Velasquez—this time for the title—and he would go on to lose that fight via first round technical knockout.
Still, his win against Overeem was as unlikely as they come at heavyweight, and it severely shook up the division's landscape.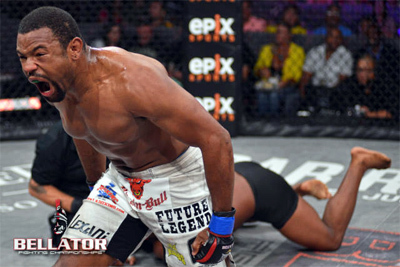 Odds: Lawal (-1200) vs. Newton (+700)
After the close of his Strikeforce career, King Mo Lawal made the move over to Bellator, quickly becoming the promotion's most prized asset.
In his debut, he earned the sixth first-round stoppage of his young career in the season eight light heavyweight tournament.
In his second fight, this time as a -1200 favorite, Lawal saw his path to the title cut abruptly short against Emanuel Newton.
The underdog entered the tournament contest after earning a submission win in the opening round. His finish against Lawal, however, was far more brutal than forcing a tap.
Just past the midway point of the frame, Newton landed a spinning back fist that put King Mo down and out, earning him the improbable victory (and anyone who bet on him a hefty 7:1 payout).
Up until that fight, Lawal had earned maybe one quality win at the 205-pound mark, topping Gegard Mousasi back in his Strikeforce days.
Despite this, the former champ's athleticism and the hype which surrounded him, made picking this fight an easy one. Or so the oddsmakers thought.
Newton had other plans and, after winning the tournament, will fight for the light heavyweight title sometime this year.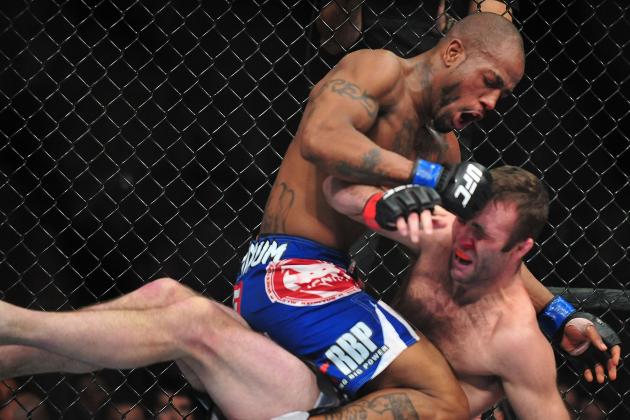 Gary A. Vasquez-USA TODAY Sports

Odds: Volkmann (-450) vs. Green (+325)
Few, if any, believed Jacob Volkmann was a legitimate contender at 155 pounds, but the fighter nicknamed "Christmas" came into UFC 156 with a 5-1 record in the weight class.
Bobby Green, a Strikeforce and Affliction veteran, paid no attention and was set on taking Volkmann out.
Per the usual, Volkmann attempted to utilize his strong wrestling base to smother Green, and that worked in the opening frame of the contest. By the second round, however, the favorite began to fade, and Green did just the opposite.
Able to dictate the fight and control Volkmann more and more as the clock ticked away, Green saw the momentum quickly swing in his favor.
In the third and final round, Green overcame a bad standup by the referee and managed to sink in a choke, forcing Volkmann to submit.
Green still has a long ways to go in terms of developing into a contender at lightweight, but his upset win over Volkmann was just about as good of a debut that he could've hoped for.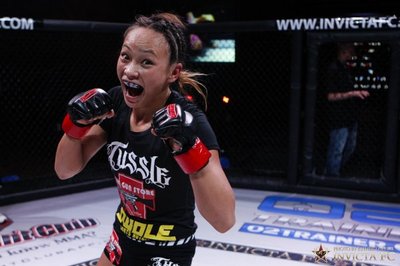 Odds: Penne (-580) vs. Waterson (+384)
Invicta FC's Michelle Waterson was never expected to be a champion at all.
Heading into Invicta FC 5, Waterson was an enormous underdog (nearly 4:1) against champ Penne, who sat at a cool -580 on the betting line.
The odds, however, did not properly predict the outcome in a fight that ended up becoming one of the biggest upsets so far in 2013.
After four rounds of action, the challenger stole the atomweight title from Penne with an unlikely fourth round submission stoppage.
The victory was Waterson's fifth in a row, while Penne was handed a loss for just the second time in her career.
Neither fighter has earned the fame of, say, Ronda Rousey, but Invicta continues to put on dynamic shows.
Upsets like Waterson's will always make for an interesting event.
*No odds provided by Bovada; odds courtesy of 5Dimes.eu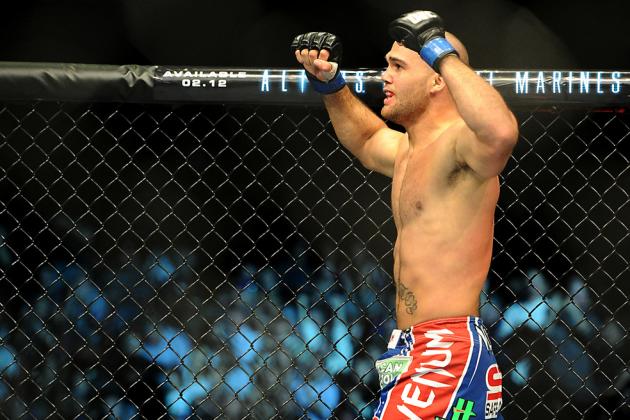 Jayne Kamin-Oncea-USA TODAY Sports

Odds: Josh Koscheck (-302) vs. Robbie Lawler (+263)
Robbie Lawler rejoined the UFC this February after posting a 3-5 record in his previous eight showings. He met Josh Koscheck, a former top contender and "bad boy" of the welterweight division, at UFC 157 in Anaheim.
Lawler, on the other hand, probably needed the win to salvage his career.
He got it.
Nicknamed "Ruthless", Lawler put Koscheck down in the opening frame with a brutal shot, and finished the job by following up with his ground and pound.
Koscheck didn't like the stoppage, but there wasn't much he could do, considering his lack of defense.
The knockout loss was just the second of Koscheck's long career. He had not been stopped since 2009.
Lawler may never be a big name in the UFC again, but the upset win at UFC 157 gave him one last shot at making a run in the middleweight division.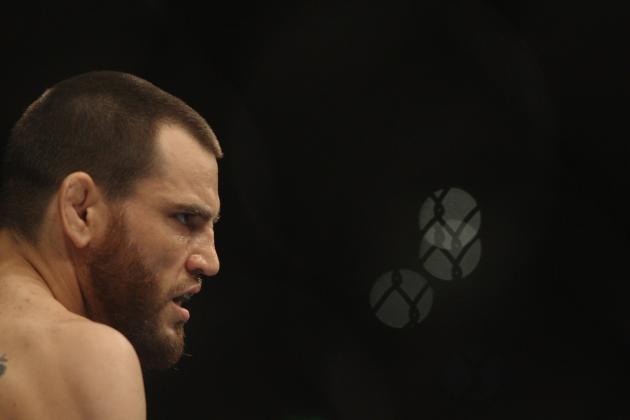 Mark Kolbe/Getty Images

Odds: Fitch (-550) vs. Burkman (+375)
Jon Fitch's falling out with the UFC was well-documented, and the former welterweight top contender was not shy in voicing his displeasure with the promotion.
Following his UFC release, Fitch looked to right the ship in a new promotion, signing on with the World Series of Fighting.
In his debut at WSOF 3 against fellow Ultimate Fighting Championship veteran Josh Burkman, Fitch failed to get his career back on track, while the heavy underdog earned arguably the biggest win of his career.
Burkman hurt Fitch early with strikes and when Fitch attempted to move to his wrestling, the underdog locked on a guillotine choke. On his back, Burkman held the choke, while Fitch attempted to escape.
Fitch's attempt was short lived, however, as he went unconscious.
Referee Steve Mazzagatti did not step in immediately, and Burkman thankfully understood Fitch's condition, rolling him over.
At that point, the fight was stopped, and Burkman raised his hands in celebration.
There was certainly plenty of controversy with the officiating, but that shouldn't take away from Burkman's improbable, remarkably dominate win.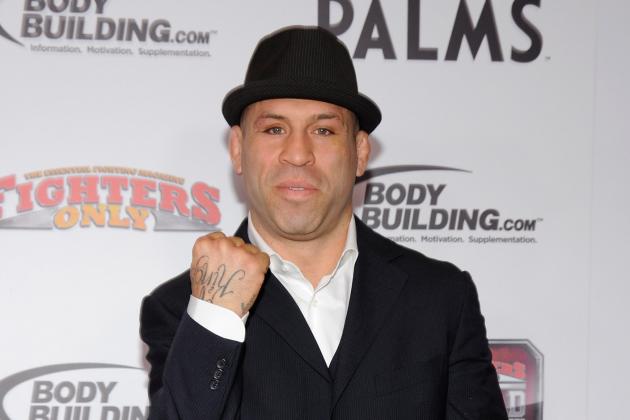 Ethan Miller/Getty Images

Odds: Stann (-300) vs. Silva (+230)
Wanderlei Silva entered UFC on Fuel 8 having lost seven of his previous 10 fights. To say "The Axe Murderer" was on the downside of his illustrious career would've been an understatement.
But to say he lacked the heart and power to top middleweight Brian Stann would've ended up being a mistake.
Stann and Silva fought back and forth in one of the most riveting contests so far in 2013, each hurting one another on numerous occasions.
After a brutal and exciting first round, and an equally entertaining start to the second, Silva managed to score a finishing combination on Stann late in the second. The stoppage came at 4:08 of that round, leading to an ecstatic celebration from Silva in front of the crowd in Japan.
Silva has long been irrelevant in terms of contention at middleweight, but his ability to take a punch and give one back have allowed him to win a few fights he simply wasn't expected to.
Stann found that out the hard way, but did pick up a Fight of the Night bonus for his efforts.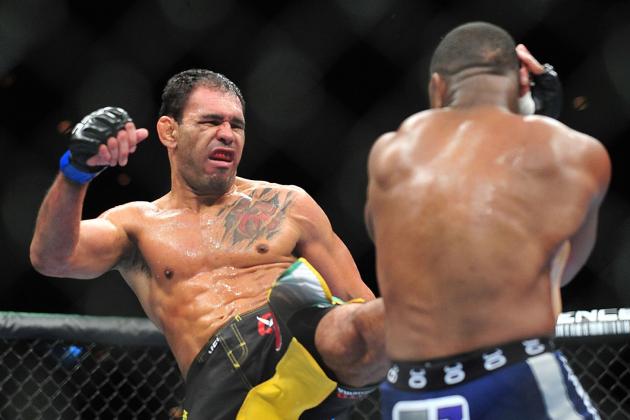 Gary A. Vasquez-USA TODAY Sports

Odds: Evans (-600) vs. Nogueira (+400)
No one saw this one coming.
At UFC 156, Rashad Evans was expected to get back on track towards contention with a win over steep underdog Antonio Rogerio Nogueira.
Evans was fresh off a loss to light heavyweight champion Jon Jones, while Nogueira had struggled against top competition since joining the UFC.
Unlike the previously mentioned Stann vs. Silva fight, this fight was majorly uneventful, featuring a lackluster standup affair with little to no action.
However, the outcome was intriguing, considering Nogueira would finally notch a win against a top-10 light heavyweight.
Evans was unable to gain any momentum on the feet, while his wrestling base was nowhere to be seen. Nogueira took advantage, scoring points where he could and, in the end, earning a unanimous decision victory.
Evans got back on track in his latest outing, but Nogueira's success in this match has many wondering how far "Lil Nog" can take his career from here.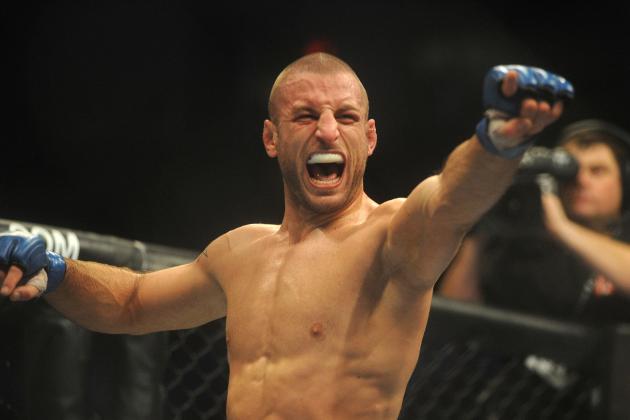 USA TODAY Sports

Odds: Marquardt (-365) vs. Saffiedine (+275)
Heading into the final Strikeforce event before the promotion's demise, Nate Marquardt looked to reemerge in the UFC as the final Strikeforce welterweight champion.
But it was contender Tarec Saffiedine who ended his Strikeforce career with all the momentum.
The bout, which served as the headliner of the event, went all five rounds, featuring predominantly Saffiedine's distinct striking advantage, while Marquardt struggled to get any offense going throughout the 25 minutes of action.
The nearly 3:1 underdog, Saffiedine, worked his way to a unanimous decision win and the Strikeforce 170 pound title.
Meanwhile, Marquardt did what he's done so many times before in big fight: he fell short. And his return to the UFC saw him get brutally knocked out by Jake Ellenberger.
Saffiedine has yet to fight since his improbable victory.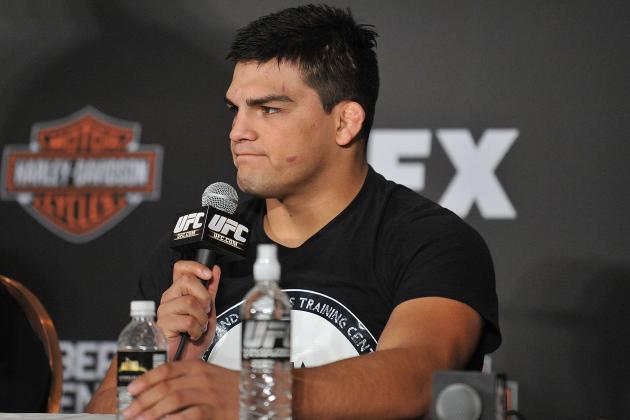 Gary A. Vasquez-USA TODAY Sports

Odds: Hall (-315) vs. Gastelum (+245)
Uriah Hall wowed fans during his run on The Ultimate Fighter: Season 17, scoring vicious knockouts and leaving the TUF house in fear of fighting him.
But when it came down to finish the job and earn the title of The Ultimate Fighter, Hall fell short.
Against Kelvin Gastelum, the striking phenom watched his momentum dissipate, as the underdog managed to sneak away with a split-decision victory.
The fight was, however, a close one, and the argument could be made that Hall was more successful than his opponent following a disappointing first round.
But Gastelum earned the victory, the six-figure contract, and one of the more improbable outcomes of 2013.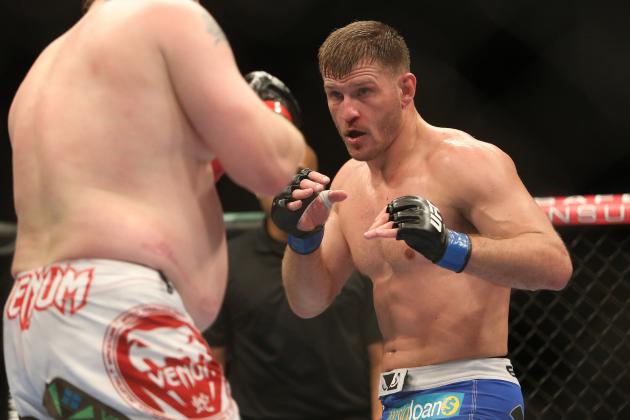 Tom Szczerbowski-USA TODAY Sport

Odds: Nelson (-280) vs. Miocic (+220)
Perhaps the lone bright spot of UFC 161 came when heavyweights Stipe Miocic and Roy Nelson met on the main card.
Miocic, the heavy underdog, entered the contest following his first career loss, which came against Stefan Struve in September of 2012.
Nelson, on the other hand, was wrecking his opponents left and right—he had won his previous three fights via knockout.
Many predicted that Nelson would be able to pick up a quick knockout against Miocic, then head into free agency with momentum on his side.
The underdog did not let that happen.
Miocic managed to dominate Nelson on the feet, scoring strong combinations, while also avoiding the power-right of "Big Country".
Nelson never was able to get a rhythm going, instead focusing on landing his signature punch. Miocic's technique and footwork, however, negated Nelson's efforts.
Miocic earned the unanimous decision win and now finds himself in the heavyweight top 10. Nelson, meanwhile, heads into free agency in a far worse position than he likely imagined.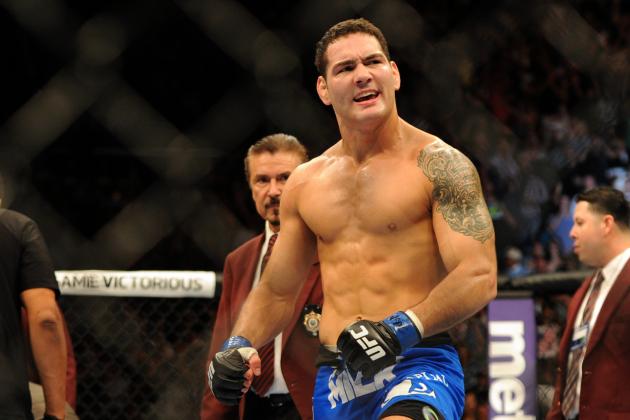 Jayne Kamin-Oncea-USA TODAY Spor

Odds: Silva (-250) vs. Weidman (+195)
Chris Weidman's victory over Anderson Silva at UFC 162 was not an upset to many—plenty predicted the contender was the man to finally defeat the champion.
However, the fact that Weidman brought Silva's 16-0 run, a run that lasted over seven years, to an end is enough for this outcome to make the list.
Silva openly taunted Weidman throughout the UFC 161 main event, leaving his hands down and using only head movement as striking defense.
Weidman was able to secure an early takedown, but with Silva clowning on the feet, the top contender seemed content to land a finishing strike. In the second round, he did just that, earning the middleweight belt in the process.
While the challenger winning the fight may not have been shocking, the manner in which he defeated Silva was. "The Spider" was thought to be untouchable on the feet and, in most instances, he was.
But that didn't stop an unafraid Weidman from attempting to beat Silva at the champ's own game. He did just that, and the historic win earns a spot on our list as a result.