Early Projection for Tampa Bay Lightning's 2013-14 Depth Chart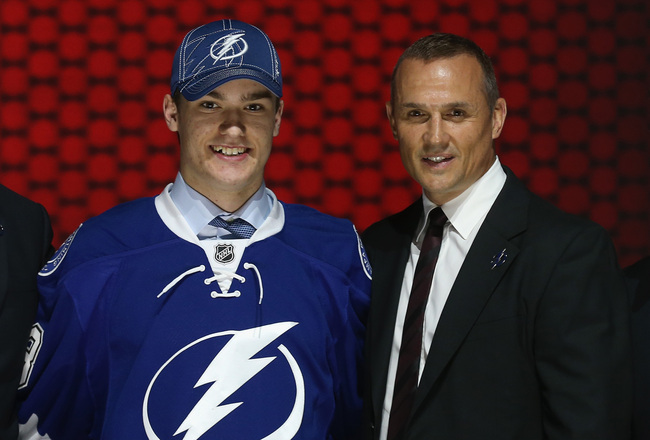 Jonathan Drouin hopes to be NHL ready next year. Will he have a spot on the depth chart?
Bruce Bennett/Getty Images
With a few changes to the roster this offseason, the Tampa Bay Lightning are looking to put together the 2013-14 depth chart and return to the postseason for the first time since 2011. The annual 3-on-3-prospect tournament finished July 10 and provided fans and coaches a great look at the players who could potentially round out the lineup.
Depth is key for the Bolts this offseason. HockeyProspectus.com ranked the Lightning as the top-rated prospect system in the league. The next step is for the prospects' success to translate to NHL-level success.
With last season in mind, the offseason acquisitions and success so far at prospect camp, let's take an early look at the Lightning's depth chart for next season.
Top Line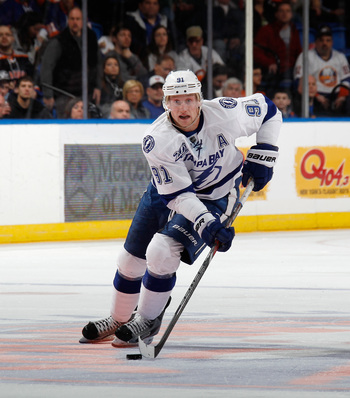 Steven Stamkos leads a potent Lightning offense as he aims for another Rocket Richard Trophy.
Bruce Bennett/Getty Images
Ondrej Palat, Steven Stamkos, Martin St. Louis
Steven Stamkos and Martin St. Louis are locks for the top line. As the leaders of this franchise, Stamkos and St. Louis will anchor the top line, but the left wing is still wide open.
After a solid 14-game debut last season, Ondrej Palat has gotten a taste of the NHL's size, speed and skill. Palat put up 26 points in 18 Calder Cup playoff games with a plus-11 rating. Continuing that momentum could land him on the top line next season.
Even with Palat's performance, he may not get the spot unless the Lightning can trade Ryan Malone.
Second Line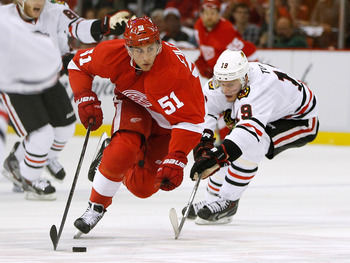 Valterri Filppula was the biggest offseason acquisition for the Lightning this year.
Gregory Shamus/Getty Images
Jonathan Drouin, Valterri Filppula, Teddy Purcell
The signing of Valterri Filppula left some scratching their heads. No matter how you feel about the Filppula addition, this line should be exciting. Jonathan Drouin—this year's first-round pick—and Filppula can play both center and wing. With two centers on the line, faceoffs shouldn't be an issue.
Teddy Purcell is coming off a 36-point season. He was the third-highest scorer on the team last year and could be ready for a breakout year on an intriguing second line. It could be feast or famine on this line next season.
Third Line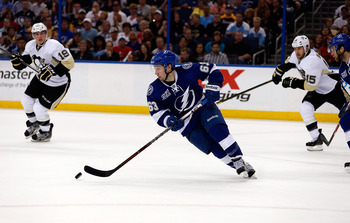 Tyler Johnson didn't see much time with the Lightning last year. That might change next year.
J. Meric/Getty Images
Alex Killorn, Nate Thompson, Tyler Johnson
As mentioned earlier, the Lightning's depth makes the third-line spot crucial. Not only does this line have to match up against opposing scorers, but they will be counted on for secondary scoring.
Alex Killorn, Nate Thompson and Tyler Johnson are all centers, but they can all play a versatile game and have seen time on the wings. Killorn and Johnson could even be top-six forwards depending on how training camp goes.
Fourth Line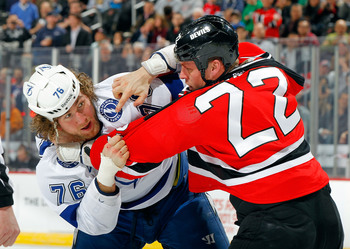 Pierre-Cedric Labrie returns his grit and attitude for another year.
Jim McIsaac/Getty Images
Pierre-Cedric Labrie, Dana Tyrell, B.J. Crombeen
A physical, gritty fourth line consists of Pierre-Cedric "Nacho" Labrie, Dana Tyrell and B.J. Crombeen. Crombeen recorded 112 penalty minutes in 44 games. Labrie added another 30 in 19 games.
This is a solid line to protect the young stars like Drouin who won't be accustomed to the physicality of the NHL game yet.
First Pair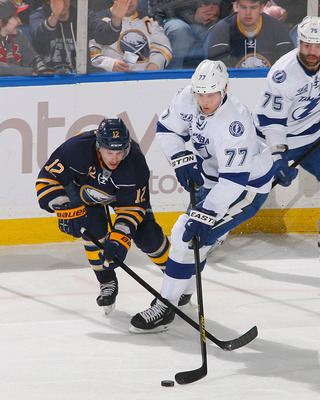 Victor Hedman should be one of the top defensemen on the Lightning again this season.
Rick Stewart/Getty Images
Victor Hedman, Sami Salo
Victor Hedman and Sami Salo were one of the top pairs for the Lightning last season and should continue that this year. Hedman is developing his offensive game and logging a ton of minutes. Sami Salo is the veteran, stay-at-home defenseman who benefits the Bolts' goaltenders.
They will be a great addition to the top-two forward lines next season.
Second Pair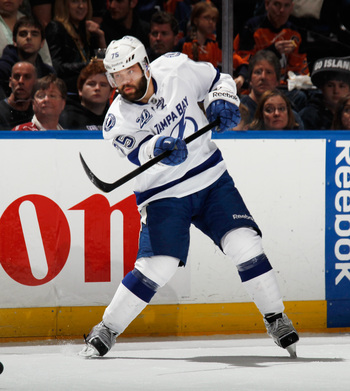 Radko Gudas earned some solid minutes last year and could be ready for a raise.
Bruce Bennett/Getty Images
Matt Carle, Radko Gudas
Eric Brewer had a rough season last year, which could open the door for up-and-coming defenseman Radko Gudas. Gudas is physical and has a defense-first mentality.
Matt Carle was the big acquisition last offseason and looks to improve on a 22-point season last year. This could be an interesting pair to watch if Carle has the freedom to jump into the play under coach Jon Cooper.
Third Pair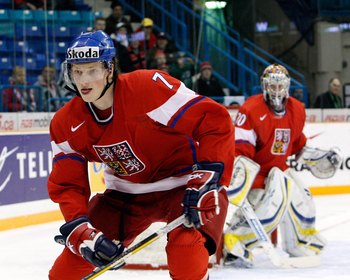 Andrej Sustr was a late addition to the Bolts last year and has size and abilities to be a full-time NHL player.
Richard Wolowicz/Getty Images
Andrej Sustr (Eric Brewer), Keith Aulie
Much like the bottom two forward lines, the last defensive pair has more qualified players than spots. Andrej Sustr, Mark Barberio, Slater Koekkoek and Nikita Nesterov could all be NHL-ready.
Veteran Eric Brewer will be struggling to find a spot on the top-six and could be moved out of Tampa Bay if things don't turn around. The Bolts have a lot of young defensemen who will be going after valuable minutes.
This should make for an interesting training camp and some tough decisions for Cooper and the front office with general manager Steve Yzerman.
Keep Reading

Tampa Bay Lightning: Like this team?