Rising Boxing Stars Set to Climb the Weight Class Ladder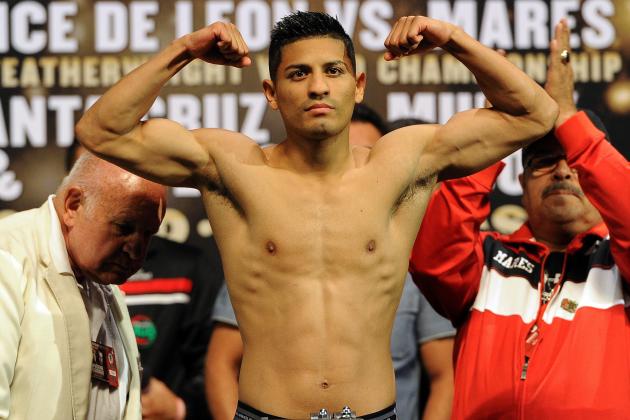 Jayne Kamin-Oncea-USA TODAY Spor

It doesn't get more unadulterated than boxing; its beauty is in its simplicity.
If Abner Mares defeats a high-level opponent at 118 pounds, that's great. If he proceeds to then defeat a world-class opponent at 126 pounds—even better.
Simple as that.
Weight classes were created for a reason. Naturally bigger men have unparalleled advantages over a man of lesser weight. But boxing has provided us with those special combatants whom scoff at the idea of residing in just one weight class.
Manny Pacquiao is history's only eight-division world champion and will go down as an all-time great—thanks in large to such an achievement.
Floyd Mayweather Jr. has had his own share of weight climbing success and owes much of his acclaim to the fact he went from being the No. 1 super featherweight in the world all the way to the best junior middleweight.
And now, a new era is upon us. And these men are the new breed of weight climbers; they fear no man alive and crave only glory.
Begin Slideshow

»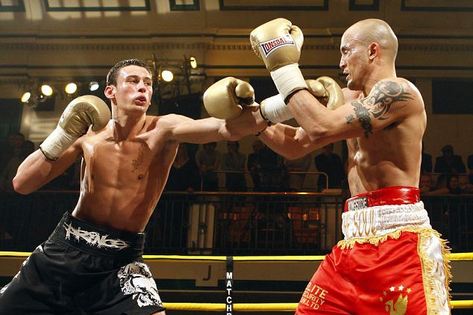 http://www.dailymail.co.uk/sport/article-1254609/JEFF-POWELLS-BOXING-COLUMN-Fights-MTV-generation-Prizefighter-routes-bare-knuckle-brawls.html
Born Arron Jones, Prince Arron possesses a grand name and a body frame to match.
Arron is 25 years old and stands a staggering 6'3" (just an inch shorter than super middleweight Thomas Oosthuizen) and is one of Britain's top young prospects.
Beginning his career as a junior middleweight, Arron has garnered a very large following in Britain and even picked up the BBBofC British light middleweight title in 2011.
As one can imagine, he is a very big man—and one who does actually commit to staying active and moving his feet. But Arron's feints are seldom seen, and he will begin to gas throughout the later rounds. He has only trained for two 12-round fights in his career thus far.
His last fight at junior middleweight saw the vastly underrated Brian Rose frustrate and defeat Arron via split decision. Rose, who is no tiny junior middleweight himself, picked apart his larger opponent from the outside and in close quarters, throughout most of the fight.
But this was Arron's first big step up in competition, and he did show promise.
This weekend on July 13, Arron will begin his journey through the 160-pound ranks (which can only help his cardio issues) as he faces off with serviceable middleweight Max Bursak (who has been making his own bit of noise his last couple of fights).
This fight is a perfect stepping stone to worldwide stardom for Arron.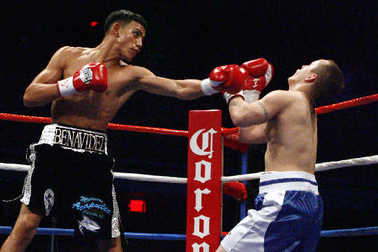 http://www.thegmanifesto.com/2011/12/fighter-to-watch-future-champion-jose-benavidez.html
Jose Benavidez is a towering welterweight who utilizes his length to frustrate his opponents from the outside. He stands at a lofty 5'11" and is just 21 years old.
With this kind of frame, one can only imagine a climb up the weight class ladder is in the foreseeable future. He's no Thomas Hearns, but he does have a height and reach on par with some of the smaller super middleweights.
Benavidez hasn't shown any trouble making the welterweight limit so far, but when he does fill in his frame, he should be able to give any middleweight in the world trouble.
In the meantime, a string of impressive finishes should provide Benavidez a step up in competition to show the world what he's really made of.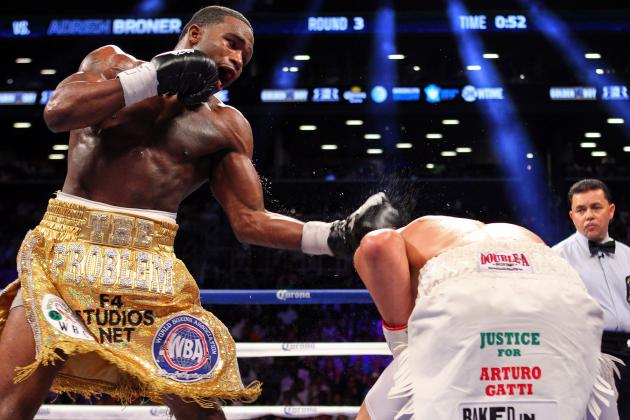 Ed Mulholland-USA TODAY Sports

Adrien Broner said he wanted to be like Floyd Mayweather Jr., and he seems to be on the right track.
As the No. 1 lightweight in the world, Broner picked up the WBA welterweight title in a split-decision victory over Paulie Malignaggi last month. His choice to jump clean over the junior welterweight division was admirable. But now the man they call "The Problem" is open to fights at lightweight, junior welterweight and welterweight.
There are plenty of big fights for him across these three weight classes and his pound-for-pound stock can only rise as he wins more titles.
Are these "titles" absolutely watered-down? You bet they are.
But that's what the fans want to see these days. And Broner has a knack for delivering mainstream appeal.
But will he be fighting at junior middleweight any time soon? Not if he knows what's good for him. But Adrien Broner's one of the guys that marches to the beat of his own drum.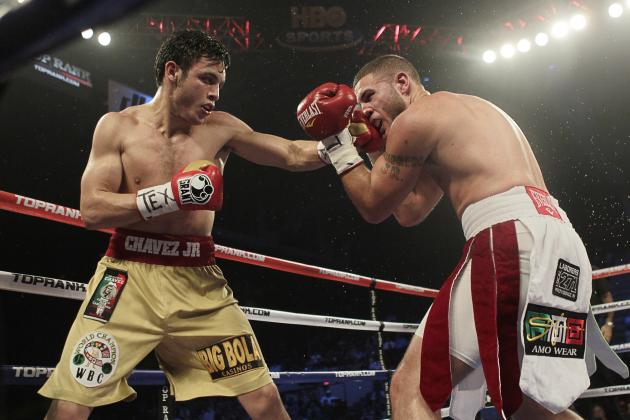 Bob Levey/Getty Images

Julio Cesar Chavez Jr.'s struggle to make the middleweight limit is well documented.
Throw in the occasional rumor about Chavez's laziness during training and we have ourselves a future super middleweight.
There's just nothing left for him at 160 pounds. A rematch with Sergio Martinez doesn't seem likely, and I don't think he wants to get in the way of that pugilistic hurricane they call Gennady Golovkin.
Freddie Roach wanted him to take the leap up, and every Internet journalist and keyboard warrior is clamoring for the same thing. The only one still against it—is Chavez, himself.
Chavez Jr. actually matches up well with a lot of the standout super middleweights and should make his move up in the near future.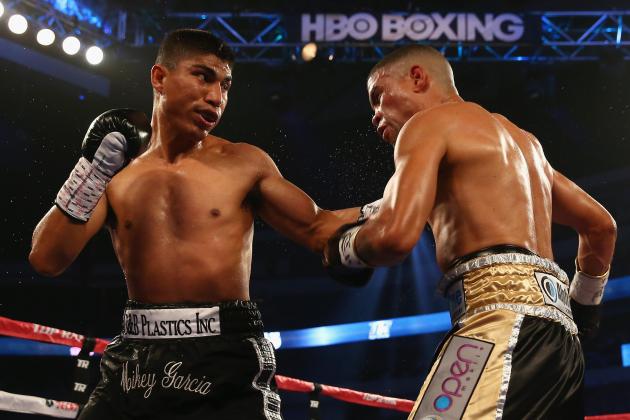 Tom Pennington/Getty Images

Mikey Garcia created quite the stir last month when he missed weight for his fight with Juan Manuel Lopez.
Garcia is 25 years old and clearly growing out of the featherweight division. Promoter Bob Arum has already made it very clear he's against Garcia continuing the struggle to make the 126-pound featherweight limit. And a move north can only benefit Garcia.
A fight with WBO super featherweight title claimant Rocky Martinez is rumored to be in the works for September, according to Jake Donovan from BoxingScene.com, and could bring Garcia his biggest payday yet.
The systematic Garcia hasn't shown to be an idle sloth, by any means, but this jump to 130 pounds can only bring an extra bolt of explosiveness to an already fuming skill set.
Which only spells doom for the rest of the division.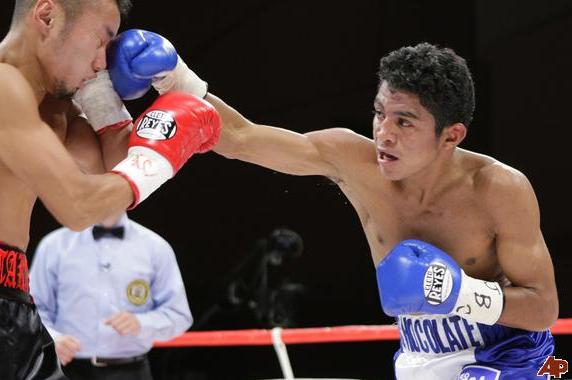 http://newshopper.sulekha.com/roman-gonzalez-yutaka-niida_photo_406917.html
Roman Gonzalez is a pocket battleship and the No. 1 light flyweight in the world. Having won the WBA world minimumweight title back in 2008, he's the undisputed king of the lower weight classes and should find himself on everybody's pound-for-pound top-10 list.
But "El Chocolatito's" stock is about to escalate even further.
Long has Gonzalez and his team flirted with the idea of showcasing his talents in the flyweight division. And the boxing world got a glimpse of how extra imposing Gonzalez is with a few extra pounds on him as he dismantled Ronald Barrera at a catchweight of 116 pounds.
Now with his camp in full swing for a fall return, Gonzalez isn't looking to mess around. His eyes are fully set on a clash with flyweight kingpin Akira Yaegashi.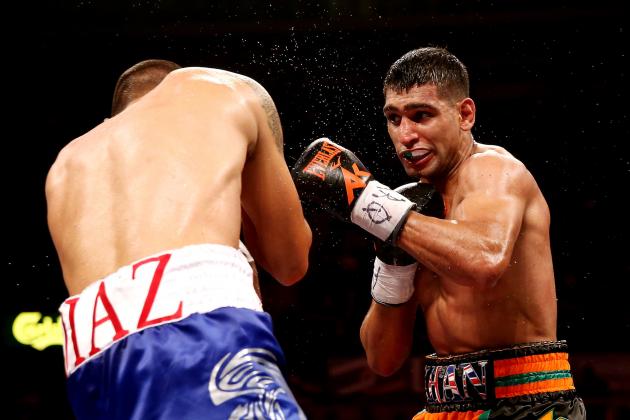 Scott Heavey/Getty Images

Love him or hate him, Amir Khan is one of the biggest names in boxing today.
After his hopes for divisional supremacy were crushed by a left-right Danny Garcia combination. Khan has decided to move up to 147 pounds.
Conventional wisdom would normally advise Khan to stay far, far away from the welterweight division. But he needed a change of scenery and well, of course, to get away from Garcia and Lucas Matthysse.
Khan is currently hoping to secure a fight with contender Devon Alexander. In any case, he will surely find plenty of big paydays in the more glamorous welterweight division.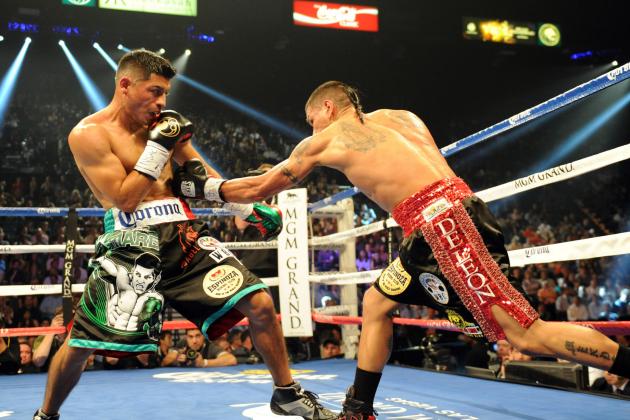 USA TODAY Sports

Abner Mares is an absolute buzz saw of a fighter. Just 19 months ago, he was still an upstart bantamweight.
But Mares is on an inextinguishable quest for glory and the way he's mowed down the world's top bantamweights, super bantamweights and featherweights—I doubt he's even remotely close to slowing down.
Mares is scheduled to face off against top-five featherweight Jhonny Gonzalez on August 24 and presuming he pulls out a win then—what's next? Frankly, for a talent like Mares the possibilities are endless.
If he can't get his hands on blood rival Nonito Donaire, look for Mares to continue up the stairway to fortune and pick up scalps and belts at 130—or even 135 pounds.
Is it a little far-fetched? Maybe.
But those are just the kind of odds a mercenary like Mares loves to overcome.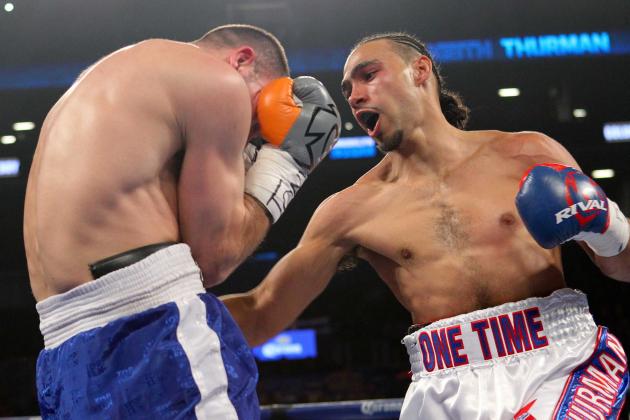 Ed Mulholland-USA TODAY Sports

Keith Thurman, 24, is a power punching extraordinaire.
He is set to fight Diego Gabriel Chaves later this month at the AT&T Center in San Antonio, Texas for the interim WBA world welterweight title.
But Thurman has dipped his toes in the junior middleweight waters before—where he stopped Carlos Quintana inside four rounds.
With all the attention the 154-pound weight class has received lately—thanks in part to the Floyd Mayweather Jr./Saul Alvarez showdown in September—look for Thurman to get in on the action once he gets by Chaves.
Thurman fears no man and isn't looking for any easy fights. He did, in fact, call out the entire world of boxing.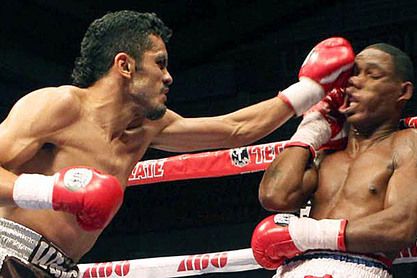 http://www.fightnews.com/Boxing/vasquez-retains-ibf-lightweight-title-106572
Miguel Vazquez made his professional debut as a junior welterweight back in 2006 against current junior middleweight powerhouse Saul Alvarez.
Vazquez has since dropped down to lightweight where he has found the utmost success. He picked up the vacant IBF lightweight title in 2010 from the always-exciting Ji-Hoon Kim and has defended it five times.
The 26-year-old champion hasn't lost since 2008 (a rematch to Alvarez, contested at junior middleweight (148 pounds) and now plans to unify all the 135-pound belts before campaigning full time as a junior welterweight, again.
Seeing as how unlikely it is to defeat (or even step into the ring with) all of the lightweight champions, Vazquez should be showcasing his frustsrating style at 140 pounds sometime soon.