10 Sleepers for 2013-14 All-American Team in NCAA Basketball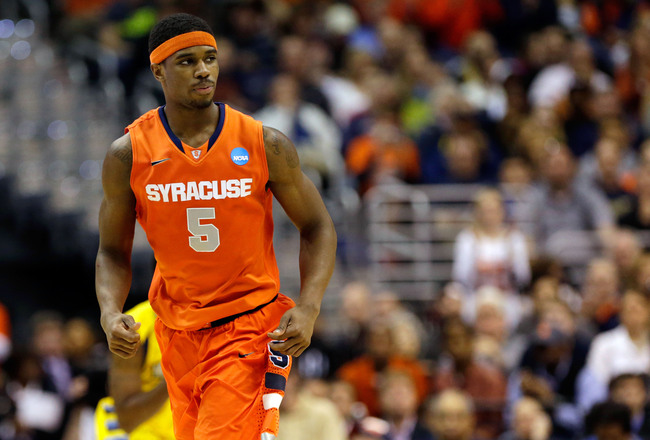 Win McNamee/Getty Images
The Louisville Cardinals capped off an extraordinary 2012-13 college basketball season by winning their third national championship in school history. In doing so they defeated the Michigan Wolverines, who saw their star point guard Trey Burke become the consensus National Player of the Year.
It was a season full of great moments with even greater players showcasing their skills. But last year is in the books and it's time to look ahead to the 2013-14 season.
Next season is likely to be dominated by a spectacular incoming freshman class led by Kansas forward Andrew Wiggins and Duke forward Jabari Parker. And not to mention the phenomenal eight-man Kentucky recruiting class, which is quickly regarding itself as the greatest class in NCAA basketball history.
The abundance of incoming talent will blend together with many of the stars from a season ago to create a memorable year in the overall landscape of the 2013-14 season.
With returning stars Russ Smith, Doug McDermott, Marcus Smart and Mitch McGary passing up NBA aspirations, all four are likely unanimous preseason All-American choices, along with a host of upperclassmen and newcomers.
Every player in Division I college basketball plays to prove their greatness to their team, themselves and the rest of the country.
However, only 15 players at the most will receive the honor of being chosen as an NCAA basketball All-American.
Here is a look at the 10 players who are projected to excel next season but are currently flying under the radar as a sleeper to land as a first-, second- or third-team All-American.
Jordan Adams, UCLA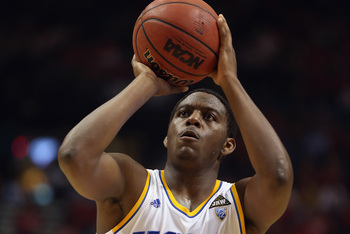 Jeff Gross/Getty Images
Class: Sophomore
2012-13 Statistics: 15.3 points, 3.8 rebounds, 1.8 assists, 2.2 steals
Of the four-man 2012 recruiting class for the UCLA Bruins, Jordan Adams was not considered to be an instant-impact player as a freshman. By season's end, however, he was easily recognized as the best all-around player for then-head coach Ben Howland.
While Shabazz Muhammad earned most of the media attention for the Bruins, and rightfully so, Adams emerged as one of the premier freshmen in the country. Up until an unfortunate right foot injury suffered in the semifinals of the Pac-12 tournament, he provided the up-and-down Bruins with a consistent and reliable scoring threat.
After Adams was forced to miss the remainder of the season, UCLA dropped its final two games of the year in the Pac-12 tournament championship game and the second round of the NCAA tournament, a clear sign that UCLA was a completely inferior basketball team without him.
Next season, UCLA will return a solid nucleus to succeed under first-year head coach Steve Alford. At the forefront is Adams.
Despite still recovering from his injury, Adams is nearing a full recovery (subscription required). And the second-leading scorer from a year ago will be more than ready to make his case as a potential All-American.
Jahii Carson, Arizona State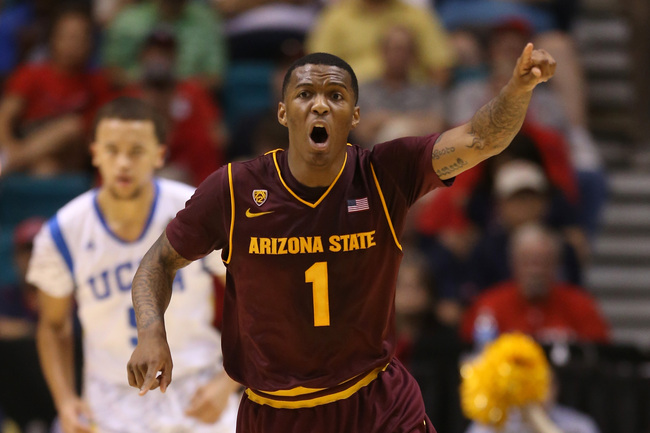 Jeff Gross/Getty Images
Class: Sophomore
2012-13 Statistics: 18.5 points, 3.7 rebounds, 5.1 assists, 1.2 steals
There is no denying the overall talent that rising sophomore Jahii Carson possesses. The co-Pac-12 Freshman of the Year delivered on a nightly basis for an Arizona State team that fell just short of reaching the NCAA tournament.
If not for a questionable supporting cast next season, Carson is undoubtedly a first-, second- or third-team All-American. But that is the exact limitation that lands the 5'10" point guard as a sleeper candidate.
Arizona State will add eight newcomers to its roster to go along with three returning starters, including Carson, arguably the best player in the Pac-12.
For the Sun Devils, expectations are high to return back to the NCAA tournament for the first time since 2009. Their ability to do so will mainly depend on the play of Carson.
His numbers as a freshman were outstanding. Although to truly appreciate how great of a player that he is, an NCAA tournament berth is an absolute must for his status as an All-American in the 2013-14 season.
Semaj Christon, Xavier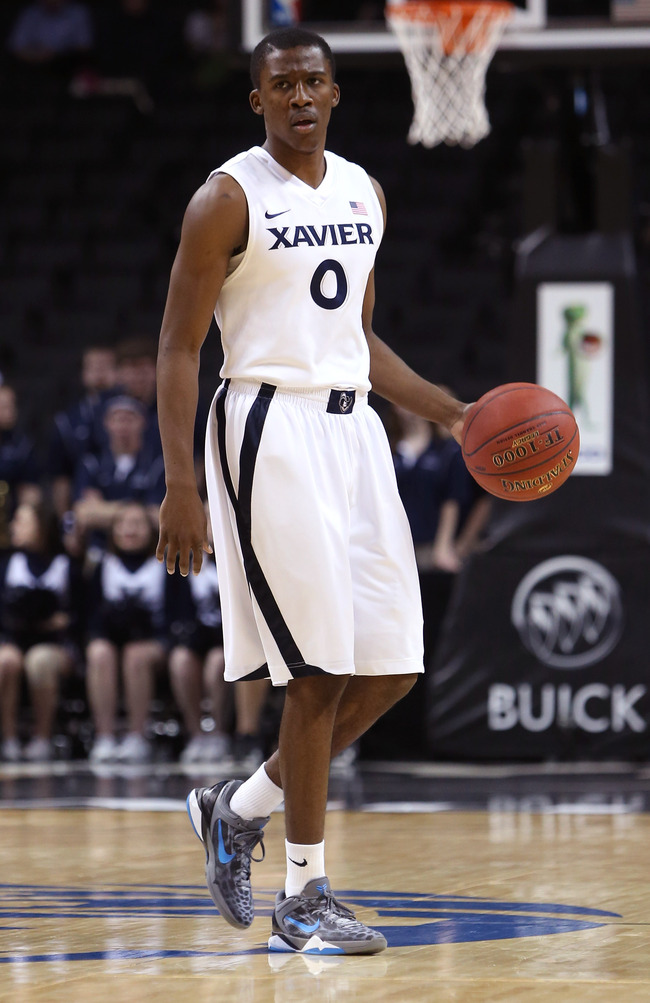 Mike Lawrie/Getty Images
Class: Sophomore
2012-13 Statistics: 15.2 points, 2.9 rebounds, 4.6 assists, 1.5 steals
Combo guard Semaj Christon can relate to classmate Jahii Carson. Both players were recognized as the top freshman of their respective conferences—Christon in the Atlantic 10 and Carson in the Pac-12. Additionally, both players were part of teams not bound for the NCAA tournament.
For Christon, though, it was a much different situation.

Xavier finished the year with a 17-14 overall record and a seventh-place finish in the Atlantic 10 conference. Its chances of receiving an at-large bid were practically non-existent.
Next season, however, the Musketeers will usher in a new era for the program as they are now a member of the new-look Big East conference. But for Christon to earn the praise that he truly deserves, he will be asked to carry Xavier to great heights in his second year.
As the 6'3" Cincinnati native's All-American chances hinge mightily on an improvement from a year ago for the Musketeers, for now he will be considered as a player on the outside looking in.
Dwayne Evans, Saint Louis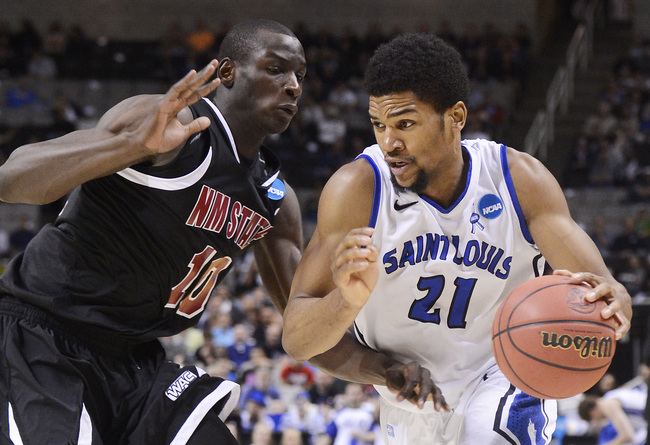 Thearon W. Henderson/Getty Images
Class: Senior
2012-13 Statistics: 14.0 points, 7.7 rebounds, 1.1 assists, 1.3 steals
To say that Saint Louis is coming off arguably its greatest year in school history is the understatement of the year in the Atlantic 10.
The Billikens won a school-best 28 games, their first regular season conference championship since the 1971 season and the Atlantic 10 tournament championship. At the same time, rising senior Dwayne Evans became the most underrated player of the 2012-13 season after leading the Billikens in scoring and rebounding.
With Saint Louis returning to the NCAA tournament for the second consecutive season, many felt that it would make a strong run as the strongest No. 4 seed. However, its tournament chances were dashed by Oregon in the third round.
Nevertheless, the nation now knows exactly who Evans is.
As the 2013-14 season approaches, Evans is expected to have an even bigger season for the Billikens, a season in which he can lead them to another banner year in the Atlantic 10, a third straight NCAA tournament appearance and possible consideration of being recognized as an All-American.
C.J. Fair, Syracuse
Elsa/Getty Images
Class: Senior
2012-13 Statistics: 14.5 points, 7.0 rebounds, 0.7 assists, 1.1 steals
Of the 10 players on this list, Syracuse senior C.J. Fair has the best chance to become an All-American at the end of next season.
As a junior, Fair led the Orange in scoring and rebounding and shot nearly 47 percent from three. His contributions were an integral part in Jim Boeheim's club reaching last year's Final Four.
Next season, Syracuse will begin its first year in the stacked ACC. After losing three of its top four scorers—Brandon Triche, James Southerland and Michael Carter-Williams—Fair's decision to return for his final season was extremely crucial as the team will lean on him as its primary scoring option.
With a terrific five-man recruiting class coming in, it'll lessen the pressure for Fair to shoulder the entire load for the Orange. However, the 6'8" forward is an outstanding choice to contend for Player of the Year in the ACC as well as earn All-American honors at the conclusion of the 2013-14 season.
Yogi Ferrell, Indiana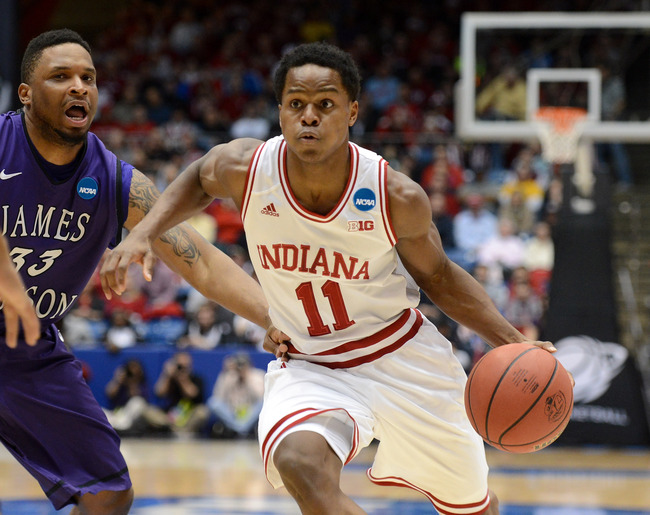 Jason Miller/Getty Images
Class: Sophomore
2012-13 Statistics: 7.6 points, 2.8 rebounds, 4.1 assists, 0.8 steals
From a statistical standpoint, Indiana point guard Yogi Ferrell's freshman numbers won't instantly jump out at you. But he was a vital asset for a team that received high praise all season as the best team in the country.
Although Indiana struggled to buy a basket in its Sweet 16 upset at the hands of Syracuse, it still compiled a solid season in the Big Ten.
Looking ahead, the Hoosiers' primary leaders and top four leading scorers—Cody Zeller, Victor Oladipo, Christian Watford and Jordan Hulls—are gone. However, they will reload with a tremendous six-man recruiting class. And steering the ship will be Ferrell.
The 6'0" rising sophomore will take on a much greater role as a leader for the Hoosiers and will be poised for a breakout season for a team searching for a new identity in a transition year.
If Ferrell can maximize his full potential without the four departed members from last year's team, then Indiana will remain a serious threat to capture another Big Ten championship while he becomes a virtual lock as a 2013-14 All-American.
Alex Kirk, New Mexico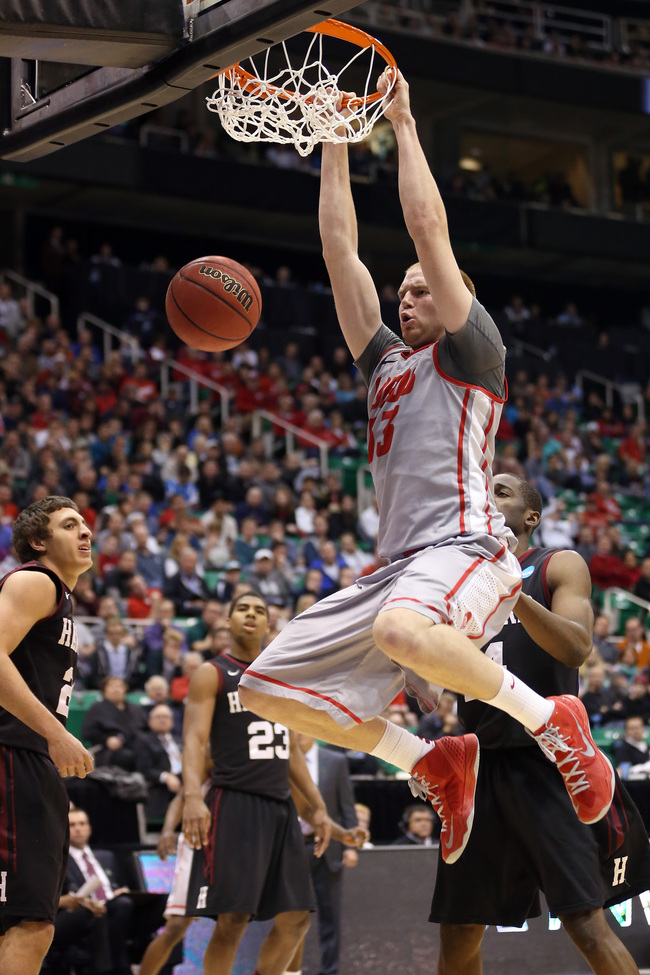 Streeter Lecka/Getty Images
Class: RS Junior
2012-13 Statistics: 12.1 points, 8.1 rebounds, 0.5 assists, 1.8 blocks
Following then-head coach Steve Alford's decision to accept the vacant head coaching position at UCLA, redshirt junior Alex Kirk was all but set to move on as well. After successfully lobbying for the hire of Craig Neal from associate head coach to head coach, Kirk kept true to his word by staying committed to the New Mexico program.
It's a decision that will likely pay dividends next season.
The Lobos won the Mountain West conference championship with relative ease last year after a strong team performance. Despite losing their best all-around player, Tony Snell, to this year's NBA draft, they will still return a solid nucleus to become the favorite to repeat in the conference.
And it will be the perfect opportunity for Kirk to emerge as one of the best centers in the country.
Kirk is a load down low at 7'0", 250 pounds. In a league where few teams present the defensive options to contain the New Mexico behemoth, it will open up plenty of chances to showcase his low-post abilities.
With a new season comes new stars, and Kirk is one of the premier big men in the country with first-round NBA-ready talent. Possessing the skills to garner Player of the Year honors in the Mountain West, Kirk can easily be considered at the national level as a strong All-American candidate.
Jordan McRae, Tennessee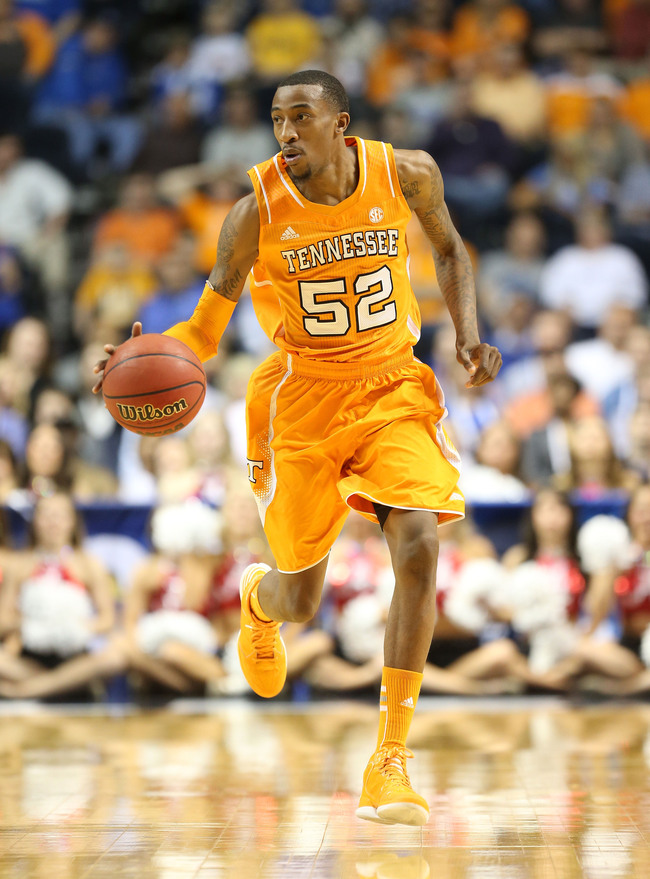 Andy Lyons/Getty Images
Class: Senior
2012-13 Statistics: 15.7 points, 4.1 rebounds, 2.0 assists, 0.9 blocks
The 2012-13 season ended up being a breakout year for rising Tennessee senior Jordan McRae after elevating his game to new heights. It also allowed him to take a look at leaving for the NBA draft.
After receiving further evaluation and extensive feedback from scouts, however, McRae opted to return for one final season in Knoxville; a decision that greatly benefited the Volunteers as they'll likely become a contender in the SEC along with Kentucky and Florida.
Next season is shaping up for Tennessee to be one that ends a two-year NCAA tournament drought and returns them back to the Big Dance under third-year head coach Cuonzo Martin. Leading the way will be McRae, a popular choice to earn All-SEC first-team honors.
While the SEC will have plenty of All-American candidates, mainly coming from the Kentucky roster, McRae is the one player in the conference to keep a keen eye on as the 2013-14 season progresses.
Juvonte Reddic, VCU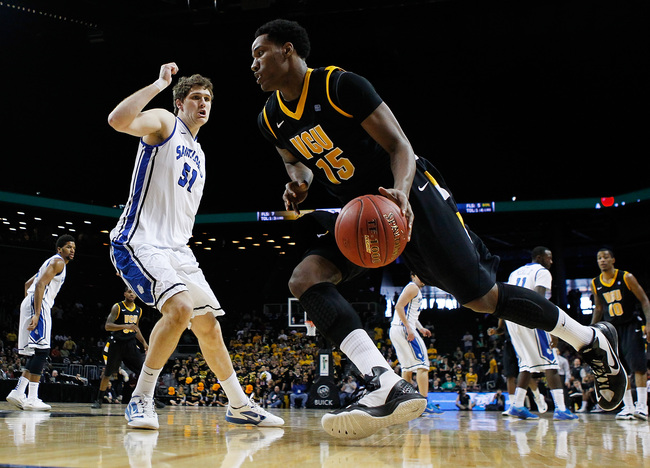 Mike Stobe/Getty Images
Class: Senior
2012-13 Statistics: 14.6 points, 8.1 rebounds, 1.4 steals, 0.9 blocks
The epitome of a mid-major player with high-major talent is VCU rising senior forward Juvonte Reddic.
For the first three seasons at VCU, Reddic has made gradual improvement each year for a team seeking its fourth consecutive NCAA tournament appearance.
Last season, Reddic shined for the Rams, solidifying himself as one of the country's top power forwards with NBA-level abilities. Standing at 6'9" with a solid frame, his play was extremely efficient across the board.
As VCU enters its second year in the Atlantic 10 conference, Reddic has proven that he is capable of leading the way for a team likely to be a top contender for the league championship.
Poised for another strong season, Reddic is on a path full of potential national accolades with a current trajectory of following in the footsteps of two former VCU greats, Eric Maynor and Larry Sanders.
Glenn Robinson III, Michigan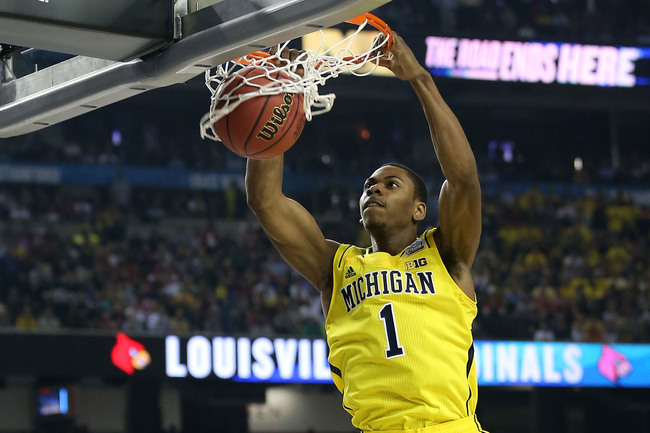 Streeter Lecka/Getty Images
Class: Sophomore
2012-13 Statistics: 11.0 points, 5.4 rebounds, 1.1 assists, 1.0 steals
Despite falling to Louisville in the national championship game, it was a season to remember in Ann Arbor.
Trey Burke was the consensus National Player of the Year and an NBA lottery pick in this year's draft. Additionally, Tim Hardaway Jr. shined in his junior season, culminating in being selected in the first round. Mitch McGary, who opted to return for his sophomore season, blossomed in the NCAA tournament and immediately became a popular selection as a preseason first-team All-American.
And then there is Glenn Robinson III.
The rising sophomore forward capped off a tremendous freshman season by starting in all 39 games and showing glimpses of major stardom. Along with McGary, he too elevated his game in the tournament, averaging 12.7 points and 5.5 rebounds per game.
With his decision to turn down millions as a likely lottery pick in this year's NBA draft, Robinson will assume an expanded role with the Wolverines while becoming a primary option next season.
Whereas McGary is receiving the majority of the preseason accolades, it is Robinson who is the most critical piece of the overall success for Michigan in 2013-14.
And by all accounts, the son of NBA veteran Glenn Robinson is fully prepared to embrace every challenge that will be thrown his way.
Keep Reading