Signed NHL Free Agents with the Most to Prove in 2013-14 Season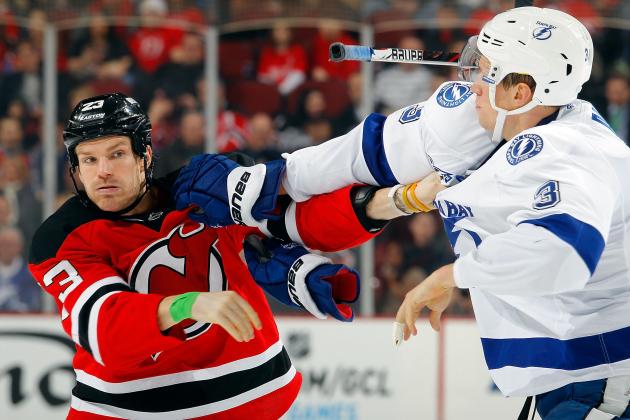 Jim McIsaac/Getty Images

During NHL free agency, teams often sign players to lofty contracts that come with expectations. This year's class features different types of players breaking the back in a manner that left fans wondering—why was there a lockout again?
In six more years, the NHL and NHLPA could be doing battle again, but for now let's look at free agents who have the most to prove during the 2013-14 season.
*All financial figures are from Cap Geek.
Begin Slideshow

»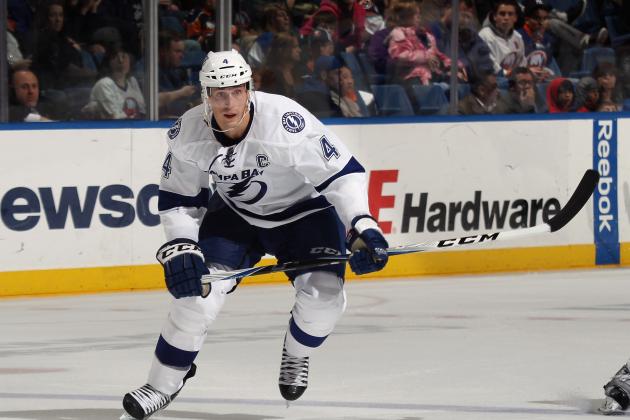 Bruce Bennett/Getty Images
Vinny will have a chance to succeed in Philadelphia.
Vincent Lecavalier is a center with elite talent, but injuries have plagued him throughout his career. There was once a time where you would be hard-pressed to name a center who had a better package of skills than Lecavalier, and with the Philadelphia Flyers he will need to prove that he still has some old Vinny in him.
In his prime, he was a point-per-game player with elite vision and hands. He is making a hefty sum to play for the Flyers and will be the team's No. 2 center, or he could play on a line with Claude Giroux.
Either way, Lecavalier will need to prove to management that the five-year, $22.5 million investment was worth it.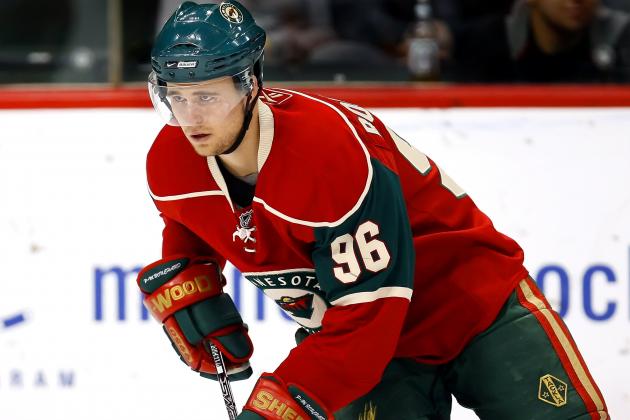 Scott A. Schneider/Getty Images

At the 2002 draft, the Minnesota Wild selected Pierre-Marc Bouchard eighth overall, and after a year of AHL conditioning during the 2004-05 NHL lockout, it looked like he was starting to blossom.
Bouchard recorded three straight seasons in which he scored 55 or more points, and it appeared he would be a solid second-line player.
However, a concussion and post-concussion syndrome cost him 13 months of his career, and after returning he wasn't the same player. He struggled with the Wild and was bumped out of the top six.
With the New York Islanders, Bouchard will get a new chance, and he will need to illustrate that he can still be a catalyst for offense and an effective NHL player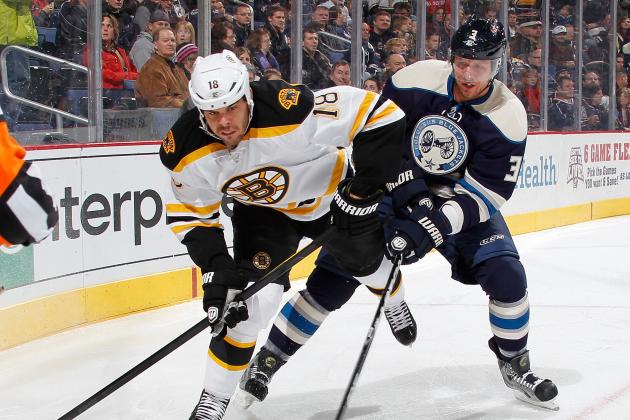 Gregory Shamus/Getty Images
Horton will be the man in Columbus.
Nathan Horton will miss the first four to six months of the 2013-14 season, and he will need to prove to the Columbus Blue Jackets that he was worth the seven-year investment.
Horton decided to sign with the Blue Jackets, and according to Mike Halford of NBC's Pro Hockey Talk, it was known that he had an injury that required surgery.
He decided to join a team that already featured Marian Gaborik, because he wanted to go to a smaller market. Horton started his career in a similar situation with the Florida Panthers, and for a while he had to carry the team.
He could be in a similar situation in Columbus. While Horton is a talented player, he will need to prove that he can be a factor and produce with linemates other than Patrice Bergeron, David Krejci and Brad Marchand.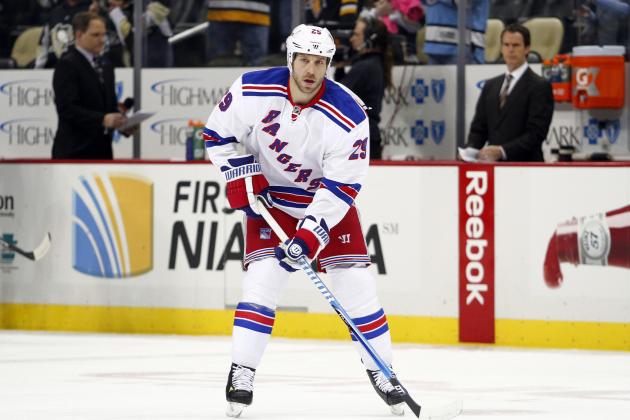 Justin K. Aller/Getty Images
Clowe wants to prove doubters wrong.
The New Jersey Devils are committed to Ryane Clowe for the next five years, and he will cost them $4.85 million in cap space. When healthy, Clowe is one of the NHL's best power forwards, but he is coming off a stretch in which he was ailed by three concussions, according to Larry Brooks of the New York Post.
Health aside, Clowe has been trending downward as a player over the past few seasons. To illustrate this trend, here are Clowe's point-per-game averages since 2006, via The Hockey News:
| | | |
| --- | --- | --- |
| Season | Total Points | Points-Per-Game Average |
| 2006-07 | 34 | 0.59 |
| 2007-08 | 8 | 0.53 |
| 2008-09 | 52 | 0.73 |
| 2009-10 | 57 | 0.70 |
| 2010-11 | 62 | 0.83 |
| 2011-12 | 45 | 0.59 |
| 2012-13 | 19 | 0.48 |
*Missed most of season with torn knee ligaments.
Clowe was trending up, but the drop from 0.83 points per game in 2010 to 0.48 points per game in 2013 is certainly alarming.
Clowe will need to prove that he can remain healthy, and he will need to prove that he is still a solid power forward. According to Rich Chere of The Star-Ledger, that is what Clowe wants to do.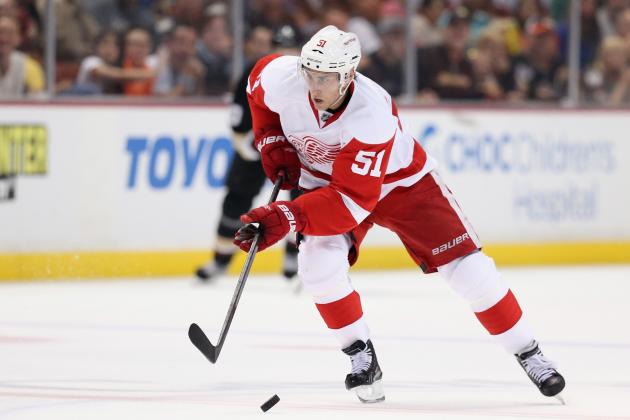 Jeff Gross/Getty Images
Valtteri Filppula has a tough task ahead of him.
Aside from a 66-point season in 2011-12, Valtteri Filppula has been an average two-way forward.
| | | | |
| --- | --- | --- | --- |
| Season | Goals | Assists | Points |
| 2006-07 | 10 | 7 | 17 |
| 2007-08 | 19 | 17 | 36 |
| 2008-09 | 12 | 28 | 40 |
| 2009-10 | 11 | 24 | 35 |
| 2010-11 | 16 | 23 | 39 |
| 2011-12 | 23 | 44 | 66 |
| 2012-13 | 9 | 8 | 17 |
However, he is now being paid like a first-line center. With an annual cap hit of $5 million, Filppula will have to prove that he can be that type of player for the Tampa Bay Lightning.
While Filppula's play away from the puck is top-notch, he is going to have to take an enhanced offensive role in Tampa Bay. If he is unable to do that, Filppula's former teammate and current general manager Steve Yzerman will look rather foolish.
Filppula is a talented forward, but he may not be the second-line center the Lightning want him to be.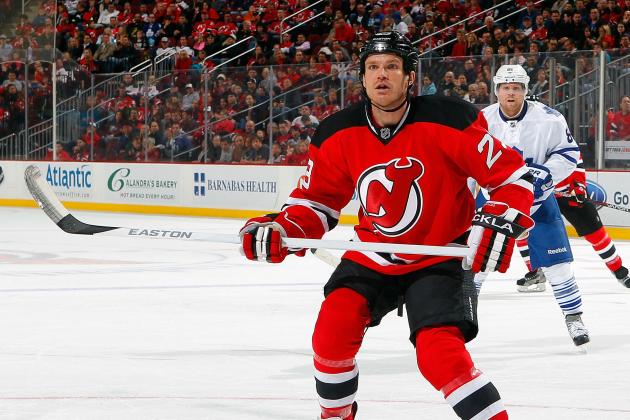 Paul Bereswill/Getty Images

It took only one day for the media to place unattainable expectations on David Clarkson, and he will have a lot to prove during the 2013-14 campaign.
Dubbed Wendel Clarkson by the Toronto Sun, the newest Toronto Maple Leaf is a pretty average player if you look at his stat sheet. He is like Sean Avery, with more skill, aggression and physicality. He is great at being a pest, but he likely won't be what the Sun is billing him to be.
He is an overrated offensive player who dined out on his 30-goal campaign in free agency, and the Leafs could have had a similar player at a cheaper rate of pay.
On July 5, the Leafs acquired the 6'0" and 200-pound winger who has 97 goals and 170 points to his name and dismissed Clarke MacArthur. For those who care, in 23 fewer games played, MacArthur had 93 goals and 213 points—22 more points than Clarkson has to date.
While Clarkson will benefit from playing with Phil Kessel, he has a lot to prove in 2013, because he signed a contract that might will keep him in Toronto for the next seven years.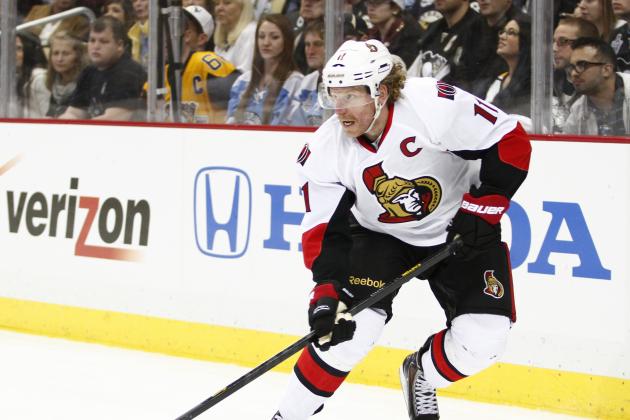 Justin K. Aller/Getty Images
Alfredsson will have a lot of pressure on him this season.
Daniel Alfredsson may have the most to prove out of all the players in the NHL. He left the Ottawa Senators and stated on a conference call—via CBC—that he signed with the Detroit Red Wings because he felt they had the best chance to win the Stanley Cup.
Alfredsson was Mr. Senator, the face of the franchise and adored in Canada's capitol. Now he is public enemy No. 1 for dissing his old team. It would have been one thing if Alfredsson said he wanted to win the Stanley Cup, but it was another to say he didn't think the Senators could win.
This season, Alfredsson will not only have to prove he can still be a top player, but he will need to prove that he can help the Red Wings win it all.