7 Things You Need to Know About Invicta 6: Cyborg vs. Coenen Fight Card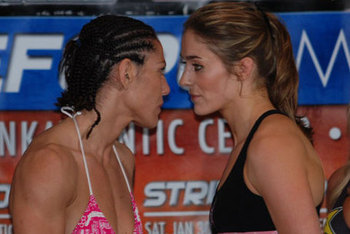 Courtesy Fightblog.nl
Invicta FC 6 is set to continue the company's tradition of providing wall-to-wall excitement.
Invicta FC competitors fight with true grit, determination and skill. The combatants are unswayed by lower salaries and a smaller collective of fan support. They fight because they love to compete and thrive upon the drive to succeed.
Most of the names and storylines in this article will be new to MMA fans. It's fair to assume more than two-thirds of MMA fans have never heard of 25 of the 26 fighters on Saturday's card. But with a pay-per-view price tag of $15, there's little excuse for missing Invicta 6.
It is not only about individual competitors at Invicta FC. There are growing storylines ready to peak any MMA fan's interest. Multiple contender spots are on the line for different weight classes. Each woman is still working hard to solidify her position as a member of the contenders tier in the ever-deepening pool of Invicta talent.
It all adds up to an event sure to please even casual fans who watch.
Lead image courtesy of MMABoom.com.
Coenen Is Game but Cyborg Is Still a Monster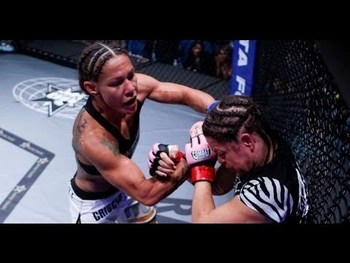 Courtesy MMAFighting.com
The main event at Invicta 6 promises to be a rare competitive challenge for Cristiane "Cyborg" Justino.
The last time Cyborg fought Marloes Coenen, the Dutch competitor put up a quality challenge until wilting in the third round. Justino is ready to win her belt back from the submission practitioner, and Coenen has surely prepared for war coming into the bout.
Coenen is a 26-fight veteran who is tough as nails. She has defeated Liz Carmouche and Sarah Kaufman, two top-level opponents to have on one's resume. Coenen also has experience against Cyborg and will know what to expect come Saturday.
The problem is that a person can know what to do when confronted with a tornado and still get sucked up into the funnel. That is likely analogous to what will happen when the bell rings for the Invicta 6 headline bout.
The prediction of a loss is nothing against Coenen or an underestimation of her talents. If UFC 162 reminded us of anything, it is that nobody is unbeatable. Coenen is a true professional and capable fighter. But with all that in mind, she lacks the power and takedowns to control Cyborg long enough to come out the victor.
The end will likely be a violent one that sees Justino once again having her hand raised. That will leave fans and pundits to wonder what's next for the tidal wave of violence that is Cyborg. A move to the UFC to take on Ronda Rousey may be the only worthy obstacle remaining.
A Rose by Any Other Name Would Have Subs as Sweet
Rose Namajunas has gone from being "Pat Barry's girlfriend" to one of the most exciting prospects in women's MMA. In two Invicta bouts, she has been as exciting as she is ruthless. The fans can bank on a dazzling display every time she steps into the cage.
Namajunas was billed as a striker coming out of her amateur career. "Thug" surprised everyone when she focused on her ground game in both of her professional matches.
She first earned a third-round submission over Emily Kagan at Invicta 4. Then Namajunas followed up the hard-fought victory with a 12-second flying-armbar defeat of Kathina Catron at Invicta 5.
The Mad Mama of all things Thug-licious is now preparing to take on her stiffest challenge in Tecia Torres. "The Tiny Tornado" cannot be taken lightly, as her speed and footwork have potential to cause a world of trouble for Namajunas. With the help of American Top Team, Torres has rounded out her game past her world-class kickboxing roots. She will attempt to use her compact strikes to nip Namajunas in the bud early and control the pace throughout the fight.
Both fighters sit at 2-0 and are poised to make an early push for contention at 115 pounds with a victory. All signs point to an exciting bout that could be heralded as Fight of the Night by the fans.
Smith's Beautiful Brutality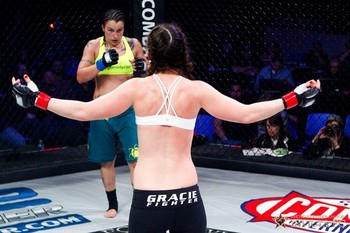 Courtesy Examiner.com
Despite a controversial decision loss to Sarah Kaufman at Invicta 5, Leslie Smith remains in the forefront of her division thanks to putting on consistently exciting fights. The willingness to trade with any opponent has proved both effective and fun for fans throughout her career.
Spectators can be sure each of Smith's bouts will be full of violence and short of dull moments.
Like many Cesar Gracie fighters, Smith pulls opponents into slugfests that suit her almost sadistic in-cage persona. She tends to grab the upper hand during her tireless exchanges and presses the pace on opponents until they wilt. When the fight hits the canvas, her pace does not falter.
In typical "209" fashion, Smith can mislead opponents into believing her style is sloppy and uncontrolled. In the end it is anything but, and foes are left wishing they could find a way out of the quicksand of pain that is Smith's onslaught.
Last time out, the "Peacemaker" was a victim of an unfortunate decision loss that many Invicta fans felt she won. Smith will be thrown right back into the fire against Chute Boxe fighter Jennifer Maia. The Brazilian is riding a two-fight win streak.
A win for either fighter means vying for a chance to compete at the flyweight belt or vacant bantamweight belt.
Hyatt vs. Inoue: Dark-Horse Bout for Fight of the Night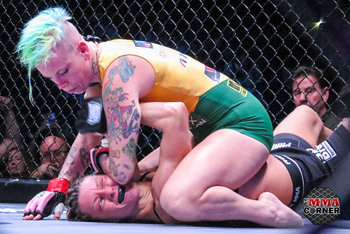 Courtesy of MMACorner.com
"Rowdy" Bec Hyatt has become a cult darling amongst MMA fans. Her willingness to interact on forum boards mixed with her exciting style has fans cheering her on each time she enters the cage.
Hyatt comes at her opponent like a carnivorous kangaroo, throwing an overwhelming barrage of punches and kicks. Her stand-up assaults complement her competent ground game, which has grown with each fight.
Hyatt's lone drawback since 2012 came at the hands of current strawweight champion Carla Esparza. Hyatt had been a late replacement and was unable to stop the champ's takedowns.
Rowdy came back strong one event later, clobbering Jasminka Cive before slapping on an armbar 3:30 into the bout.
Mizuki Inoue will likely be undaunted by her opponent's pace or penchant for violence. The Japanese submission artist has never failed to finish a fight she controlled. Her only career loss came by decision to Ayaka Hamasaki at Jewels 16th Ring. Inoue wants a chance to exact revenge but cannot overlook the Aussie in front of her on Saturday.
Like many fights on the card, Hyatt vs. Inoue holds a possible contender spot for the winner with likely relegation to tune-up bouts for the loser.
Be Prepared for Slick Submissions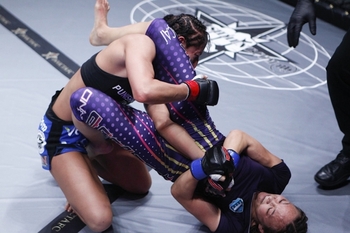 Courtesy BloodyElbow.com
Over two-thirds of finishes in Invicta FC have come by way of submission. An average of five taps per event have been tallied through five events. The finishes ranged from the standard rear-naked choke to mind-boggling flying armbars.
Competitors like Claudia Gadelha, Rose Namajunas, Ediane Gomes and Marloes Coenen have no trouble forcing a tap from opponents. At Invicta 5, atomweight Michelle Waterson locked in one of the smoothest reversals-to-armbar submissions ever seen when she defeated Jessica Penne. That finish was not even the best submission of the night thanks to Namajunas' flying armbar.
Ayaka Hamasaki vs. Claudia Gadelha should hold particular interest to ground-fight fans. Both women focus on submissions, and they share a 9-0 record.
The winner will no doubt nab a title shot with a victory at Invicta 6, since the promotion is keen to find a compatible ground challenge for champion Carla Esparza. The champ's wrestling shot and top control have placed her beyond most challengers. On paper, Gadelha or Hamasaki would force Esparza to rethink her top-control strategy.
There Will Be Blood
Courtesy TopMMANews.com
Despite ignorant naysayers and buzzkillingtons attempting to talk down women's MMA, when it comes to Invicta FC, be prepared for fantastic violence.
The fire and passion of the women can, at times, be lacking when their male counterparts compete. Salaries aren't high enough in Invicta for the competitors to play it safe with point-striking or position-first groundwork. The ladies come into fights ready to bring pain to their opponent and prove they can win in devastating fashion.
UFC fans have likely noticed that every female fight in the UFC has been particularly vicious. Miesha Tate vs. Cat Zingano at The Ultimate Fighter 17 Finale was not an anomaly. It is no trick of the eye or subconscious sensitivity to women fighting.
The ladies leave it all out there. Fans should expect the same at Invicta 6.
Keep Reading