Corey Brewer is returning to Minnesota.
According to Yahoo! Sports' Marc J. Spears, Brewer, after a short stint with the Dallas Mavericks and two seasons with the Denver Nuggets, has agreed to sign with the Minnesota Timberwolves, the team that drafted him out of Florida in 2007:
Deal is done sending ex-Nuggets guard Corey Brewer to Minnesota, source tells Y! Sports

— Marc J. Spears (@SpearsNBAYahoo) July 10, 2013
To clarify, free agent guard Corey Brewer has agreed in principle to sign a 3-year, $15 million contract with Timberwolves, source told Y!

— Marc J. Spears (@SpearsNBAYahoo) July 10, 2013
ESPN's Marc Stein adds some details on what this might mean for the rest of the roster:
In latest scenario, Luke Ridnour will end up in Milwaukee, with Wolves signing Corey Brewer and sign-and-trading Kevin Martin from OKC

— Marc Stein (@ESPNSteinLine) July 10, 2013
The T-Wolves, who are close to re-signing emerging center Nikola Pekovic, per Yahoo! Sports' Adrian Wojnarowski, are building a very intriguing lineup. But with Andrei Kirilenko likely gone via free agency, there is an apparent need for depth.
How would you grade this signing for the T-Wolves?
Acquiring Brewer helps that.
Last season with the Nuggets, he averaged 12.1 points to go along with 2.9 rebounds, 1.5 assists and 1.4 steals in just 24.4 minutes per contest.
Although he isn't the most consistent shooter—he shot 29.6 percent from beyond the arc last year, which is right at his career average—he's a highly energetic player capable of getting to the hoop or knocking down the corner trey if left open.
Take a look at his shot chart from last season, which saw him score the basketball at the highest rate of his career: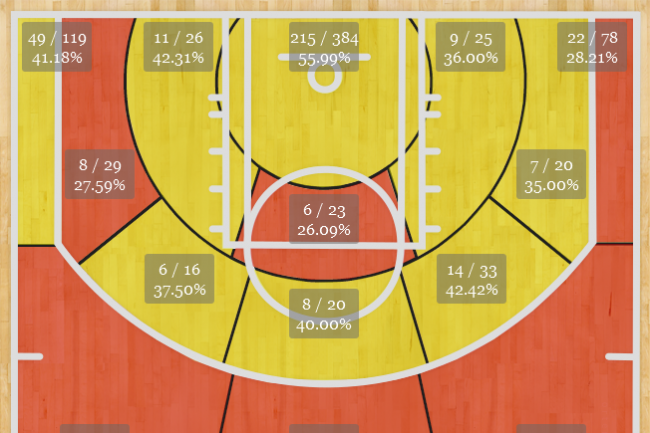 Moreover, Brewer is a solid defender. Standing at 6'9" with above-average quickness and agility, he is capable of defending a variety of positions effectively.
This signing might not garner a ton of notoriety. Still, Brewer is a valuable role player who will give the 'Wolves—a team intent on crashing the playoffs for the first time since current team president of basketball operations Flip Saunders was head coach back in 2004—versatility, energy and depth.