Jacare Souza vs. Yushin Okami Head-to-Toe Breakdown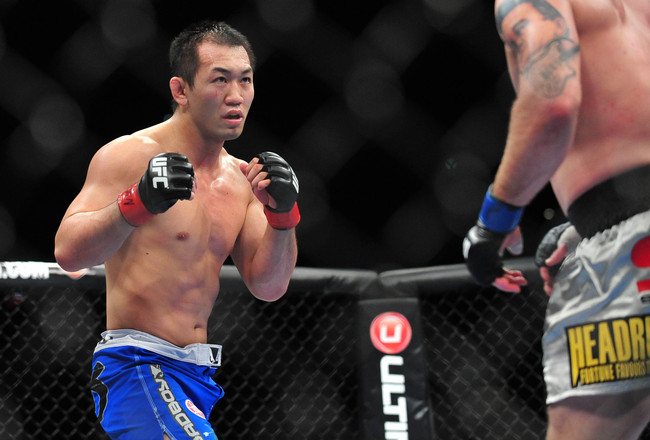 Gary A. Vasquez-USA TODAY Sports
UFC on Fox Sports 1 is the next wave of UFC events. These events will take place on Wednesdays and feature some high-quality competition.
The third installment of the series will take place in Brazil and feature a light heavyweight main event between Glover Teixeira and Ryan Bader. However, that is not the only great fight that exists thus far on the card.
A middleweight bout between Ronaldo Souza and Yushin Okami graces the co-main event. Both are contenders at 185 and could push themselves into the title picture with a win.
Here is a head-to-toe breakdown of that fight.
Striking
USA TODAY Sports
Neither Ronaldo Souza nor Yushin Okami come from a striking background. That doesn't mean they haven't improved in that area of fighting.
Souza has made a noticeable improvement in his most recent fights. After blitzing Derek Brunson with some powerful punches in under a minute, he showed some striking skill against Ed Herman (before he grounded and submitted him).
Okami more uses his striking to achieve a takedown or clinch. He does have some ground-and-pound ability, but he isn't confused for a knockout artist on a consistent basis.
Based on recent steps forward made by Souza, he takes the edge here.
Edge: Souza
Wrestling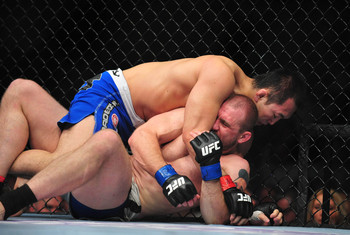 Gary A. Vasquez-USA TODAY Sports
Yushin Okami has some great takedowns and defensive wrestling. If you want proof, look no further than the outhustling he did against guys like Mark Munoz and Hector Lombard.
Okami is known to grind his opponents against the cage and earn top position. From there, he smothers opponents like a wet blanket.
For a jiu-jitsu-based fighter, Ronaldo Souza is not a bad wrestler himself. He has some solid explosiveness when looking to put a man on the mat, as well as a solid sprawl (even though the question must be asked, "Who would be stupid enough to take Souza down?")
In looking at both men's styles, the Japanese middleweight gains the edge.
Edge: Okami
Grappling/Submissions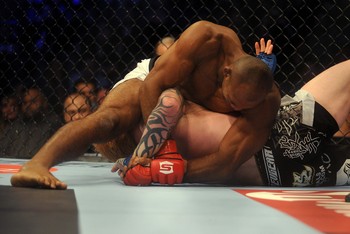 USA TODAY Sports
Ronaldo Souza and Yushin Okami have very different grappling styles. While Okami is more of a grinder, Souza is a technical submission artist that is one of the most feared grapplers in the game.
Souza has handed out a scary amount of tapouts in his career, but Okami has never suffered a submission loss in his life. That's why this grappling matchup is so intriguing.
I know Jacare is one of the best in the world, but Okami is so solid and grinding that it's hard to look past him.
Edge: Very narrow push
Prediction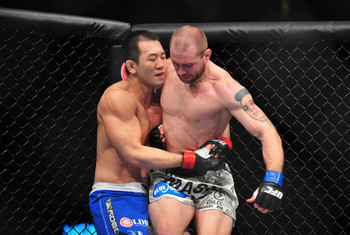 Gary A. Vasquez-USA TODAY Sports
As controversial as my prediction may be, you have to consider the matchup.
Yushin Okami and his grinding style are too much for most fighters to handle. Even if he isn't the most refined striker around, he has an aggressive attack that tires out opponents and frustrates all.
Souza's best chance of winning is sticking and moving. Even though he is a great submission fighter, he doesn't want to be under Okami with that blanket-like style.
I wouldn't be surprised is Souza pulls this off, but my gut is telling me Okami comes away with a victory.
Prediction: Okami def. Souza via decision
Keep Reading