10 Football Grounds to Take a Date on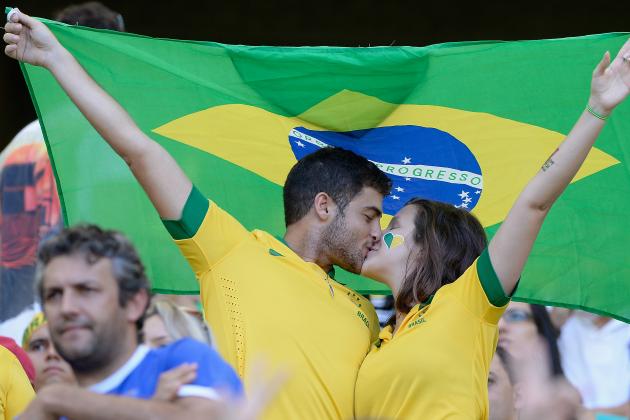 Claudio Villa/Getty Images

We all love football, but have you ever thought about taking the one that you love to watch football?
The sponsors of English football's League Cup, Capital One, launched a survey and found that 33% of men and 45% of women would take someone on a date to watch their team play.
The report goes on to say:
"Fans of Birmingham City feel their ground is the most romantic at 72%, in contrast to just 14% of Stoke City supporters."
With so many years of hosting a version of football mutated by intense exposure to Tony Pulis and heartthrobs like Peter Crouch and Charlie Adam strutting their stuff on the pitch, we can only scratch our heads as to why Stoke fans wouldn't want to take someone they wanted to impress to watch their team play.
So, which grounds in World Football are best to take a date on and why?
And rest assured you're in the hands of a romance specialist, the author often took his now-wife to watch Queens Park Rangers play.
Begin Slideshow

»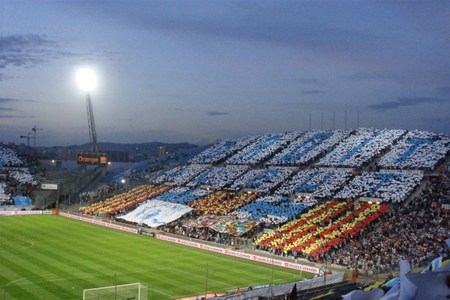 image via klyker.com/
Where better to take a date than a wonderful old stadium in France?
Not only is the home to Olympique de Marseille a beautiful, 76 year old stadium in the south of France, it is situated in Marseille's heart, a mile away from the sea.
Most of the seats don't have a roof on them. Which, so close to the Mediterranean, could mean for prime sunbathing action whilst watching L'OM play in the summer...
...but, should you take your date to the Stade Velodrome on a winter night with a strong sea wind and rain crashing down, any romantic sparks could be extinguished like putting out a match by pouring a shark tank onto it.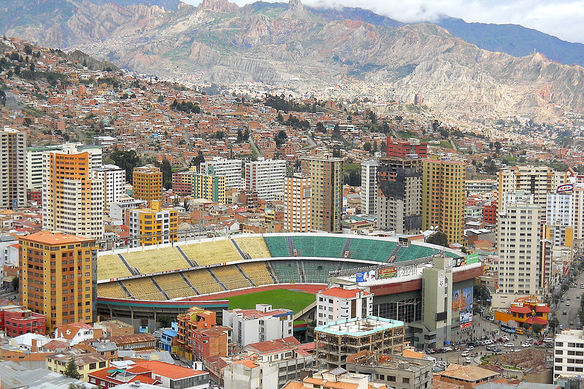 Image via psyberartist/Flickr
A truly unique stadium, nestled snuggly within the tower blocks of La Paz, a city nestled snuggly within the Andes mountains. Your date will doubtlessly be fascinated to know they are watching a match in a stadium that is nearly 12,000 feet above sea level, making it one of the highest stadiums in the world (compared to Stoke City's pitiful 431 feet above sea level).
There's also a bit missing in one corner which is cool. Your date might like that.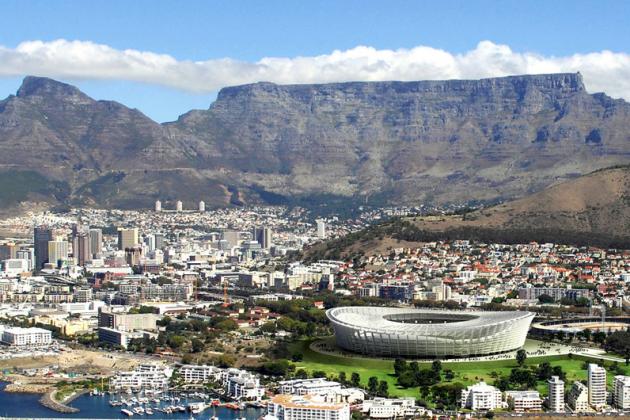 Sat staring out over the Atlantic Ocean and hiding underneath Table Mountain, there's so much to see outside the Cape Town Stadium, you might not want to even go into the ground.
But if you didn't go into the stadium, your date wouldn't get to see Ajax Cape Town play who have been using the stadium since the 2010 World Cup. And your date would regret going all the way to South Africa and missing Cape Town's answer to Ajax.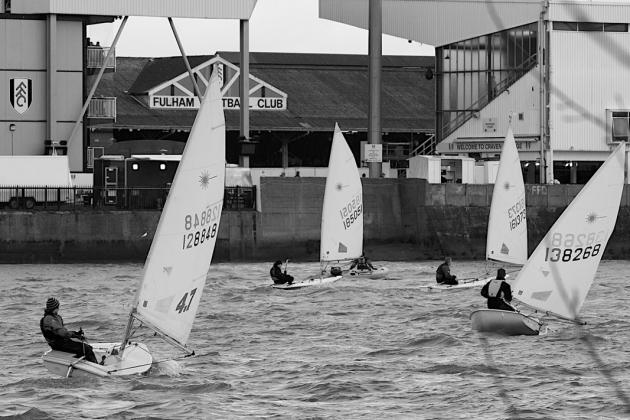 image via davidkhardmanphotography.blogspot.co.uk
Sitting on the River Thames in South West London is the picturesque ground of Fulham.
The ground itself looks like a lovely old lady has taken the carpet up in her rural bungalow and replaced it with a full-size football pitch.
Also, you and your companion can pay homage to the King Of Pop, Michael Jackson, as there's a statue of him at the ground.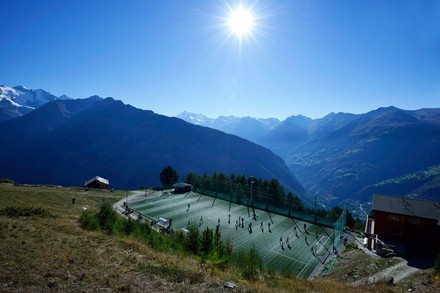 image via WhoAteAllThePies.tv
Carved into a mountain in the Alps, the highest stadium in Europe and home of FC Gspon, the Ottmar Hitzfeld Stadium offers spectacular views and a rich variety of ski resorts nearby.
However, as there's no road access to the ground due to it being on an actual mountain over 6,500 above sea level, the only way to get to the ground is by cable car.
If your date isn't keen on heights, it might be worth giving this one a miss.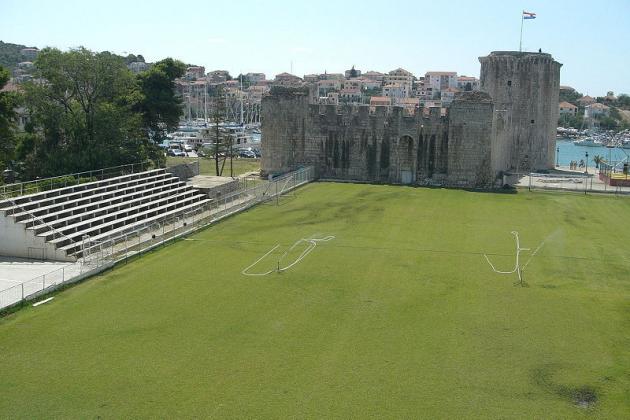 Oh, the team you support have a really nice scoreboard at their stadium do they?
Well, Croatian side HNK Trogir have a castle at their stadium. A castle.
What more do you want?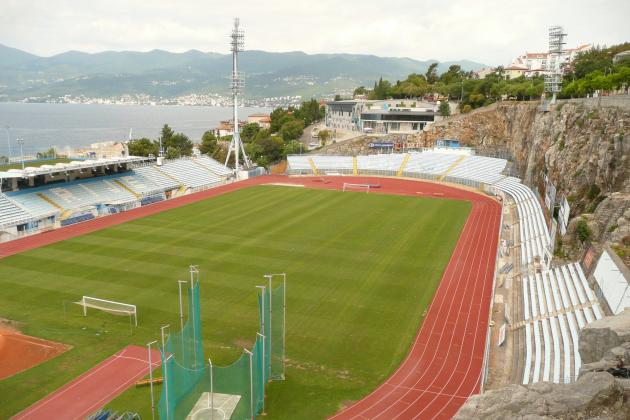 image via 27133631@N08/Flickr
Croatia doesn't do ugly stadiums.
HNK Rijeka's house (which sometimes has the Croatian national team as lodgers) has been built within the cliffs hanging over the Adriatic Sea.
Everyone loves a day at the beach. Every loves a day at the football. Put the two together and you cannot lose (and neither can the Croatian national team who have never lost at the Stadion Kantrida).
Also, there's something very 1990 about a running track around a football pitch. What better place to fall in love than by a running track around a football pitch?
image via Hoiol/wikiarquitectura
Have you ever seen the Mel Gibson and Helen Hunt rom-com, What Women Want?
We haven't, but we assume the end of the film concludes that what women want is to go to a football stadium that is home of the champions of Europe and where the exterior can light up every color of the rainbow.
And that is why the Allianz Arena of Bayern Munich and 1860 Munich is an ideal football date, especially now you can both admire the beauty of Pep Guardiola.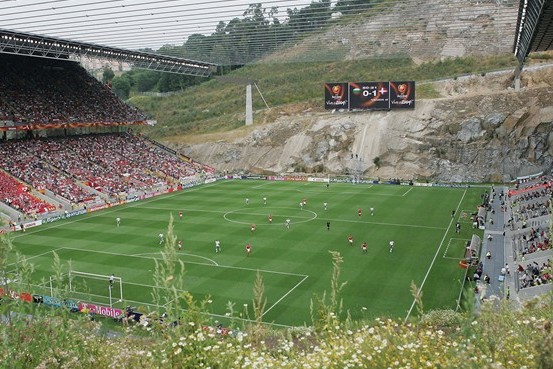 image via lvironpigs.wordpress.com
If football matches aren't your date's thing, then quarries have to be. Everyone loves a quarry!
Estadio Municipal de Braga, home of SC Braga, is one of the most stunning stadiums in the world thanks to the beautiful marriage of football and open-pit rock and mineral mining.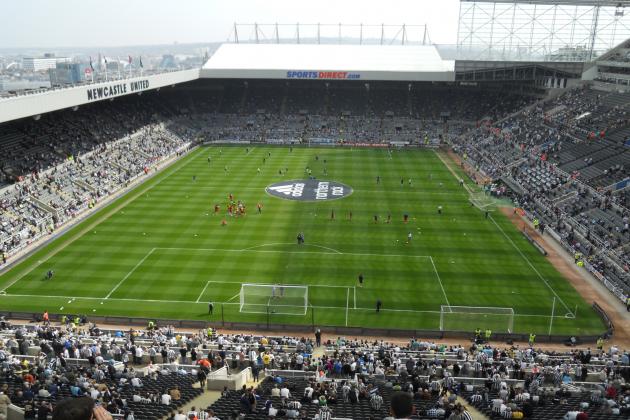 Some say Paris is the most romantic city in the world.
Those people are wrong. Try Newcastle upon Tyne, that is the capital of love.
St James' Park is a ground that oozes sexual energy. When Alan Shearer isn't on the pitch making a presentation with his silky voice, you have Mike Ashley smouldering in the executive seats and now the suave Joe Kinnear as Director Of Football at Newcastle United.
Just make sure your date doesn't get talking to this guy, or they could end up ditching you and leaving with him.