Early Projection for Minnesota Wild' 2013-14 Depth Chart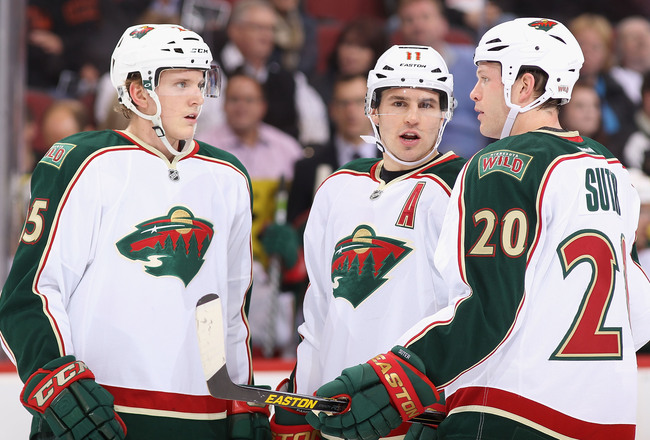 It's pretty obvious where top players like Brodin, Parise and Suter will end up, but the depth players are a bit of a mystery.
Christian Petersen/Getty Images
Barring injury or a serious slump, the Minnesota Wild pretty much have their top line and first defensive pair figured out.
Things become a bit of a mystery after that.
There are four young players—Charlie Coyle, Jason Zucker, Nino Niederreiter and Mikael Granlund—that have to find a fit with the team. Coyle and Zucker played well last year, but Nino and Granlund have a lot to prove.
Dany Heatley will probably get a second line role, but who will center that line and how much does the 32-year-old former 50-goal scorer have left in the tank?
On the defensive side of things, Minnesota appears bullish on Marco Scandella and Keith Ballard is in his prime, but will they try to give Nate Prosser playing time or do they favor Clayton Stoner?
Finally, there are obvious moves to make on special teams, but there are also a lot of candidates and few spots. Jared Spurgeon is basically a power play specialist and Matt Cooke is a great penalty killer. The question is how to build around guys like that.
The good thing is the Wild have a lot of options, the bad thing is they are relying heavily on young players that will go through peaks and valleys all season long.
This is an early look at how their depth chart will fill out. I tried to put players in their natural position and present options for each line, as change will happen throughout the season.
Forward lines go left to right (LW-C-RW). Power play lines are included.
First Line: Parise-Koivu-Pominville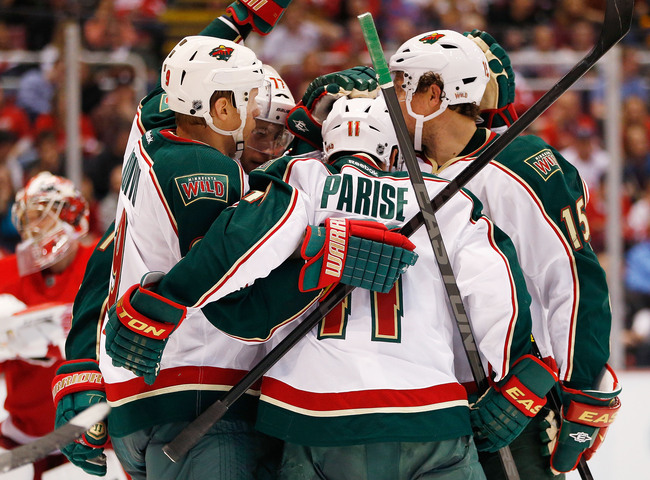 Koivu (9) and Parise (11) should be connecting a lot this year. Heatley could join them on the power play and is an option on the first line as well.
Gregory Shamus/Getty Images
Stop freaking out about the Mikko Koivu, Zach Parise connection!
Yes, there were some problems last year—especially in the playoffs—but those kinks will be worked out now that the team will have a training camp.
The Wild were a team that was very hampered by the shortened season. They had two big names coming in and lots of young players on the roster. Things should go a little more smoothly this year.
Minnesota would not have given Koivu a seven-year, $47 million contract back in 2011 if they didn't think he could play with the best forwards in the game.
He will be connecting with Parise and Jason Pominville for a lot of points this season.
Also, it should be noted that Koivu is the team captain, Parise was a captain in New Jersey and Pominville wore the C in Buffalo, meaning that this line as a whole will be a strong influence on the team on and off the ice.
Second Line: Heatley-Granlund-Coyle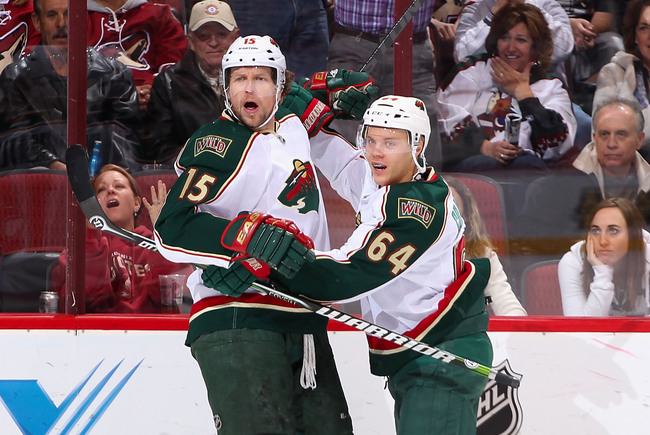 Both Heatley and Granlund have a lot to prove this year.
Christian Petersen/Getty Images
Let's call this the "If Line."
This line will stay together if Dany Heatley looks capable of scoring 25 or 30 goals.
This line will stay together if Mikael Granlund, who had a disappointing rookie season, can take the next step in season two.
This line will stay together if Charlie Coyle, who was phenomenal last year, does not have a sophomore slump.
Minnesota could also chose to bring Pominville down and move Coyle up, dividing the age a little better. As it stands, the team's second line has two 21 year olds. Pominville is 30 and Coyle held his own with Koivu and Parise last season.
Heatley could also join the top line if he looks like the player he was in Ottawa.
Also, if Nino plays like a stud and/or Heatley slumps they might move Niederreiter up and make this line really, really young.
The second line is bound to take many forms during the season.
Third Line: Zucker-Brodziak-Niederreiter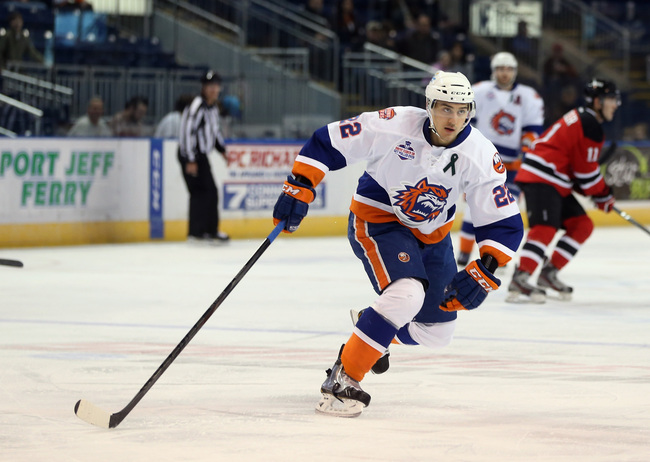 Niederreiter spent last year in the AHL, but could thrive with a change in scenery.
Bruce Bennett/Getty Images
This is actually kind of a scoring line, although both Jason Zucker and Kyle Brodziak have a lot to offer defensively.
Brodziak can hold his own in the faceoff circle and has decent size (6'2", 210 pounds). Zucker may be small, but is known as a puck hound that creates his own opportunities by disrupting players and forcing odd-man rushes or breakaway opportunities.
The real wild card is Niederreiter.
Known more as a skill player, Nino is probably a better fit on the second line, but he struggled in his first two NHL stints and is unlikely to get a lot of ice time right away.
He was called up too early with the New York Islanders and should not be judged too harshly for his lack of production, but at the same time there is no sense in rushing him on this team.
Nino will probably take Coyle's spot on the second line eventually, unless he struggles early on in the season (or Heatley takes a step back), but he should start the season getting third line minutes and working his way up.
Fourth Line: Cooke-Konopka-Rupp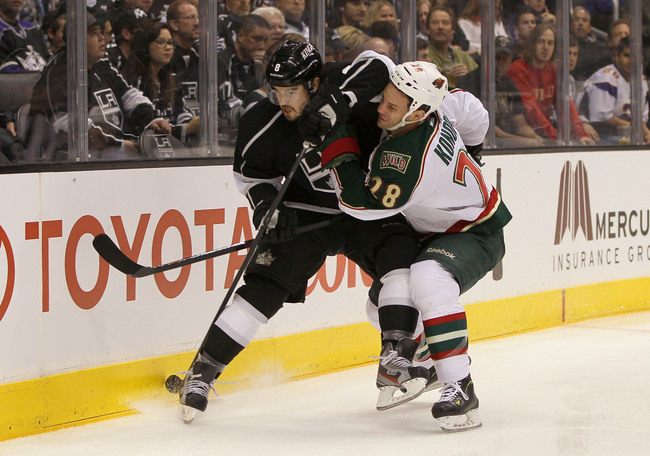 Not only is Konopka a tough guy and a great defender, but he is also a force in the faceoff circle.
Victor Decolongon/Getty Images
Zenon Konopka is pretty much a lock as the fourth line center. As the resident tough guy that is keen and savvy in the faceoff circle, the Wild will play him as much as possible.
Matt Cooke will wear Derek Boogaard's No. 24, with the Boogaard family's permission, and should get a spot on the fourth line because of his penalty killing ability. Assuming he behaves, he could play 70 or 80 games and he said he is cleaning up his act.
Michael Rupp will get the nod because of his size (6'5", 245 pounds) and experience (12 seasons), although Stephane Veilleux is an option here as well.
The latter player is significantly smaller (6'1", 200 pounds). He has spent most of his career bouncing between the AHL and NHL and he probably will do that this season as well.
Torrey Mitchell is kind of the odd man out there, but he will not play on the fourth line when he plays. He is more likely to take Brodziak's spot on the third line if Granlund needs more time in the minors and Brodziak gets bumped up.
First Pairing: Suter-Brodin
Suter is one of the NHL's elite defenseman played well with Brodin last season.
Dustin Bradford/Getty Images
This is one of the best defensive pairings in hockey.
Assuming that Ryan Suter does not get hurt and Jonas Brodin does not have a sophomore slump, both players are Norris Trophy candidates and a huge reason why hockey fans in Minnesota have reason to believe the Wild can be a contender.
Neither of them stand out when they are on the ice—Suter doesn't have a booming shot, Brodin does not smash forwards through the plexiglass—but that means they are doing their job.
Somebody has to clear pucks in front of the net and give the goaltenders a clear line of site. Brodin and Suter are just the men to do so.
Second Pairing: Ballard-Scandella

Ballard has a devastating hip check.

The Wild released one Minnesota native (Tom Gilbert) and brought in another one (Keith Ballard). Make no mistake, however, Ballard's place on the team is earned. At age 30, he brings veteran leadership to a young team and he still has one of the best hip-checks in the game.
How well can this man make his hips swing? Well, just ask Taylor Hall, Jamie McGinn and Evgeni Malkin. They'll tell you his hip-check is downright Savage.
Put another way: Everybody ends up head-over-heels after connecting with his ghetto booty.
Scandella doesn't have a signature move, but the 23-year-old appears to be a rising star in the NHL.
It does not look like there will be a lot of scoring coming from Minnesota's defense this year, but all four of the top guys are able to put the puck in the net and, really, there is plenty of firepower among the forwards anyways.
Third Pairing: Spurgeon-Stoner/Prosser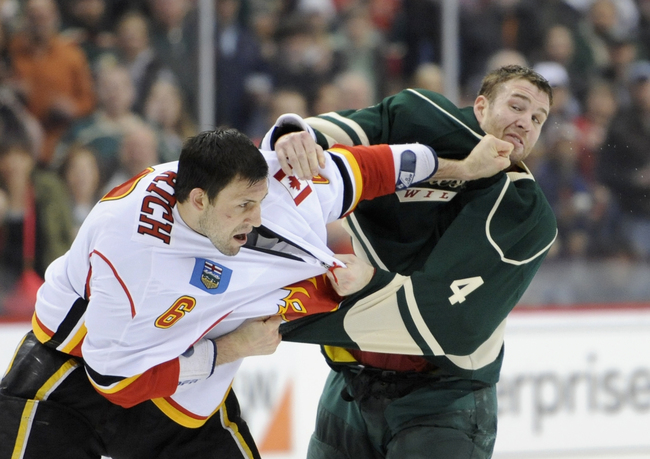 Stoner offers some toughness as a depth defenseman, but also has a propensity for turning the puck over.
Hannah Foslien/Getty Images
Jared Spurgeon got a three-year, $8 million contract and will suit up every day because of what he has to offer on the power play. At 5'9", 185 pounds he is to the Wild what J.J. Barea is to the Wolves—a small dude.
But this guy has a cannon and can unleash a filthy slap shot.
He will see a lot of time on the power play and play some third pairing minutes when the top four men are tired out.
He will likely be paired with either Clayton Stoner or Nate Prosser. Both players are in their prime and do not have a lot of upside. They will likely be a healthy scratch for many of Minnesota's games this year.
Power Play Forwards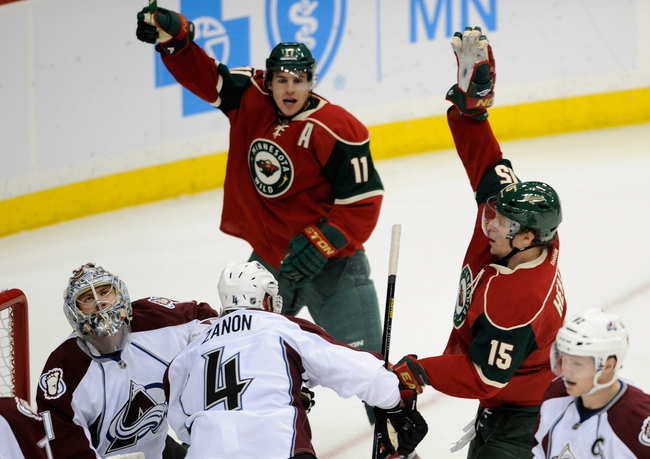 Heatley could spend time with Parise on the power play.
Hannah Foslien/Getty Images
First unit: Parise-Koivu-Pominville
Second unit: Heatley-Granlund-Niederreiter
I don't know why the Wild would split up their first line on the power play. Pominville is perfectly capable of scoring and Koivu and Parise should connect for plenty of goals this year.
The second line will likely include Niederreiter, who would benefit from additional playing time and being placed in a situation where he is expected to score. Nino has more scoring upside than Coyle and should get used to playing with Granlund because the two of them have to be penciled in as future linemates.
The Wild could move Heatley up to the first pairing to have two big-time scorers with Koivu as well.
Power Play Defensemen

Spurgeon is at his best on the power play.

First unit: Suter-Spurgeon
Second unit: Brodin-Scandella
The Suter-Spurgeon connection was great last year. The former is a great passer that is patient with young players and the latter can blast pucks past goaltenders and set up deflections.
Those two are unlikely to be split up.
The second pairing can be viewed many ways. By putting Brodin and Scandella together, the two young players will get valuable additional ice time and an opportunity to develop their offensive game.
Ballard could get some time on the second unit too, as he was a goal-scoring defenseman with the Phoenix Coyotes and Florida Panthers.
Penalty Kill Forwards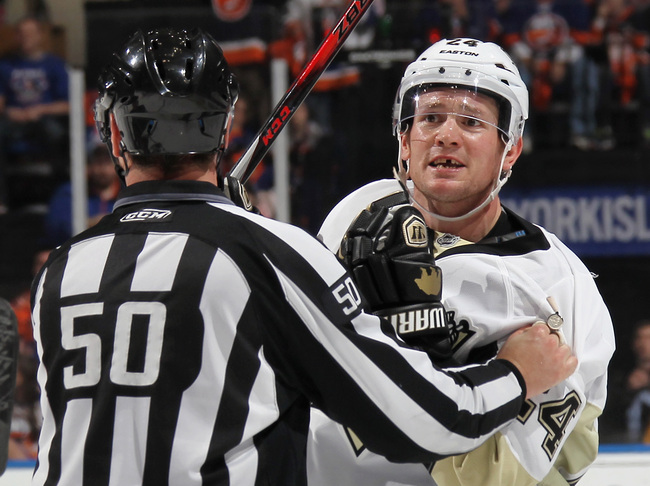 Cooke is known as an agitator, but has a lot to offer as a penalty killer.
Bruce Bennett/Getty Images
First unit: Parise-Koivu-Cooke
Second unit: Rupp-Konopka-Zucker
The nice thing about Parise and Koivu is that they do not get glued to the bench on the penalty kill. Parise creates opportunities with a man down and is always on the puck and Koivu has good size (6'2", 217 pounds) and can win faceoffs.
Cooke is known as a great penalty killer and probably will be used extensively on with a man in the sin bin.
Konopka is another guy that wins faceoffs and is an absolute beast in the dirty areas. Rupp pretty much just plugs things up and smashes away like the Hulk.
Some may be surprised to see Zucker here, but he is like a mini-Parise in the way he hounds puck-handlers and makes up for his lack of size by pestering skill players.
When he's in the lineup, Veilleux will also be used as a penalty killer. Coyle, Mitchell and Brodziak are also likely candidates.
Penalty Kill Defensemen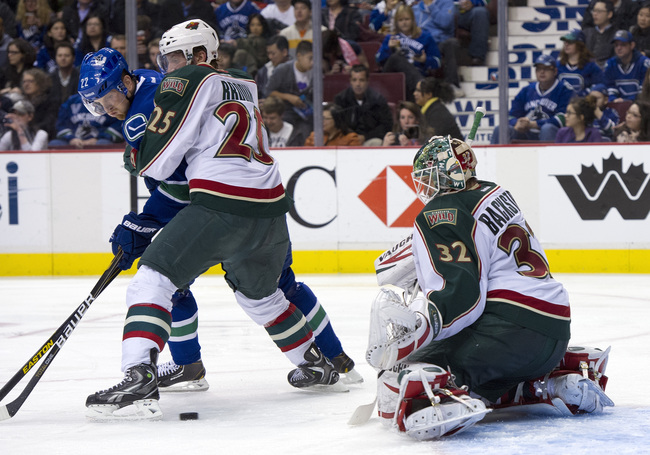 Brodin's play in front of the net makes him one of the best young penalty killers in the game.
Rich Lam/Getty Images
First unit: Suter-Brodin
Second unit: Ballard-Scandella
I don't know why the Wild would split up two of the best defensive players in the game on the penalty kill, but if they want experience on the first unit they could always go with Suter and Ballard.
Otherwise, they'll probably just stick with their normal defensive pairings. Defensemen are used to playing big minutes anyways.
Tom Schreier covers Minnesota sports for Bleacher Report and is a contributor to Yahoo! Sports.
Keep Reading

Minnesota Wild: Like this team?