David Ortiz is now in a league of his own.
On Wednesday night, Ortiz broke Harold Baines' all-time record for most career hits by a designated hitter with a double in the second inning against the Seattle Mariners, giving him 1,689.
Pete Abraham of the Boston Globe tweeted the milestone:
Standing ovation from the fans in Seattle as Ortiz sets the record for most hits by DH. Ortiz tips his cap. #redsox

— Pete Abraham (@PeteAbe) July 11, 2013
Abraham also noted how fitting the hit itself was:
True to how he has evolved as a hitter in recent years, Ortiz set the record with an opposite-field hit.

— Pete Abraham (@PeteAbe) July 11, 2013
Ortiz tied the record on Tuesday night in the second game of the four-game set at Safeco Field. The 37-year-old veteran entered the night four hits shy of tying Baines' lead and had quite the performance. He went 4-for-5 with two doubles, a home run, one RBI, three runs and a stolen base.
Nick Cafardo of the Boston Globe reported that with Ortiz's fourth hit—the 1,688th of his career—he'd tied Baines for the record:
Ortiz' fourth hit gave him 1,688, tying him with Harold Baines for most ever for a DH.

— Nick Cafardo (@nickcafardo) July 10, 2013
Boston manager John Farrell took the time after Wednesday's game to talk about Big Papi's accomplishments throughout his time in the big leagues, via Jacob Thorpe of MLB.com: "Just an outstanding career. He continues to get better with age. Despite the 15 games missed, you look at the total numbers amassed so far, it's a lot of power, a lot of key spots for us. He might be setting the bar for the position itself."
Ortiz, however, isn't focused on personal records, according to Scott Lauber of the Boston Herald: "It means I'm getting old, man. You've got to play for a while to put numbers together. I'm not really thinking about that right now. I'm just trying to go through the motions and try to continue producing for this ballclub and try to win some ballgames."
Boston is 55-37 on the season and sits atop the AL East standings, 3.5 games ahead of Tampa Bay. The focus should really be on Ortiz, though, and how dominant he's been throughout his record-breaking career.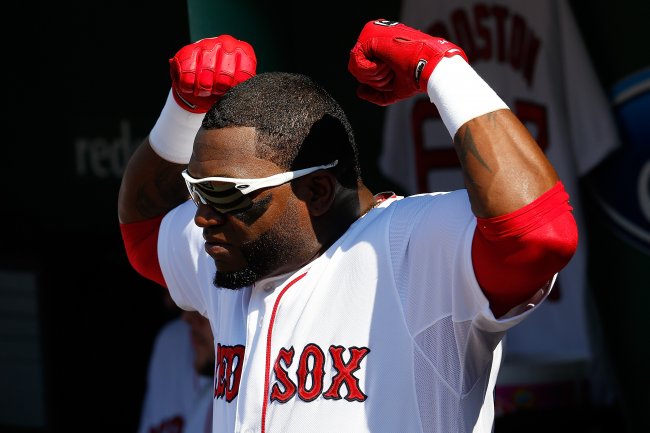 Jim Rogash/Getty Images
In 17 seasons in the majors, Ortiz is a .287/.381/.550 hitter with 419 home runs and 1,388 RBI. He's been selected to nine All-Star Games, including this season, when he'll be the starting DH for the American League. He's never won an MVP but has finished in the top five in voting five times.
Is Ortiz the best DH ever?
A two-time World Series champion, Ortiz is doing everything in his power to win a third this season. Through 72 games, Big Papi is hitting .327/.411/.621 with 18 home runs and 62 RBI.
The postseason is still a long way away, though. For now, it's time to celebrate David Ortiz's career and all that he's accomplished.
Congrats, Big Papi.