The Ashes is one of the top Test cricket spectacles you'll see and this year has been far from a disappointment. We've played witness to a few great bowling and batting performances, and the First Test of the series is just the beginning. There's still plenty more to come.
Let's take a look at the recaps from each day of the First Test at Trent Bridge thus far.
Day 1 Recap
Through Day 1 of the First Test, Australia trails by 140 with six wickets remaining, according to the official Twitter account of Sky Sports:
Australia closed on 75-4 in reply to England's 215 as seamers dominated the opening day of the Ashes. Report: http://t.co/rhFaXPDEY2

— Sky Sports (@SkySports) July 10, 2013
England won the toss and elected to bat first, but didn't have the performance that it would have liked. The team only put 215 runs on the board, as it seemed like nerves may have gotten to some of the batsmen. Jonathan Trott leads England in runs through the first day with 48.
One of the biggest stories from the opening day of play was how well Peter Siddle bowled for Australia. The 28-year-old took a remarkable five wickets, and ESPNCricInfo couldn't believe the kind of success Siddle was having against England. He finished the day having allowed 50 runs, but kept his team in a good position going forward:
Make that five now...what a day for Siddle #engvaus

— ESPNcricinfo (@ESPNcricinfo) July 10, 2013
When it was Australia's turn to bat, the country hoped to have a good showing, knowing that England didn't hit very well. Steve Smith scored 38 runs for Australia—and isn't out yet—but some of his teammates didn't have that kind of success. Michael Clarke, for example, didn't score at all during the first day.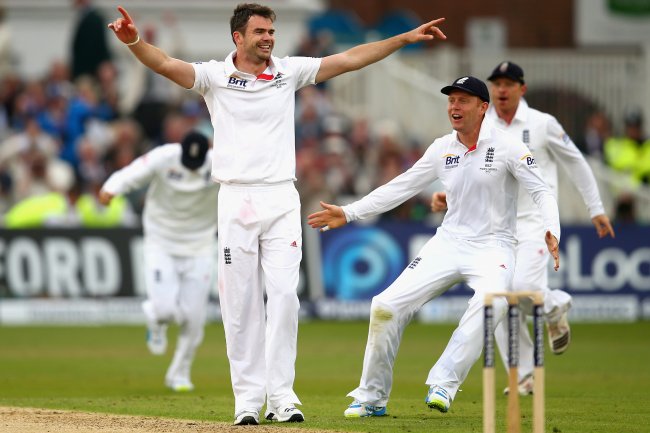 Ryan Pierse/Getty Images
Smith, along with Phil Hughes—who has scored seven runs, but isn't out yet—really helped Australia end the first day on a high note. ESPNCricInfo seems excited for what's to come:
Hughes and Smith nudge Australia to 75 for 4 to end a cracking day of Test cricket. The marker's been laid for a super Ashes.

— ESPNcricinfo (@ESPNcricinfo) July 10, 2013
James Anderson was the top bowler for England, as he allowed 25 runs in 10 overs for a 2.50 economy rate while taking two wickets. The English finished the day with four wickets, Steven Finn taking the other two. There's still a lot that can happen on Thursday, but for now, England has been fine bowling.
In total, there were 14 wickets throughout the opening day. It'll be interesting to see how many wickets are taken in the coming days.
One thing that seems apparent—though it's still very early—is that taking many wickets going forward will be vital to winning the Ashes.
Day 2 Recap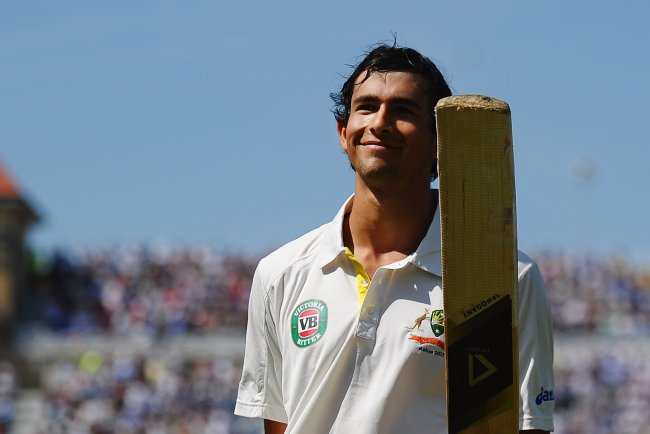 Laurence Griffiths/Getty Images
Day 2 at Trent Bridge offered one of the most spectacular performances you'll ever see in a Test match. Australia's Ashton Agar, who's just 19 years old, broke the record for the highest score by a No. 11. Agar scored 98 runs on 101 balls to surpass the previous all-time mark by three.
Here's what Agar told BBC about his historic day:
When I walked to the crease I was thinking we were in a little bit of trouble but the wicket was good.

Phil Hughes told me to take it ball by ball. We just played the moment and forgot about everything else. It was good fun, exciting and I enjoyed it.

I have always tried to play freely and naturally and I don't really get too nervous. There are a lot of people who would love to be doing what I'm doing.
CNN's Piers Morgan welcomed the youngster to the real world:
Welcome to the real world, Mr Agar... @KP24 #theashes

— Piers Morgan (@piersmorgan) July 11, 2013
Agar was also the first player in the series to make a 50, per ESPN Stats & Info:
Aussie Ashton Agar becomes the first Test debutant No. 11 to make a 50. Ashes cricket action on @ESPNcricinfo

— ESPN Stats & Info (@ESPNStatsInfo) July 11, 2013
Agar helped Australia finish at 280 all out, giving his team a first-innings lead of 65. While Agar stole the spotlight on Day 2 of the First Test, Hughes certainly deserves some credit for how well he played. He had an 81 on 131 balls for a 61.83 strike rate and isn't out.
Steve Smith added 53 on 79 to aid Australia's lead as well.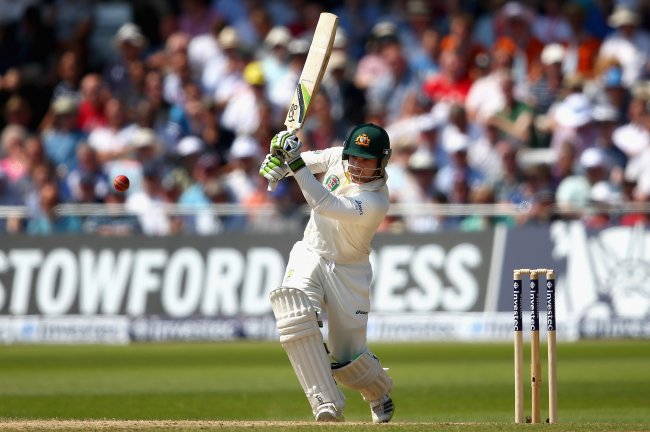 Ryan Pierse/Getty Images
While Siddle had a strong outing on Wednesday, he was just as good on Thursday—just without all those wickets. He allowed eight runs on nine overs for a 0.88 economy rate. His wicket total for the series, however, stands at five, as he wasn't able to take any.
Jimmy Anderson is now tied at five with a good day for England.
Alastair Cook and Kevin Pietersen were both productive batsmen on the second day, and neither is out yet. Cook has 37 on 130 and Pietersen has 35 on 98.
Root only had 5 on 31 and Trott has 0 on 1—and both are out. When Day 2 concluded, however, England was only through 43 overs.
Through the first two days at Trent Bridge, England leads by 15 runs with eight wickets remaining. Play will resume on Friday with England finishing up and then Australia coming to bat, looking to take the First Test lead.
Day 3 Recap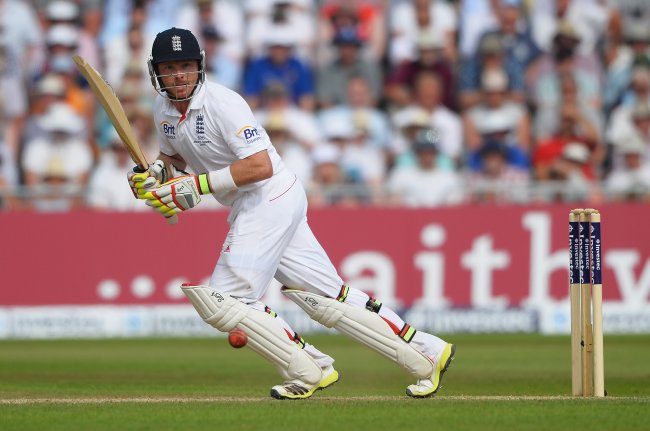 Laurence Griffiths/Getty Images
England leads Australia by 261 after a wild and controversial Day 3 at Trent Bridge, via BBC Sport:
England finished day three against Australia at Trent Bridge on 326-6 with a lead of 261 runs http://t.co/JUJJ7QHlv5 #Ashes

— BBC Sport (@BBCSport) July 12, 2013
Although both Ian Bell and Stuart Broad played superb for England, much of the talk on Friday centered on a controversial play that saw the umpire call Broad not out when it appeared as if he was.
BBC Sport recaps the strange moment:
Controversial moment at Trent Bridge – Stuart Broad survives a huge Australia appeal http://t.co/JUJJ7QHlv5 #Ashes

— BBC Sport (@BBCSport) July 12, 2013
Replays show that Stuart Broad clearly hit the ball from Ashton Agar to first slip but he was given not out by the umpire #Ashes

— BBC Sport (@BBCSport) July 12, 2013
Despite the controversy, Broad played phenomenal cricket on a pivotal third day of the first Test. He was huge with the bat for England, as was Bell, who along with Broad, is still not out.
Bell would record 95 runs in 228 balls in the second innings for a strike rate of 41.67, via Mark Beck:
Ian Bell is putting in a good shift. On course for a century I would have thought. Much better batting session today #Ashes

— Mark Beck (@MB_Ktubes) July 12, 2013
Bell also joined an impressive list of English stars to record at least 6,000 Test runs in the process, via BBC Sport:
Ian Bell has become the 14th player to score 6000 Test runs for England #Ashes pic.twitter.com/n7z2Yvlzig

— BBC Sport (@BBCSport) July 12, 2013
For Australia, the day would feature plenty of struggles as well as arguments with the umpire, via BBC Sport:
Michael Clarke and the Australia team appeal unsuccessfully for a catch from Stuart Broad during the Ashes Test pic.twitter.com/UEnSPt6rb1

— BBC Sport (@BBCSport) July 12, 2013
One day after making history with the bat, 19-year-old Aussie Ashton Agar picked up his first Test wicket on Friday. He would finish with two on the day, bowling 35 overs and surrendering 82 runs for an economy rate of 2.34, via Investec Cricket:
Ashton Agar celebrates taking the wicket of England Captain Alastair Cook at the #InvestecAshes. Photo: Visionhaus. pic.twitter.com/zUTjS5ewl1

— Investec Cricket (@InvestecCricket) July 12, 2013
Unfortunately, Day 3 at Trent Bridge will be forever remembered for the Stuart Broad controversy. While some are taking shots at Broad for not walking off, others have stated that you have to play the call. Still, CNN's Piers Morgan likely summed up the wild day better than anyone else on Twitter on Friday:
What a game, and still only Day 3. This is why The #Ashes remains the greatest sporting confrontation in the world.

— Piers Morgan (@piersmorgan) July 12, 2013
The action will continue from Trent Bridge on Saturday as the Aussies to battle back.
Day 4 Recap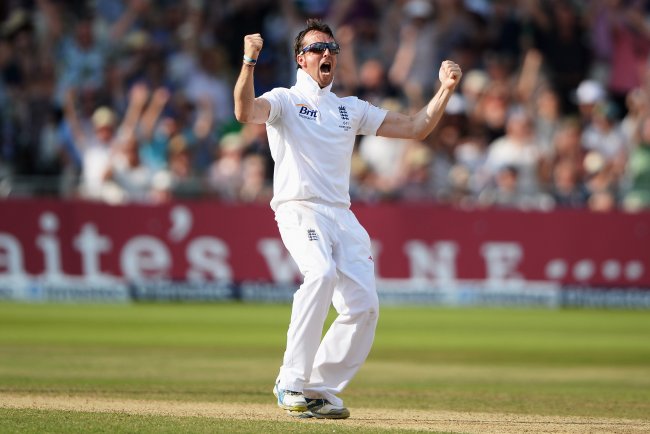 Gareth Copley/Getty Images
Australia will need 137 runs with only four wickets remaining in order to defeat England in the first Test of the 2013 Ashes after putting up 174 on Day 4 at Trent Bridge, via BBC Sport:
Australia closed day four of the #Ashes Test match against England on 174-6 requiring a further 137 runs to win http://t.co/TlMAKsxhqc

— BBC Sport (@BBCSport) July 13, 2013
Ian Bell was strong to start for the English, finishing with 109 runs to set Australia's run target at 311.
Ashton Agar and Brad Haddin, who combined for 12 runs on Saturday, are still not out for the Aussies, who will require a magnificent performance on Day 5 in order to rally.
James Anderson and Stuart Broad were the star bowlers for England, bowling a combined 33 overs and together conceding 78 runs. Anderson and Broad would finish with economy rates of 2.59 and 2.13 respectively.
Broad was one of two English bowlers to record two wickets on Day 4, via BBC Sport:
Stuart Broad celebrates after taking the wicket of Shane Watson as Australia attempts to chase 311 to win #Ashes pic.twitter.com/SCS2nHwtmm

— BBC Sport (@BBCSport) July 13, 2013
Australia's Chris Rogers did some damage during his time with the bat, scoring 52 before being put out by a stellar wicket from Anderson, via BBC Sport:
Chris Rogers has fallen for 52 - huge wicket for England. Australia are 124-3 and need 187 more runs to win http://t.co/TlMAKsxhqc #Ashes

— BBC Sport (@BBCSport) July 13, 2013
England bowler James Anderson celebrates the wicket of Chris Rogers at Trent Bridge on a tense day in the #Ashes pic.twitter.com/d9rQwXK42Q

— BBC Sport (@BBCSport) July 13, 2013
The Aussies wouldn't recover from the momentum shift, though, as three wickets in a span of 18 balls delivered a crushing blow to close out the day, via BBC Test Match Special:
Australia have lost their last three wickets in the space of 18 balls. They only scored three runs in this period #Ashes

— BBC TMS (@bbctms) July 13, 2013
Australian captain Michael Clarke knows that his side isn't out of it just yet. He also knows that Ashton Agar is more than capable of sparking them on the final day of the first Test, via BBC Sport:
Michael Clarke speaking to @bbctms: "We have some batting to do and if we do it well, we can win this Test match." #Ashes

— BBC Sport (@BBCSport) July 13, 2013
Australia captain Michael Clarke added: "We need Ashton Agar to play the type of innings he played in the first dig." #Ashes

— BBC Sport (@BBCSport) July 13, 2013
The first Test match will conclude on Sunday at Trent Bridge. The Ashes' second Test will begin on Thursday from Lord's Cricket Ground in London.
Day 5 and Final Recap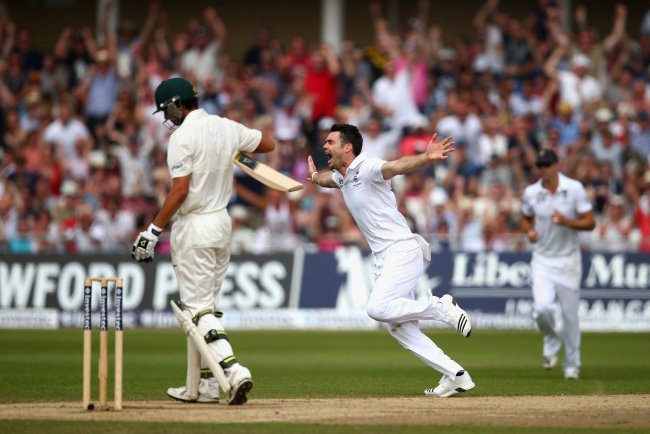 Ryan Pierse/Getty Images
England took the First Test of The Ashes on Sunday, defeating Australia by 14 runs.
The official Twitter account for BBC Sport announced the First Test's outcome:
England have defeated Australia by 14 runs at Trent Bridge to take a 1-0 lead in the #Ashes http://t.co/UauS7jJIPw

— BBC Sport (@BBCSport) July 14, 2013
Australia entered Sunday needing 137 runs to win, but came up just short in what was quite the match for Jimmy Anderson and the English bowlers. Anderson allowed 73 runs in 31.5 overs for a 2.29 economy rate, while also taking five wickets. He finished the First Test with 10 wickets, the most of any bowler.
Anderson seemed pretty excited about the win, per BBC Sport:
Jimmy Anderson and the England team celebrates victory over Australia at Trent Bridge #Ashes pic.twitter.com/omKKqQjsNq

— BBC Sport (@BBCSport) July 14, 2013
He was also named the Man of the Match, per BBC Sport:
Jimmy Anderson has been named as the Man of the Match at Trent Bridge http://t.co/UauS7jJIPw #Ashes pic.twitter.com/nFaxHQ6zHw

— BBC Sport (@BBCSport) July 14, 2013
Here's what Anderson said about the victory, per BBC's live blog:
The match had the nerves going but I love bowling her and I'm happy to pick up some wickets again. It generally swings here but whatever way we can get the ball moving, it is a bonus for us, we all bowled well.

Cook's catch was tremendous, it made up for the one he dropped before! You can't fault the effort of the boys though.

It is Ashes cricket, I love playing Test match cricket and the Ashes is right up there, the hard work in the gym is for bowling long spells in matches like these.
Peter Siddle had quite the First Test as well, as he finished with eight wickets, matching Anderson with five through the first innings. He ended Day 5 having allowed 135 total runs on 37.5 overs.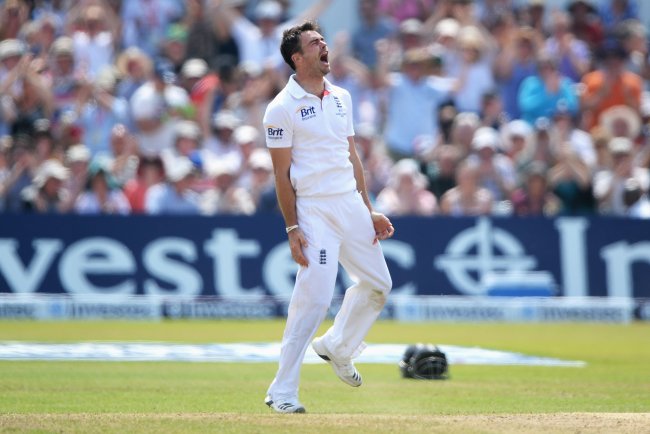 Gareth Copley/Getty Images
Brad Haddin was easily the top batsman for Australia in the second innings, as he scored 71 runs on 147 balls. He didn't make much of a contribution in the first innings, as he only had one run on a pair of balls.
It was the strong bowling of England that really secured the First Test victory for the country. Aside from Anderson, Stuart Broad and Graeme Swann each had fine second-innings performances as well. Broad allowed 54 runs on 23 overs while Swann allowed 105 runs on 44 overs. Each took two wickets.
The win for England gives the country a large advantage heading into the rest of the series. Australia will need to step it up in the Second Test in order to make things interesting. If the English take the second too, it will be nearly impossible for the Australians to make a comeback.
The Second Test gets underway on Thursday, July 18 at Lord's Cricket Ground in London.