Hear Me Out, 5 Reasons Why the Undertaker Would Make a Great WWE Raw GM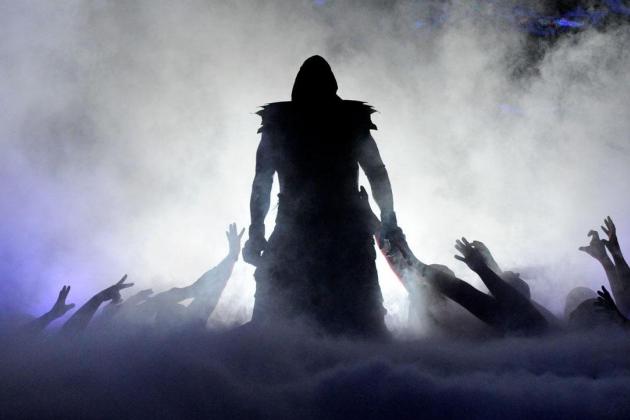 Image of the Undertaker from WWE.com
Vickie Guerrero has been fired, and Brad Maddox has been named the new Raw General Manager for the time being. McMahon made it clear that he was making the choice, fully expecting Maddox to fail.
If WWE is looking for someone with a bit more star power to take over the GM position, then they should think a little outside the box this time. They should go with The Undertaker.
The Undertaker has become a legend unlike anyone else before him, and he is still coming back every year at WrestleMania to defend his streak.
Having him only appear during the road to WrestleMania keeps The Undertaker's character interesting, but there are plenty of benefits in using him on a weekly or semi-weekly basis.
I know this seems like an odd choice for a GM role, but I have five reasons why I think it would work really well.
Begin Slideshow

»
The Dead Man persona is why The Undertaker is such a legend in the wrestling business, but he was his most charismatic when he was a biker.
When The Undertaker debuted the American Badass character, it took a few minutes before fans realized that this was what he needed to do at this point in his career.
The WWE was changing, and gimmicks that weren't based in reality were all but phased out. He needed to give himself a chance to survive in the ultra-competitive world of main event status.
The Dead Man gimmick is awesome, but it wouldn't work very well in this role. The biker gimmick allowed The Undertaker to really let loose a little on the mic, and that is what we would need in a GM.
We ended up finding out the guy could actually be funny sometimes, too.
If WWE were to bring him in as some kind of authority figure, they should have him revert back to something a little closer to the American Badass gimmick simply to make him a little more realistic.
In recent years, he has played down the supernatural side of his character, but he is still viewed as one of the last real "gimmicks" in wrestling.
WWE could have him bring back the trench coat and lightning for WrestleMania, but week-to-week he should be a little more grounded.
Younger fans would be introduced to a whole new side to the legendary Undertaker, and long-time fans would have one of their icons back.
It might be hard for some of us who want new stars in wrestling to admit this, but guys like The Rock, Brock Lesnar and The Undertaker increase ratings.
They have the star power to make the current fans go nuts and the fans who have moved away from wrestling possibly tune in to see one of their old favorites.
With someone who has been a major star in the Golden Era, Attitude Era and every year since, there are generations of fans he could bring back to WWE.
Even when the ratings are good, WWE is always looking for ways to make them better. In a world of DVRs, Internet content and hundreds of TV channels, they have to do what they can to make people watch the show when it airs live.
The Undertaker could help with that just by showing up.
Some Superstars can get someone over just by interacting with them, and The Undertaker is one of those guys.
Imagine being a younger Superstar who grew up watching The Undertaker and then getting to stand in the ring with him and go toe-to-toe during a promo. It would be like a dream come true.
But more importantly, it would help these young Superstars get over with the crowd.
Some WWE authority figures have been able to command respect, but most of them seem to get walked all over by heels and babyfaces.
First and foremost, a person in a position of authority needs to command respect from his or her subordinates. Who else commands more respect than Undertaker?
Having him as the Raw GM would make the position finally feel like it was a position of authority, because not many would be brave enough to question his judgment.
Even if he isn't wrestling every week, he could still punch someone in the face once in awhile if they get out of line.
The Undertaker is like a magnet for the money in our pockets. How could WWE not want him back on a regular basis?
There are fans who will literally buy a ticket just because The Undertaker will be there, and the merchandise sales alone would be huge.
There is always something for fans to buy on WWE's website for The Undertaker, but it has to move a lot faster when he is actually appearing on a regular basis.
And if they use my previous idea of using the American Badass gimmick, it gives WWE two times as much merchandise to sell. They could still sell the Dead Man line of merchandise and add a new line for the biker character.
I don't know how much The Undertaker would get paid for a position like this, but he would definitely be worth it when it comes to the revenue he could bring in.
He may seem like a really odd choice to pull out of the blue, but there are way more upsides than downsides to bring The Undertaker in for a non-wrestling role.
The major downside to bringing him back would be losing that once-a-year mystique he has. By only appearing during the road to WrestleMania, it makes his return more anticipated with each passing year.
Appearing every week could cause him to lose that special appeal he has around WrestleMania, even if he still only wrestles at the big event.
Other wrestlers like Stone Cold, Shawn Michaels and Booker T have been great in short-term roles as authority figures. The Undertaker could do the same thing.
If he was only used for TV and PPV appearances, his travel schedule could be kept to a minimum, which has to be a priority at his age while having a family at home. And it is not as if the role has to last forever. Six to 10 months as GM would be enough to make a significant impact.
This is one of the more unlikely choices to ever be a GM on Raw, but sometimes the most unlikely choices bring the best results. And it may be an unlikely scenario, but it is not an impossible one.
Who do you think would fill the GM role better than Brad Maddox, be they a likely or unlikely choice?
Thanks for reading and follow me on Twitter @BR_Doctor.