Will Roberto Luongo Fiasco Derail Canucks' 2014 Stanley Cup Chances?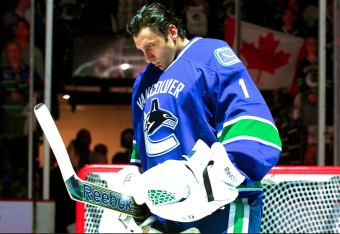 The Vancouver Canucks have been one of the best regular-season teams in the NHL for the past three years.
In 2011, they were one game away from winning their first Stanley Cup championship. It didn't happen, and the Canucks have been sliding in the wrong direction since then.
There have been a boatload of problems and issues, but nothing has been worse than the way they have handled the Roberto Luongo fiasco.
The issue remains at a head. General manager Mike Gillis made a big move on Draft Day when he traded Cory Schneider to the New Jersey Devils for a first-round draft choice. Gillis and the Canucks had previously anointed Schneider as the No. 1 goalie in Vancouver after Luongo had a series of struggles in the net during the 2011 and 2012 playoffs.
But Luongo has a 12-year, $64 million contract. The contract took effect at the start of the 2010-11 season and it runs through 2021-22. The Canucks have been in various stages of the trade process with Luongo since the 2012 offseason, but they have been unable to complete a deal.
So, Gillis came to the conclusion that if the Canucks traded Schneider, their goaltending controversy would be over, because the job would simply be turned back over to to Luongo.
However, Luongo is a thoughtful man, and he can easily see through the Canucks' desperation. He knows all is not well in Vancouver, and merely saying the situation has been resolved does not make it so.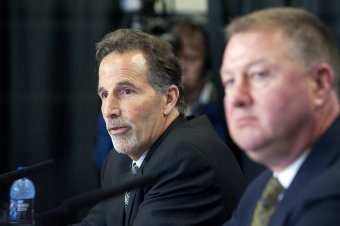 Rich Lam/Getty Images
Luongo has not burned any bridges or come out with any inflammatory statements. However, he is very active on Twitter, yet has been almost silent since the Schneider trade—except when he has been commenting on his status as a participant in the World Series of Poker.
All bagged up for the day. 55,600. Back at it Wednesday

— Strombone (@strombone1) July 9, 2013
Luongo is a professional, and he will show up at the start of training camp and play goal for the Canucks if he is still on the roster. However, he knows the Canucks have tried to trade him for over a year and couldn't do it.
He does not want to be sold a bill of goods by Gillis and hear that he is their No. 1 goalie. Luongo is simply not going to buy it.
Gillis made his bed with the goaltending situation because he was trying to insist on getting equal value from potential trading partners when he was trying to move Luongo. Luongo's onerous contract prevented any team from giving the Canucks the kind of talent Gillis wanted.
He was simply too stubborn for his own good, according to Adam Proteau of The Hockey News.
Gillis has made several moves that have failed to work out for the Canucks. He brought in David Booth, Zack Kassian and Keith Ballard. None of those moves helped the Canucks get more competitive. Booth has scored 17 goals in his 68 games in a Vancouver uniform. He had been a big-time scorer with the Florida Panthers prior to coming to the Canucks.
Gillis brought in Derek Roy at the trade deadline last season and that was a questionable move at best. The Buffalo Sabres had traded Roy to the Dallas Stars in 2012 because they knew that Roy was hesitant to go into the dirty areas of the ice and pay the price to make a play.
The Stars learned this in the first half of the year and did not hesitate to let him go to Vancouver. Roy was consistent with his reputation and did nothing in the playoffs to help the Canucks avoid a four-game sweep at the hands of the San Jose Sharks.
Following that move, Gillis made sure that the Canucks would have a new look in 2013-14 by firing head coach Alain Vigneault.
A couple of weeks later, Gillis would hire the pugnacious and irritable John Tortorella to go behind the bench. While there is little doubt that Tortorella will insist his players show more toughness and accountability than Vigneault, it's hard to see Henrik and Daniel Sedin thriving while Tortorella barks throughout every practice.
Columnist Ed Willes of The Province makes the case that Gillis is at fault for the Canucks' mess and that he never takes responsibility for the moves that have not worked out.
Whether Luongo realizes it or not, he is probably saving Gillis's job—at least for the time being.
If Luongo were to go on a rant and blame the GM because he is still in Vancouver and the situation was never resolved adequately, it might set off a media storm that would force Vancouver's owner, Francesco Aquilini, to come to the conclusion that Gillis does not know what he is doing.
Even if Luongo stays civil, Gillis likely has one year left. Once the Canucks get eliminated next year, Gillis will have run out of time and chances.
Mistakes have been made and none have been more egregious than the Luongo fiasco.
This article is
What is the duplicate article?
Why is this article offensive?
Where is this article plagiarized from?
Why is this article poorly edited?

Vancouver Canucks: Like this team?