5 College Football Coaches Who Could Be the Best Standup Comics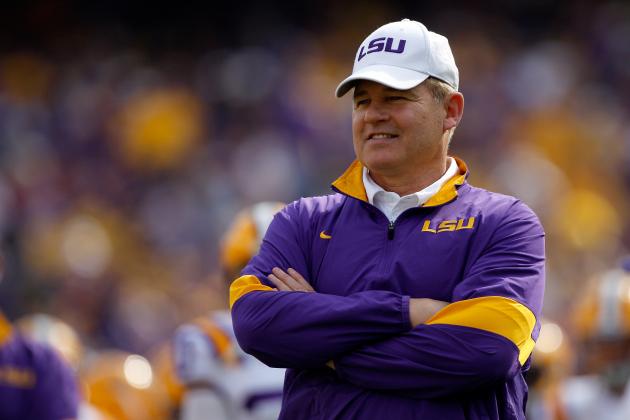 Chris Graythen/Getty Images

College football coaches get a bad rap for being curmudgeons. Every time a video of, say, Mike Gundy surfaces, the whole profession gets slandered as guys who take themselves too seriously.
But that couldn't be further from the truth. Some people call football a war, but these next five guys are proof that's not true. Because there's nothing funny about war.
Here are five college coaches who should look into stand-up comedy.
Begin Slideshow

»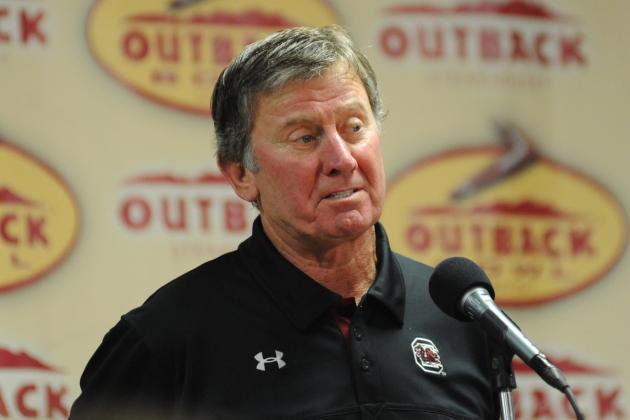 Al Messerschmidt/Getty Images

Not all comics are masters of observation or men who can turn a quick phrase. There are countless different genres of comedy, and almost chief among them is the school of anecdote.
Which is why most people would pay to hear Spurrier talk. He's been around the block and back again since suiting up for the Florida Gators in 1963. Between his eight-year career in the NFL, college jobs up and down the east coast and a brief stint under Redskins owner/cartoon villain Dan Snyder, Spurrier has seen just about everything there is to see.
He wouldn't have to come up with a pun or make a cheap sex joke to get laughs. Spurrier could just get up on stage, tell his 10 best stories from over the years, let the punchlines figure out themselves, then drop the mic and walk off to thunderous applause.
Would you honestly not buy a ticket to see that?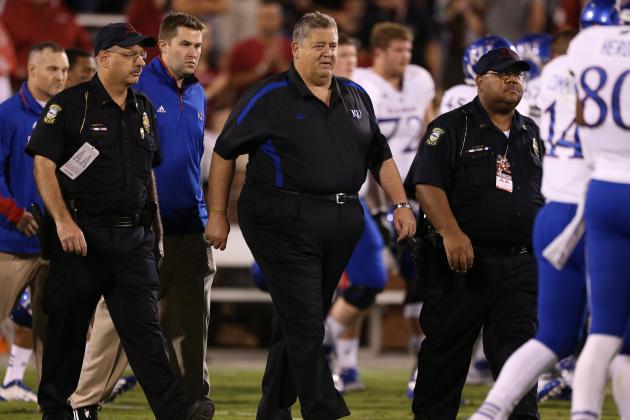 Matthew Emmons-USA TODAY Sports

What's funnier than self-deprecation?
There's a reason comedy stars are shaped differently than movie stars. Nobody wants to laugh at a guy who looks like Brad Pitt—they want to laugh at a guy lower than them on the self-esteem totem pole.
That's why the history of plus-sized comics is so dense, including contemporary names like Gabriel Iglesias, Lavell Crawford and Ralphie May. When a skinny person makes fun of a fat person, it's bullying—when a fat person makes fun of himself, it's often comedy gold.
Weis isn't the fattest coach in college football, but he's among the oddest shaped, and he's always had a jovial disposition. If he owned his weight—making it his identity rather than something to shy away from—there's no telling how funny he could be.
Lord knows the Internet has discovered his comic potential.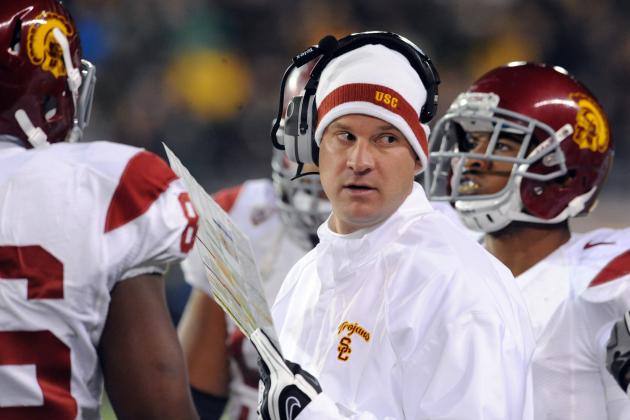 Steve Dykes/Getty Images

You tell me a comedian whom the public hates would not be a lucrative enterprise. I tell you to go check Dane Cook's bank account.
People would sell out arenas to see Lane Kiffin jibe, not to laugh with him but to heckle his every word. Hate is a stronger emotion than love, and nobody inspires more of the former than Monte Kiffin's son.
But Kiffin could do more then fill up an arena by himself—he could also memorize Daniel Tosh's set and pass off as a good-to-great doppelganger of the Comedy Central star. Tell me you couldn't see Kiffin talk about Febreezing the Homeless?
He's not the funniest guy in the world, but again: If Dane Cook is making money, humor is not an ironclad requisite for selling comedy tickets. Lane Kiffin could rake in a boatload.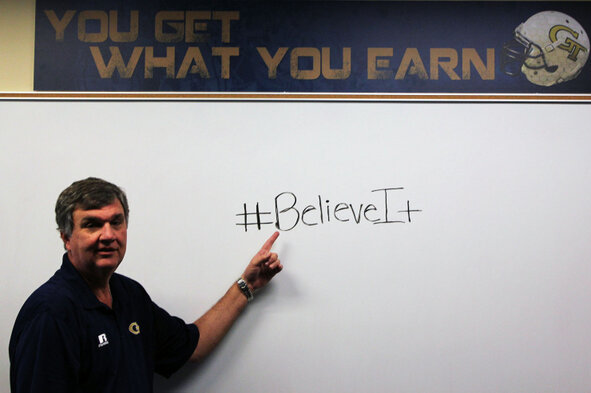 Photo Credit: Twitter – @GTPaulJohnson
Old people not understanding social media is the newest form of comedy, a bounty so plentiful that CollegeHumor.com has run a 200-plus-part series called "Parents Just Don't Understand."
But like a true comedic troll, Johnson has managed to subvert audience expectations. He's just toying with us on social media, making us wonder if he knows what he's doing and is really a Twit-o-sphere pro.
Accused by some of not being the man behind his Twitter account, the 55-year-old football coach sent out the picture above, captioned with the words:
"For those that don't believe I'm actually tweeting..."
Punch. Line. Sinker.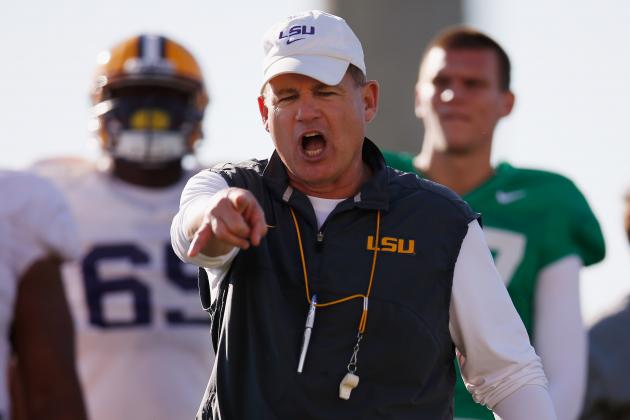 Chris Graythen/Getty Images

Les Miles is basically a stand-up comedian, performing sets every Saturday in the fall and a couple of times during the week. His lectern is his stage, as reporters file in half for actual football acumen and half to make themselves laugh.
Consider, for example, the time he admitted to not reading books or perhaps his wending play-by-play account of tripping in the tunnel before an Alabama game. He speaks to an audience with the intent to make them laugh and is quite often successful. Isn't that the verbatim mission statement of a stand-up?
Like Louis C.K., he's capable of penning a new set every year. His jokes won't ever be stale. But every professional set will end the same, a personal sign-off for a man who needs a signature: